What can I say about Pierre Herme that hasn't already been said? Picasso of Pastry (Vogue), Kitchen Emperor (New York Times), The King of Modern Patisserie (The Guardian)… What else can you add to that list? He's simply the greatest French pastry chef alive.
I have seen (and salivated over) many photos of his creations over the years, so I was a huge fan before I even set foot in his boutique on rue Bonaparte.
Then, I took a bite from a Mogador (passion fruit and milk chocolate) macaron and started imagining. How I wish I were 17 again. Fresh out of college, full of  passion, ready to devote all my energy into a new career… If I were 17 today, without a doubt, I'd sleep on his doorstep and beg Pierre until he accepts me as an apprentice. I'd gladly wash the dishes and scrape off tart dough from his work station for years before he decides I am ready to pipe macarons.
I would have handed him my soul and watch him mold it, too.
I am about another 17 years late for that, so the best I can do now is to taste his creations as much as I can, keep reading how he goes about creating them, get inspired and learn from his courage to try different things. But enough about my silly dreams, let's take a look at his artwork.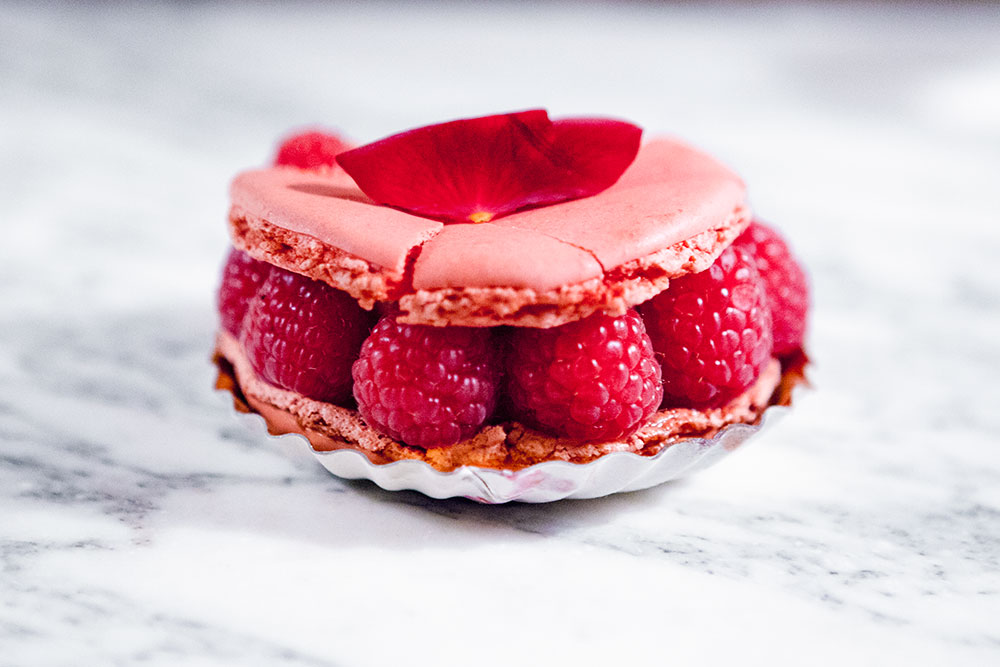 What I like most about his creations is the bold flavor combinations. For instance, who else could have come up with a trio of rose, raspberry and lychee? The photo above doesn't do justice to his wonderful creation, Ispahan, because it had to endure an hour's walk and a metro ride, but I have to say it was absolutely mind blowing. I can't even imagine how good the croissant version tastes.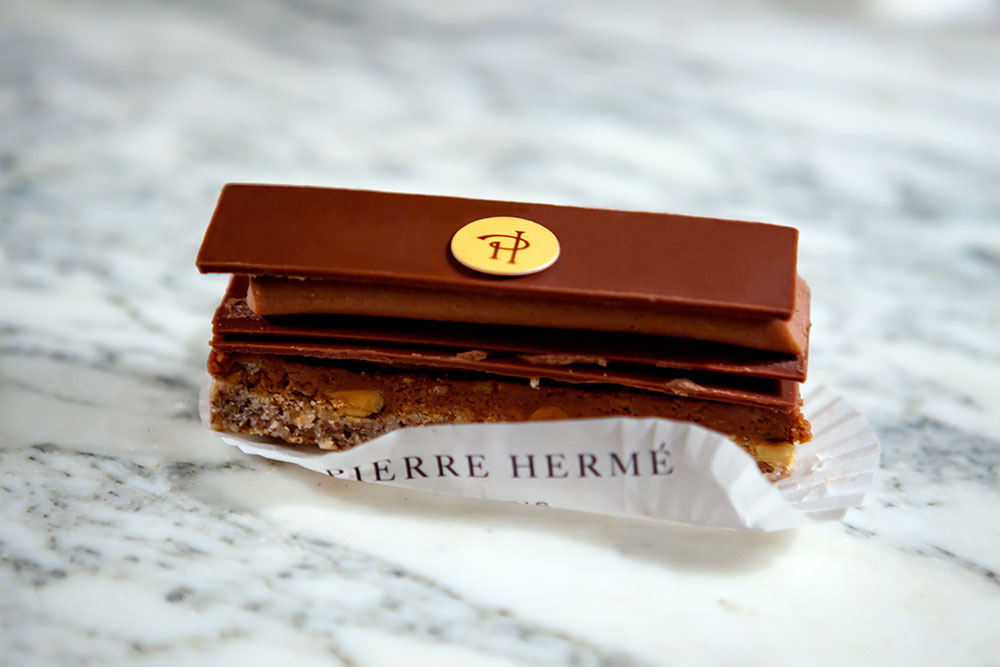 I've drooled over the Plaisir Sucre many times. First at Keiko's blog and then on the pages of "Chocolate Desserts by Pierre Herme".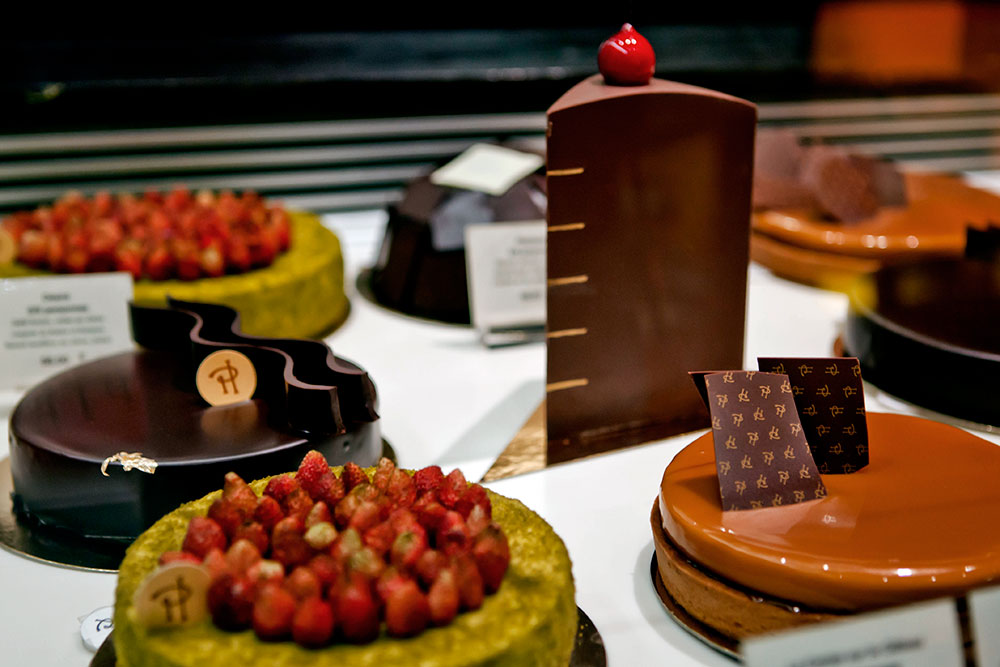 And here's the famous La Cerise sur Le Gateau (The Cherry on the Cake).
Even though it was ten times crowded than Sadaharu Aoki, they allowed me to take photos (only two). Well, here they are.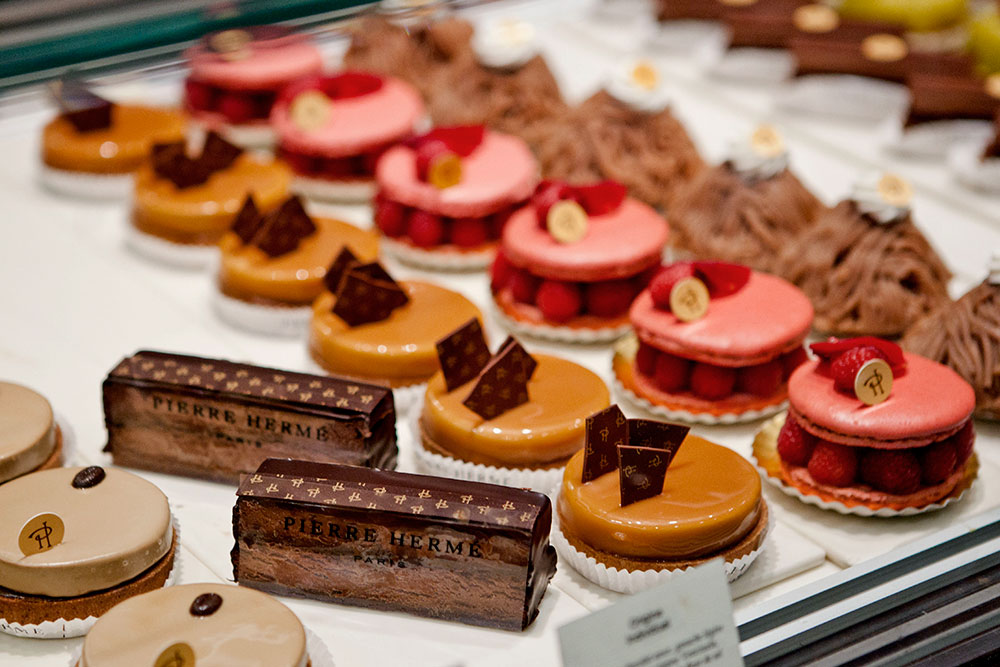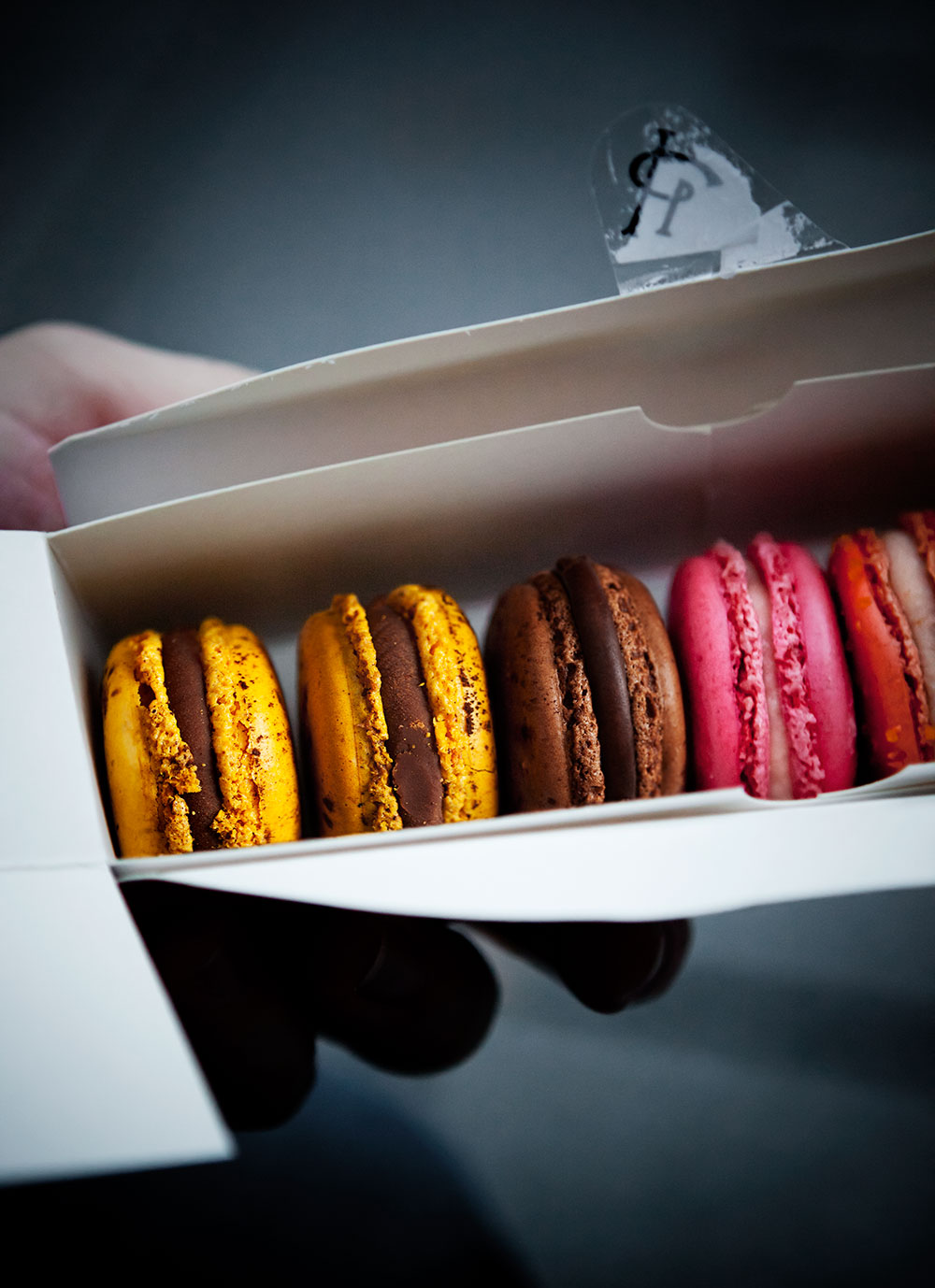 And here is my favorite from his shop: The Mogador macaron (the first two on the left). I think it is clear by now that my favorite combination in the world is passion fruit and chocolate, so it is no surprise.
I've tasted many macarons during my Paris visit and have to say Herme's macarons are the best. His bold combinations will surprise and then amaze you. Did you see the color combination on the top photo?
Who else puts so much thought into a cookie?
PIERRE HERME
72, rue Bonaparte, 75006 PARIS
Tel : +33 (1) 43 54 47 77
Open Monday to Sunday, 10 AM to 7 PM
Saturday, open to 7:30 PM
185, rue de Vaugirard, 75015 PARIS
Tel : +33 (1) 47 83 89 96
Open Tuesday and Wednesday, 10 AM to 7 PM
Thursday to Saturday, 10 AM to 7:30 PM
Sunday, 10 AM to 6 PM. Closed Monday.
PARIS RELATED POSTS: