I can't believe the accolades I've received for the Sour Cherry & Almond Upside-Down Cake recipe video from The Artful Baker! I'm thrilled to hear that you liked it so much and very excited to share the second video. This one is for Pistachio and Matcha Sablés, cookies I gifted to my baking hero, Nick Malgieri, the first time I met him in İstanbul.
One look at the photo below and you'd think I'd baked intergalactic cookies to welcome guests from hundreds of light years away and arranged them in a bowl straight from The Jetsons, just so that they'd feel right at home.
That was not my intention, but now that I think about it, if you had told me that aliens were sending representatives to all the countries of the world and asked me to come up with a cookie that represents Turkey, this is exactly what I would have baked. It is a cookie version of one of Turkey's delicacies, fıstık ezmesi ("pistachio paste"). That said, it has an ingredient that is alien to the world of Turkish desserts: matcha—powdered green tea made from leaves that have been shade grown, deveined, destemmed, and stone milled.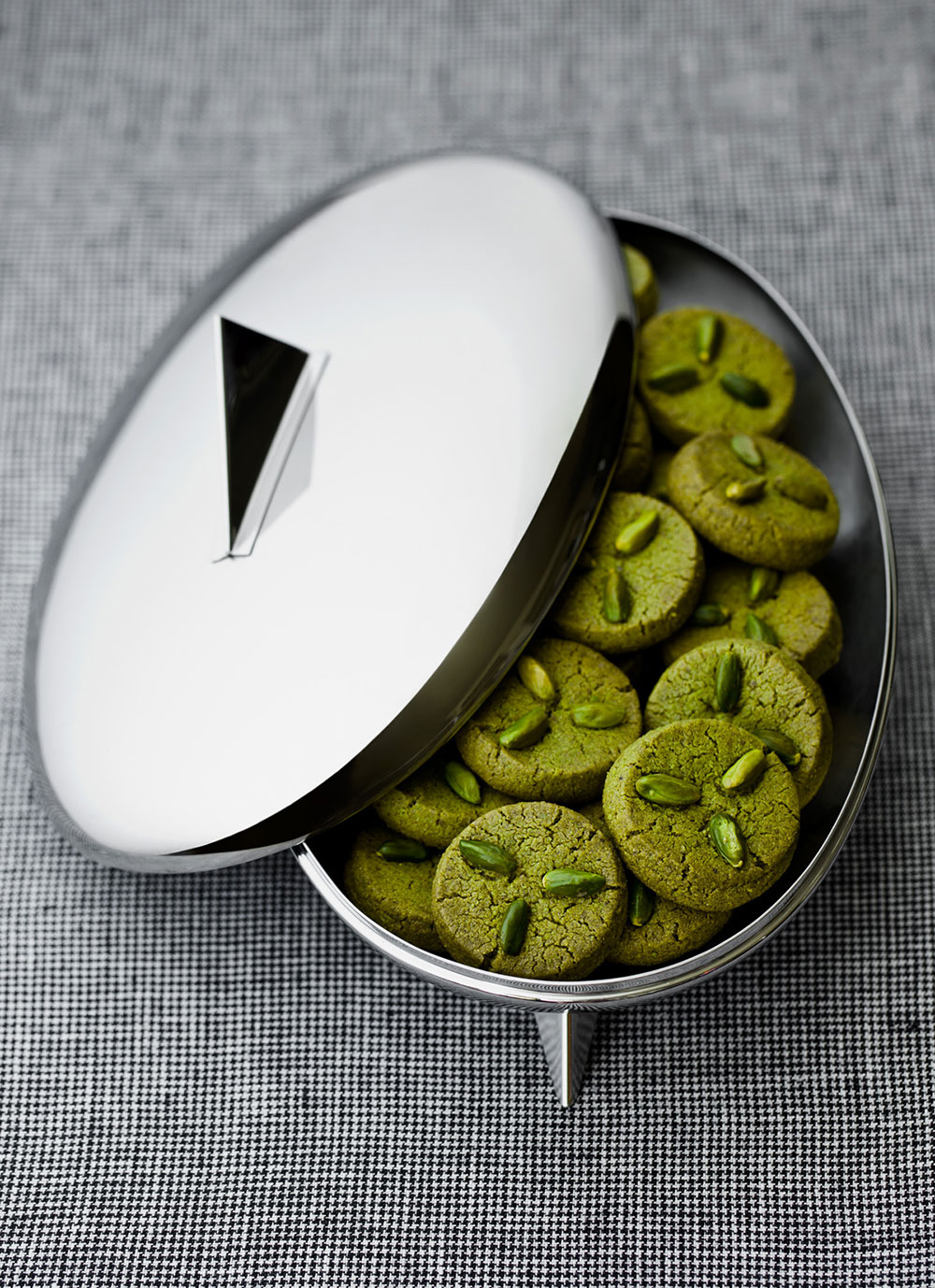 My first experiment with matcha was ten years ago, when I baked a matcha cheesecake for a friend's birthday. I was unaware of its potency, so I kept adding matcha to the batter until it turned the color I envisioned—an emerald green, which required pretty much the whole container. It must have traumatized my friends deeply, because after all these years they still haven't stopped teasing me. I had sworn not to touch a container of matcha ever again until I visited Sadaharu Aoki in Paris and discovered matcha's wonders when handled with subtlety and harmonized with other ingredients. The combinations that excited me the most were matcha with white chocolate and with pistachio. The latter was the inspiration for these cookies.
I haven't had the chance to offer these cookies to an extraterrestrial, but I've had the privilege of gifting a small box of them to an extra-special hero of mine, Nick Malgieri, the first time I met him in İstanbul. Since he asked for the recipe when he got back to New York, I believe the cookie did its job.
PISTACHIO AND MATCHA SABLÉS
Recipe from The Artful Baker, reprinted by permission of Abrams Books.
Makes 20 cookies
Ingredients
1/4 cup plus 2 tablespoons (53 grams) all-purpose flour
1 1/2 teaspoons (3 grams) matcha
1/2 teaspoon (2 grams) baking powder
5 tablespoons plus 1 teaspoon (2.7 ounces; 75 grams) unsalted butter, softened
1/3 cup plus 1 tablespoon (79 grams) granulated sugar
Pinch of fine sea salt
1 large egg yolk
3/4 cup (68 grams) blanched pistachio flour
60 (3 tablespoons; 25 grams) whole blanched pistachios
Method
Sift together the flour, matcha, and baking powder into a small bowl.
In the bowl of a stand mixer fitted with the paddle attachment, beat the butter, sugar, and salt at medium-high speed until light and fluffy, about 2 minutes. Add the egg yolk and beat until well blended, about 1 minute. Add the pistachio flour and beat at medium speed until incorporated, about 30 seconds, scraping down the sides of the bowl as needed. Add the flour mixture and beat at the lowest speed just until incorporated.
Scrape the soft, sticky dough onto a large sheet of parchment paper. Cover with another sheet of parchment and use a flat-bottomed pan to gently press and flatten the dough into an even round, about 6 1/4 inches (16 cm) in diameter and 5/8 inch (1.6 cm) thick.
Transfer the dough and parchment to a baking sheet and chill until firm, at least 2 hours in the refrigerator or about 30 minutes in the freezer.
Line a baking sheet with parchment paper. Place the chilled dough on a flat surface and peel off the top sheet of parchment. Using a 1 3/8-inch (3.5-cm) plain round cookie cutter, cut out as many cookies as you can and transfer them to the prepared baking sheet. Gather the scraps into a ball, flatten the dough again between the parchment sheets, and continue to cut out cookies until you run out of dough.
Gently press three pistachios in the form of a three-pointed star on each cookie. Freeze the cookies, uncovered, until firm, about 15 minutes. (Once they are firm, you can wrap them airtight and refrigerate for up to 3 days or freeze for up to 2 months. No need to thaw, though you may need to add a couple of minutes to the baking time.)
Meanwhile, set a rack in the middle of the oven and preheat the oven to 325°F (160°C). Line a baking sheet with parchment paper.
Arrange as many cookies as you can fit on the prepared baking sheet, leaving about 1 1/4 inches (3 cm) all around them. Keep the rest of the unbaked cookies in the refrigerator.
Bake until the edges of the cookies are lightly golden and the bottoms are light brown, about 20 minutes. Set the sheet on a wire rack to cool for 10 minutes, then transfer the cookies directly onto the rack to cool completely. Repeat with the remaining cookies.
Storage: The cookies are best the day they are made, but they will keep in an airtight container at room temperature for up to 3 days. When you serve them later, you can crisp them in a preheated 325°F (160°C) oven until they are warmed through, 3 to 5 minutes.