When it comes to baking tools and equipment, I believe in buying once and buying right. I made some bad purchasing decisions when I began baking, but as the years have passed I've learned what to look for in each tool. Despite an abusive six years of recipe testing for my cookbook, every baking tool I own looks as good as the day I bought it. It seems I've learned my lesson well. And now it's time to share the wisdom I've gained from my baking journey.
The right baking tools and equipment will make your life in the kitchen easier and the time you spend there more enjoyable, but that doesn't mean you need to have everything below to bake up a storm in the kitchen. Beyond the basics—cake pans, knives, baking sheets, and the like—the three most essential baking tools for any serious home baker are a kitchen scale, an instant-read thermometer, and an oven thermometer.
BAKING PANS
I prefer heavy-gauge, non-stick aluminized steel cake pans that are sturdy and light in color. For the best results, always choose the shape and size called for in recipes. A cake that rises up beautifully in a loaf pan may not behave the same way in a round cake pan.
Round cake pan: For layered cakes, you'll need at least two round cake pans, preferably three. The standart sizes are 8 inches (20.5 cm) and 9 inches (23 cm). They should be at least 2 inches (5 cm) deep. My favorite round cake pans are:
Square cake pan: For cakes and brownies, I prefer an 8-inch (20.5-cm) square pan with square corners and straight sides (ideal for decorating). It is 2 1/4 inches (5.7 cm) deep with a 9-cup (2.16-liter) capacity. My favorites are:
I use a 9-inch (23-cm) square baking pan—2 inches (5 cm) deep, with a 10-cup (2.4-liter) capacity—for cheesecakes. When the recipe calls for baking the cheesecake in a water bath, using a one-piece and leak-proof square cake pan (with rounded corners; ones with straight corners aren't leak-proof) instead of a springform pan eliminates the need to cover the base of the pan with a double layer or heavy-duty aluminum foil. Line the pan with two overlapping strips of parchment paper that are the width of the pan bottom and long enough to cover the bottom and sides with 2 inches (5 cm) of overhang on each side, and you're good to go. My favorite is Cuisinart's 9-inch Square Cake Pan.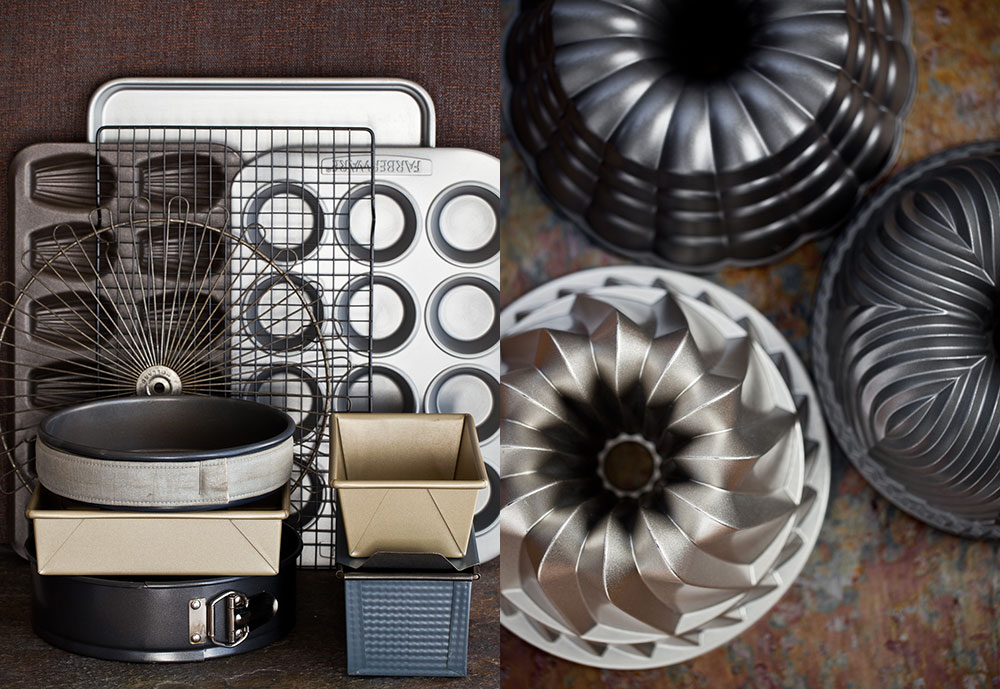 Rectangular cake pan: For double-batch brownies, sheet cakes and crumbles, I add a 13-by-9-inch baking pan to your collection. I prefer ones that are one-piece and leak-proof. My favorites are:
Loaf pan: My favorite loaf pans are Williams Sonoma Goldtouch nonstick loaf pan and USA Pan Bakeware Aluminized Steel 1 Pound Loaf Pan for their solid construction and light color, which prevents overbrowning. Both measure 8 1/2 by 4 1/2 inches (21.5 by 11.5 cm) on top and 7 1/2 by 3 1/2 inches (19 by 9 cm) on the bottom, are 2 3/4 inches (7 cm) deep, and have a 6-cup (1.44-liter) capacity.
Pullman loaf pan: A Pullman loaf pan is a lidded bread pan that produces a squared-off loaves. The one I recommend is a standard size manufactured by USA Pan, measuring 13 by 4 by 4 inches (33 by 10 by 10 cm).
Springform pan: I have two springform pans: A 9-inch (23-cm) springform pan that is 3 inches (7.5 cm) deep with a 10-cup (2.4-liter) capacity for large cakes and cheesecakes, and a 6-inch (15-cm) springform pan that is 3 inches (7.5 cm) deep with a 5 2/3-cup (1.36-liter) capacity for smaller cakes and cheesecakes.
Bundt pans: I'm very proud of my Bundt cakes. They always rise to their full potential, brown uniformly and release easily, without a single crumb attached to the pan. A trusted recipe is required, that's for sure, but a durable, heavy Bundt cake pan is also mandatory. Here are my beloved Bundt cake pans, all of which I own and recommend without any hesitation. All of them have a 10-cup (2.4-liter) capacity.
BAKING SHEETS
If you've ever baked macarons, you know you can't have enough baking sheets. You need at least three solid, rimmed sheet pans that do not warp under high-heat. My favorite baking sheets are the rimmed sheets with thick rolled edges made by Cuisinart. They are made from heavy-gauge aluminized steel and the sturdiest sheet pans I've ever used. I have them in two sizes. The large one is 17 by 12 by 1 inch (43 by 30.5 by 2.5 cm), which is the largest size that will fit into my oven. The smaller one is 15 by 10 by 1 inch (38 by 25.5 by 2.5 cm), which is a standart-size jelly-roll pan.
I use the larger pan for baking cookies and the smaller one for toasting nuts and baking focaccia and granola. Unless a recipe calls for a specific size, you can substitute a rimmed or unrimmed baking sheet of another size, as appropriate. You'll need at least two (and preferably four) identical rimmed baking sheets for baking macaron shells.
I also bought Williams-Sonoma GoldTouch baking sheets during my book tour in San Francisco and loving them so far.
CAKE LIFTER
I use a 10-inch (25.5-cm) cake lifter made by Nordic Ware, which is large enough to transfer most cakes and sturdy enough to lift most three-layered cakes.
CAKE STRIPS
When baking layered cakes, I wrap dampened cake strips around the pans to prevent domed tops. The damp strip keeps the sides of the pan cool, allowing the sides and center of the cake to rise at the same speed, resulting in a level top. Rose Levy Beranbaum's Heavenly Cake Strip doesn't need to be moistened before using.
COOKIE CUTTERS
I own one set of plain and one of fluted round cookie cutters made from professional gauge 18/8 stainless steel, each with 11 graduated sizes ranging from 7/8 to 3 5/8 inches (2.2 to 9.2 cm).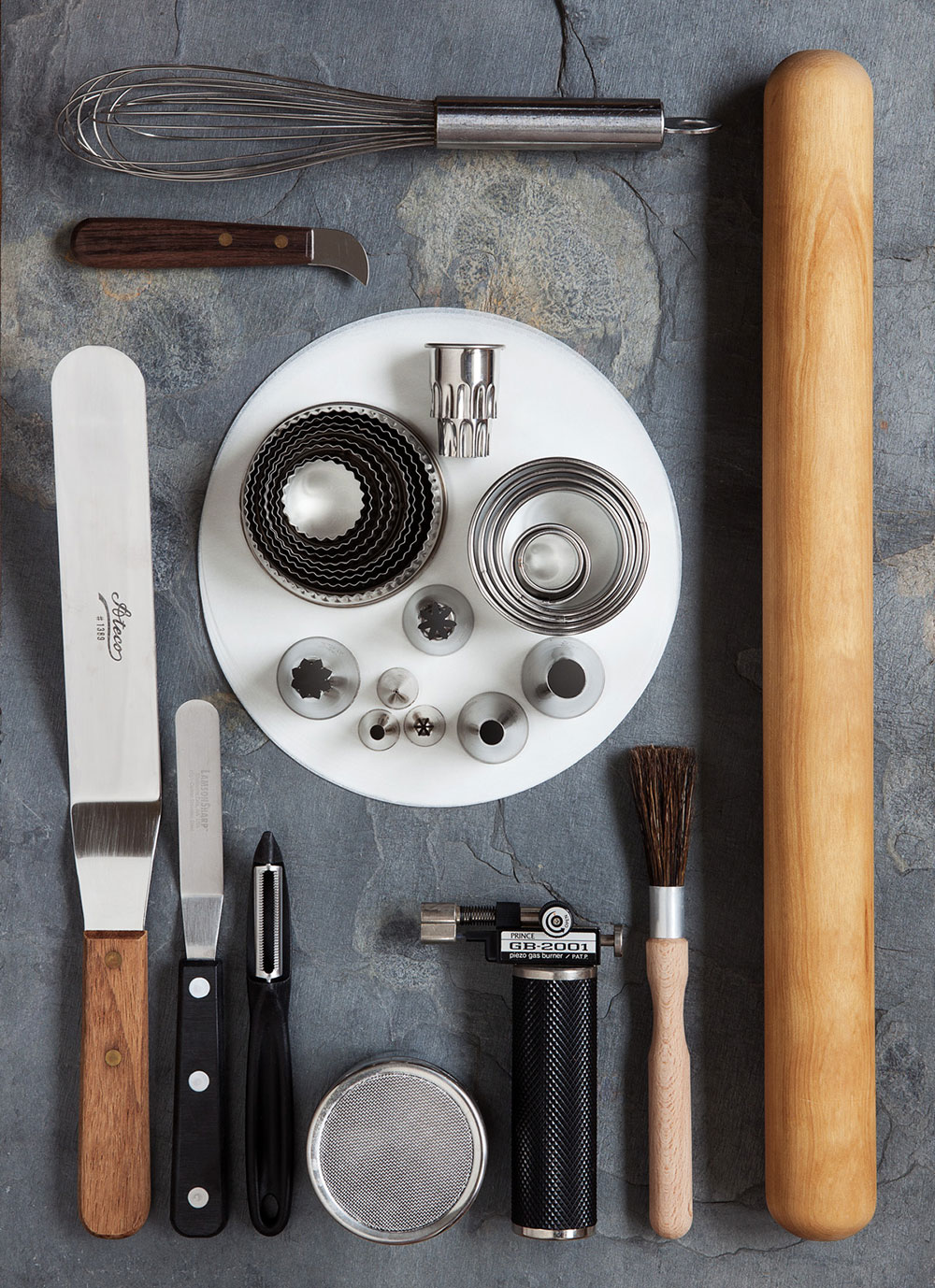 DIGITAL SCALES
If you like to bake, do yourself a favor and get a digital scale. It is the most important baking tool any baker can have. You'll be rewarded with more consistent results, less cleanup, and a streamlined process. Look for a model that easily toggles between ounces and grams, preferably in decimals or both decimals and fractions, in 1-gram or smaller increments. Most won't go below 1 gram; to accurately weigh rather than use measuring spoons for very small quantities, look for a model featuring 0.1- or at least 0.5-gram increments. Make sure the scale includes a tare function (most will), a button that resets the scale to zero so that you may weigh additional ingredients sequentially in the same bowl, or can zero out the bowl or pan weight to determine the weight of its contents. My choice is My Weigh KD8000 Multi-Purpose Digital Kitchen & Hobby Scale. It has an 8000 gram capacity with 1 gram resolution. A budget-friendly version is Etekcity's kitchen scale that costs only $13.99 and is the #1 best seller kitchen scale on Amazon right now.
For even greater precision, you may want to invest in a scale that features a readability of 0.01 gram. I prefer Weigh Gram Scale Digital Pocket Scale that allows you to weigh a maximum capacity of a 100 grams. Make sure to also buy a calibration weight with it for keeping your precision scale calibrated and accurate.
If you still like to proceed with using measuring cups and spoons or if you are cooking or baking from a cookbook that doesn't include weights of ingredients, feel free to use the baking conversion charts I have on my website.
FINE-MESH SHAKER
A fine-mesh shaker is ideal for dusting cookies and cakes with confectioners' sugar and cocoa powder, allowing you to evenly cover surfaces with the thinnest possible layer, and preventing clumps. Look for one with an airtight plastic cover to prevent moisture from seeping in for storage.
FOOD PROCESSOR
My food processor is one of the most frequently used appliances in my kitchen. I use a Magimix Compact 3200 XL, which comes with three bowls in different sizes, multiple blades, and slicing and grating discs. I typically use the largest bowl, which has a 2.75-quart (2.6-liter) capacity, just enough for a double batch of pie dough. I also use the food processor for grinding nuts, pureeing fruit, preparing cookie dough, and mixing cake batters, such as this Sour Cherry & Almond Upside Down Cake.
ICE CREAM MAKER
There are two basic types of ice cream maker. The most common type includes a bowl that must be placed in the freezer for several hours before churning a batch of ice cream. The second has a built-in compressor, eliminating the need (and freezer space required) to pre-freeze the bowl. This latter type is more expensive and takes up more counter space, but allows you to churn multiple batches back to back.
I don't own either. I have yet to find an ice cream maker that I like in Turkey (such as Cuisinart ICE-100) , so I use the ice cream bowl attachment of my KitchenAid mixer.
Like the less expensive ice cream makers, the attachment must be frozen for several hours before using it to churn ice cream. Since I never wish to spend a day without homemade ice cream, I keep the bowl in the freezer at all times. One major advantage of this attachment is that it allows you to churn the custard more quickly, trapping more air for a lighter texture. Make sure the attachment fits the model of stand mixer you own.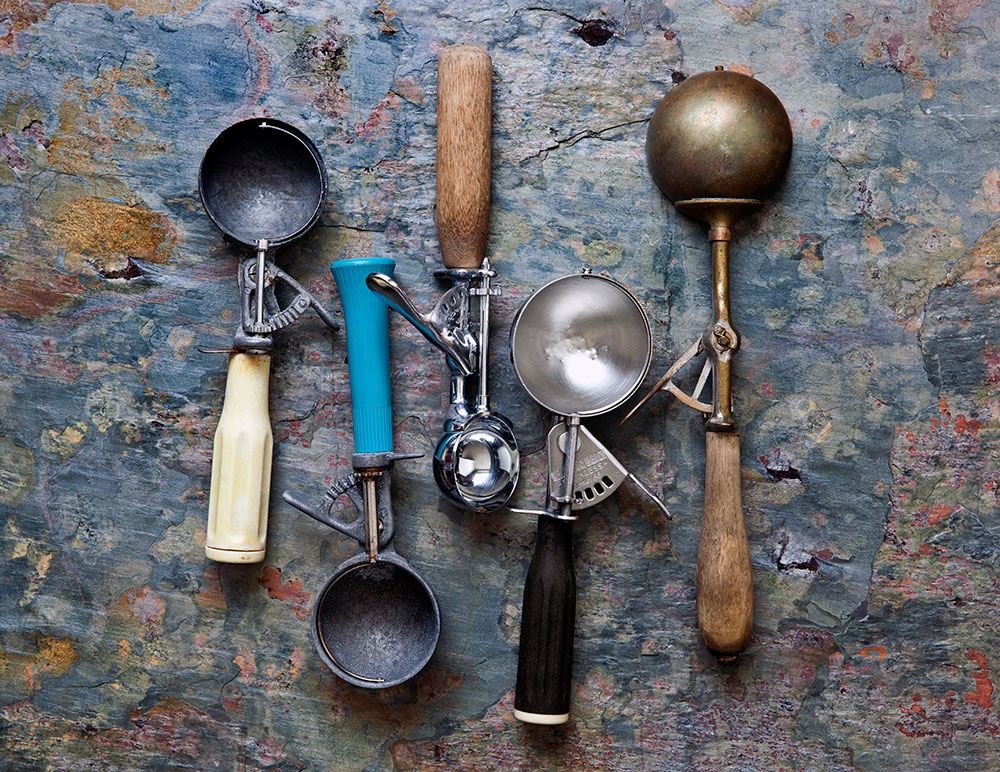 ICE CREAM SCOOP
I am obsessed with vintage ice cream scoops and have a nice collection in different sizes. Most of the time you'll need a scoop with a 2-tablespoon (30-ml) capacity. I like scoops that have a one-piece handle and a release mechanism, such as this one.
IMMERSION BLENDER
An immersion blender has many advantages over a standard blender or food processor. You can use it to puree the mixtures directly in the saucepan, saving time and clean up. Its small blade makes it easier to puree thick mixtures, especially in small amounts, while moving it around the edges of the pan. A stainless steel wand is preferable for working with hot ingredients.
KITCHEN TORCH
A kitchen torch comes to mind when it's time to caramelize the sugar atop a crème brûlée, but it has many other uses. It will come in handy for toasting meringue layers, warming the outside of springform pans to release cheesecakes, and heating knives to easily and cleanly cut chocolate covered brownies or cakes layered with dense fillings.
KNIVES
I prefer a 10-inch (25.5-cm) Wusthof chef's knife for chopping, with a full tang running the length of the handle for proper balance. A long serrated bread knife is useful for cutting cake layers and trimming domed tops and high edges. For slicing fruit, I use a 4-inch (10-cm) paring knife. A chestnut knife has a very short, curved blade that is ideal for cutting through the tough outer shell of a chestnut and the thin skin underneath while avoiding the meat. If you don't have one, a bird's beak knife will do the job.
MADELEINE PAN
I use a nonstick 12-shell madeleine pan, each shell measuring about 3 1/8 by 2 1/8 by 3/4 inch (8 by 5.5 by 2 cm) at the widest and deepest points, and having a 2-tablespoon (30-ml) capacity.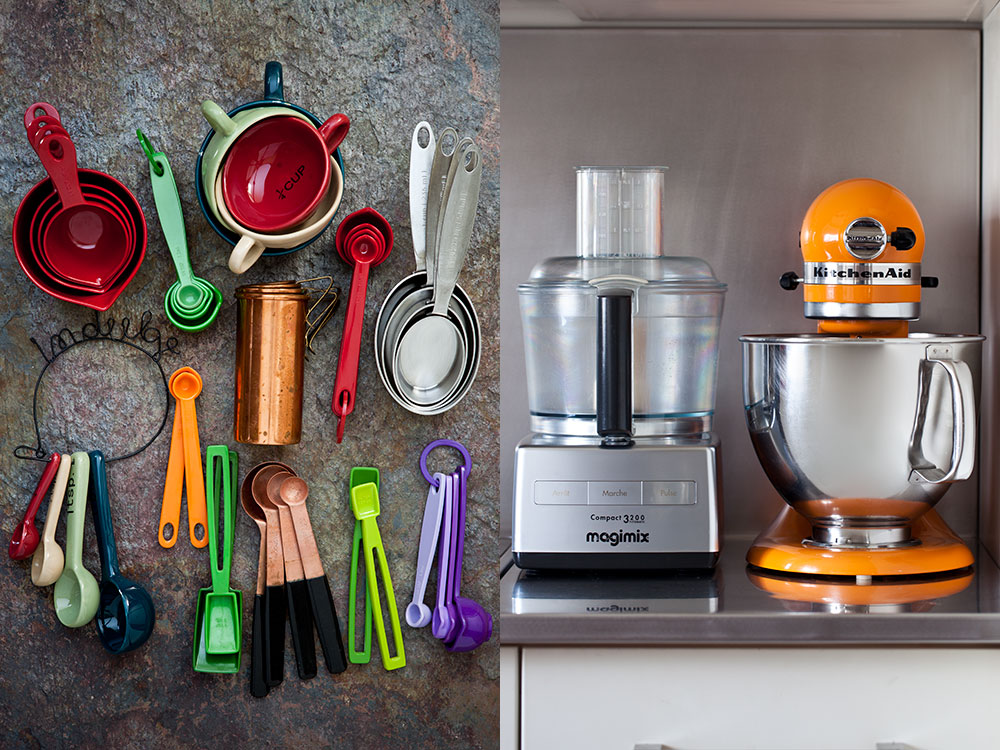 MEASURING CUPS AND SPOONS
Dry measuring cups and spoons come in sets that include the following standard sizes: 1 cup (240 ml), 1/2 cup (120 ml), 1/3 cup (80 ml), 1/4 cup (60 ml), 1 tablespoon (15 ml), 1 teaspoon (5 ml), 1/2 teaspoon (2.5 ml), and 1/4 teaspoon (1.2 ml). This set is perfect and affordable.
Liquid measuring cups have pouring spouts and are marked on the side with volume measurements for cups, fluid ounces, and milliliters. One with a 2-cup (500-ml) capacity is sufficient for most recipes, but a set of 1-cup, 2-cup, 4-cup and 8-cup is quite affordable.
MESH STRAINERS
I refer to two types of mesh strainers. I use a regular mesh strainer (also called single fine mesh), with a mesh size of 1/16 inch (1.6 mm), for draining liquids from solids and straining custards. I reach for a fine-mesh strainer (also called double fine mesh or extra fine mesh), with its smaller 1/32-inch (0.8-mm) mesh, for sifting dry ingredients or when aiming for a silky texture or a perfectly clear liquid. You can mimic a fine-mesh strainer by layering a regular mesh one with a double thickness of cheesecloth. Look for stainless steel strainers with heatproof handles and a curved hook on the side opposite the handle that will allow it to rest securely over bowls and pans.
MIXERS
I own a KitchenAid 5-quart stand mixer, the ideal size for a home baker. It comes with three attachments: a flat, a wire whisk, and a dough hook. I highly recommend buying extra paddle and whisk attachments and an extra mixing bowl for making multiple batters back to back, or for separately beating the egg whites in recipes.
MIXING BOWLS
I prefer stainless steel mixing bowls with non-slip bottoms and lids and this set of 3 by Fitzroy and Fox is perfect. For meringue-based desserts, you may want to invest in a copper mixing bowl, which helps to stabilize meringue.
MUFFIN PAN
For muffins, I use a nonstick standard 12-cup muffin pan, each cup measuring 2 3/4 inches (7 cm) at the top, about 1 3/8-inch (3.5-cm) deep, and having a 1/2-cup (120-ml) capacity.
OVEN THERMOMETER
An oven thermometer is useful for checking your oven's accuracy. Once a year, I conduct tests at the temperatures I most frequently use by placing the thermometer in the center of an oven rack set in the middle of the oven and running the oven at each temperature for at least 30 minutes. (Hanging the thermometer toward the back of the oven may produce misleading results, as that area tends to run hotter than the center.) If the results don't match your oven settings, make a note and, if you aren't able to have it calibrated, set your oven accordingly.
PARCHMENT PAPER
I can't imagine my life in the kitchen without parchment paper, and I wonder how bakers managed before its invention. In addition to the rolls and sheets, I am a fan of the parchment rounds precut for lining round cake pans and keep a large supply on hand of 8-inch and 9-inch (20.5-cm and 23-cm) rounds. Go ahead and calculate how much time you spend on folding and cutting parchment paper to fit the bottom of your round cake pans if you like. But it's not all about time – for me, it's more about convenience. Just buy one and see how good it feels to just pick one from the deck and line your pan without the need to fold it several times and cutting it just so that it fits perfectly. You'll get addicted to that convenience.
PASTRY BAGS AND TIPS
It's a pain to wash reusable pastry bags (especially after piping buttercream), so I use disposable plastic ones. You'll need pastry tips in several sizes for piping macaron, éclair, and cream puff shells, madeleine batter, fillings, and decorative garnishes. I prefer Ateco stainless steel pastry tips and here are the ones I most frequently use:
PASTRY BRUSH
A pastry brush is indispensable for glazing cakes and fruit fillings, applying egg wash on pastries, buttering cake pans (especially Bundt pans with intricate designs so that you can reach all the nooks and crannies), and brushing excess flour from the surface of doughs. I prefer natural brushes with soft bristles and always check to see that the bristles are firmly held in place before buying. Carlisle brushes are best.
PEELER
I am partial to my Victorinox serrated peeler. Its micro-serrated edges are ideal for peeling fruits and vegetables, especially those with thin, slippery skins.
PIE PAN
My pie pan of choice is an Emile Henry deep-dish ceramic pie pan with a ruffled edge, measuring 7 inches (18-cm) on the bottom and 10 1/4 inches (26 cm) at its widest point on top, and is 2 3/8 inches (6 cm) deep.
RASP GRATER
When it comes to removing the zest from citrus fruits, no grater does a better job than a fine-tooth rasp grater. Grate the zest directly into the mixing bowl to incorporate its precious aromatic oils into the dough or batter. Microplane's Orange is my favorite. I also recommend getting a large one for ingredients that need a larger surface area.
ROLLING PIN
I prefer a wooden French rolling pin (without handles), which allows me better control when applying pressure.
SAUCEPANS AND SAUCEPOTS
I prefer heavy-duty stainless steel and enameled cast iron pots and pans (with handles). I'm sure you already have enough pots and pans in your kitchen, so my recommendation for this section will be limited to eye candy—ones that you really don't have to have but just have a look at these beauties: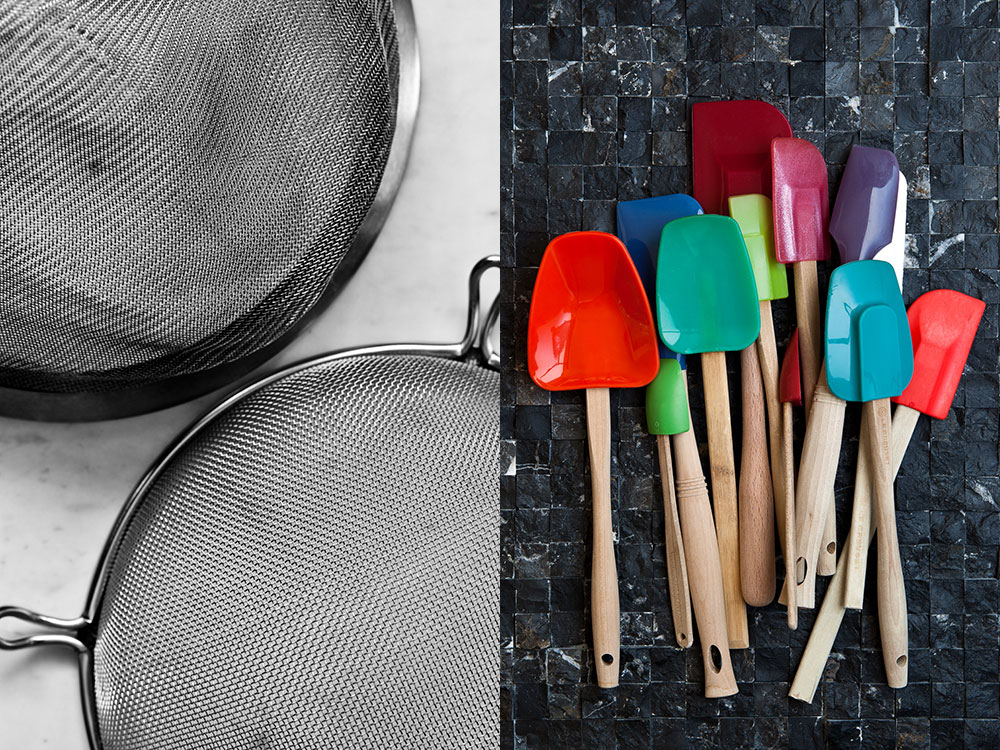 SPATULAS
I could never have too many silicone spatulas, which I use for stirring, scraping, and folding. I especially like Le Creuset's spoonulas, with their slightly cupped blades. You will want to have at least one large silicone spatula for folding and a couple of standard-size ones with straight blades for stirring and scraping saucepan bottoms. Mini silicone spatulas are invaluable for scraping every last bit of batter from stand mixer attachments and food processor blades; it's worth keeping a few on hand.
OFFSET SPATULAS
I use a small metal offset spatula with a 4 1/2-inch (11.5-cm) blade for spreading batters and fillings, and a large metal offset spatula with a 9 3/4-inch (25-cm) blade for tempering chocolate and leveling buttercreams and frostings.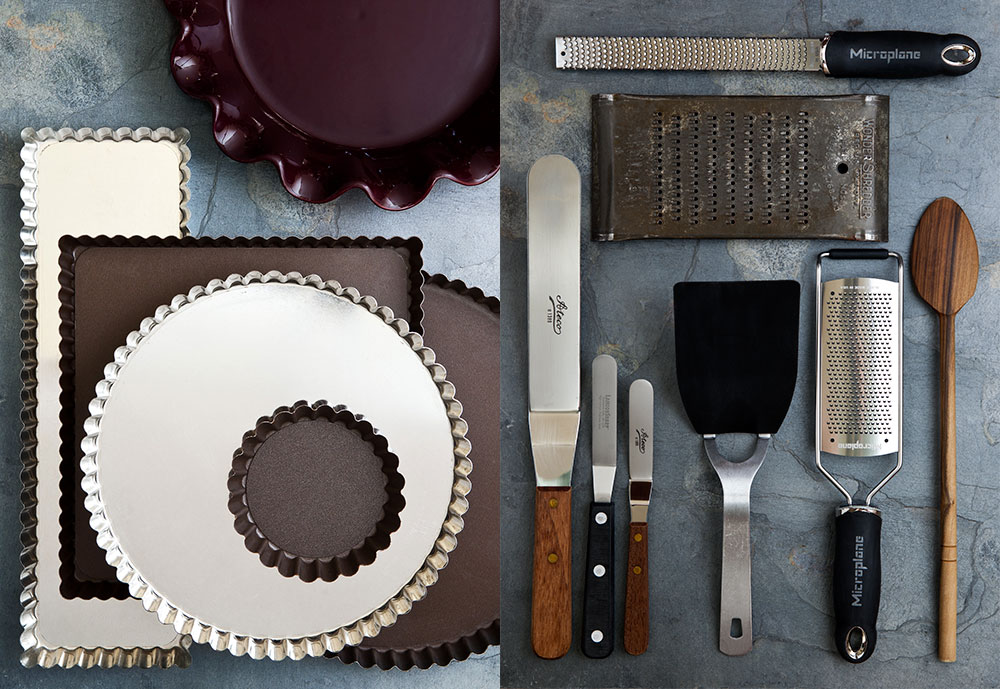 TART PANS
My favorite tart pans are from Gobel—all are fluted tart pans with removable bottoms. Here are the most standart sizes:
THERMOMETERS
An instant-read digital thermometer is an essential tool for the home baker, allowing you to instantly identify when you have reached a desired temperature . You'll use it when cooking caramel, glazes, syrups, curds, Swiss meringue, and custards for ice cream bases, as well as to measure the internal temperature of baked breads. While I provide visual clues, a thermometer will always be most precise. ThermoPro's TP18 is super fast and affordable.
For jams and jellies—especially those brought to a rolling boil—I prefer a candy thermometer for accuracy, practicality, and safety.
WHISKS
My favorite whisk is a 10-inch (25.5-cm) stainless steel French whip that allows me to reach into the corners of the saucepan with its elongated, narrow shape. I use my 8-inch (20.5-cm) balloon whisk when working with small amounts of batter. For whipping air into cream and egg whites, and for folding dry ingredients into airy batters, I reach for an 11-inch (28-cm) balloon whisk.
WIRE RACKS
Wire racks with raised feet allow for air circulation to more quickly cool just-baked cookies and cakes. I suggest having at least two of them on hand to accommodate large batches of cookies and multiple cake layers. Ultra Cuisine 100% Stainless Steel Wire Cooling Racks are perfect – they are heavy duty, don't warp and the holes are spaced tightly.
Disclaimer: All the products featured on this page are independently selected by myself. I do not accept any kind of compensation for recommendations on my blog and will never recommend a product I don't like. However, as an Amazon Associate, I earn from qualifying purchases. If you purchase anything through my links, I will make a commission at no cost to you.