I have to admit, I was a bit lost when Dolce & Gabbana requested me to create a recipe for their digital magazine, Swide.
As soon as I read that email, I wished I were Pierre Hermé. He'd know exactly what to do. Who am I to create anything for D&G?
Right after I picked my self-confidence up off the floor, I visited their website for inspiration and came across the Fall/Winter 2011 runway show. As I watched one seductive dress after another, I knew it had to be something with chocolate. Plus, I had the honor of shopping side by side with Domenico and Stefano at Fouquet in Paris, so I know how much they like chocolate.
Now, I do not know much about fashion. My knowledge might even be limited to a few episodes of Project Runway, and the encounter at Fouquet will probably be the closest I'll ever get to a D&G anything, but I do know my chocolate recipes. And I certainly know a great brownie. One that had the honor of being featured in a Washington Post article by a hero of mine. Yes, I had to bake those brownies.
Because if it is good enough for Nick, it is good enough for everyone. But this is D&G and the recipe was to be exclusive for Swide, so I started thinking… What would make a brownie more seductive? Perhaps a coating of velvety hazelnut butter? Definitely.
What I saw on the runway was quite seductive, but so wisely (and tastefully, of course) camouflaged with transparent fabric. A brownie coated with hazelnut butter would have looked too naked, so I still needed another element. Something to cover the skin just enough to entice.  Then the show ended and the whole team of tailors appeared on screen, looking proud and confident. To me, it was an appreciation and celebration of craftsmanship. It was the most inspiring part of the show and I just had to incorporate that into the recipe as well.
I thought, wouldn't a chocolate lace decoration be perfect? Chocolate lace? As soon as I asked myself that question, I wished I were Jacques Torres. He would have piped what I had in mind in the blink of an eye.
Me? It took me three attempts, 30 minutes each.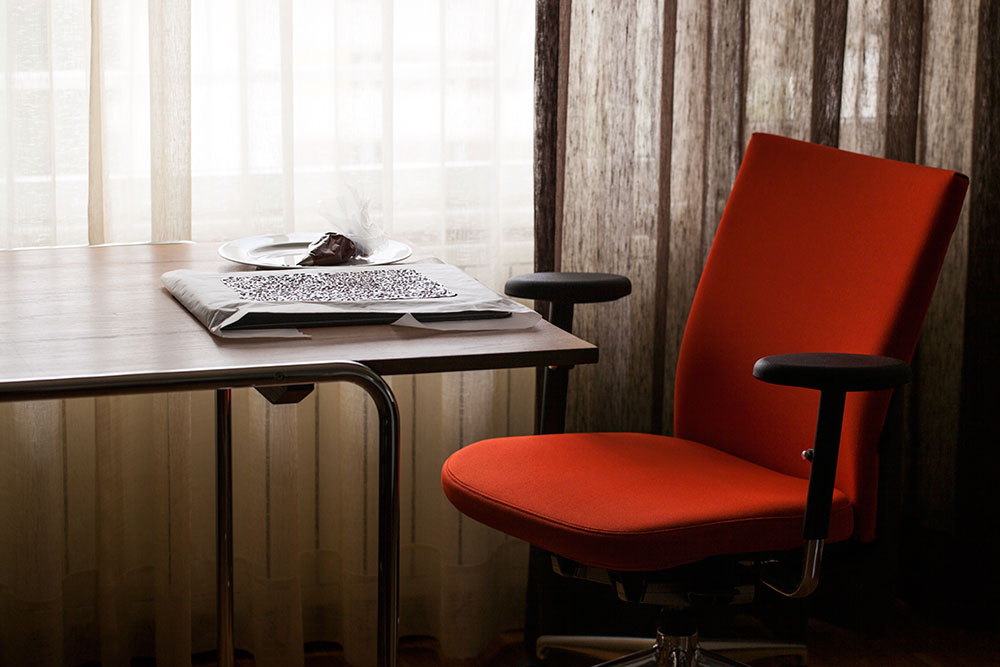 The first one turned out horrible. The second one broke into pieces. Damn! Those brownies had to wear lace! Finally, the third one was good enough to top that brownie. How I wish I were fast enough to do it with tempered chocolate, but try piping tempered chocolate for a duration of half an hour with the smallest tip and you'll see it is almost impossible – unless you are Jacques Torres, of course.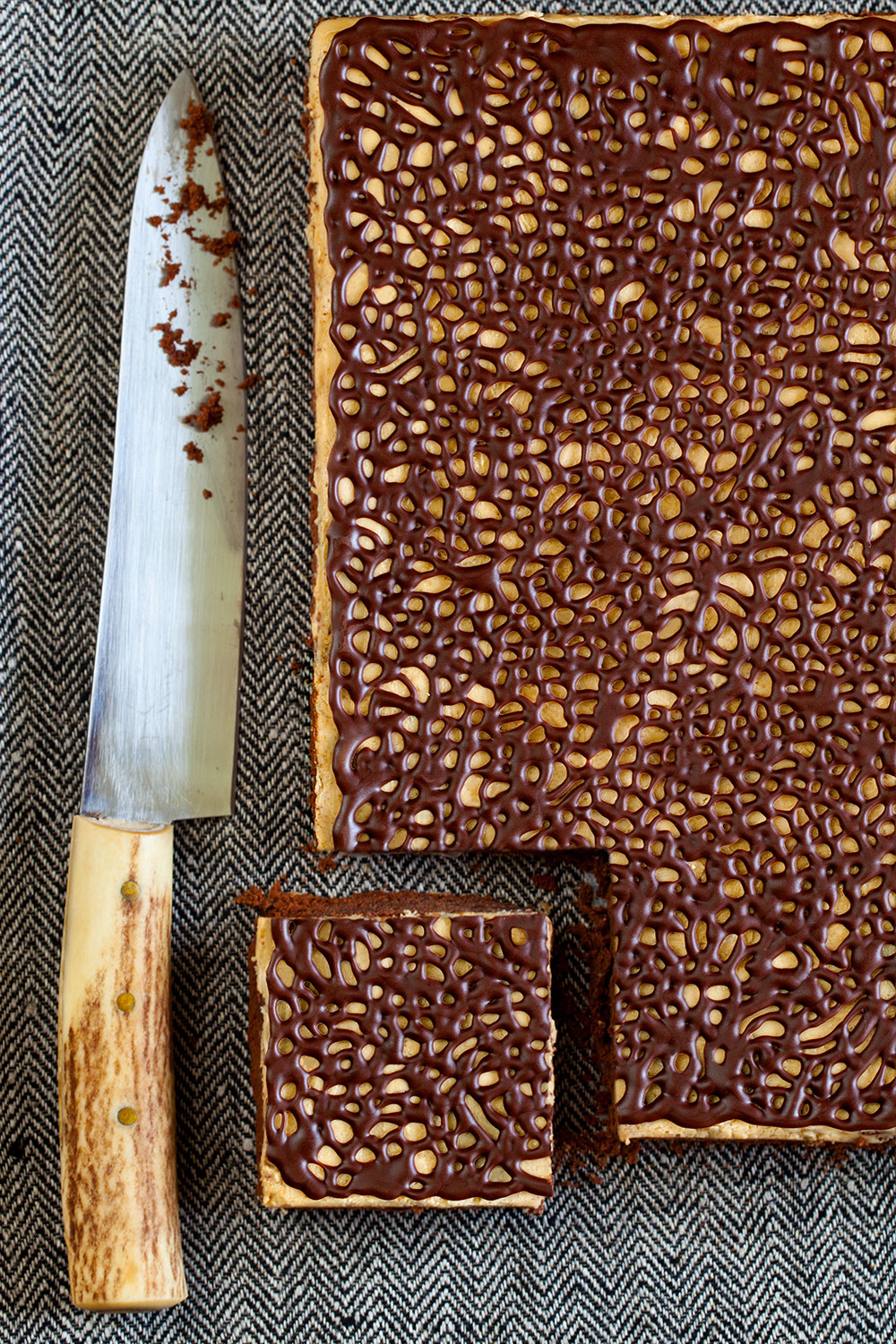 There's no possible way to keep the chocolate in the piping bag fluid for longer than 10 minutes. I tried using a hair dryer to heat up the tip to get it going, but no luck. A stencil would have been extremely helpful, but that wouldn't have been haute couture, now would it? And it certainly wouldn't have celebrated craftsmanship.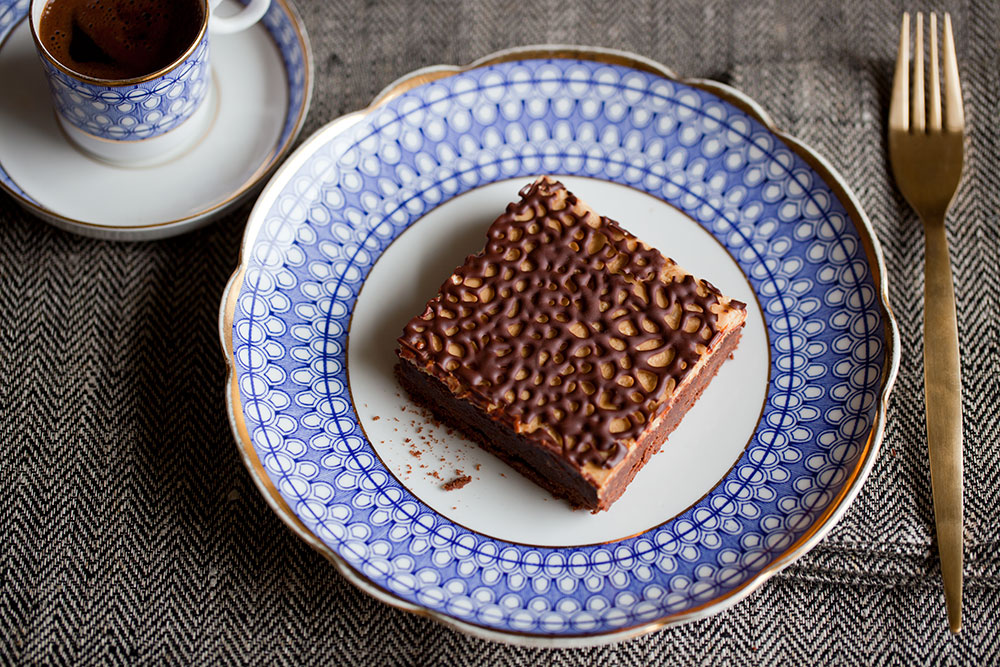 Visit Swide for the complete set of photos and a short interview with me. And don't forget to come back for the recipe.
A heartfelt thank you to Yiğit at D&G for this great opportunity.
BROWNIES with HAZELNUT BUTTER and CHOCOLATE LACE
Ingredients
For Brownies:
10.5 ounces (300 grams) bittersweet (%70 cacao) chocolate, chopped
2/3 cup (10 tablespoons/150 grams) unsalted butter, plus more for pan
3/4 cup (105 grams) all-purpose flour
1/2 cup (35 grams) Dutch-process cocoa powder
1/2 teaspoon salt
1+1/2 cup (300 grams) granulated sugar
5 large eggs
2 teaspoons vanilla extract
For Hazelnut Butter Frosting:
One 14-ounce (400 grams) jar smooth hazelnut butter
For Chocolate Lace Decoration:
4.5 ounces (150 grams) bittersweet (%70 cacao) chocolate, chopped
Method
To make the brownies, adjust the oven rack to the center of the oven and preheat the oven to 350°F/175°C. Butter a 9-by-13-inch rectangular cake pan, line bottom and sides with parchment paper and set aside.
Place the chopped chocolate and butter in the top of a double boiler set over hot water and allow to melt slowly, stirring often. Set aside to cool for 10 minutes.
Sift together the flour, cocoa, and salt into a medium bowl and set aside.
In the bowl of an electric mixer fitted with the whisk attachment, whisk eggs and sugar until light and fluffy. Add the cooled chocolate followed by the vanilla extract, and whisk until combined. Fold in the flour and cocoa mixture with a spatula. Pour the mixture into the baking pan, smooth the top with a spatula and bake for 30 minutes.
Allow to cool in the pan for a few minutes, then turn out and leave to cool completely on a wire rack. Trim the top crust and half-an-inch from each side and place in the refrigerator until chilled, for about 30 minutes.
To make the hazelnut butter frosting, place the hazelnut butter in a small pot over low heat and stir until it is runny. Pour over cooled brownie, smooth the top with a spatula, place the frosted brownies in the refrigerator and chill completely, for about an hour.
To make the chocolate lace decoration, place the chopped chocolate in the top of a double boiler set over hot water and allow to melt slowly, stirring often. Set aside to cool for 10 minutes.
Place a 16-inch-long parchment paper on your work surface. Draw an 8-by-12 inch rectangular with a pencil, turn the other side and place it on a baking tray. Pour the melted chocolate into a piping bag fitted with the smallest (about 1 millimeter) plain tip and pipe the lace decoration the size of your brownie. Place the baking tray together with a large offset spatula in the refrigerator and wait until the chocolate is set, for about an hour.
Transfer the brownie on your serving plate. Remove the chocolate decoration from the refrigerator and with the help of a large chilled offset spatula go underneath the decoration, pick it up and place it on the brownie. Heat the blade of a large knife with a heat gun or stick it in a cup of hot water for a few minutes and then wipe off the water (heating the blade helps with cutting through the chocolate decoration without breaking it into pieces), cut the brownie into 12 identical squares and serve.