No-bake chocolate biscuit cake is a staple in almost every Turkish mother's repertoire.
Turns out, we've all been eating like royalty! According to this article, no-bake chocolate cake is a tea time favorite of Queen Elizabeth II. In fact, it was one of the cakes served at Prince William and Kate Middleton's wedding reception. McVitie's Cake Co., the company that has been making the royal cakes ever since King George V and Queen Mary's wedding, revealed that they used 1700 of their tea biscuits and 37 pounds of chocolate for a few hundred slices.
A royal wedding and not even a pound of chocolate per guest? Now that's what I call a scandal.
It is a royal secret, but there are so few ingredients that it wasn't too hard to come up with an approximate recipe. Cream butter and sugar, stir into melted chocolate, add an egg, fold in biscuits and transfer to a mold. Sounds a lot like a chocolate bar with a biscuit in the middle. I don't understand why they went into so much trouble when a much better version is just a train ride away. I'm talking about Franck Kestener's Atlantique – hands down the most delicious thing I've ever eaten.
The Turkish version is quite different. Milk, butter, sugar and cocoa are cooked briefly and poured into a large bowl of broken petit beurre biscuits. You wait until the biscuit pieces soak up all the liquid, then scrape the mixture into a mold made of aluminum foil, shape it into a log and freeze until solid. The final texture reminds me of papara – a dish prepared by soaking stale bread pieces in beef broth.
How can I explain it better? Imagine several crumpled paper bags dampened with hot cocoa. As you can tell, it was not my childhood favorite.
My version is quite different. For me, a no-bake chocolate cake is all about contrasting textures.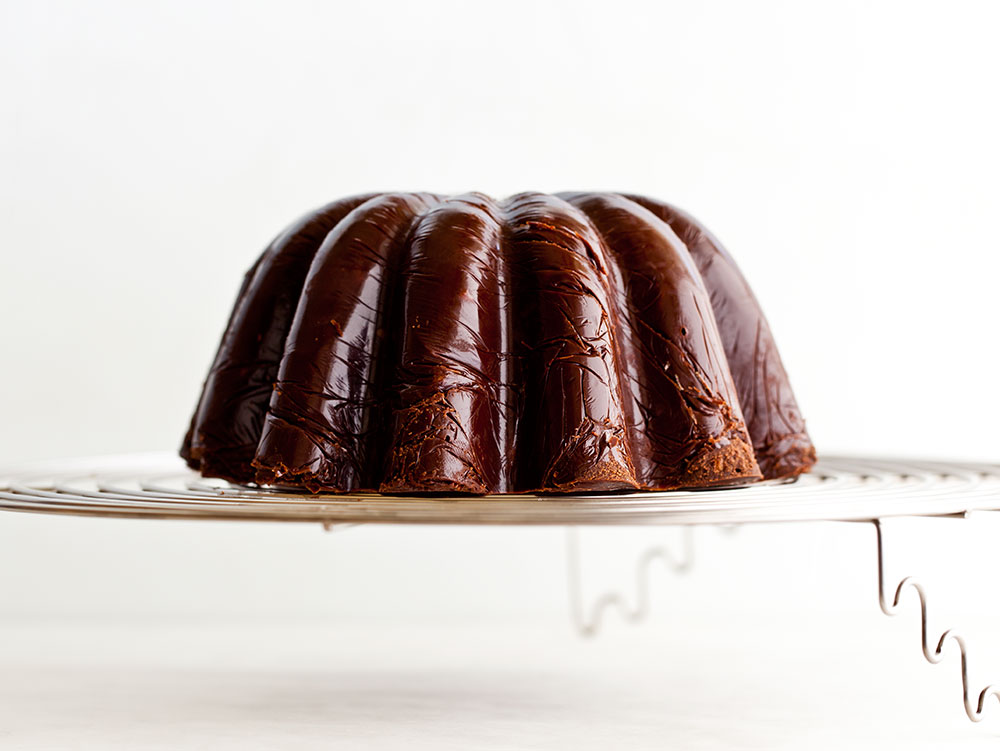 A creamy ganache that starts melting as soon as you put it in your mouth and buttery, vanilla-scented homemade biscuits that never lose their crispiness.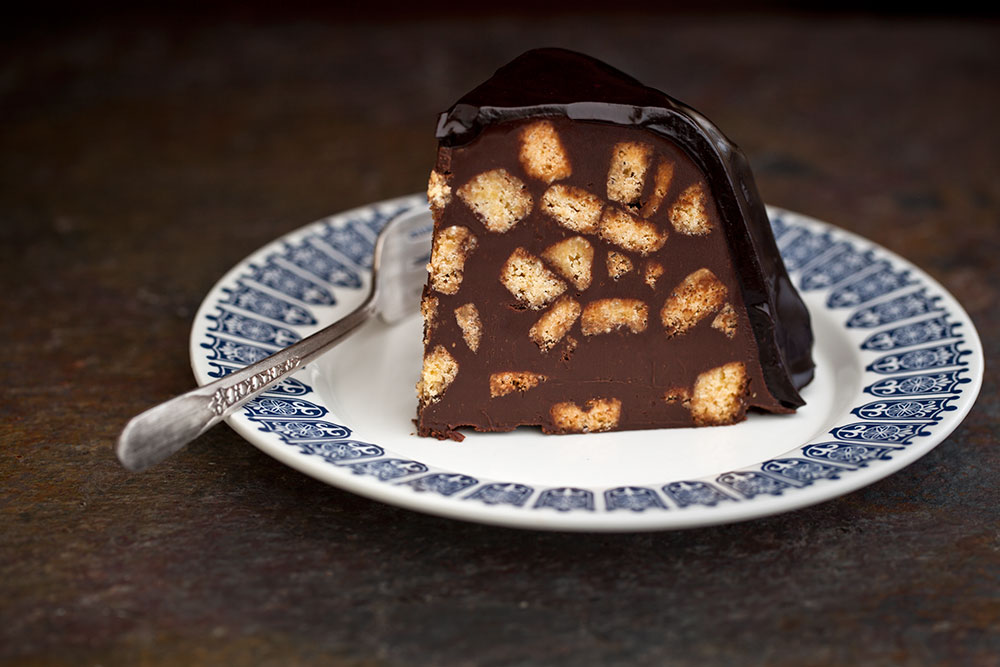 And a dark, sticky glaze to coat the whole cake, which you might remember from the L'Orange post – recipe by The Queen of Baking herself.
Three contrasting textures. Cold, firm and melt-in-your-mouth ganache, crispy cookies and velvety lacquer glaze.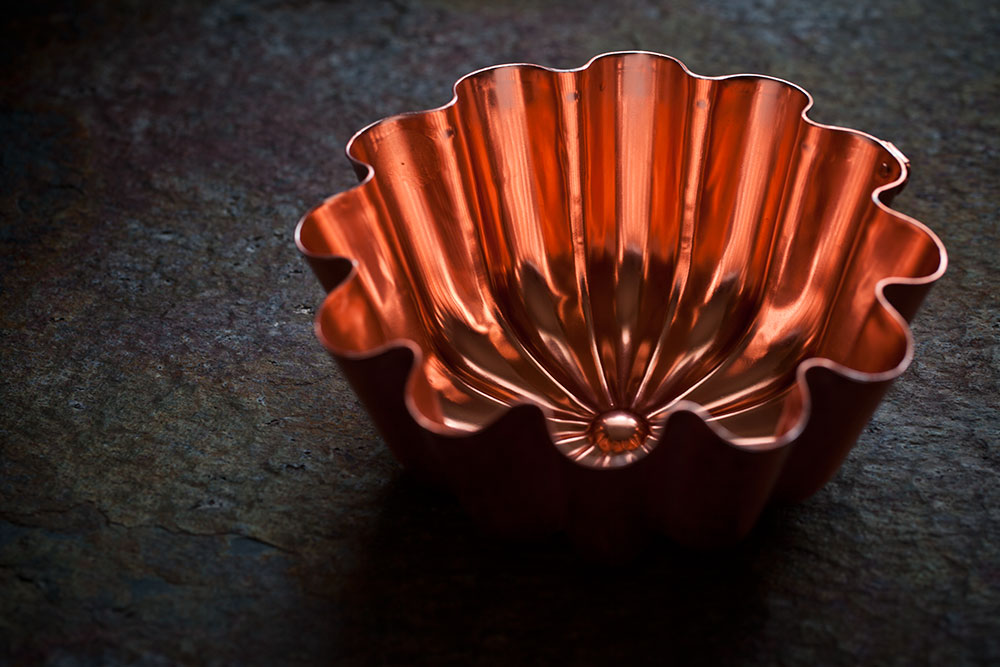 Feel free to use any mold you like as long as the volume is about the same. I've used a copper mold that has a 4-cup capacity.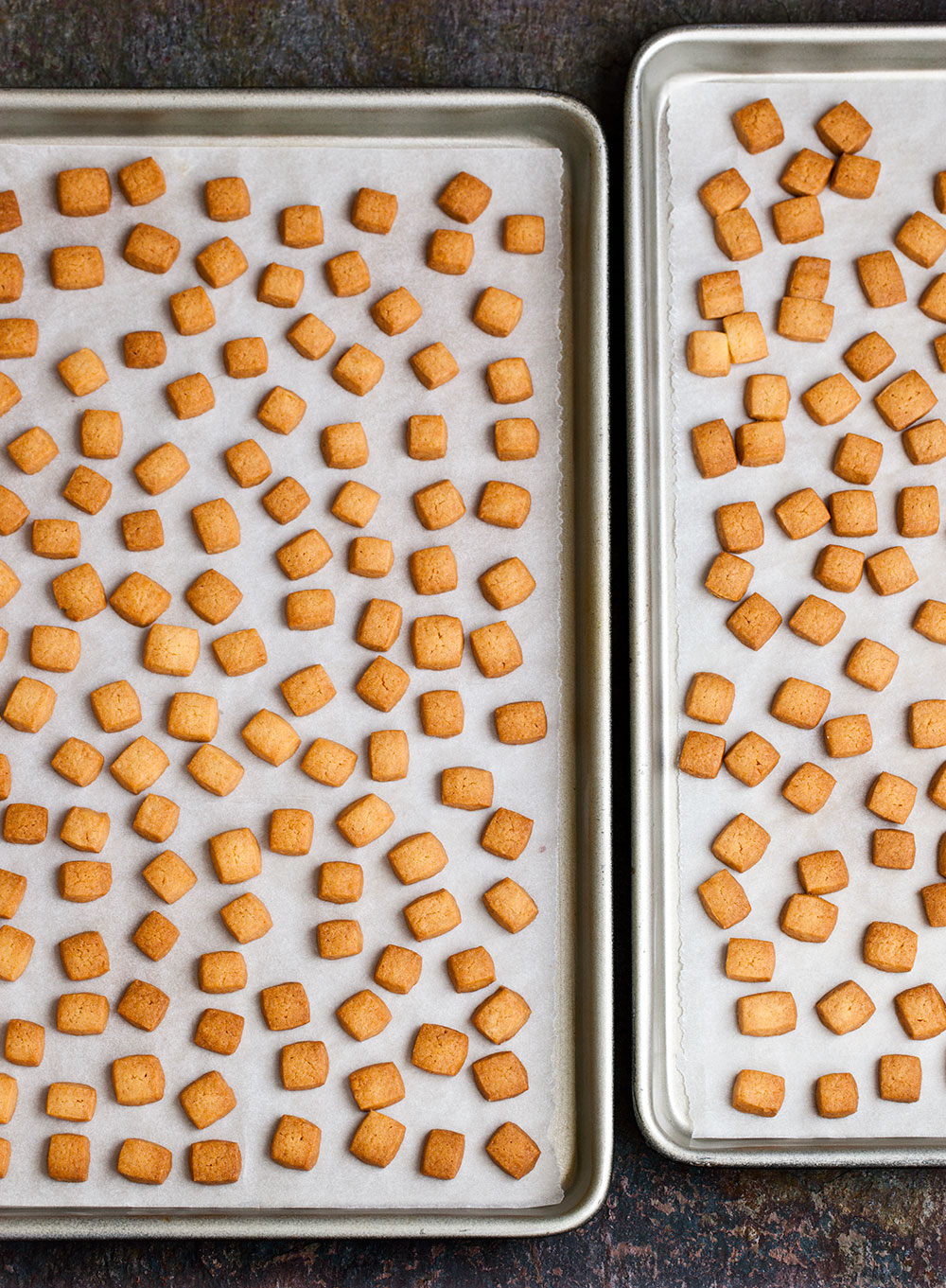 The biscuits (by the way, I'm not referring to the puffed, feather-light quick bread, but the sweet and crisp baked good synonymous with cookie in some parts of the world) are homemade.
The vanilla extract I've been feeding for almost 3 years now has become a monster. There are at least 40 vanilla pods swimming in it, all leftover from recipes I've been trying for the book. Half a teaspoon was enough to perfume 273 cookies, but if you're using store-bought, you might want to double that amount.
And yes, I said 273. For a single cake. They're the tiniest cookies I've ever baked.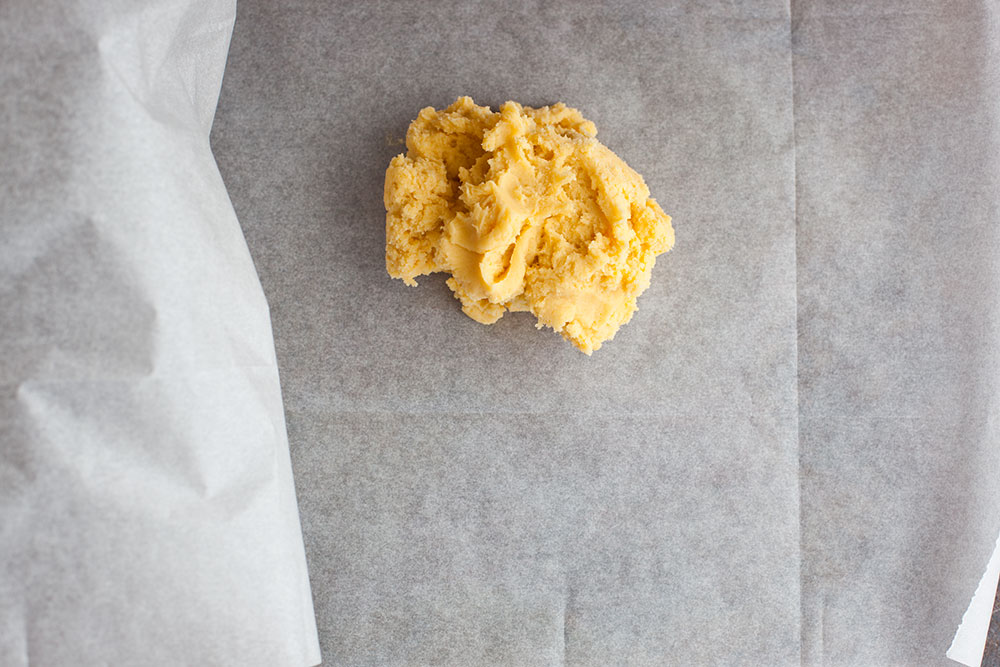 And now the most exciting part… Ever since I came up with the recipe, I've been waiting impatiently to share this tip with you.
When making cut-out cookies, the edges of the dough always end up thinner and rolling it out as a straight rectangle is almost impossible. Even though you cut straight shapes, you're left with scraps and need to roll them out again. Plus, you also have to wait for the dough to chill before rolling out. Well, here's a technique that solves all those problems. Especially useful when you're making 273 tiny cookies and obsessed about obtaining identical squares.
Cut a large piece of parchment paper, fold it in half, then fold over the three open sides to create a 6-by-10 inch envelope.
Place the biscuit dough in the center of the 6-by-10 inch rectangle, flatten slightly with your hand, fold the envelope again, making sure to crease the open sides firmly.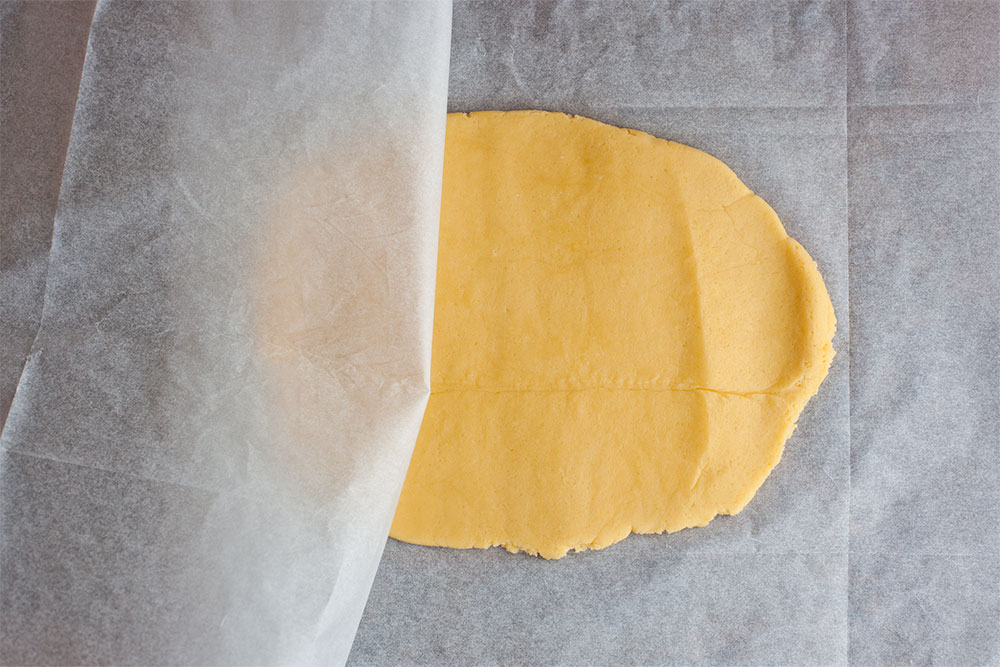 Roll out the dough from the center to the corners…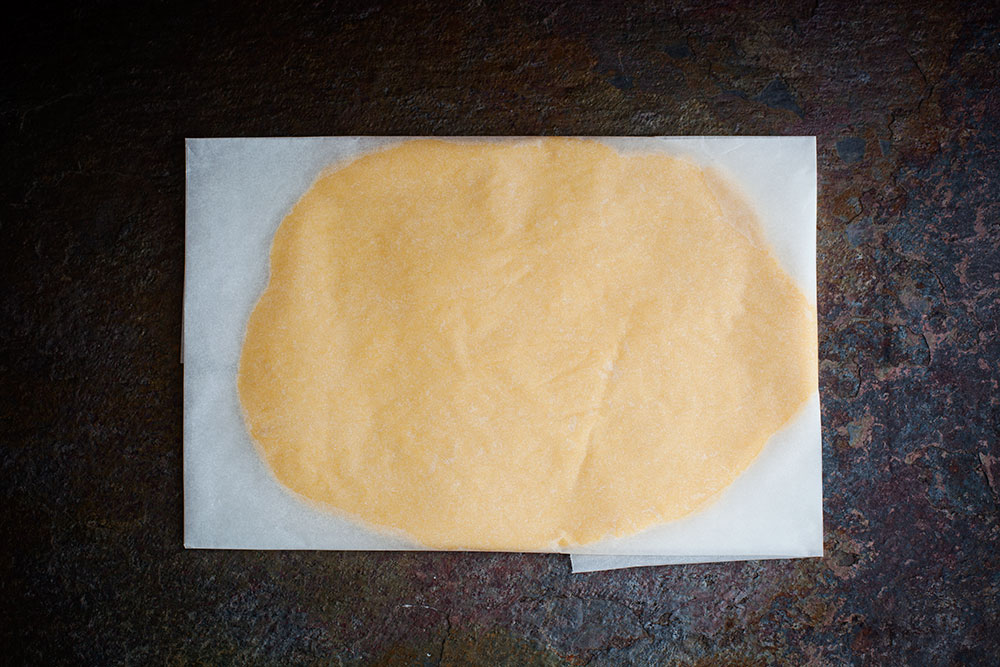 …until you obtain a 6-by-10 inch flat dough.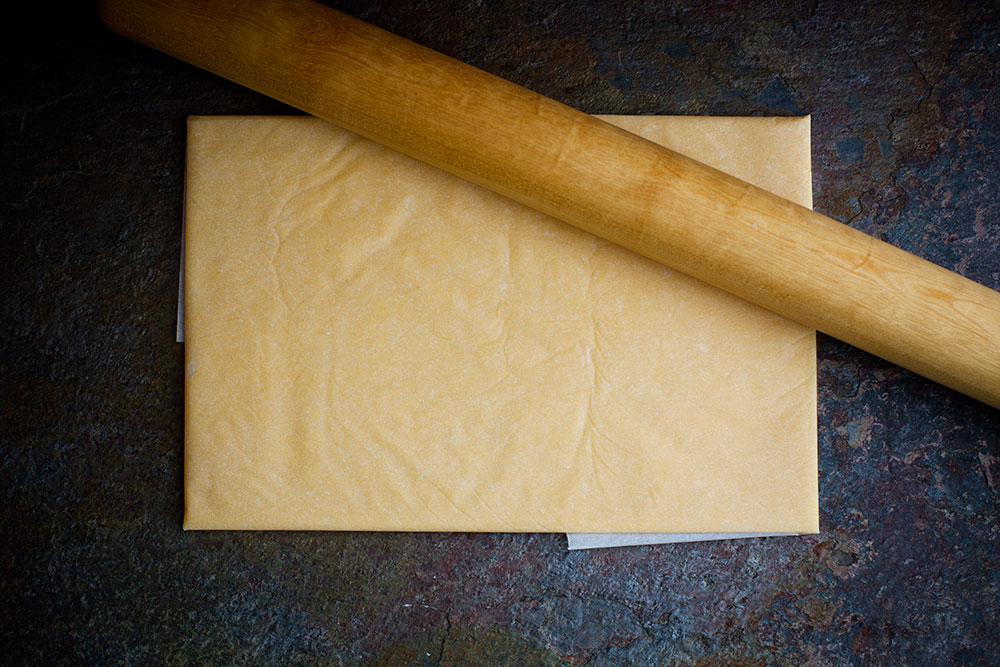 Once the corners are filled, go over the dough once or twice to obtain a completely flat surface.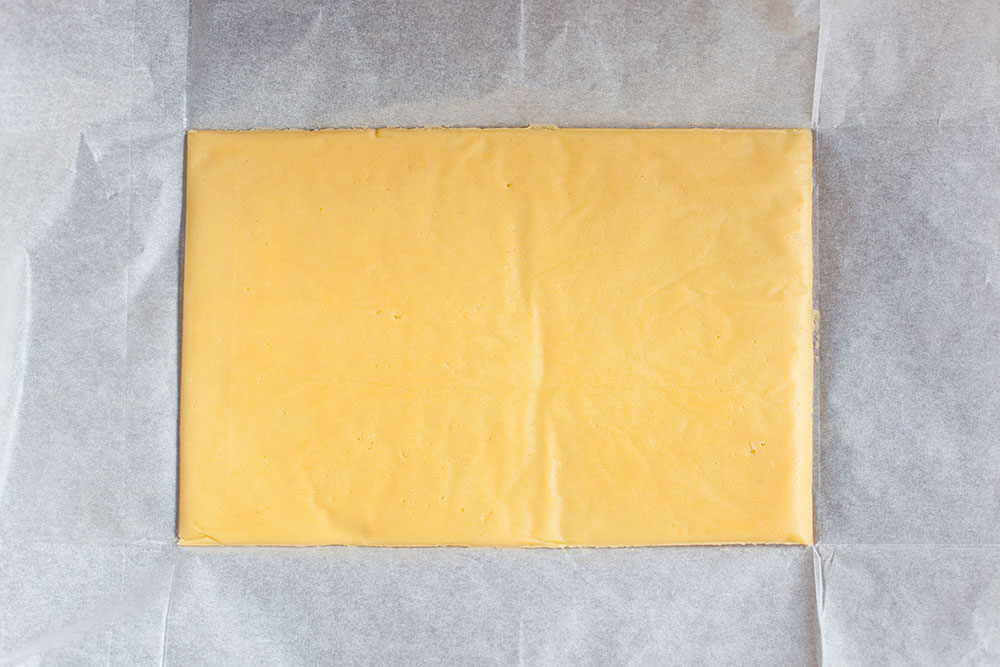 At this stage, the dough will be quite soft and sticky, so it is important that you freeze it before cutting into small squares.
Cutting the dough lengthwise into 21 even strips and then crosswise into 13 even strips will yield 273 identical squares.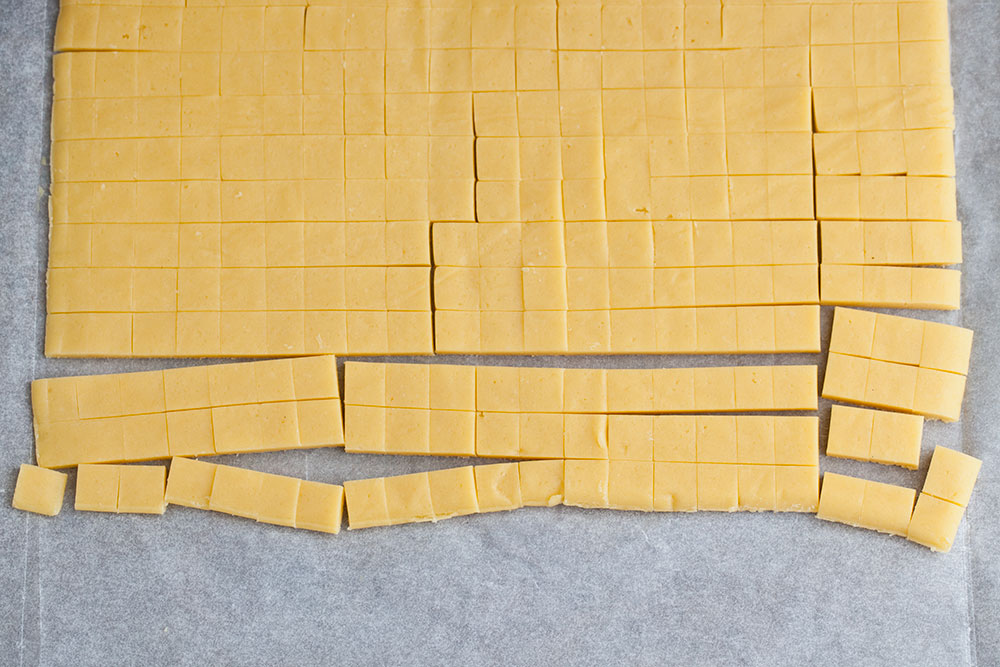 You might think it would be painful to transfer 273 biscuits to lined baking sheets, but it is quite easy if they're frozen. If the dough starts to get soft after you cut it into small squares, you can freeze them 5-10 minutes more. Just scoop a handful, scatter them on the baking sheet, then move around to leave a quarter of an inch of space between each.
You can use the same parchment to line the baking sheets, so nothing is wasted.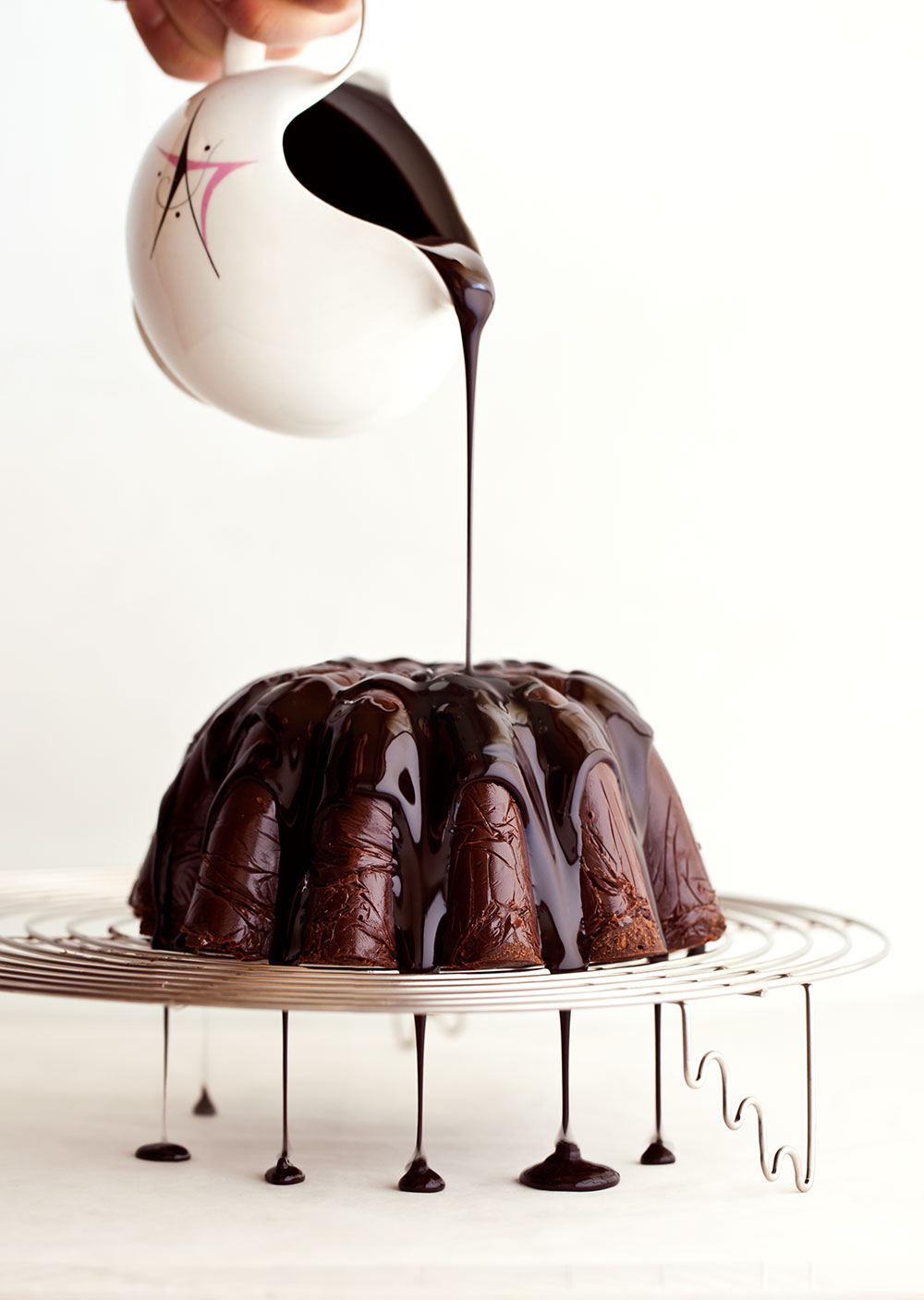 By the way, I started developing this recipe long ago, in honor of World Nutella Day. It took longer than I expected, so I couldn't publish it then. That's why I've used Nutella in the ganache, but if you'd like a more pronounced hazelnut taste, feel free to substitute hazelnut butter.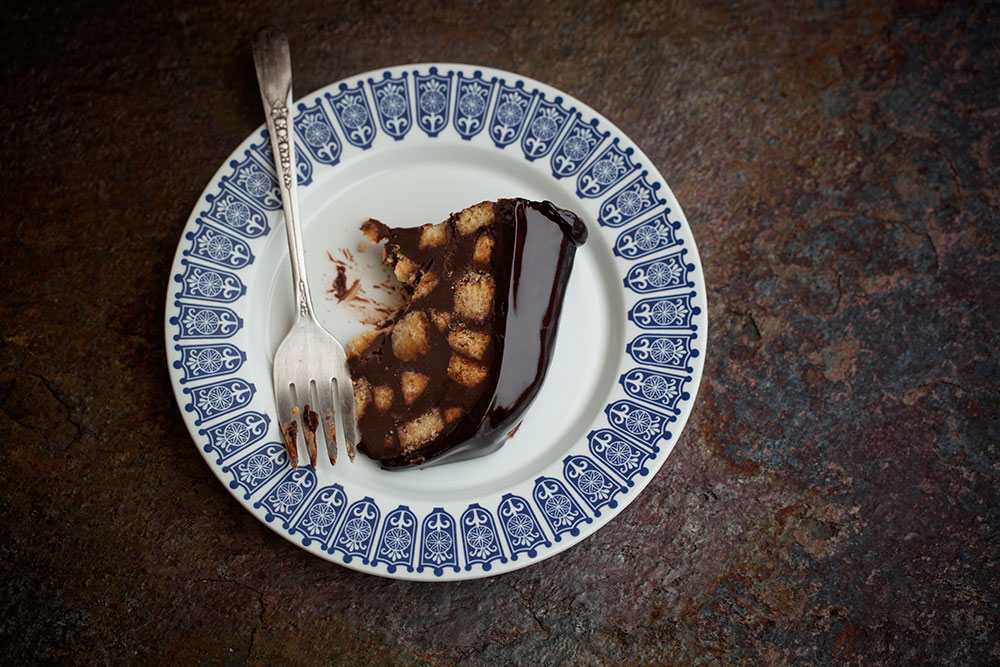 Hope you like my version. Enjoy!
NO-BAKE CHOCOLATE BISCUIT CAKE RECIPE
Yield: 12 slices
Ingredients
For tiny biscuits:
1 cup (140 grams) all-purpose flour
1+1/4 teaspoons (5 grams) baking powder
Pinch of salt
6 tablespoons (90 grams) butter, softened
1/3 cup (70 grams) granulated sugar
2 large egg yolks
1/2 teaspoon homemade vanilla extract (double the amount if using store-bought)
For Nutella Ganache and Glaze:
1 cup (240 grams) heavy cream
200 grams bittersweet (%70 cocoa) chocolate, chopped finely
2/3 cup (200 grams) Nutella
1/4 teaspoon salt
10 tablespoons (150 grams) butter, cut into small cubes and softened
Lacquer chocolate glaze (recipe here)
Method
To prepare the tiny biscuits, sift together flour, baking powder and salt into a mixing bowl and set aside.
In the bowl of an electric mixer fitted with the paddle attachment, cream butter on medium speed for a minute. Add the sugar and beat on medium speed until light and fluffy, for about 3 more minutes, scraping down the sides with a spatula as necessary. Add the egg yolks and beat until fully incorporated. Beat in vanilla. With the mixer on low speed, add the flour mixture and mix just until combined.
Cut a large piece of parchment paper, fold it in half, then fold over the three open sides to create a 6-by-10 inch envelope. Unfold the envelope, place the biscuit dough in the center of the 6-by-10 inch rectangle, flatten slightly with your hand, fold the envelope again, making sure to crease it firmly and roll out the dough from the center to the edges until you obtain a 6-by-10 inch flat dough. Transfer it on a cutting board and place in the freezer until hard, for about 15 minutes.
Preheat your oven to 350 F.
Take the dough out of the freezer, peel away the top parchment and cut the dough lengthwise into 21 even strips and then crosswise into 13 even strips to yield 273 squares.
Place the biscuits on parchment-lined baking sheets, leaving about a quarter of an inch space between them. Bake 12 to 14 minutes, rotating sheets from top to bottom and front to back halfway through, until the tops are dark golden brown. Let the biscuits cool on sheets. Biscuits can be stored in an airtight container at room temperature up to 2 days or longer in the refrigerator.
To prepare the chocolate and Nutella ganache, put the chocolate in a heatproof mixing bowl. Bring cream to a boil and pour over the chopped chocolate. Let stand for half a minute, then gently stir with a spatula until completely melted. Add Nutella and continue stirring until melted. Stir in salt and butter pieces.
Lightly grease a 4-cup mold and line with plastic wrap, leaving two inches of overhang for easy removal. Pour 1 cup of ganache in the mold and swirl to coat the inside.
Put the biscuits in a mixing bowl, pour over the remaining ganache and stir gently to coat the biscuits. Transfer the mixture into the mold and get rid of air pockets by rapping the mold against the counter. Cover the top tightly with plastic wrap, pressing it against the surface to create an airtight seal. Freeze until completely hard, for 30-45 minutes.
In the meantime, prepare the lacquer chocolate glaze according to the recipe at the bottom of this post.
Place the cake on a cooling rack sitting on top of a baking sheet. Pour the glaze in an even circular motion on top, starting with the sides, allowing it to cascade over and coat them completely. Start pouring in the middle and as the glaze starts going down the sides, pour the glaze about an inch from the edge to help cover the sides evenly. Reapply glaze as needed. 1+1/3 cups of glaze is enough to cover the cake in a single shot, but you can use the glaze accumulated in the baking sheet if needed.
Allow the cake to sit until the glaze stops dripping, then move the cake to a serving plate and place in the refrigerator to set (don't allow it to harden), for 30-60 minutes.
Wrapped airtight, the cake will keep fresh for a week in the refrigerator. Let stand at room temperature for 30 minutes before serving.