Brownie recipes are among the easiest to make gluten-free. As the flour plays no essential role (many recipes have none at all), you can freely substitute it with an array of gluten-free alternatives. I'm sure you've seen several versions, but have you tried brownies made with sarı leblebi flour?
Sarı leblebi refers to double-roasted hulled chickpeas (leblebi) that are yellow (sarı). It is a beloved Turkish snack, available at every kuruyemişçi (specialty shop selling dried nuts, seeds, and fruits), sometimes roasted right by the entrance to entice customers with its toasty smell. Roasting the chickpeas twice chars them in spots, giving them an intensely toasty flavor. There is also beyaz (white) leblebi, made from unhulled chickpeas; these go through a different process and aren't as toasty. Sarı leblebi may be found ground into a flour, but as I always have the snack on hand, I grind the flour at home using a mortar and pestle.
Used in place of all-purpose flour in a brownie recipe, sarı leblebi would be nearly impossible to detect—it does not change the brownies' taste, texture, or color. And that is what we call a successful gluten-free conversion, right? Exactly, but I can't claim that as an achievement because the same would be true using almost any gluten-free flour. Instead, my objective was to highlight the stand-in's toasty flavor, not only making it gluten-free but also adding a new nuance. Since adding additional sarı leblebi flour to the batter would upset the recipe's balance, I tried reducing the chocolate and replacing almost half of the butter with another toasty ingredient: tahini. The brownies had an earthy flavor, but neither the toasty flour nor the tahini was pronounced. To bring that toasty flavor forward, I came up with a tahini swirl thickened with sarı leblebi flour. Yes, I found a way to sneak more in!
Look for sarı leblebi in Middle Eastern grocery stores or online (available on Amazon), or substitute roasted chickpea flour (also called roasted gram flour or besan), found in Indian or Burmese food shops. Alternatively, roast regular chickpea flour in a cast-iron skillet over medium-low heat until it is lightly browned and smells nutty.
Small request: If you've been enjoying my book or the recipes and videos I've been sharing from the book, I'd really appreciate it if you can take the time to leave a review on its Amazon or Goodreads page. The more reviews it gets, the more visible it will be to cookbook buyers, which will support my efforts to start working on a new book project. You don't need to have purchased the book you're reviewing (you do need to have an account), so feel free to base your reviews on the recipes and posts I've shared on my blog so far. Many thanks in advance!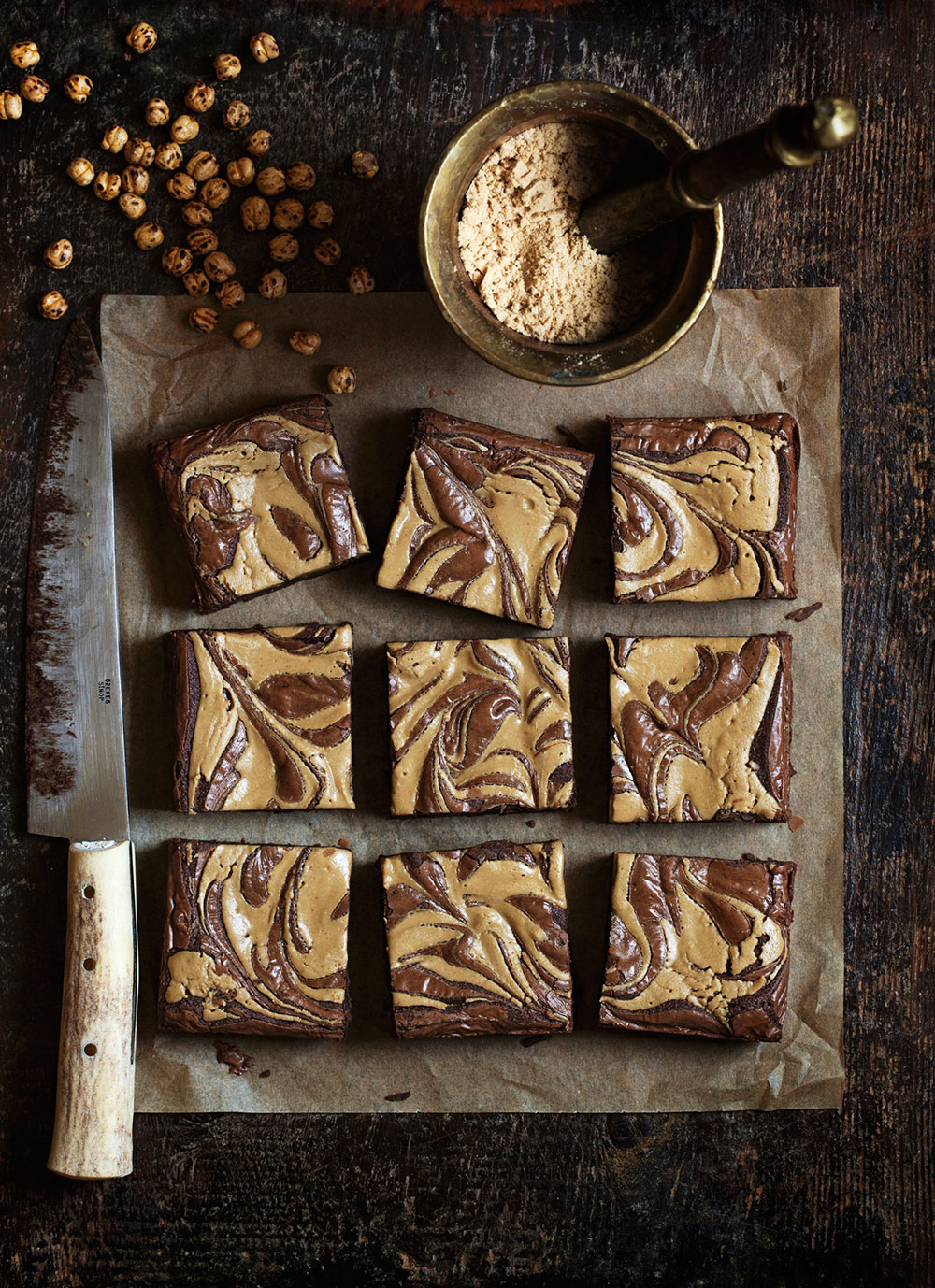 TAHINI and LEBLEBI SWIRL BROWNIES

Recipe from The Artful Baker, reprinted by permission of Abrams Books.
Makes 9 large or 16 small brownies
Ingredients
Brownie
6 tablespoons (3 ounces; 85 grams) unsalted butter, cut into large pieces, plus more for pan
8.8 ounces (250 grams) bittersweet chocolate (70% cacao), coarsely chopped
1/2 cup (124 grams) tahini, at room temperature*
3/4 cup (78 grams) sarı leblebi (double-roasted chickpea) flour or roasted chickpea flour (see headnote)
2 tablespoons (13 grams) Dutch- processed unsweetened cocoa powder
1/4 teaspoon (2 grams) fine sea salt
3 large eggs
1 cup plus 2 tablespoons (225 grams) granulated sugar
Topping
1/4 cup (62 grams) tahini, at room temperature, plus more if needed*
3 tablespoons (20 grams) sarı leblebi (double-roasted chickpea) flour or roasted chickpea flour (see headnote)
Pinch of fine sea salt
* Make sure to stir tahini until it is thoroughly mixed before measuring it.
Method
Set a rack in the middle of the oven and preheat the oven to 350°F (175°C).
Butter the bottom and sides of an 8-inch (20.5-cm) square baking pan. Line the pan with two overlapping strips of parchment paper that are the width of the pan bottom and long enough to cover the bottom and sides with 2 inches (5 cm) of overhang on each side. Butter the lower parchment to secure the top sheet.
To make the brownie, in a medium heatproof bowl set over a medium saucepan filled with 2 inches (5 cm) of barely simmering water, melt the butter and chocolate, stirring occasionally with a silicone spatula. Remove the bowl from the pan, stir in the tahini, and let cool completely.
Sift together the chickpea flour, cocoa powder, and salt into a medium bowl.
In the bowl of a stand mixer fitted with the whisk attachment, beat the eggs and sugar at medium-high speed until the sugar dissolves and the mixture is pale and thick, about 4 minutes. Add the cooled chocolate mixture and beat at medium speed until blended, about 30 seconds. Add the chickpea flour mixture and beat until incorporated.
Remove the bowl from the mixer and scrape down the sides with a silicone spatula, reaching down to the bottom to incorporate any unmixed dry ingredients. Scrape the batter into the prepared pan and spread it evenly with a small offset spatula.
To make the topping, in a small bowl, whisk the tahini, chickpea flour, and salt until blended. Check the consistency; when you lift a portion of the topping, it should cascade from the whisk in a thick, solid ribbon that disappears into the topping within 5 seconds. If it appears too thick or stiff, whisk in more tahini, 1 teaspoon (5 grams) at a time, to reach the desired consistency.
Drop the topping in teaspoon-size dollops over the brownie batter, spacing them evenly apart. Gently drag the tip of a dull knife through the dollops of topping to create a swirl pattern.
Bake until a paper-thin crinkly crust forms on the naked parts of the brownie, about 25 minutes. A wooden toothpick inserted into the center should come out with moist crumbs clinging to it. Set the pan on a wire rack to cool completely. As the brownie cools, the center will sink slightly.
Using the parchment overhang as handles, lift the brownie out of the pan and transfer it to a cutting board. Cut the brownie into 3 or 4 equal strips in each direction to make 9 or 16 squares. Serve at room temperature or chilled.
Storage: The brownies will keep, wrapped airtight, at room temperature for up to 2 days or in the refrigerator for up to 5 days.