If someone ever compiles a list of "The Most Bizarre Projects Ever", I am pretty sure that at least three of the ones I was assigned during my ten years in the corporate world would make it to the top of that list.
Here are a few: I was woken up on a Sunday night and was ordered to do some damage control for one of our billboards, which was supposed to welcome a VIP from the headquarters arriving in Istanbul the next morning. Apparently, during the heavy rain that day, a couple drops of water leaked into the billboard, which "had the potential to cause" a tiny section close to the edge of the ad curl (which would be impossible to detect from the VIP's limo on the road, but still unacceptable). I was ordered to rush to the site with a ladder (the billboard was 12-feet tall) and a hair dryer to dry the ad (I promised to take care of the situation, hung up and went back to sleep). On another occasion, again involving welcoming a VIP guest, we were planning on hanging banners on electric poles with our ads printed on them. Before they were printed and hanged, I was asked to test, in a lab environment, the maximum wind speed they could withstand "by creating artificial winds at several different speeds" (I just laughed). I saved the best for last: I was ordered to put together a PowerPoint presentation summarizing a love scandal that had broken out in the office, to be sent to our headquarters abroad.
What's even more bizarre than these requests is the fact that, over time, I've somehow gotten used to them.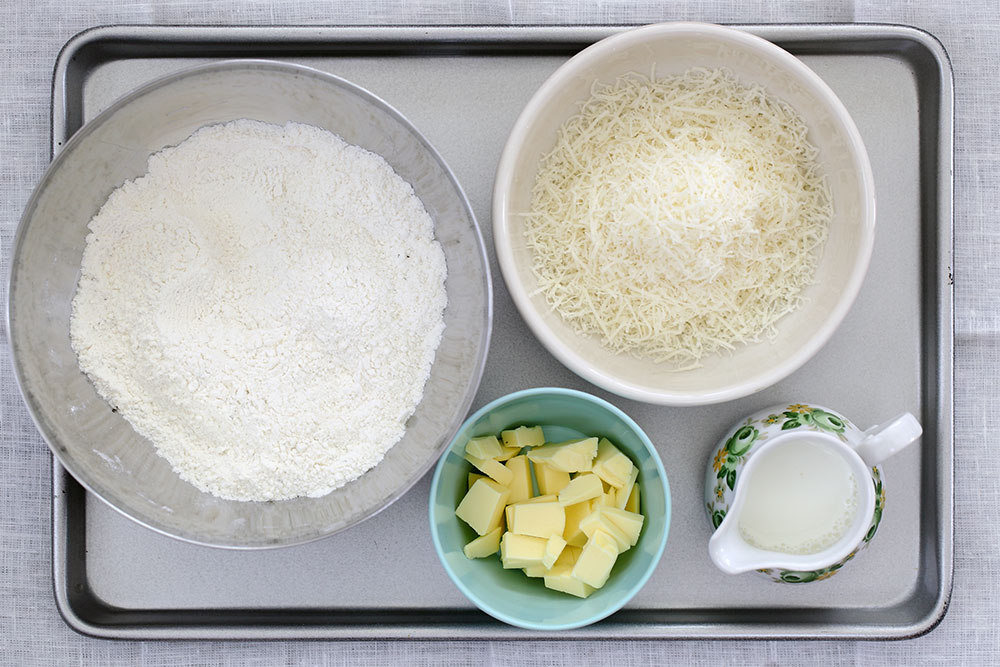 For instance, when I was assigned the task of handling the presentation for the love scandal, I didn't mind the ridiculousness of the project – I immediately started thinking what should be on the first slide. After all, the first slide is the most important one; that is where you summarize the whole presentation with one or two images. Oh, by the way, the managers abroad hated "reading stuff" (I was told they had no patience), so I had to explain everything with photos and illustrations. So I thought, maybe an image of a big, red heart in the center, broken into pieces with photos of those involved on each side?
Fortunately, I no longer have a boss who makes such ridiculous demands. Actually, I don't have "a boss". I am pretty much my own boss now. And since I don't pay myself a monthly salary to do the things I do, I can't feel too much responsibility even if I want to. Ever since the day I started working from home, even though I am busy from morning till dawn, I have felt a little sluggishness creeping in – especially if you compare my performance during those VIP visits.
What I mean is, I am not asked to perform anything outrageous anymore.
In order to put an end to this slow pace, I have set myself a very ambitious agenda. I am going to finish my cookbook in a year and a half no matter what. Just because I am writing, photographing and designing a cookbook in a year and a half can not justify spending less time on my blogs. I need to post at least 1 recipe per week. They may not be as delightful as the Kastamonu Food Market post, I may not be able to take as many photographs as I did in L'Orange and the recipes may not be as complicated as in the The Croissant Challenge, but I really don't want to take long breaks between posts.
In addition to these, I am going to start writing a second book. Actually, not quite writing but rather starting to test recipes. Let's be frank, shutting yourself up at home for a year and a half to try new recipes for every book you plan to write is not very smart. I eat (at least) three meals a day some way or another, don't I? These meals can easily turn into opportunities for testing recipes.
Also, I too am a human being. I have many areas of interest other than food. I am going to spare one day of each week to practice my favorite hobby: Photography. I just bought a vintage medium-format camera and there's nothing automatic about it whatsoever. You have to do everything manually. And that means you have to think twice before you press that shutter button. I've bought The Ansel Adams Photography Series (The Camera, The Negative, The Print) a while back and never got around to reading them from cover to cover. It's about time – even  though I don't understand half of the things I read and feel like a moron.
For me, writing is the most difficult part of the blogging process. There is nothing that burns me down more than looking at the computer screen with blank eyes. I need to improve myself and be more productive. Anne Lamott's "Bird by Bird" has helped me a lot in the past. I need to go through the sections that inspired me the most again. I've heard from someone over at Twitter that Stephen King's "On Writing" is another gem. I shall order it straight away.
Also, the new edition of Dianne Jacob's amazing book "Will Write for Food" just got published. It has a whole new chapter devoted to blogging (17,000 thousand words to be exact). I can't wait to get my own copy (already ordered).
So, that's the plan. I know it is ambitious and I know I'll probably end up finishing  maybe half of the things I plan on doing, but I just wanted to give myself a boost at the beginning of the week.
And here's the first step of the plan: Parmesan and Black Pepper Biscuits.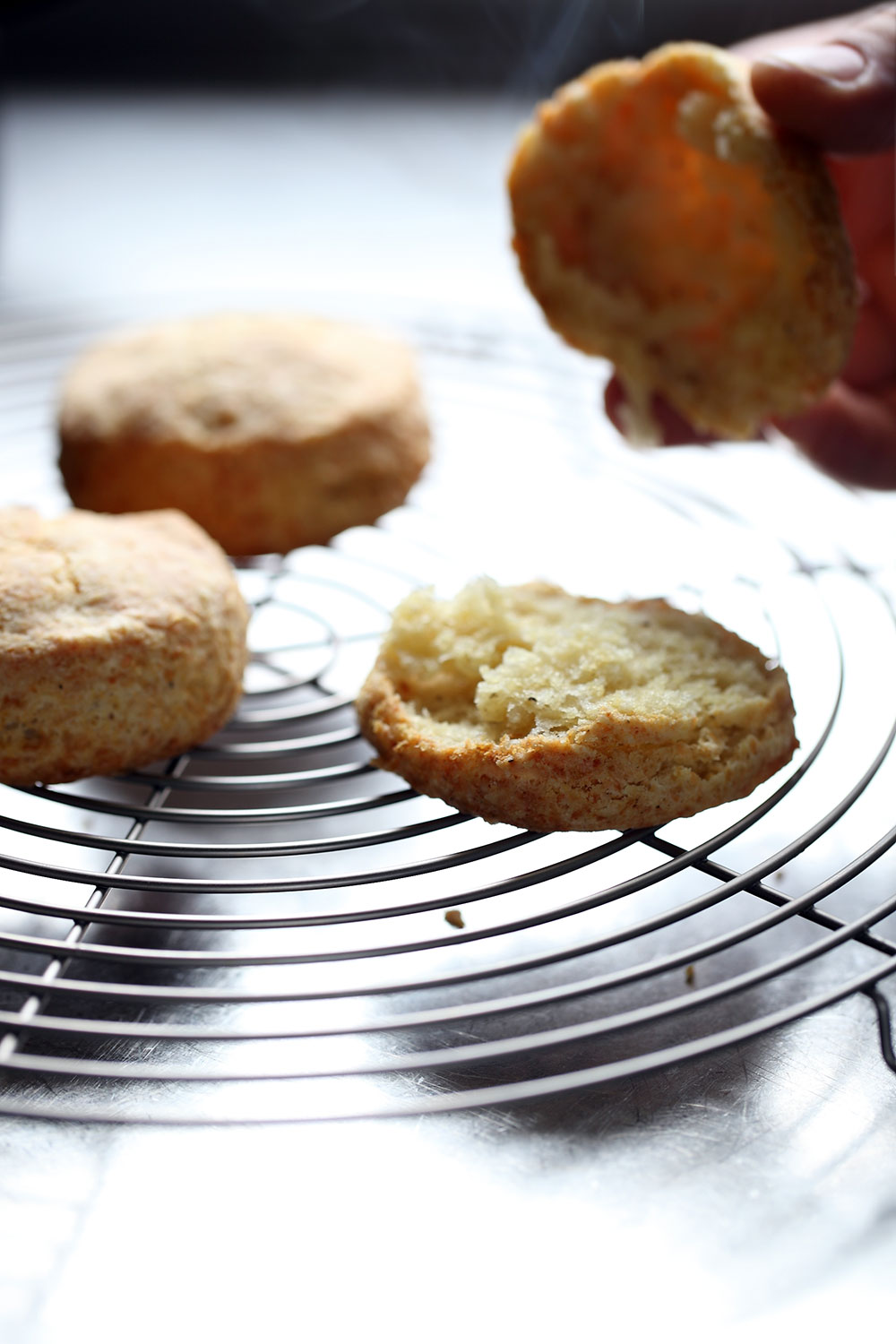 There is nothing like eating fresh bread just out of the oven at breakfast. Don't you agree?
Well, technically, a biscuit is not a bread, but I think I can live with that, considering it only takes me 15 minutes to put it together and another 25 minutes to bake it in the oven.
Here's what you do: First, mix all the dry ingredients in a bowl. Then, add the chilled butter cubes to the mixture, and using your palms, rub the butter and flour together. When the mixture resembles coarse crumbs, add the Parmesan cheese and cream. Do not knead the dough (don't forget – a biscuit is not a bread), but rather combine it together loosely and place it on a counter sprinkled with flour. Just like this: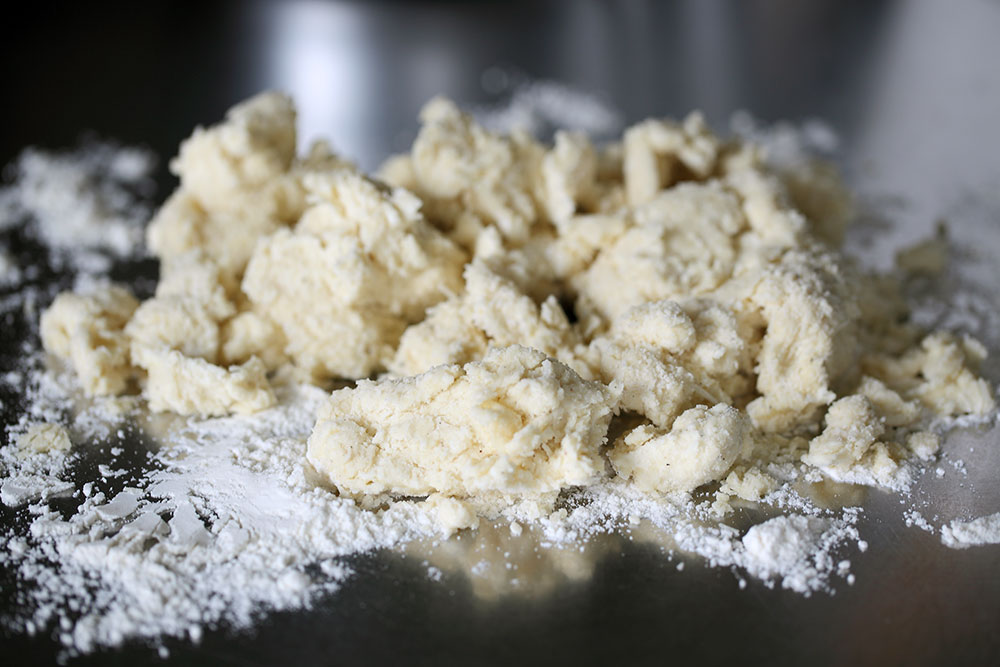 As you can see from the photo, the dough is still wet and didn't come together just yet. In order to achieve the "melt-in-the-mouth" consistency, it is absolutely important not to knead the dough. Instead, try to create layers by folding the dough. When it starts to come together, press the dough with your hands from the corners into the center and form it into a rectangular shape. Just like this: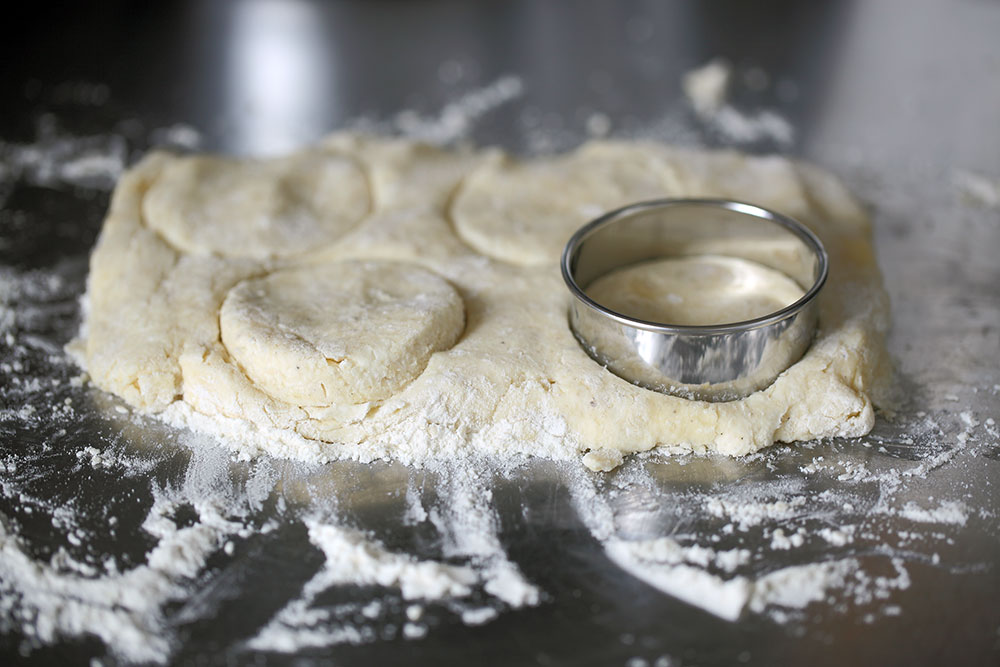 Put them on a baking tray and place it in the oven. All of this takes 15 minutes. Really.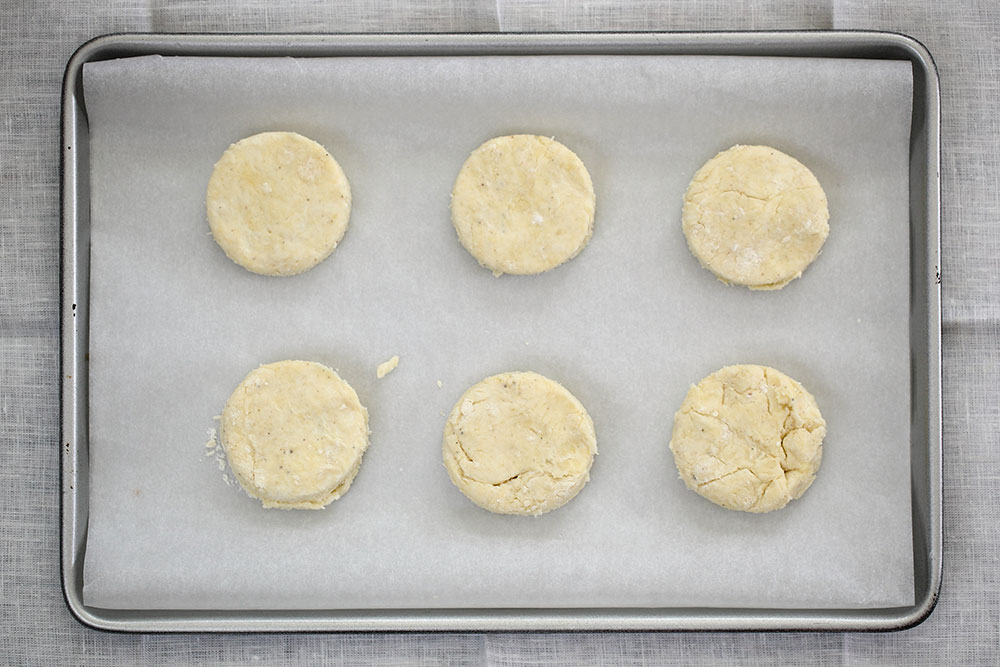 I served these beauties with crispy strips of pastirma (you may remember pastirma from this potato salad post; it is an air-dried cured beef – feel free to substitute bacon) and a fried egg, which I separated before frying, purely for the looks.
Hope you like it. Bon Appetit.
PARMESAN AND BLACK PEPPER BISCUITS RECIPE
Ingredients
3 tablespoons unsalted butter, chilled and cut into half-inch cubes
1+1/4 cups all purpose flour, plus extra for flouring the counter and the dough
1/2 tsp baking powder
1/2 tsp baking soda
1/2 tsp salt
1 tsp sugar
1/4 tsp freshly-ground black pepper
2 ounces Parmesan cheese, finely grated
3/4 cup heavy cream
Method
Preheat the oven to 350 F.
Mix the flour, baking powder, baking soda, salt and sugar in a bowl.
Add the chilled butter pieces and rub into the flour mixture (or use a pastry cutter) until the mixture resembles coarse crumbs.
Add the Parmesan cheese and mix well.
Add the cream and stir with a spatula until most of the flour is absorbed (at this point it is OK if the dough doesn't come together completely).
Place the dough on a lightly floured counter, sprinkle 1 tbsp of flour over it and bring it together by folding the corners over to the center. Flatten it until it becomes approximately an inch thick.
Cut into 3-inch rounds and and place them an inch apart on a parchment lined baking tray.
Bake until golden on top, for about 25-30 minutes. Serve hot.