There are quite a few recipes in The Artful Baker that would be perfect for your Thanksgiving table, such as the Peel-to-Stem Apple Pie or the Deeply Pumpkiny Pumpkin Cheesecake, but in case you're pressed for time or would like your guests to leave with a handmade gift, here's a great recipe that requires only 15 minutes of active work.
There have been many crazes in the food blogosphere over the last decade, and I am surprised that blond chocolate wasn't one of them. Technically, blond chocolate is not a designated category. It is essentially caramelized white chocolate, which is nothing new, but Valrhona was the first to produce a stable couverture version. Frédéric Bau, the founder of L'Ecole du Grand Chocolat Valrhona, is the mastermind behind Valrhona Dulcey, the first couverture blond chocolate. It has a toasty, buttery, biscuit-like flavor, with a final hint of salt, akin to a freshly baked croissant dipped in dulce de leche.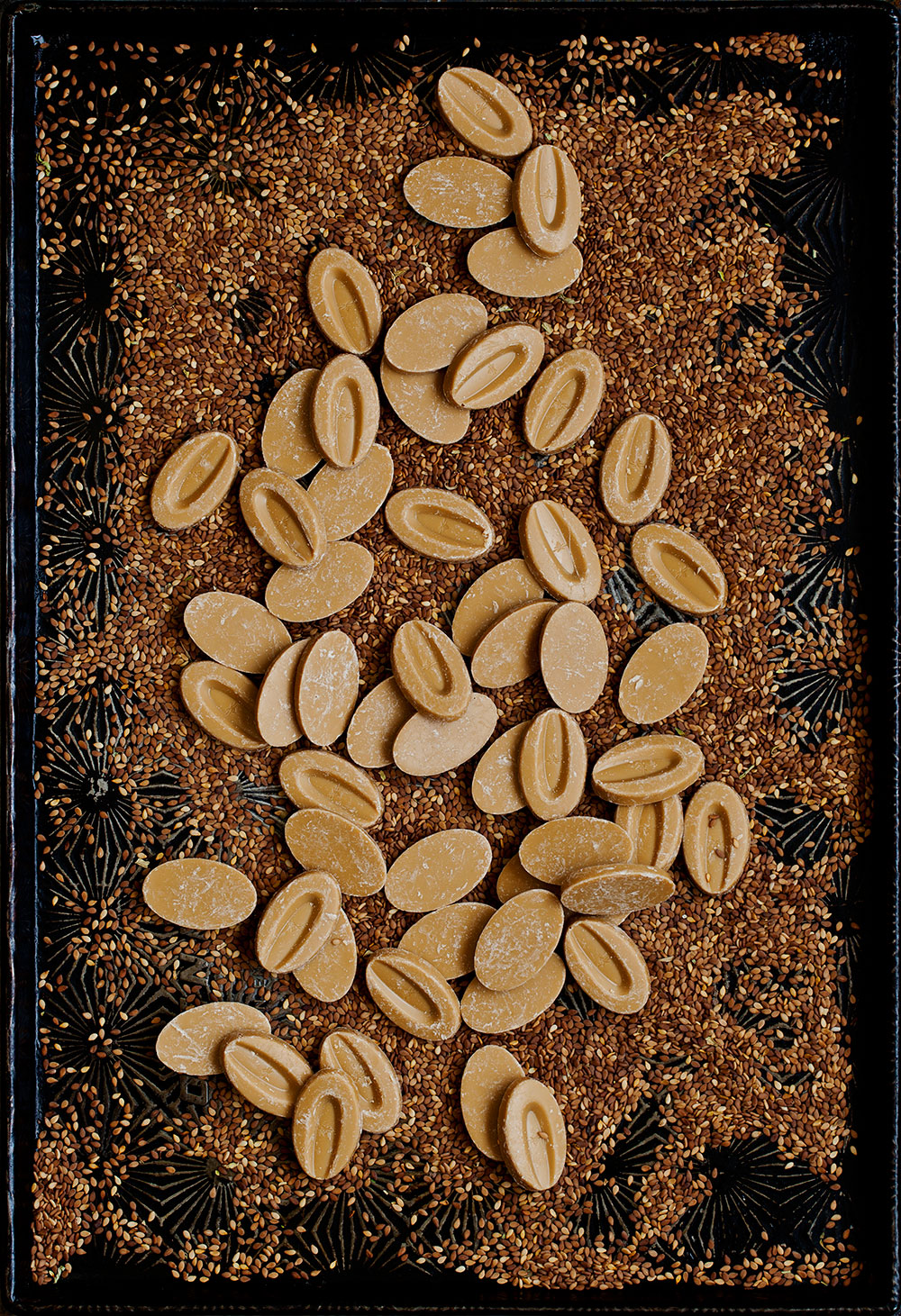 With a cacao content of 32 percent, Dulcey is made from cocoa butter, sugar, whole milk powder, dried skimmed milk, whey, butter, lecithin, and vanilla.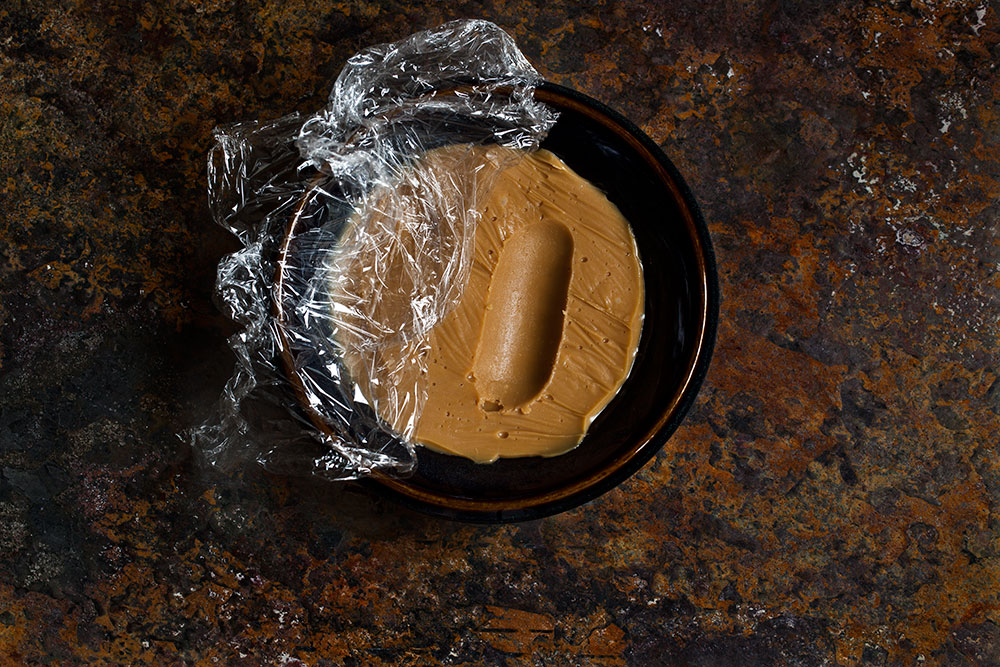 In The Artful Baker, I use it for the ganache layer of Brownie Wears Lace (page 96), pair it with cream cheese and ground cinnamon to make the frosting for my carrot cake (page 122), and turn it into a glaze for Mocha Éclairs (page 234).
It goes particularly well with fruits that are low in acidity, such as bananas and mangoes or with ingredients that have earthy and decadent flavors, such as tahini and sesame.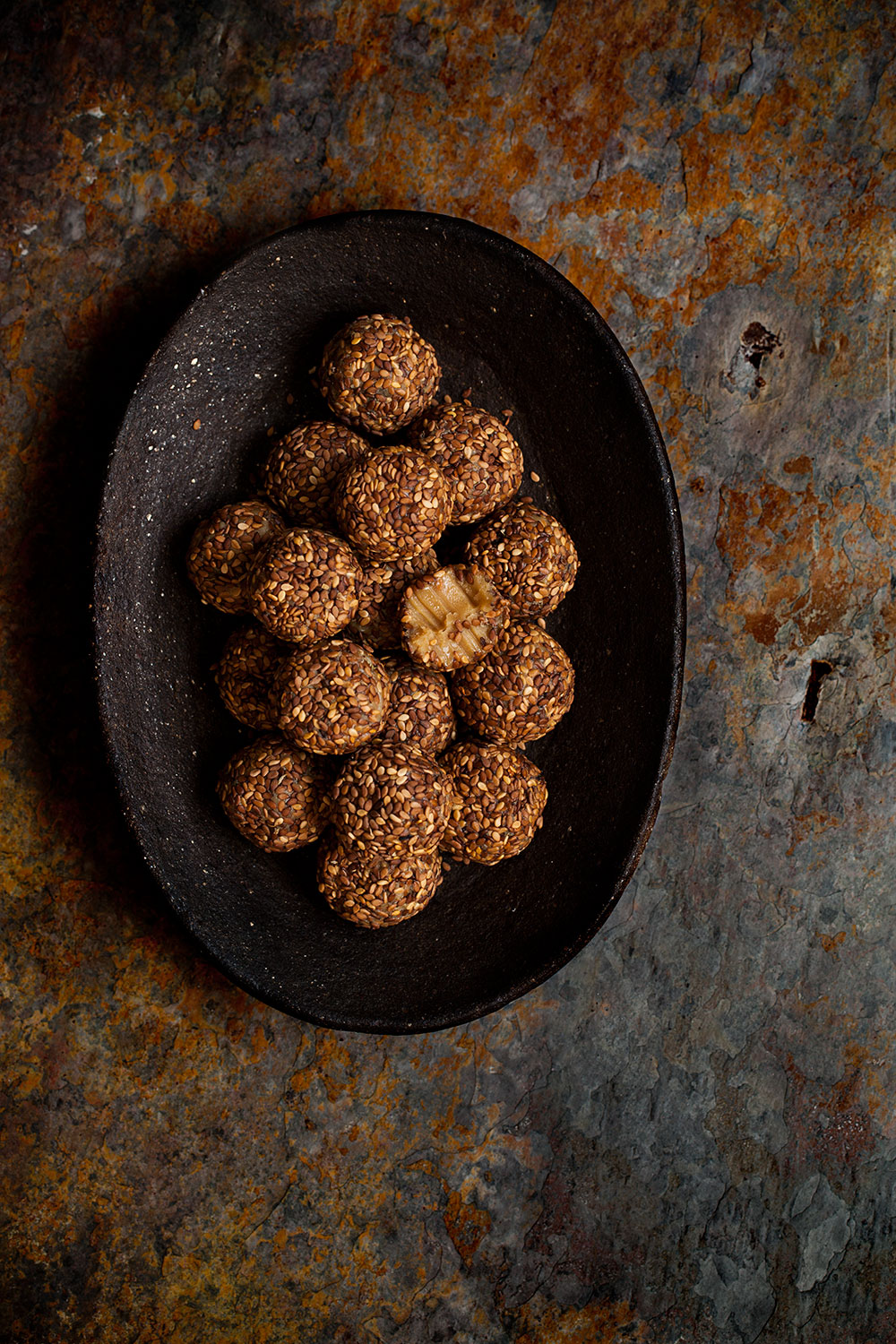 Hope you enjoy and Happy Thanksgiving!
BLOND CHOCOLATE, TAHINI and SESAME TRUFFLES
Makes 18 truffles
Ingredients
1/4 cup (60 grams) heavy cream
2 tablespoons (34 grams) tahini (stir well before measuring)
6.3 ounces (180 grams) blond chocolate (preferably Valrhona Dulcey) or white chocolate, finely chopped
1 tablespoon (15 grams) butter, softened
1/2 cup (70 grams) brown sesame seeds, toasted
Method
In a small saucepan over medium-high heat, bring the cream and tahini to just below a boil, stirring frequently.
Add the chocolate and stir gently with a silicone spatula until blended and most of the chocolate melts.
Add the butter and blend with an immersion blender until smooth.
Scrape the ganache into a shallow bowl and level the top with a small offset spatula. Cover the bowl tightly with plastic wrap, pressing it directly onto the surface of the ganache, and let stand at room temperature until the ganache is firm enough to roll, about 1 hour.
Spread out the sesame seeds on a plate in a single layer.
Using a melon baller or a dessert spoon, scoop ganache mounds of about 2 teaspoons (0.4 ounces; 11 grams) each and place them on a plate. Quickly roll each mound between your palms into a smooth ball, place it onto the sesame seeds, and roll to coat it in sesame seeds all around. Let stand at room temperature, uncovered, until firm, about 20 minutes.
Transfer the truffles to an airtight container, separating the layers with parchment or waxed paper. Serve at room temperature.
Storage: The truffles will keep at room temperature for 3 days.