Finally, after what has felt like an eternity, I've stepped out of the house. Or, as my father puts it, I've finally left my lair. Of course, I'm not counting the instances where I rush to the grocery store – looking like Dexter right after he fillets his victim (it's pomegranate season) – snatch the missing ingredients for whichever recipe I'm working on and return – in 20 minutes flat. God forbid if I have to inhale fresh air longer than that; my book's deadline is looming and I'm on a self-inflicted house arrest until then.
But, a couple of weeks ago, I showered, put on nice clothes and drove to a different neighborhood, if you can believe it.
A friend of mine had an appointment with his eye doctor and asked me if I could drive him back home. Right before I said no, he sneaked in the fact that the doctor's office is in Nisantasi, where one of my most favorite restaurants in Istanbul is. I happily obliged – on the condition that he buys me lunch at Kantin afterwards.
If you had ever asked me for restaurant recommendations before coming to Istanbul, you must be familiar with Kantin. And I sincerely hope you were there during the artichoke season. Or the ever-so-short snap pea season. Şemsa Denizsel, chef and owner of Kantin, works wonders in the kitchen. And as you're reading this, she's cooking up a storm in CIA's kitchen in Greystone, Napa Valley – to be presented at the Worlds of Flavor, together with another Turkish chef I admire – Musa Dağdeviren, chef and owner of Çiya. (Update: Unfortunately, Kantin closed its doors in 2018.)
I've been meaning to write about Kantin and Şemsa Denizsel for the longest time. And I'll do it once the book is finished and I get my life back, but until then, let me say a few things about her bread.
Well, actually just one thing: She bakes the best sourdough bread in town (and most probably in the country).
And, lucky us, she sells them, too!
Kantin has a shop one story below the street entrance level, right next to the restaurant's kitchen, where also the bread baking takes place. She bakes daily and all of them are gone long before the lunch service is over. So I always stop by the shop first and reserve two sourdough breads to take home. I eat one of them throughout the week, cut the other one into thick slices, wrap each slice tightly and freeze for the following weeks. She sells this amazing butter from Kars and the two makes a great breakfast alongside a strong cup of coffee.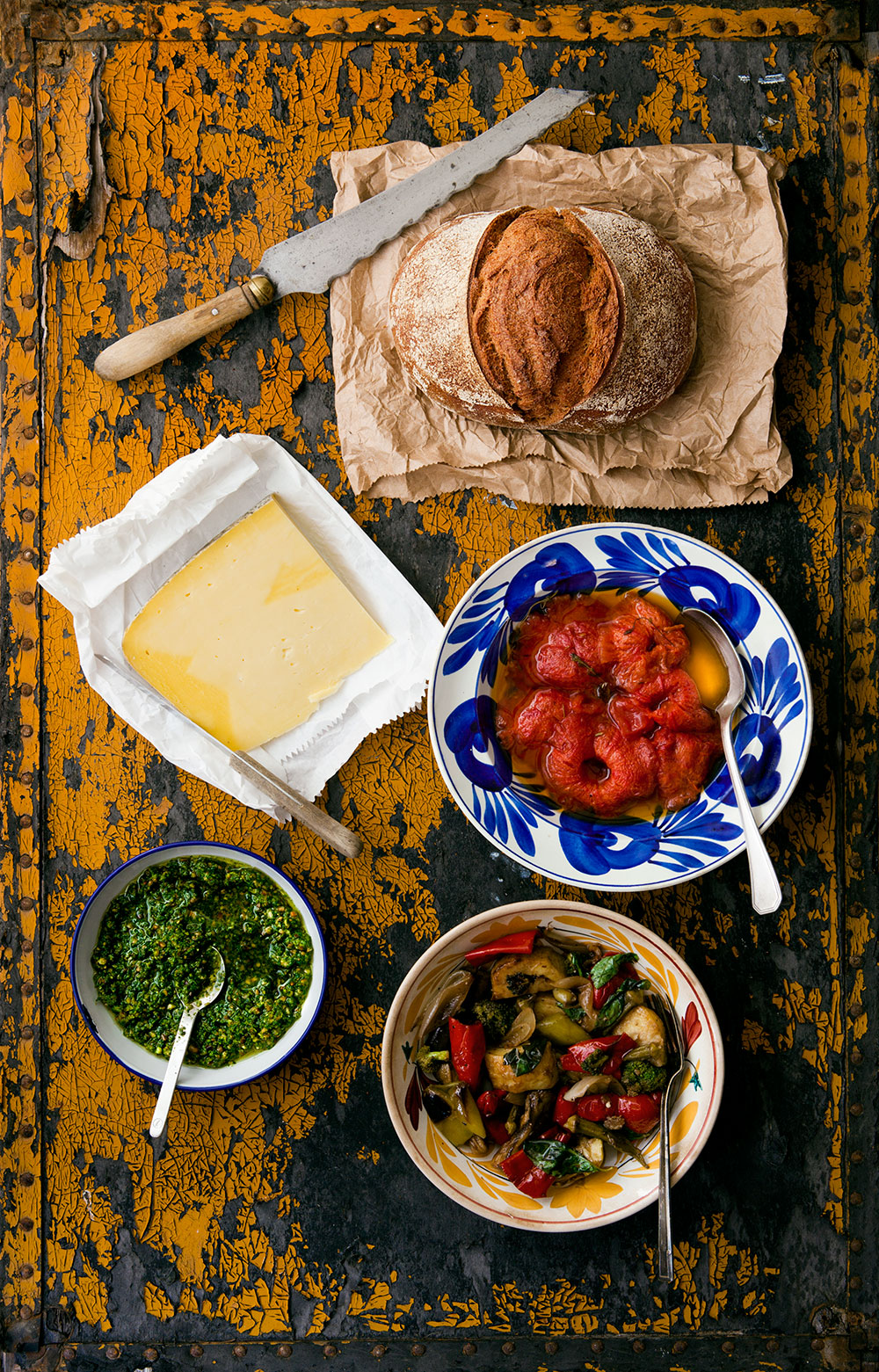 This time around, I also bought a small round of her whole-wheat sourdough bread, a big slice of aged Kaşar and a pound of her amazing oven-roasted vegetables.
I had several jars of tomato confit and basil pesto left over from recipe testing earlier that week, so I decided a big sandwich was in order.
On this side of the world, we're still enjoying the last tomatoes of the season. You're probably not, but don't worry. This technique will turn any tomato into gold. Almost literally. Roasting the tomatoes slowly in a pool of extra-virgin olive oil brings out their sweetness and deepens their flavor. And while that's happening, the juices they release caramelize, perfume the olive oil and gives it a golden hue.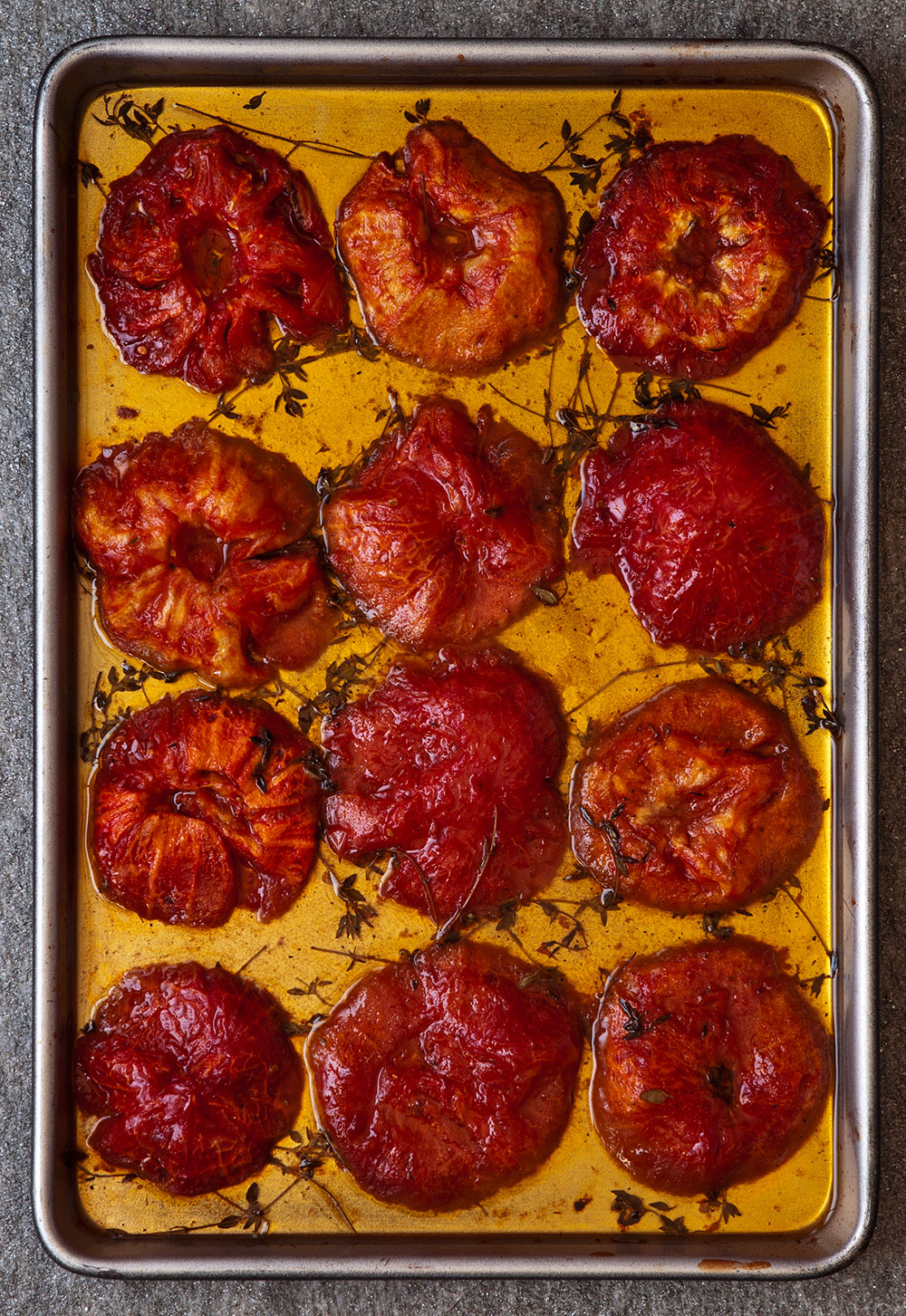 I could have eaten the whole loaf just by dunking it in this tomato-flavored olive oil.
But I didn't.
I sliced it in half, spread a generous amount of pesto on each half, topped with slices of tomato confit, aged Kaşar cheese (you can use Gruyere) and oven-roasted vegetables, wrapped the sandwich in plastic, pressed it for an hour and enjoyed it at lunch.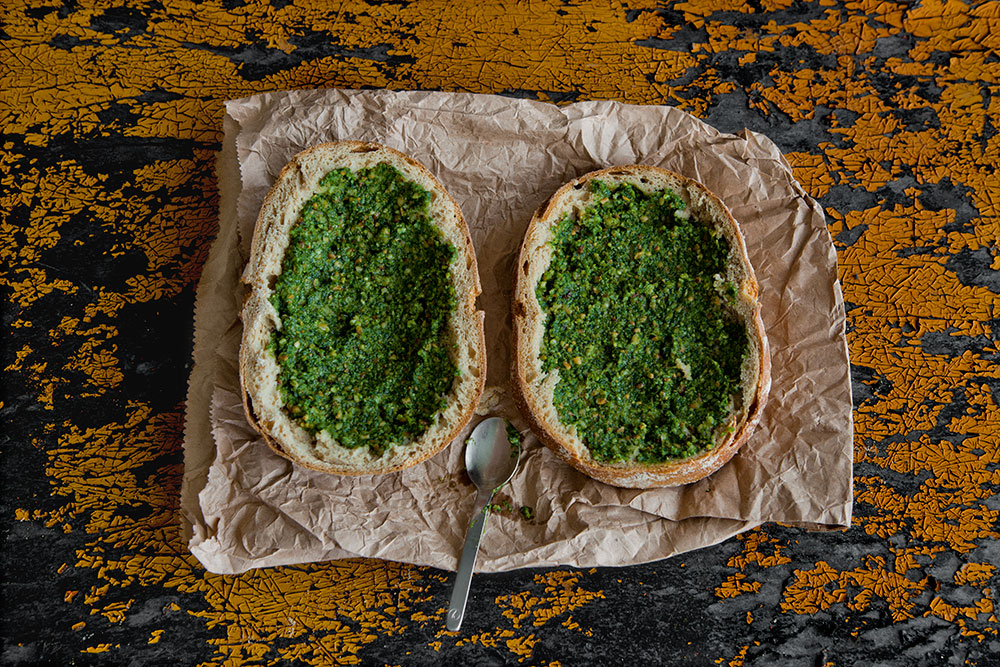 And dinner.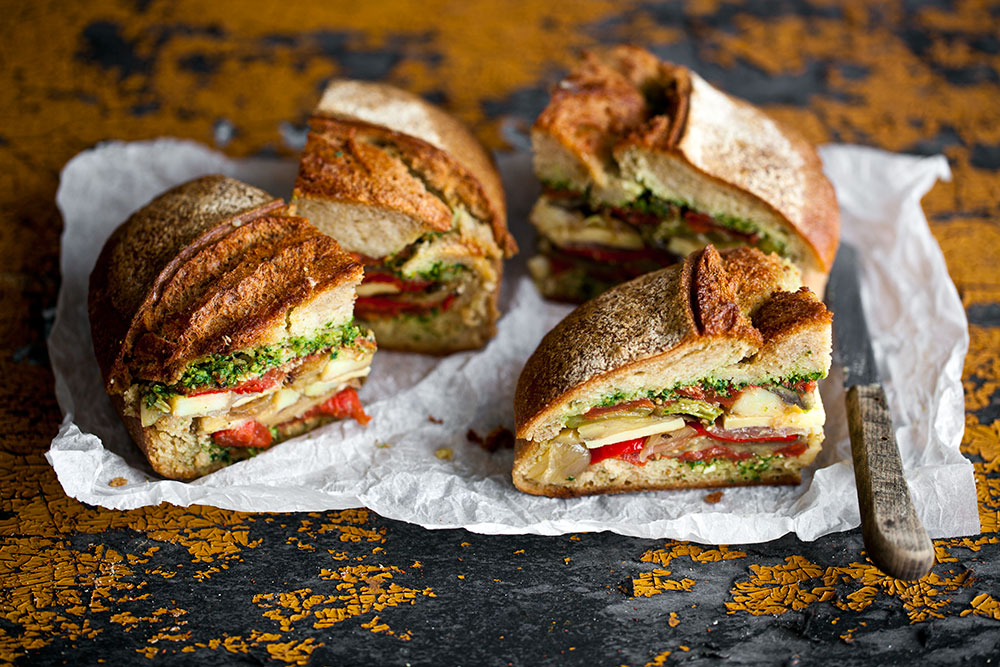 TOMATO CONFIT RECIPE
Makes 1 pound of tomato confit & 1/2 cup tomato-flavored olive oil
Ingredients
3 pounds (6 large/1.35 kg) tomatoes
2/3 cup (160 g) extra-virgin olive oil
20 sprigs of fresh thyme
1/2 teaspoon (4 g) fine sea salt
Freshly ground black pepper
Method
Preheat your oven to 265 F/130 C.
Skin the tomatoes, cut them in half horizontally, hold them over a bowl (cut side down) and squeeze gently to extract their juices and get rid of the seeds as much as possible. If there are any seeds remaining, remove them with the help of a little spoon.
Pour half of the olive oil on a half-sheet pan, scatter the fresh thyme sprigs and place the tomatoes on top, cut sides down. Pour the rest of the olive oil on top, sprinkle with a big pinch of salt and freshly-ground black pepper and bake for 2 hours, brushing the top of the tomatoes with the oil in the pan every 30 minutes.
Leave to cool at room temperature. Discard thyme sprigs, transfer the tomatoes to a covered container, top with the flavored oil, cover tightly and refrigerate until ready to use. It will keep for up to a week.
BASIL PESTO RECIPE

Makes 1 cup (approximately 240 g) pesto

Ingredients
1/4 cup (40 g) pine nuts
1 clove of garlic
Pinch of salt
3 cups (60 g) fresh basil leaves, rinsed and dried thoroughly
1/4 cup + 2 tablespoons (90 g) extra-virgin olive oil
2 ounces (57 g) Parmesan cheese, grated finely
Method
Heat pine nuts in a dry, heavy skillet over medium heat for 10 to 15 minutes or until they're golden brown and give off a rich, toasty fragrance. Stir or toss frequently for even toasting. Remove from pan to cool.
Chop the garlic clove finely, sprinkle a big pinch of salt on top and mash to a fine paste with a fork.
Pulse garlic puree and half the basil leaves in the bowl of a food processor fitted with a steel blade for 15 seconds.
Add the rest of the basil leaves and with the processor running, slowly pour the olive oil through the feed tube as you continue pulsing until blended.
Add the Parmesan cheese, toasted pine nuts and pulse until blended.
Use right away or transfer to a covered container and refrigerate until ready to use. It will keep for up to a week.
TOMATO CONFIT, PESTO and OVEN-ROASTED VEGETABLE SANDWICH

Serves 4

Ingredients
1 medium (about 8-inches) round loaf of whole-wheat sourdough bread
1/3 cup (75 g) pesto (recipe above)
1/2 pound (250 g) tomato confit (recipe above)
7 ounces (200 g) Gruyere cheese, cut into 1/4-inch-thick slices
1 pound oven-roasted vegetables (eggplant, zucchini, bell pepper, etc.)
Method
Halve the bread horizontally and pull out most of the soft, doughy center.
Spread pesto over each half and top with slices of tomato confit.
Top each half with oven-roasted vegetables and cheese, sandwich the top and bottom halves and press firmly.
Wrap the sandwich tightly in plastic, place on a tray, weigh down with a heavy Dutch oven placed on another tray and refrigerate for an hour.
Slice into four wedges and serve.