Two years before opening Chez Panisse, Alice Waters, together with her friend from the Montessori Centre, started a journey from London and ended up in a remote village in Turkey. In the middle of nowhere, they ran out of gas and asked for help from a big-eyed boy. The boy mimed there wasn't any gas left to pump and when they asked for food, this time he led them to his house. He built a fire out of pine cones, put on a teapot and came back with a tiny piece of cheese, which he then cut into microscopic portions before serving them.
Alice, realizing that the big-eyed boy has given them everything he has without expecting anything in return, was deeply moved. In an essay she contributed to a collection called "The Kindness of Strangers" by Don George, she recounts the incident as "A small miracle of trust, and a lesson in hospitality that changed my life forever*."
40 years have passed and this time around, another big-eyed boy from Turkey had dinner at Alice's restaurant.
She didn't offer me any cheese or gave me everything she had, but what she did give was a feast to remember.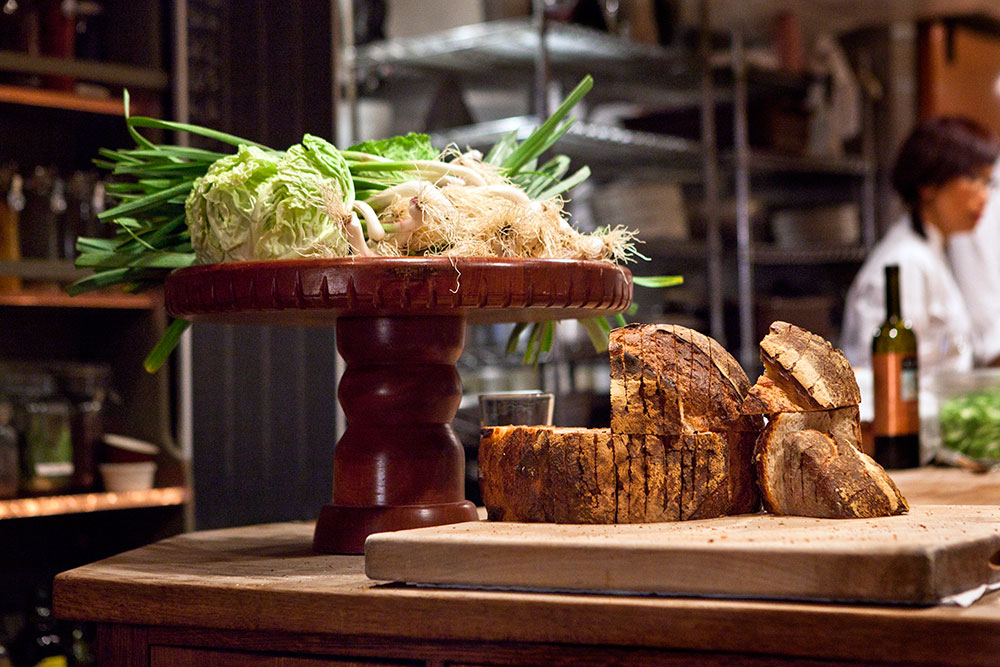 Hugged by the shadow of a gigantic Bunya pine above, Chez Panisse stands on Shattuck Avenue like it has been there forever.
Actually, it has been there forever. This year, Alice's restaurant, which she named after the generous and good-hearted character Panisse from Marcel Pagnol's Marius/Fanny/César trilogy, celebrates its 40th year.
Chez Panisse has been feeding, inspiring and bringing together people for four decades. And how rare it is to say that even though not much has changed since they first opened their doors, the restaurant always kept evolving.
Rare, but not surprising. What Alice and a handful of idealist friends yearned to offer at Chez Panisse simply guaranteed it: "…the simple wholesome food of Provence, the atmosphere of tolerant camaraderie and great lifelong friendships, and a respect both for the old folks and their pleasures and for the young and their passion*."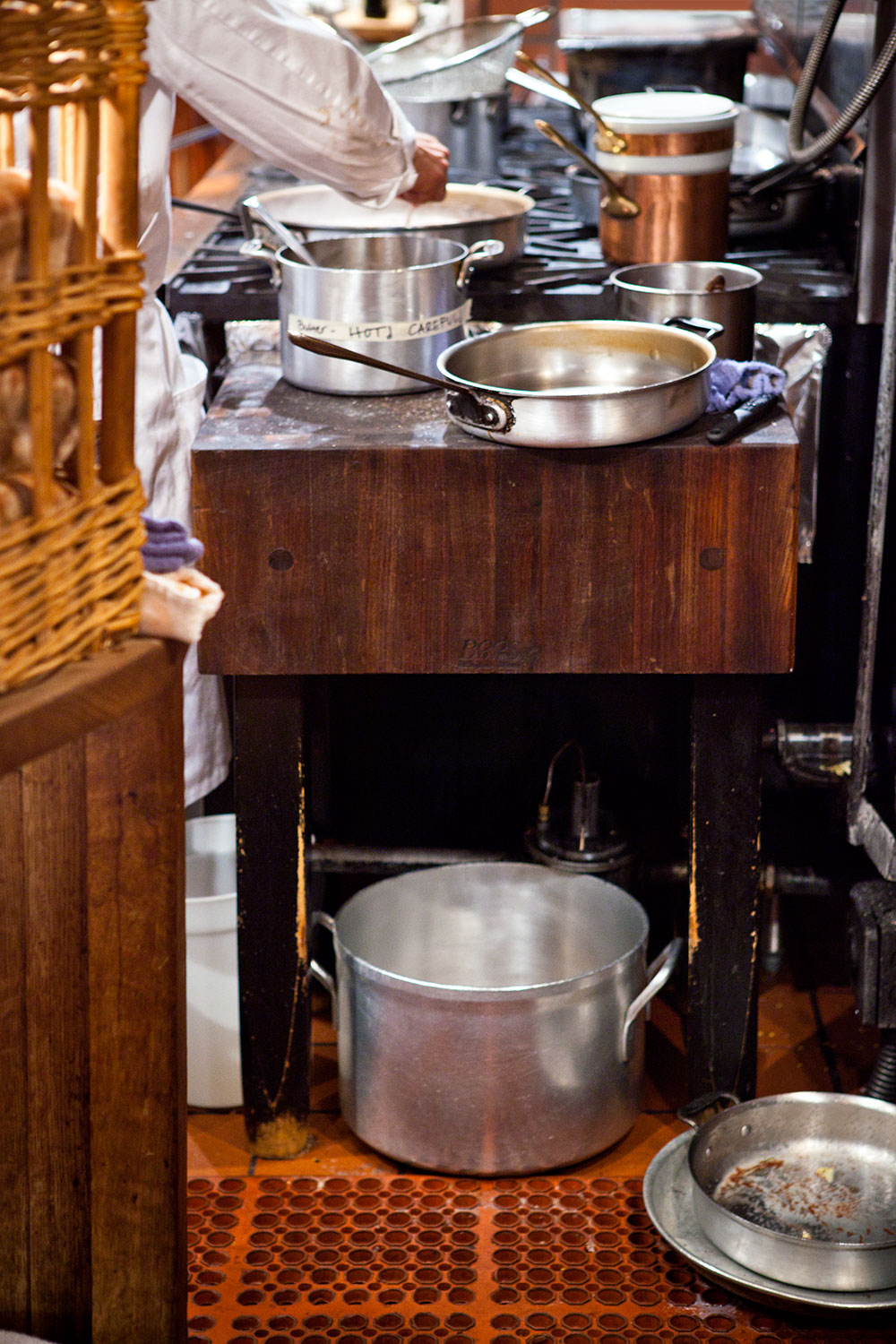 This was my first Chez Panisse experience and describing myself as "excited" would be an understatement. The excitement built up as the days got closer and was at peak when the host walked us to our table.
Or should I say "THE TABLE"? He seated us at the table closest to the kitchen. Most people might think that a table adjacent to the kitchen is the worst table in the house, as it is almost always noisy, hot and exposed to the occasional smell of something burning, but when that table is at Chez Panisse, it is like sitting next to the director while he rules the set.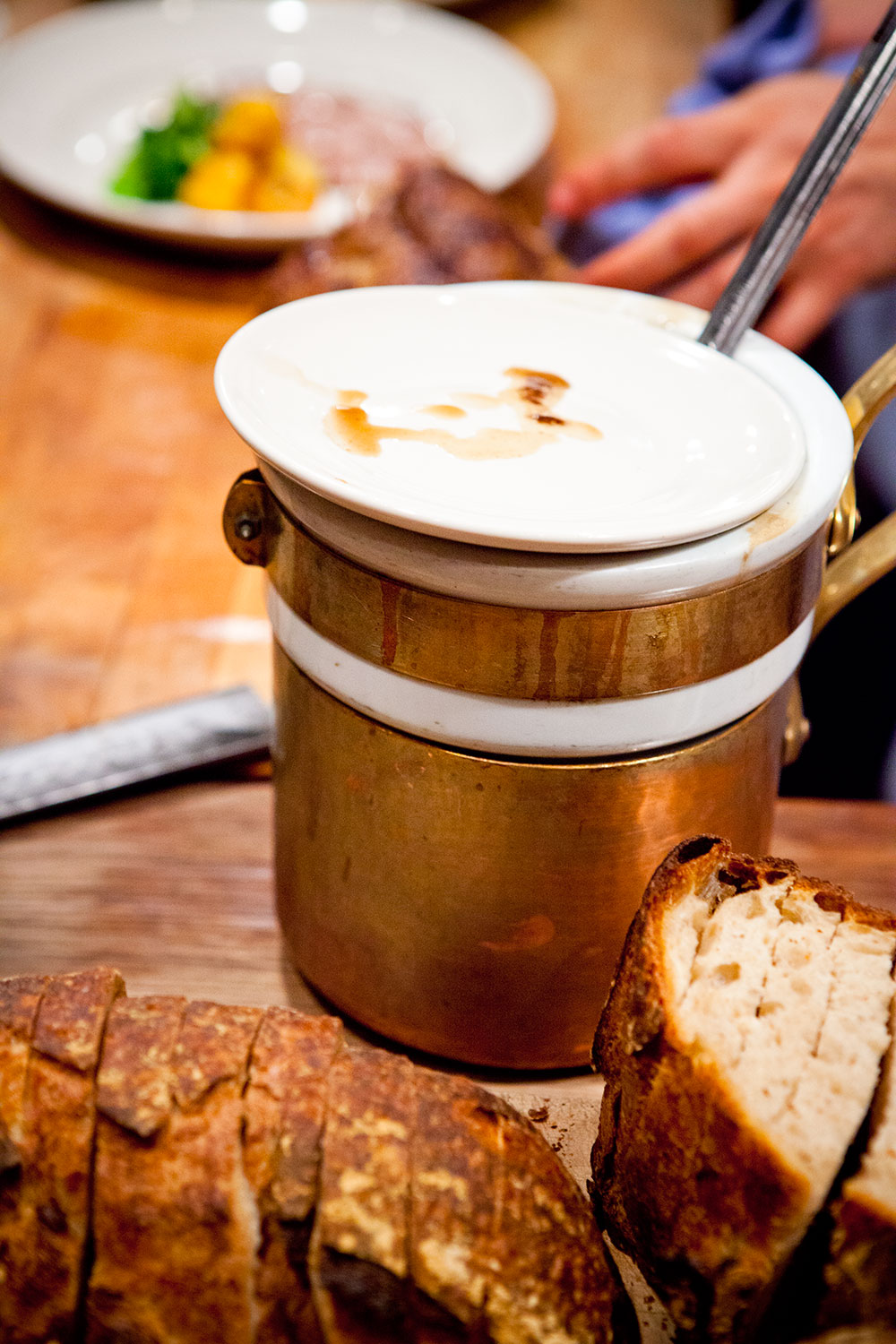 A set that is equipped with every single Mauviel ever manufactured.
Chez Panisse Restaurant has two head chefs, Jean-Pierre Moulle and David Tanis, who each run the kitchen for 6 months of the year. During our visit, it was Jean-Pierre Moulle's turn.
One of my biggest dreams was to eat David Tanis' food, who is also the author of two of the most beautiful cookbooks I own, but according to this article 2012 is his last year at Chez Panisse. This summer will be his last 6 months. It is a very slim chance that I'll be able to make it, but I thought you'd like to know. The good news is he now has a new column, which will run weekly in the Dining section of The New York Times and his third book is in the works.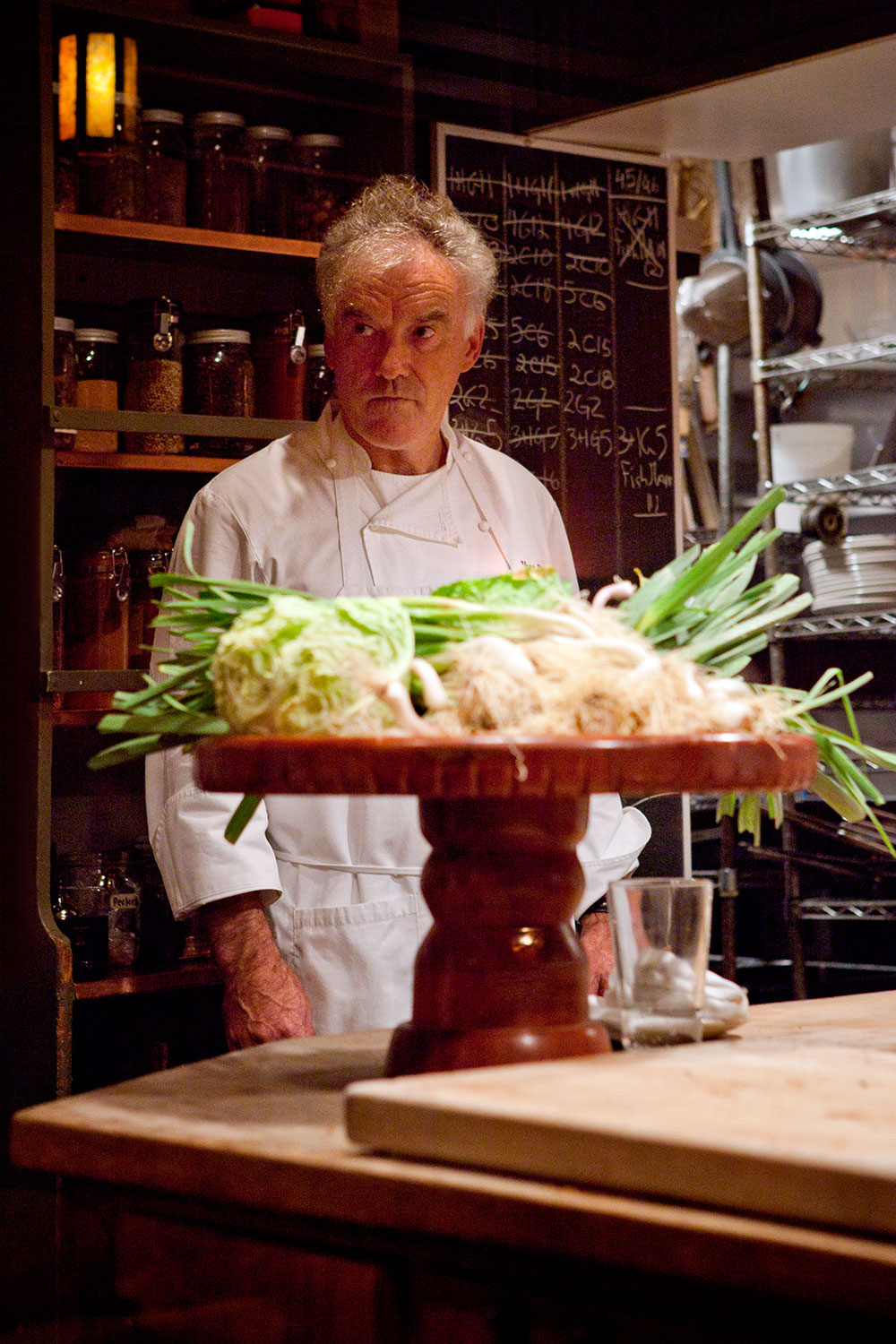 At first glance, Jean-Pierre Moulle might look like a grumpy commandant, but he is exactly the opposite. He orchestrates the kitchen with his eyes. I have never seen such a calm restaurant kitchen in my life.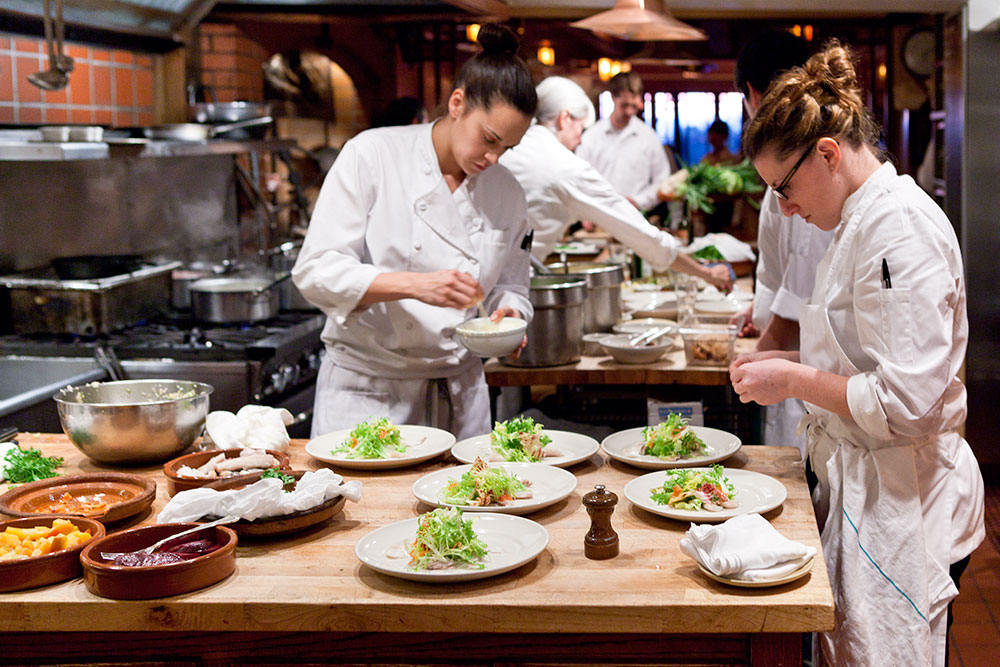 As soon as one finishes plating the salad, the other one turns around and drizzles the crème fraiche.
This harmony is no surprise either; most of the staff has been working with Alice for many years.
The second the plates are ready, they are rushed to the tables. Then the waiter comes back, crosses off the table number on the black board and puts it down for the following course on the corresponding column.
After watching the traffic in the kitchen for a while, I realized that Chez Panisse owes the serenity in its kitchen in part to this black board.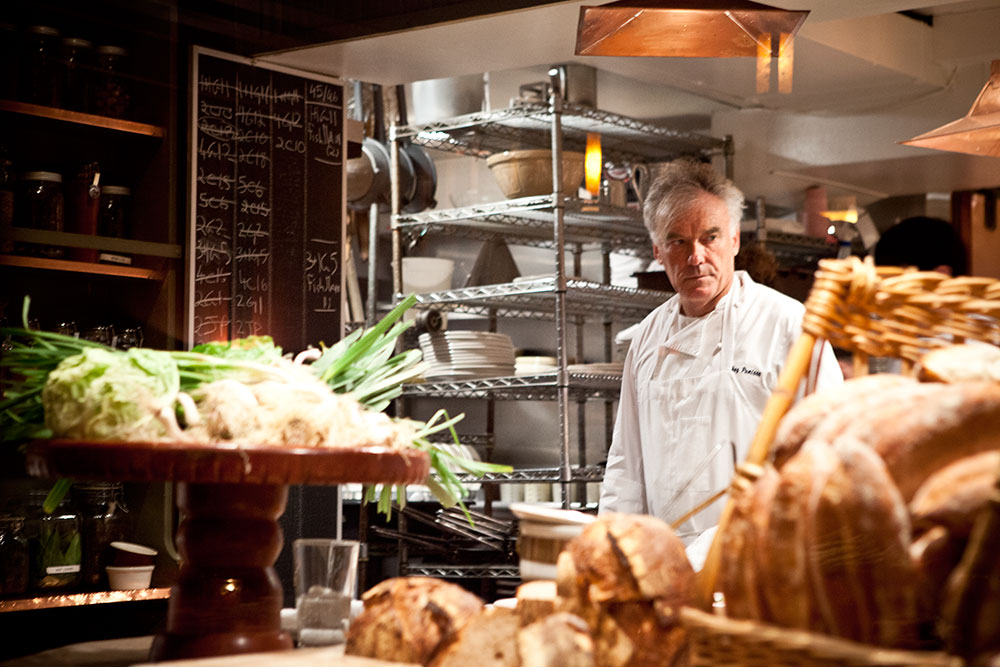 There are four columns on the board, each one corresponding to the number of dishes served that night. Table numbers are crossed off once they're served and moved on to the next column. It is displayed right where everyone can see it, so the kitchen staff knows at all times exactly when each dish should be ready and work on their timing accordingly.
The restaurant downstairs serves a weekly menu that changes daily. It is dictated by and completely reflects whatever is in season. Needless to say, everything they source is locally, organically, and sustainably grown.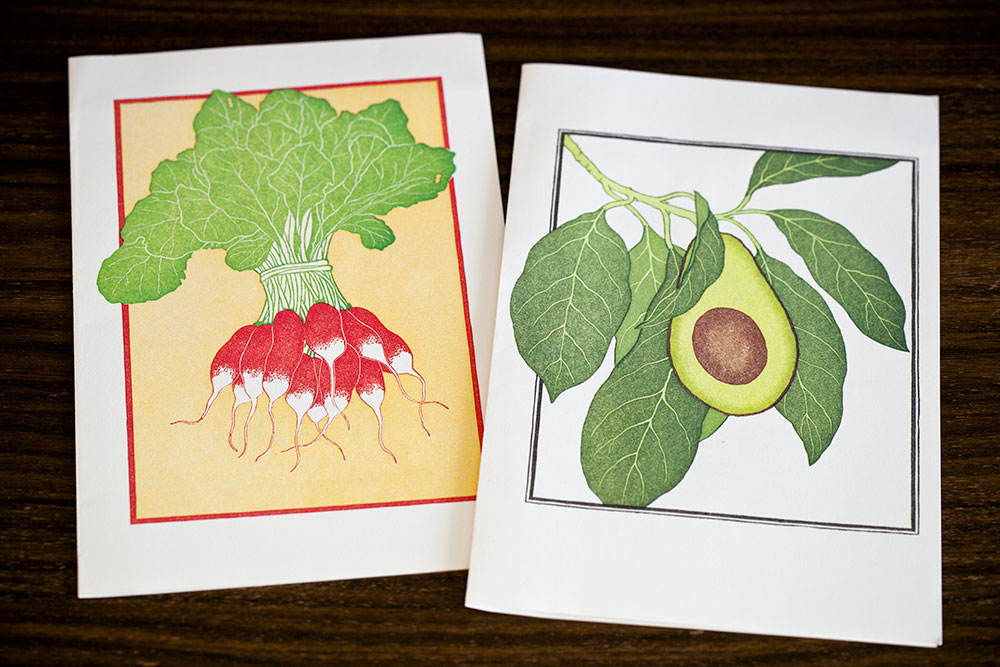 Above are the menus (vegetarian on the left), both covers illustrated by Patricia Curtan.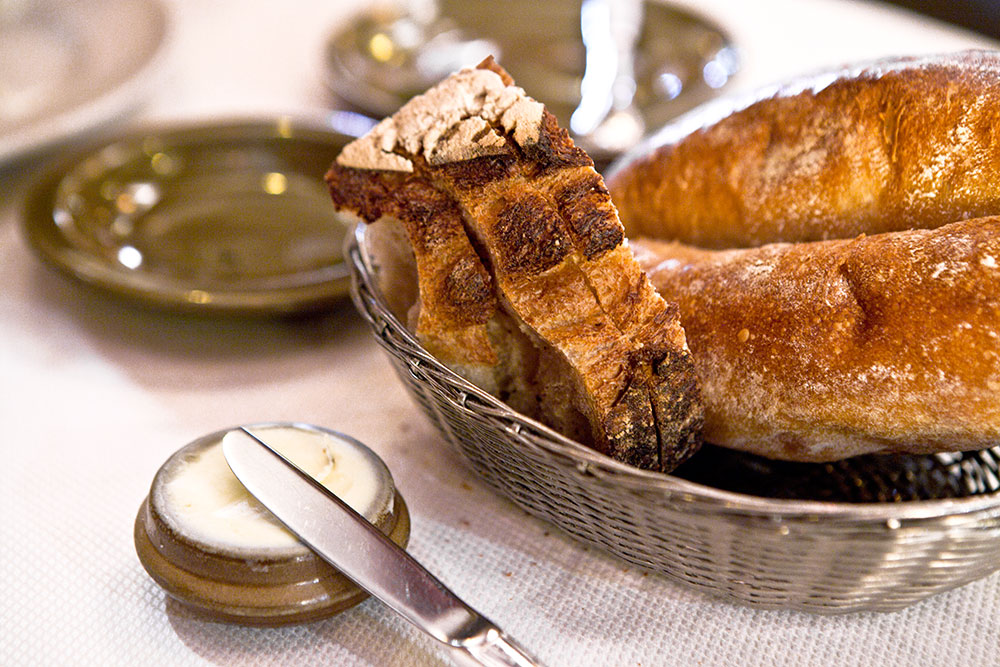 This small dish of butter alone can summarize the Chez Panisse mentality. If I'm not mistaken, the butter served at Chez Panisse is coming from the Straus Family Creamery. Not only they produce some of the best organic milk and dairy products, but also electricity from their own cows' waste, which is enough for most of the dairy's energy needs. For me, their commitment to developing sustainable and environmentally-sound farming translates into this: It is impossible to feel guilty as a piece of (amazing) bread smothered in that butter slides down your throat.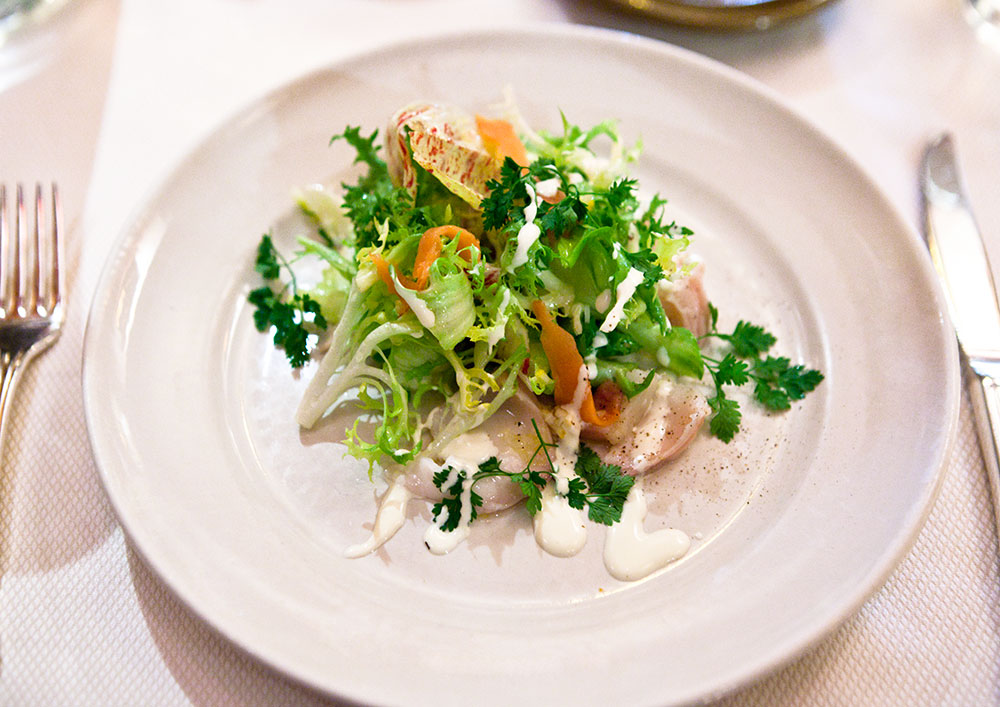 And now, the first course of the evening: Smoked fish salad with black cod, salmon and crème fraiche.
A mixture of salad leaves on top of pieces of salty and smoky fish, perfectly balanced with a generous drizzle of cool, creamy and rich crème fraiche.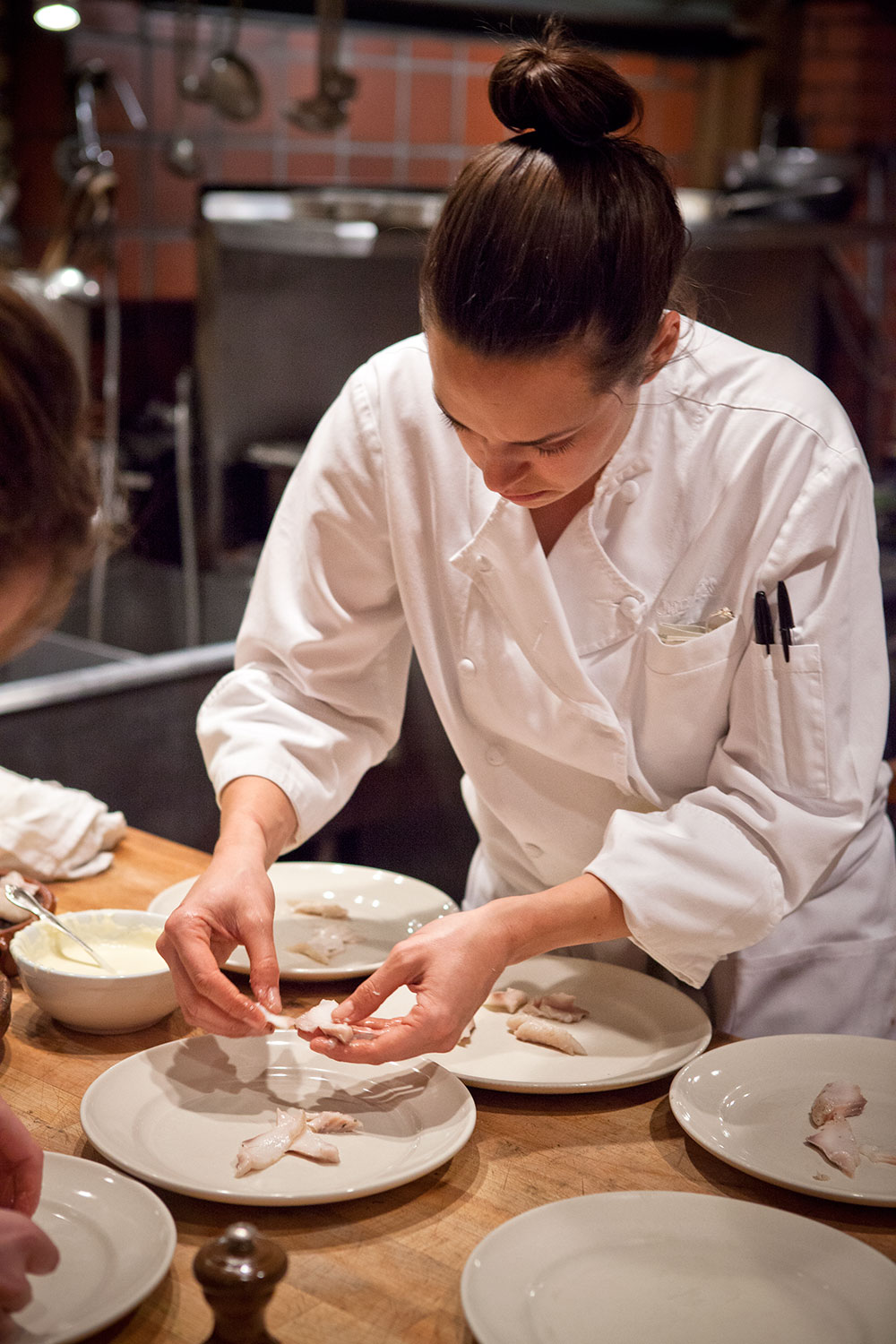 We were very lucky to have been there when the California asparagus was in season. The green asparagus soup with a chanterelle custard in the middle was topped with thinly sliced and lightly sauteed asparagus heads.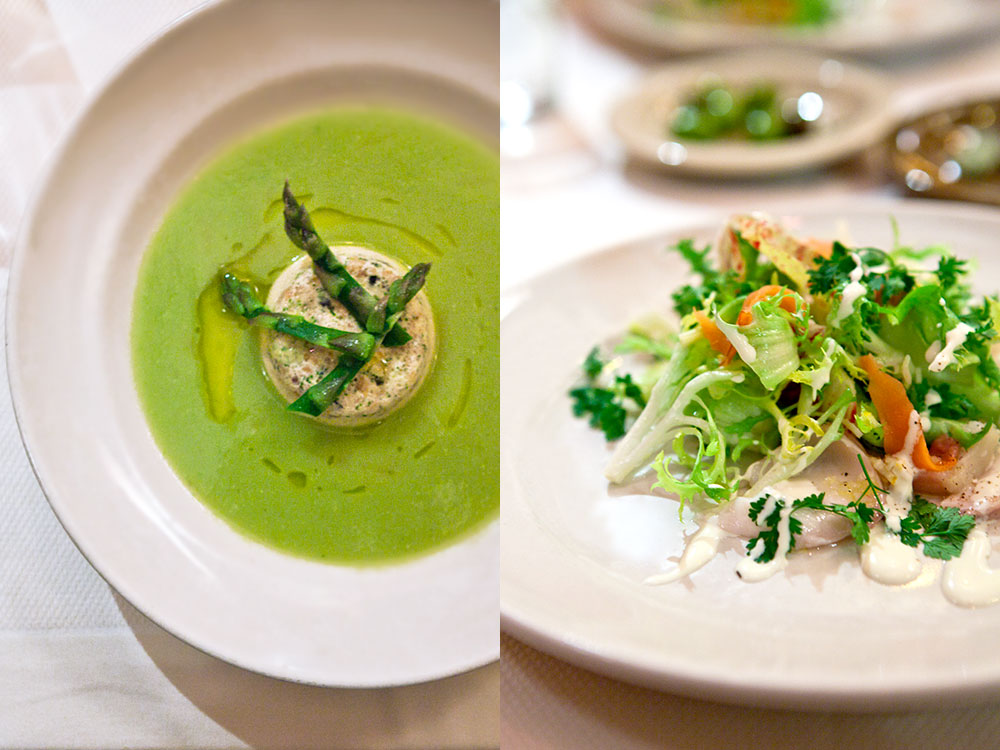 When you're eating at Chez Panisse, it's no surprise that it will be the "best asparagus soup", "best vacherin" or "best anything" you've ever tasted. There is an army of idealist and creative (and calm, I must add) people behind these dishes, but that is not the only reason why Chez Panisse is one of the greatest restaurants on earth.
Days before I called to make a reservation, I started panicking. Like most food bloggers out there, over the years, I've developed this obsession to document every piece of food I eat when I'm traveling. I can't imagine not taking photos at Chez Panisse, and even though it is such a beloved restaurant, I've come across only a few blog posts with photos taken there, so I couldn't be sure if they allowed photography. And regardless of their policy, as with every restaurant I go to with my camera (and those giant lenses), I felt self-conscious before I even step foot in the restaurant.
Also, what if they changed their policy? There was only one way to know: to just call and ask, which I almost always do whenever I'm planning on taking photos.
In the case of Chez Panisse, before I made the call, I drafted a speech. I'm not kidding. I took out a piece of paper and wrote it down. Then dialed the number. Apparently, in order to minimize my chances of hearing a "No", I've drafted such a complicated and long sentence that the lady on the other side of the line had to interrupt my monologue and told me it was perfectly OK.
And you'd think that would make me comfortable and erase every question mark I have… OK, maybe she said it's fine, but does she know that I'll be taking multiple shots of every plate put in front of me, harass my friend before each course to try a different angle and possibly take some blind shots from up above just in case? Would she have said "fine" if she had known? Plus, do I have a recording? Something on paper? No. And I'm definitely not going to argue with a waiter at Chez Panisse. Long story short, I still had my doubts.
Fast forward three weeks and we're at Chez Panisse, enjoying the smoked fish salad. My giant camera is hidden under the napkin to my left and my friend tells me I've draped it perfectly and assured me twice that no one in the world can tell there's a camera underneath. I watch the waiters with one eye, and as soon as they attend to other tables, I take it out, snap a couple of shots and put it back under the napkin.
But not so fast. Our waiter, Gianni, notices the camera and tells me to feel free to take photos in the kitchen as well. And when I ask if he's sure that I wouldn't be distracting the cooks, he jokingly says "Don't worry… The worst they'll do is chase after you with a knife!" "Well, if he's sure," I say to myself, stand up, turn around, take a few photos of the prep work and sit back down.
As you can guess, I'm still not comfortable with the idea to go inside the kitchen and snap away freely. Actually, the only way that would have been possible would be if they had handed me a letter, stating something like: "At Chez Panisse's kitchen downstairs, Cenk Sönmezsoy can take as many photos as he likes. We guarantee that we won't get mad, throw angry looks or remove him from the premises before he finishes his vacherin." On Chez Panisse letterhead, of course.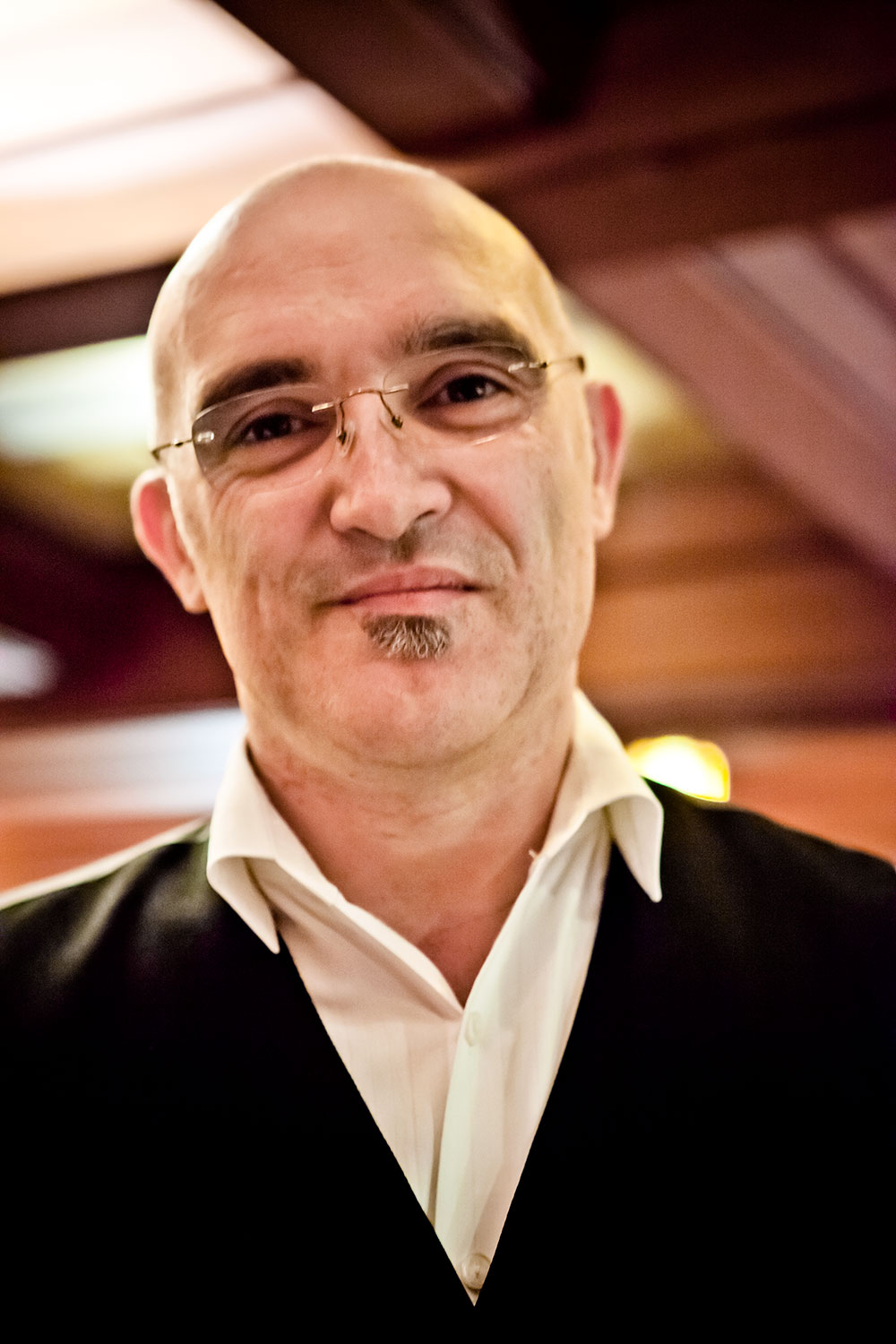 And that's almost what really happened next. No, I didn't receive a letter, but Gianni came by our table again, looked at me disapprovingly and said "You're way too shy. This isn't working. Come with me. I'll give you a personal tour."
Once I break my chains, I start snapping away frantically.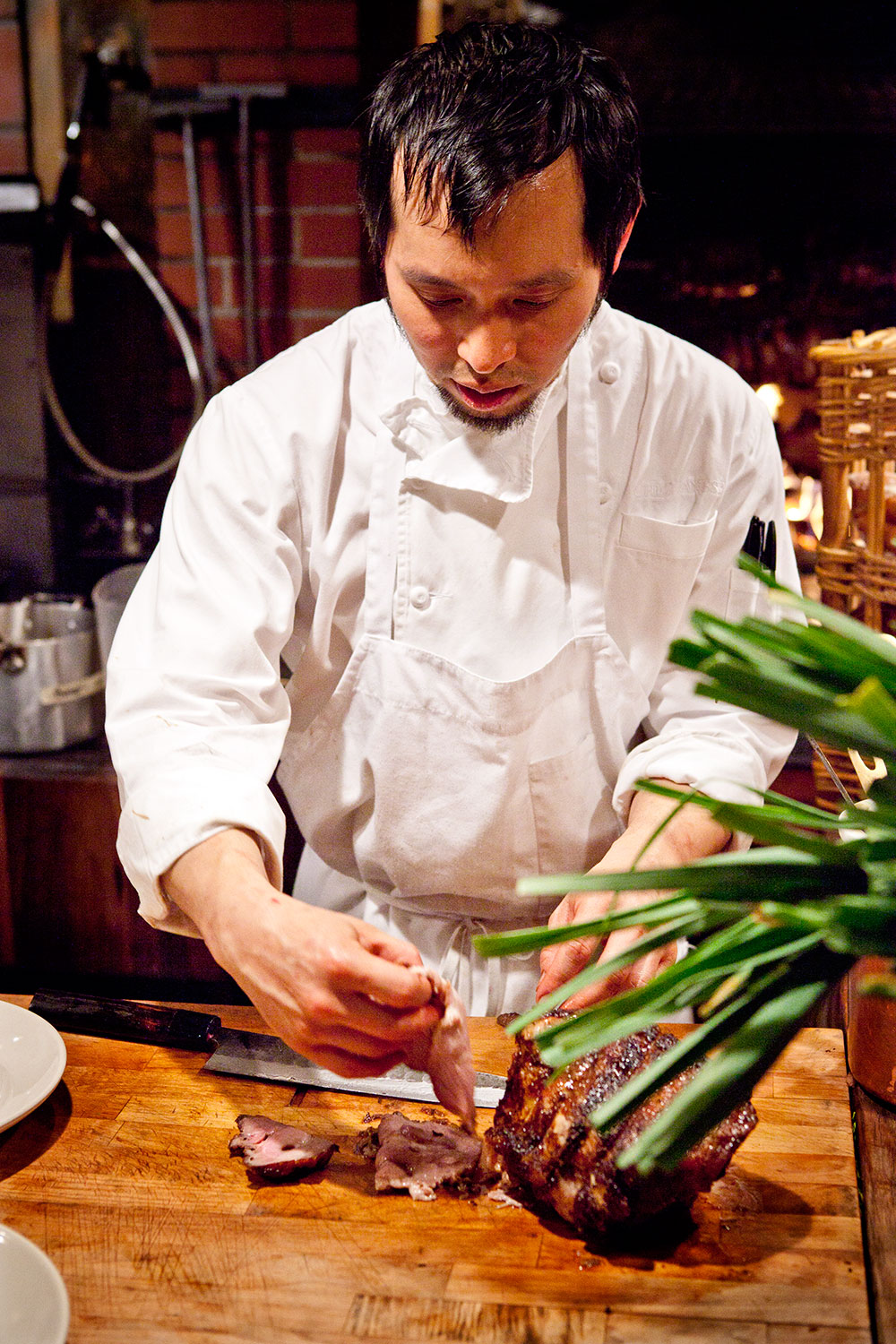 No wonder why no one is bothered by my presence.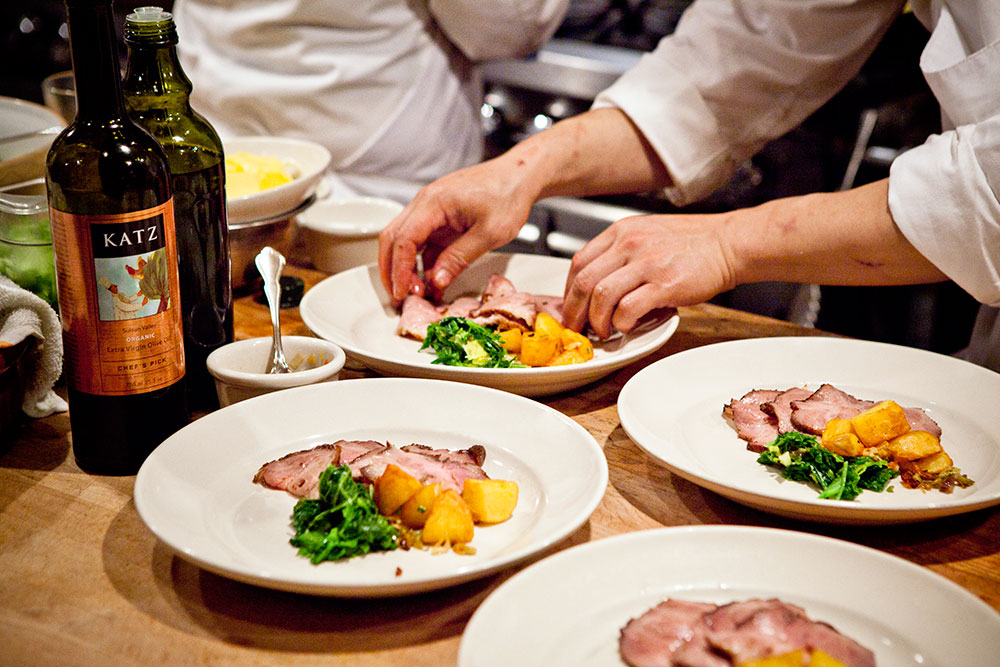 It is as if everyone working at Chez Panisse's kitchen was born with knowing what to do at that very moment. No one and nothing can break their flow.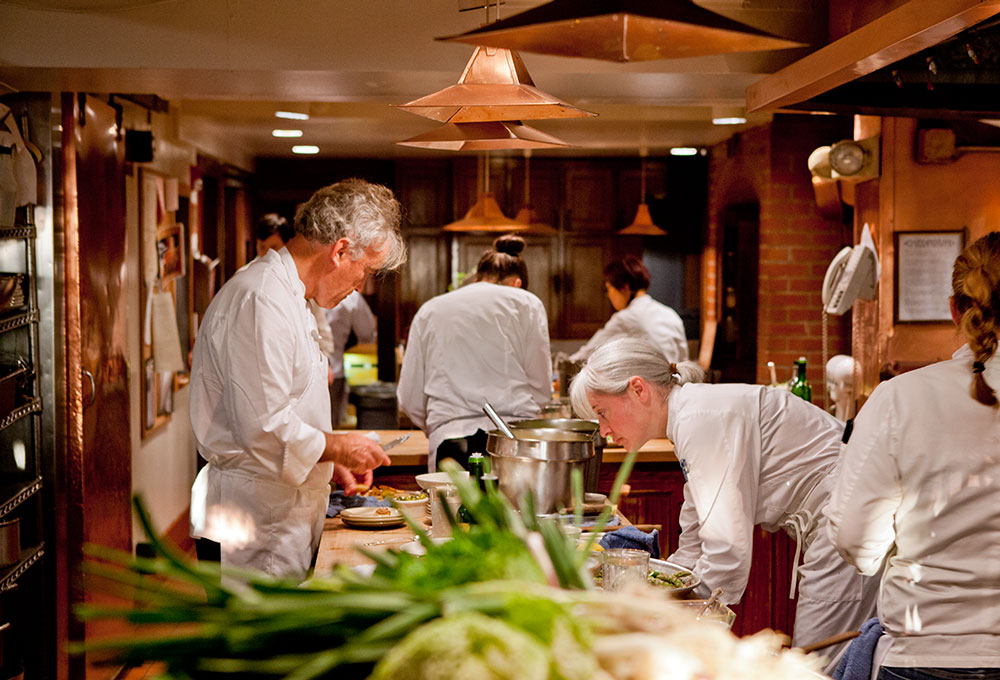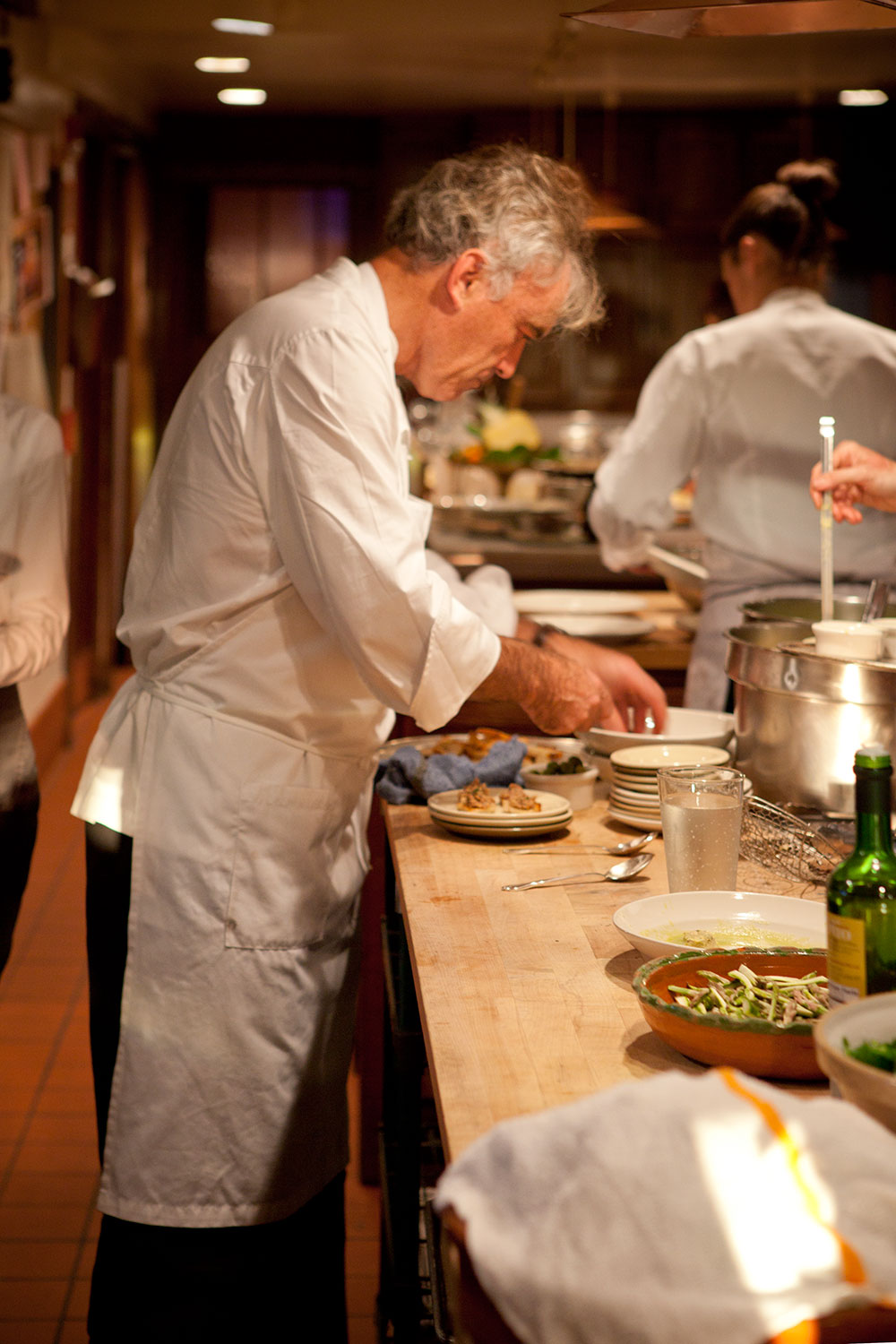 The traffic in the kitchen is so much like their food: Not a single unnecessary move.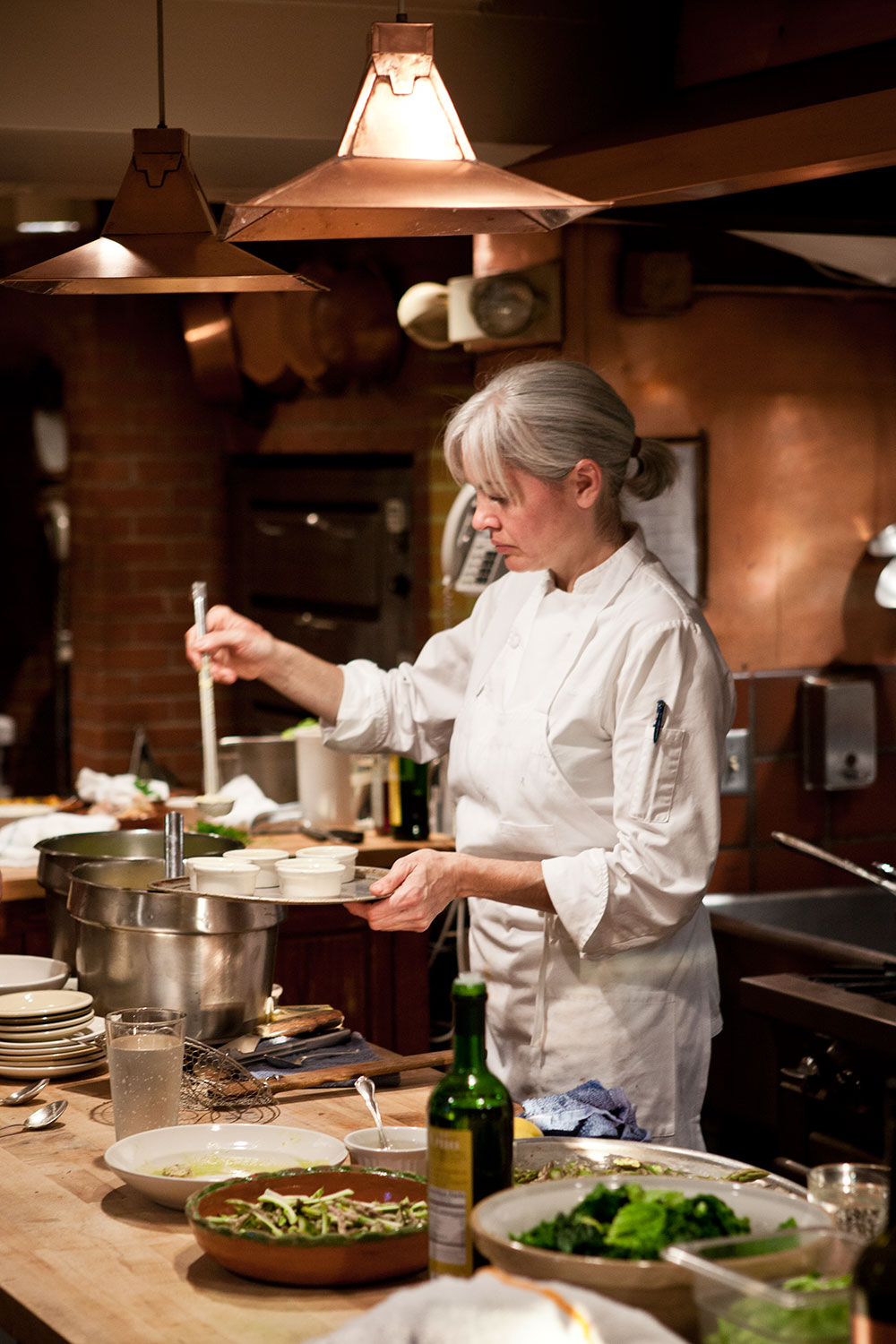 Everything happening so fast and so freely.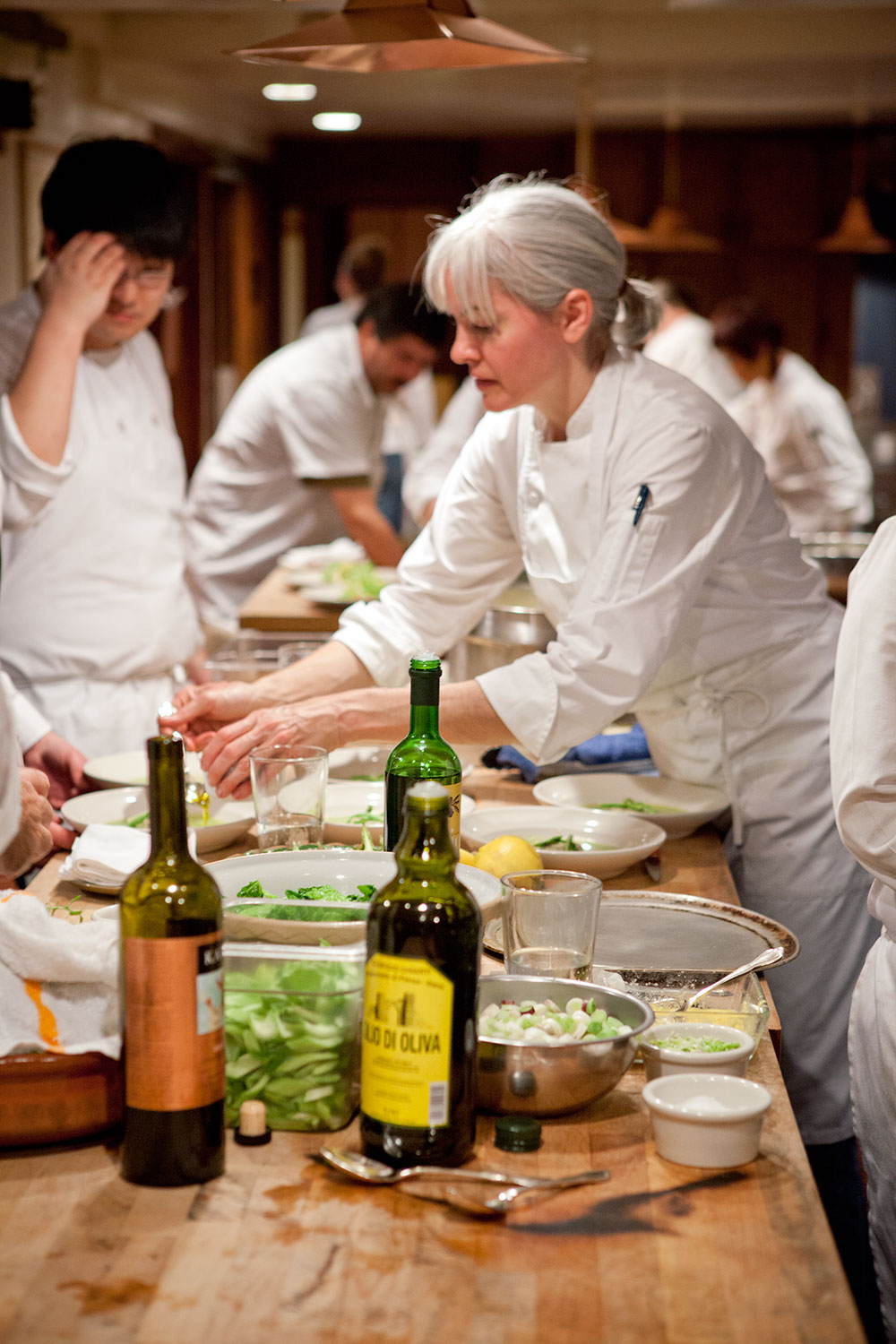 After a while the traffic in the kitchen gets heavy so I hide in a section behind the black board and start watching. A minute later, Gianni comes by, asks why I hid there and takes me to show the cold room. He is absolutely adorable. Without him, my Chez Panisse experience would have never been the same.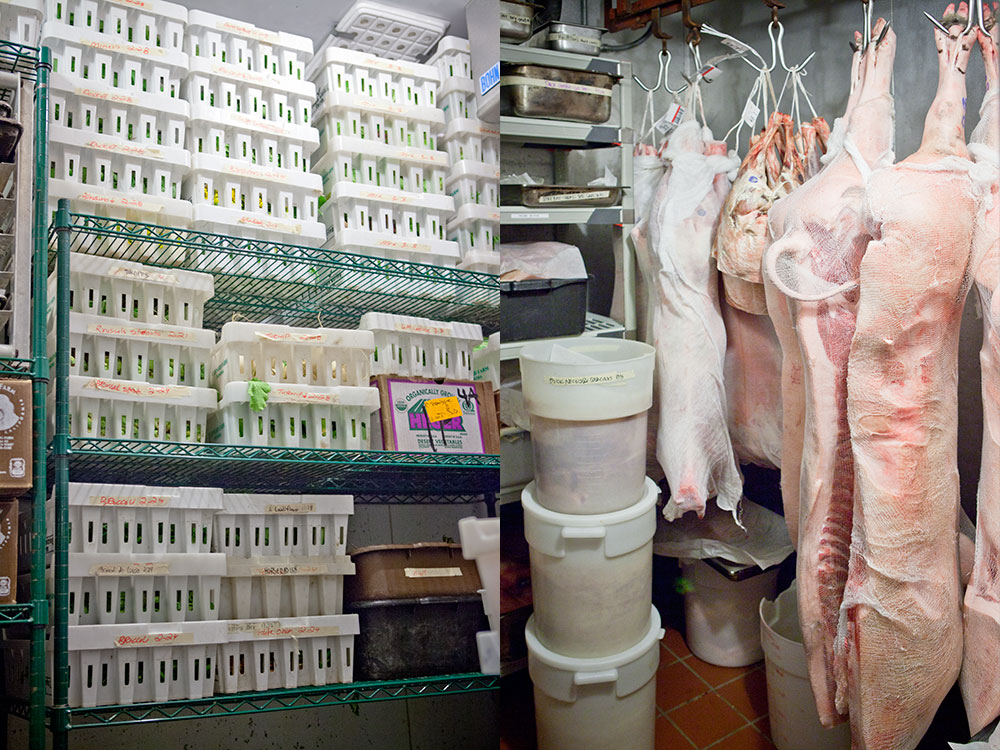 Freshly plucked vegetables and greens, all labeled and stacked up high. In another room are the pigs. Chez Panisse is devoted to supporting local farmers, and buying the animal as a whole not only supports the sustainability of the local farm businesses, but also reduce environmental waste.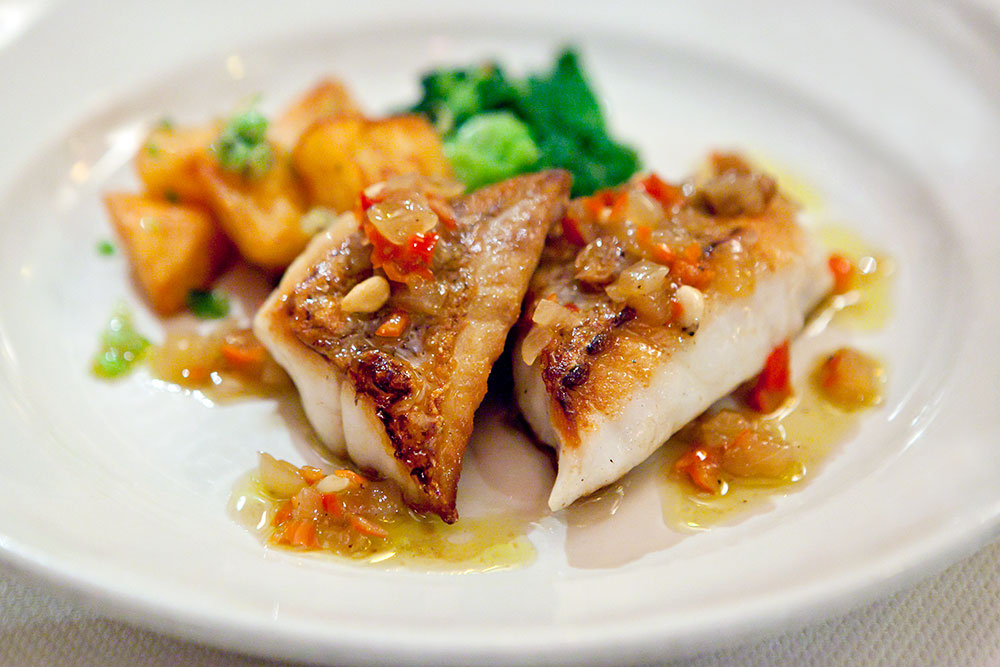 Right after the tour, I go back to the table to enjoy the main course. I'll never forget the sea bass I ate at La Maison de la Truffe in Paris. This striped bass was even better. It came with sauteed green garlic, red peppers and shallots sweetened with Banyuls wine and served with Asian greens (probably yu choy) with ginger and roasted new onion and potatoes.
As soon as I finish the main course, Gianni comes back again to give me a tour of the cafe upstairs.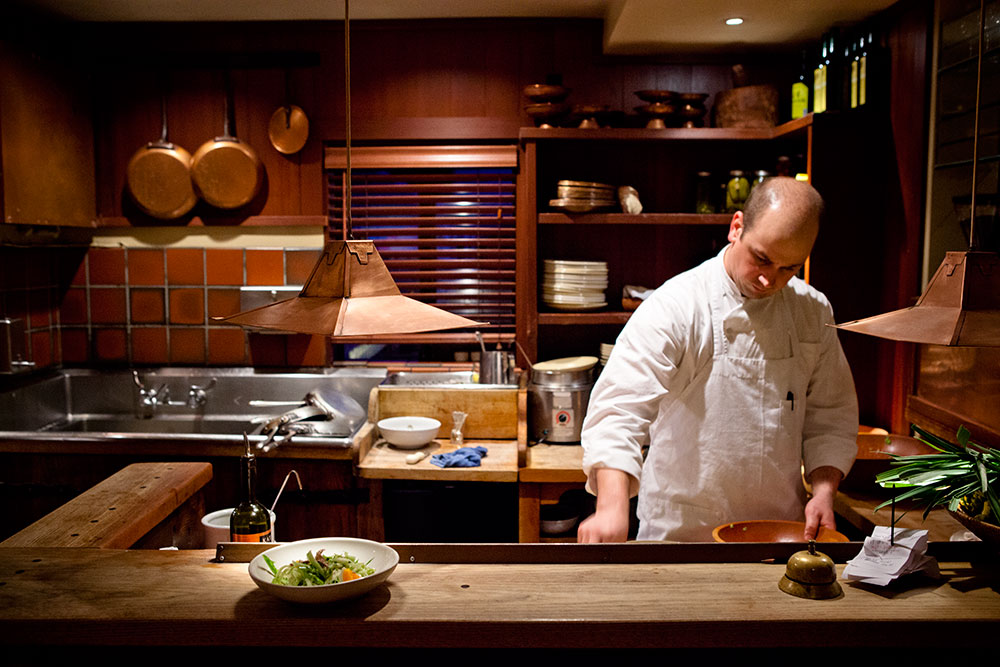 I am standing in front of the salad station where once Janet Fletcher prepared countless goat cheese salads.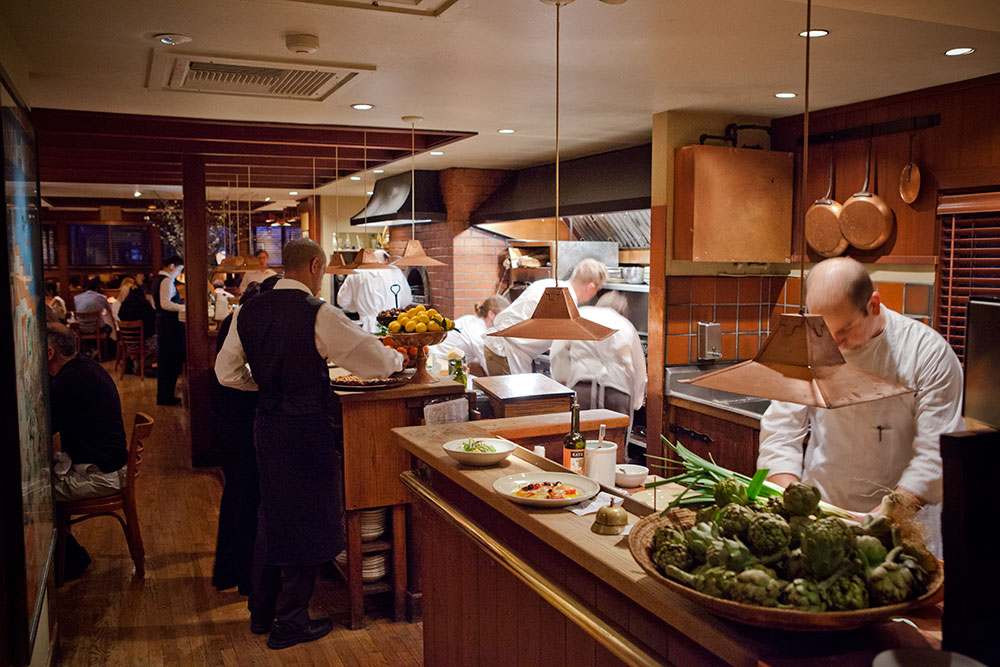 The Cafe uses the same local and organic produce, but serves completely different dishes. It has a kitchen on its own, together with a wood-fire pizza oven and grill stations, but they also get help from the kitchen downstairs.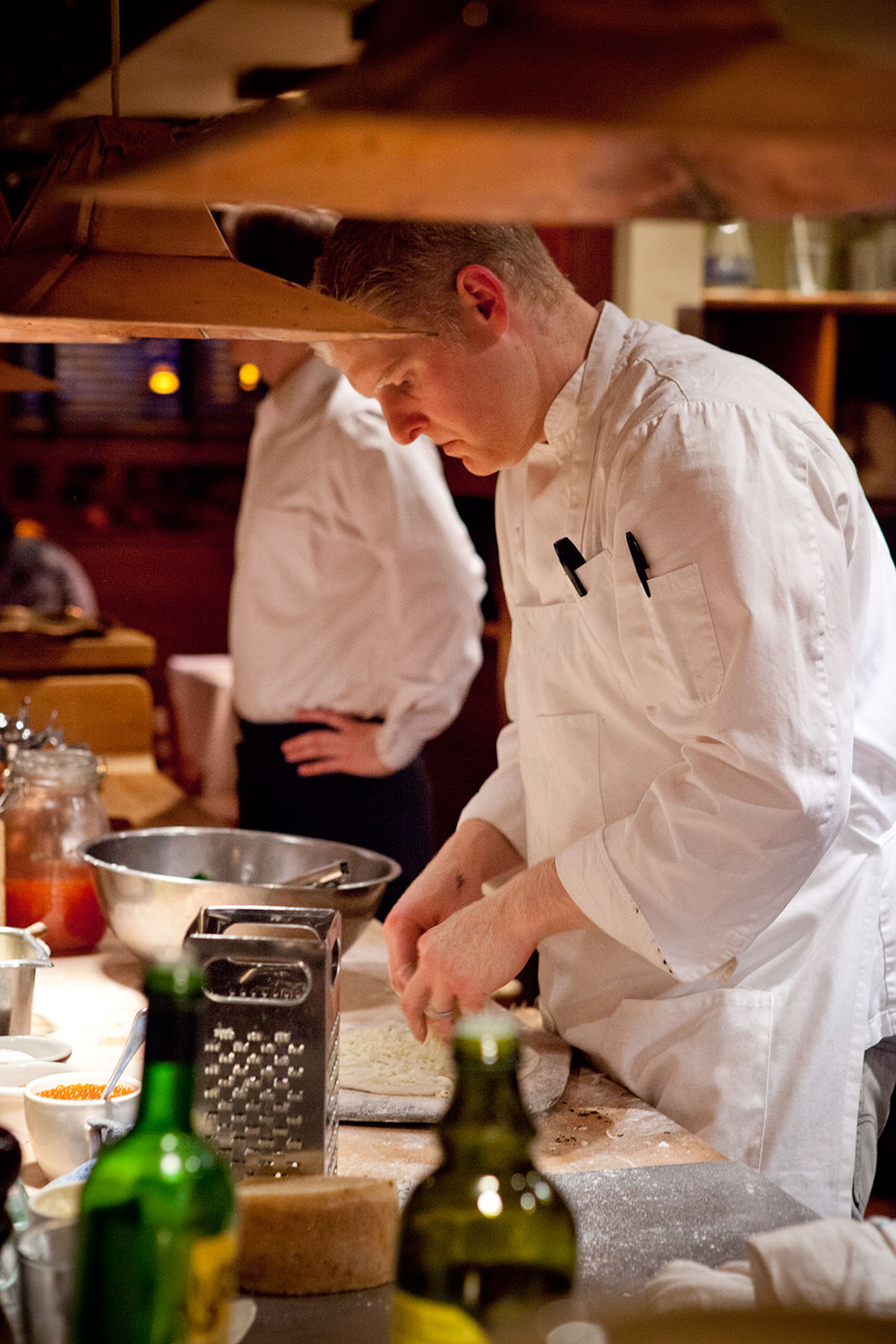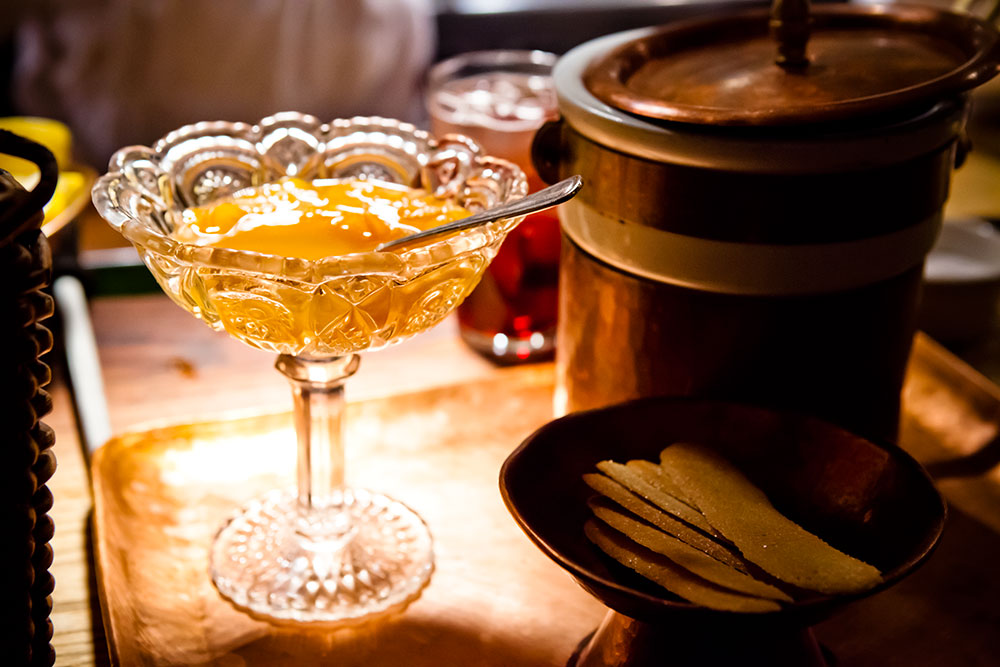 An orange and black olive salad with green garlic and olive oil. What an intriguing combination.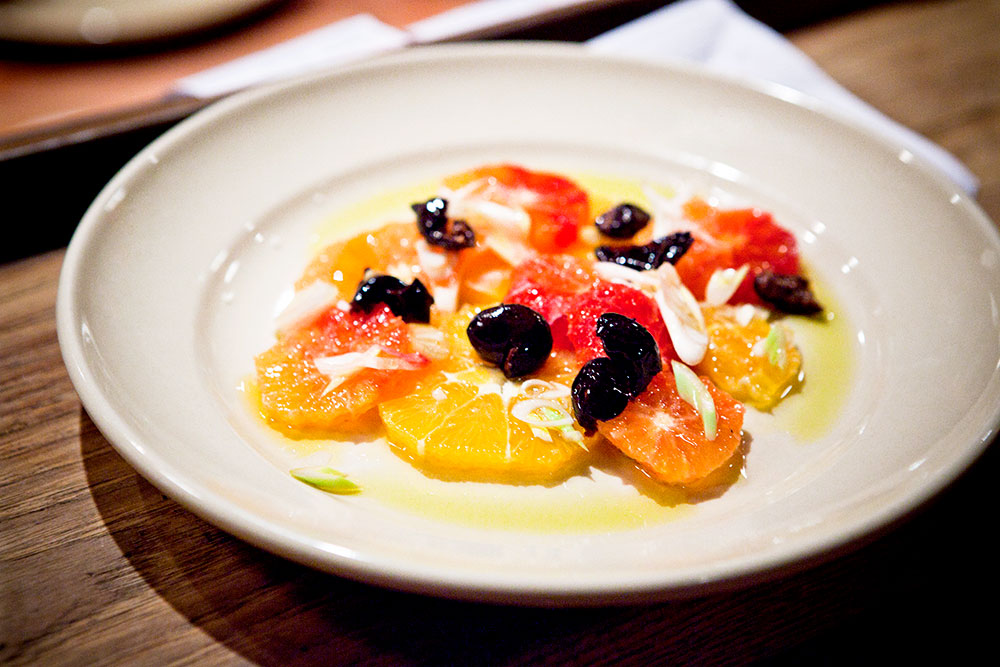 I rush the photos upstairs, because I've been waiting for the dessert course ever since I called to make a reservation.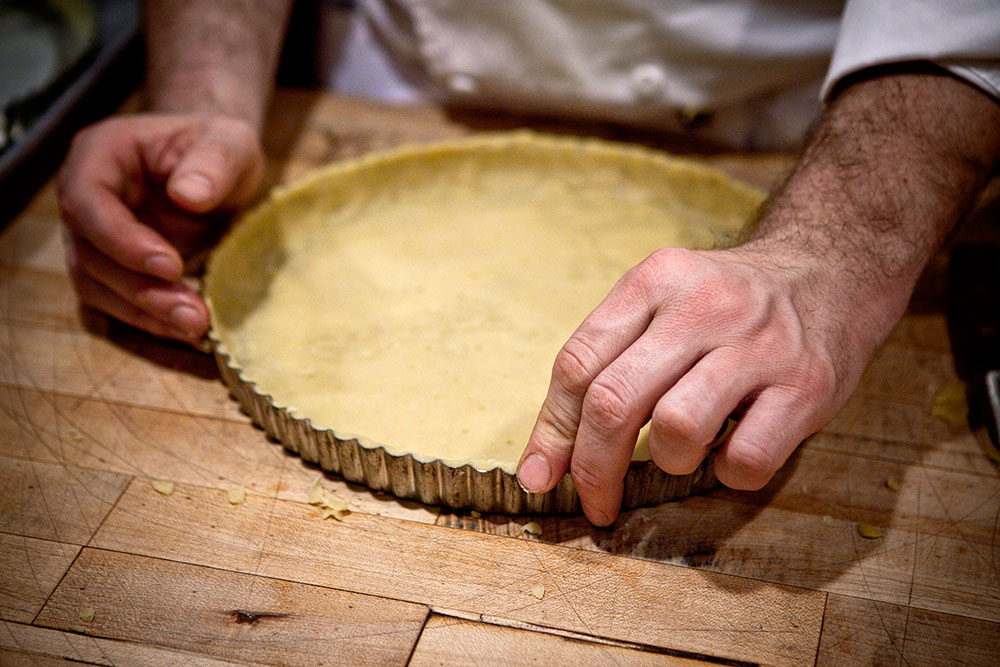 And now I'm standing where once David Lebovitz rolled tart doughs.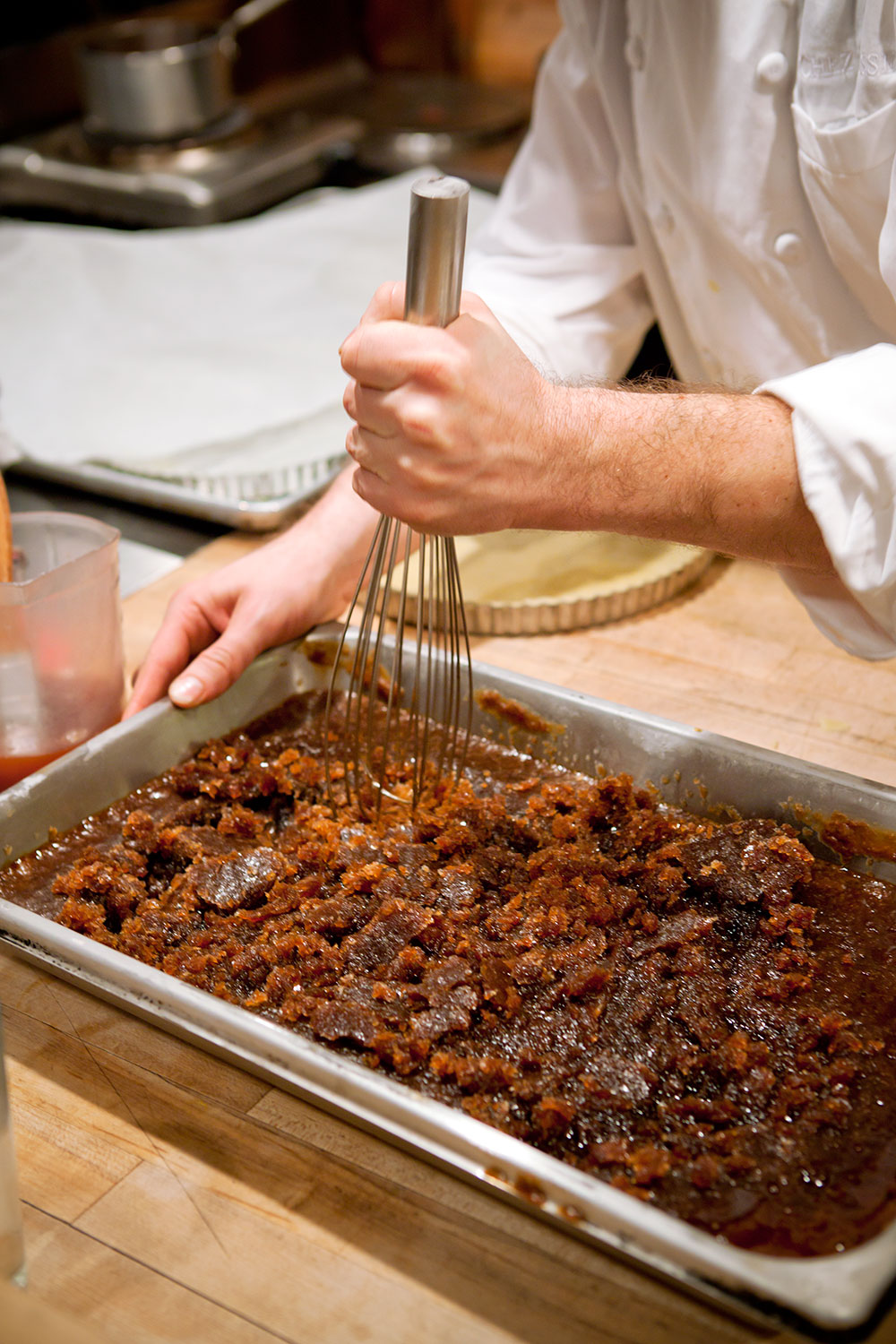 Right after he's done with the tart, he starts scraping a mixture, which looks like coffee granita. But I don't remember a granita in the menu. Is that a surprise? Did they somehow learn that ice cream is my favorite thing in the world? A small miracle of trust?
A glance at tomorrow's menu sheds a light. It is Nocino Granita. For those of you who have never heard of Nocino, it is a dark-colored digestive liquor made with green walnuts and a hint of spice, specific to the Emilia Romagna region of Italy. Because of its digestive quality, a granita made with Nocino would be a perfect dessert to finish a meal.
If you're intrigued, there's a recipe for homemade Nocino with step by step photos over at Rosetta Costantino's blog, Calabria from Scratch. You must have heard of her as her book, "My Calabria", published in November last year, is one of the most beautiful regional cookbooks I've ever seen. I have been meaning to do a review with a recipe I had an eye on, but the pressing deadlines of my book have completely wrecked my schedule. I will soon try the Nocino granita though.
To be honest, after realizing it wasn't for us, begging to taste a spoonful did cross my mind, but the privilege of taking as many photos as I'd like was so generous, I didn't want push my chances.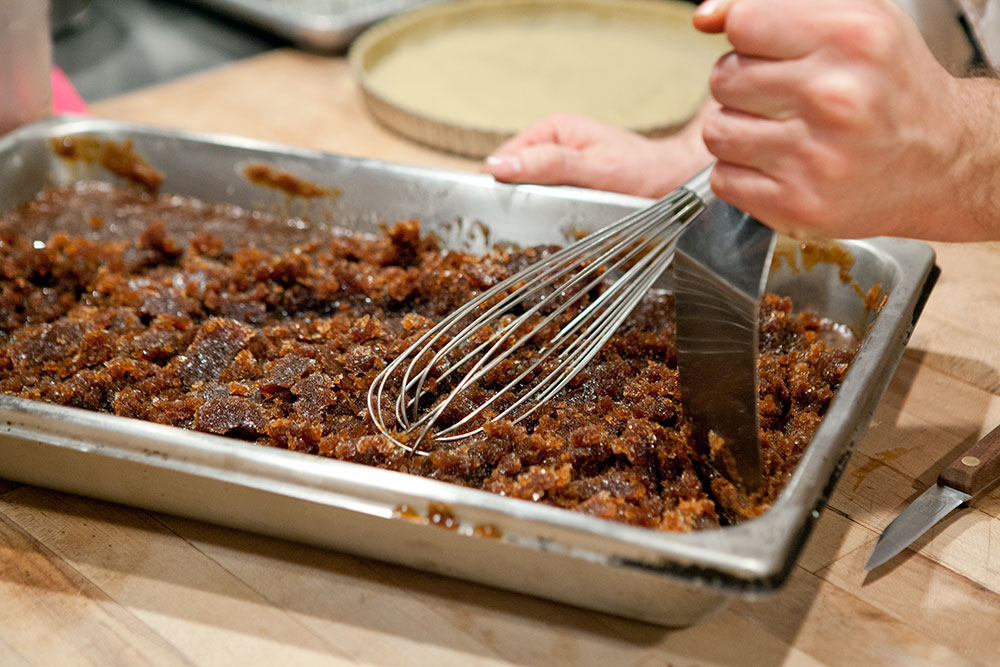 Right at the next station, the vacherin preparations are on full swing.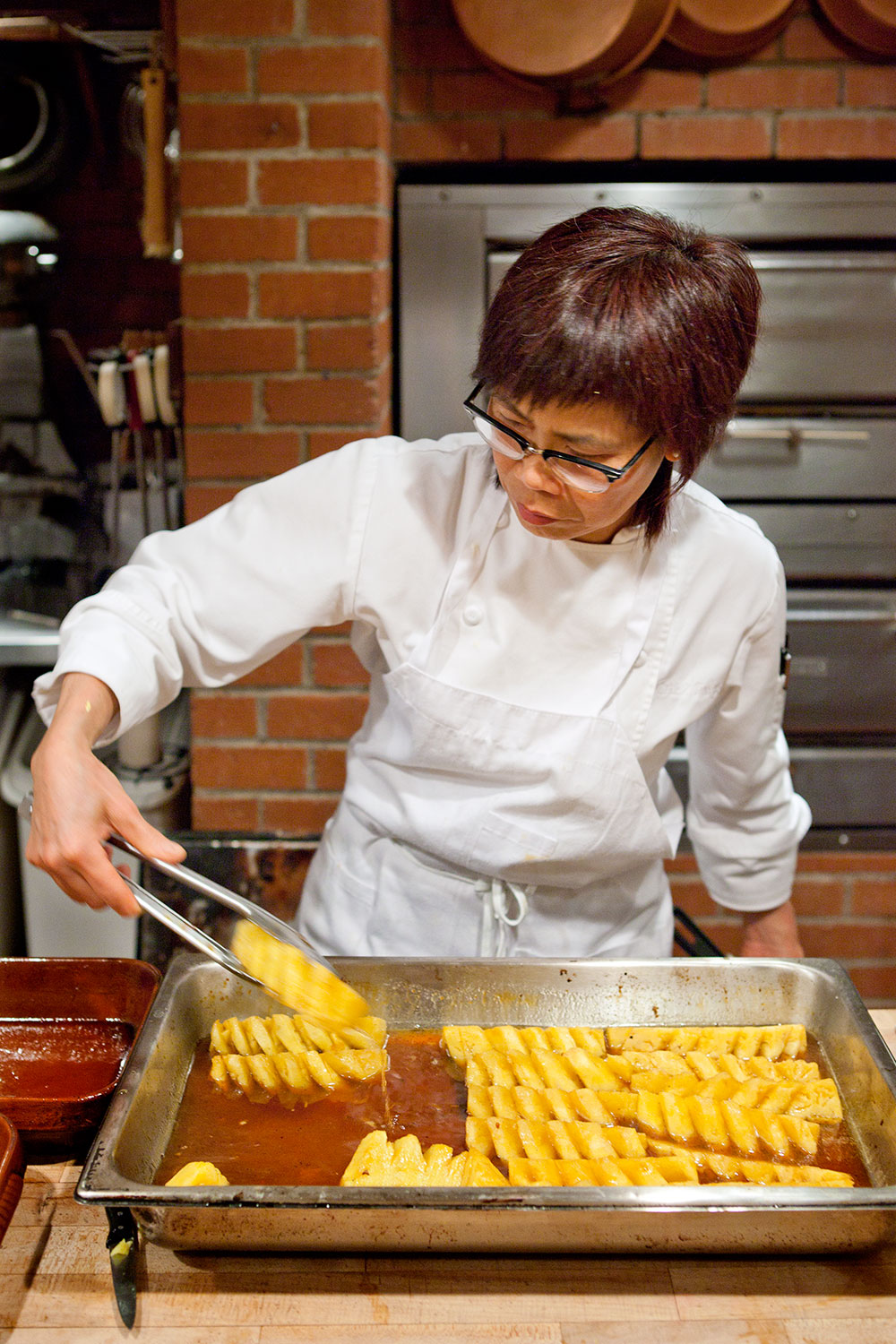 She removes the trays with roasted pineapples from the oven, and as soon as she tips one over a pot to drain, a whiff of that sweet, caramely roasting juice fills the air, making me weak at the knees.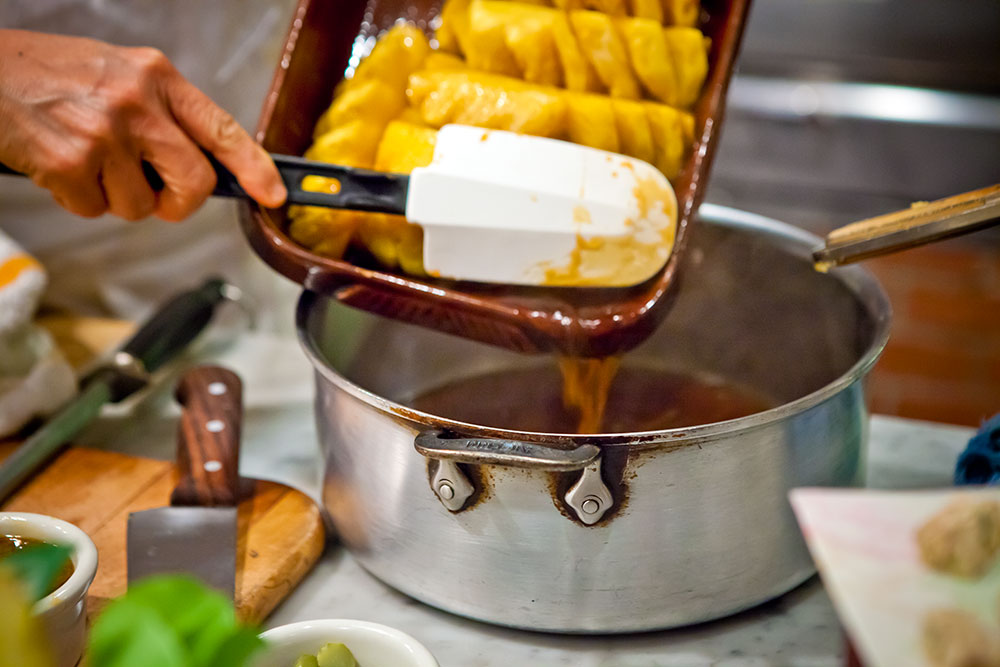 Just when I decide it's time to go back to the table to wait for the vacherin to arrive, I see a stack of plates. They all scream my name.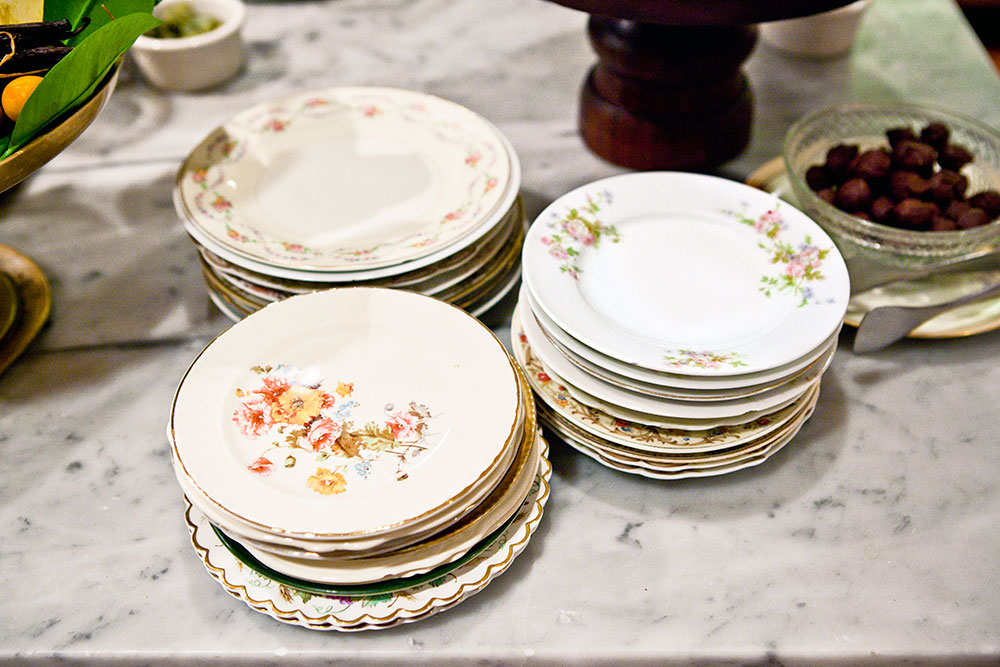 And right next to them is nougat slices resting on a board, ready to be served alongside coffee.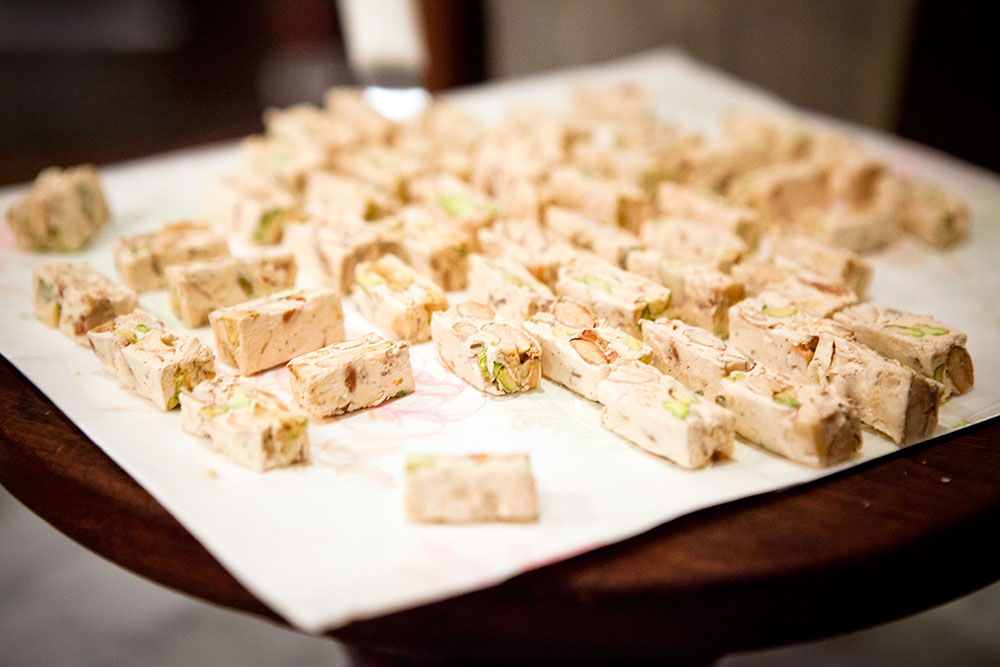 Gianni is my hero. When I arrived at the table to wait for my vacherin, my friend told me that when I rushed upstairs, my sweater fell on the floor  and Gianni, after leaving me upstairs, saw it on his way back, picked it up off the floor, folded it and placed it on my chair. You should have seen it. My sweater looked as if a stylist from Martha Stewart Living folded it for a photo shoot.
As soon as my friend's story ends, Gianni comes back with the dessert: Coconut sherbet vacherin with roasted pineapple.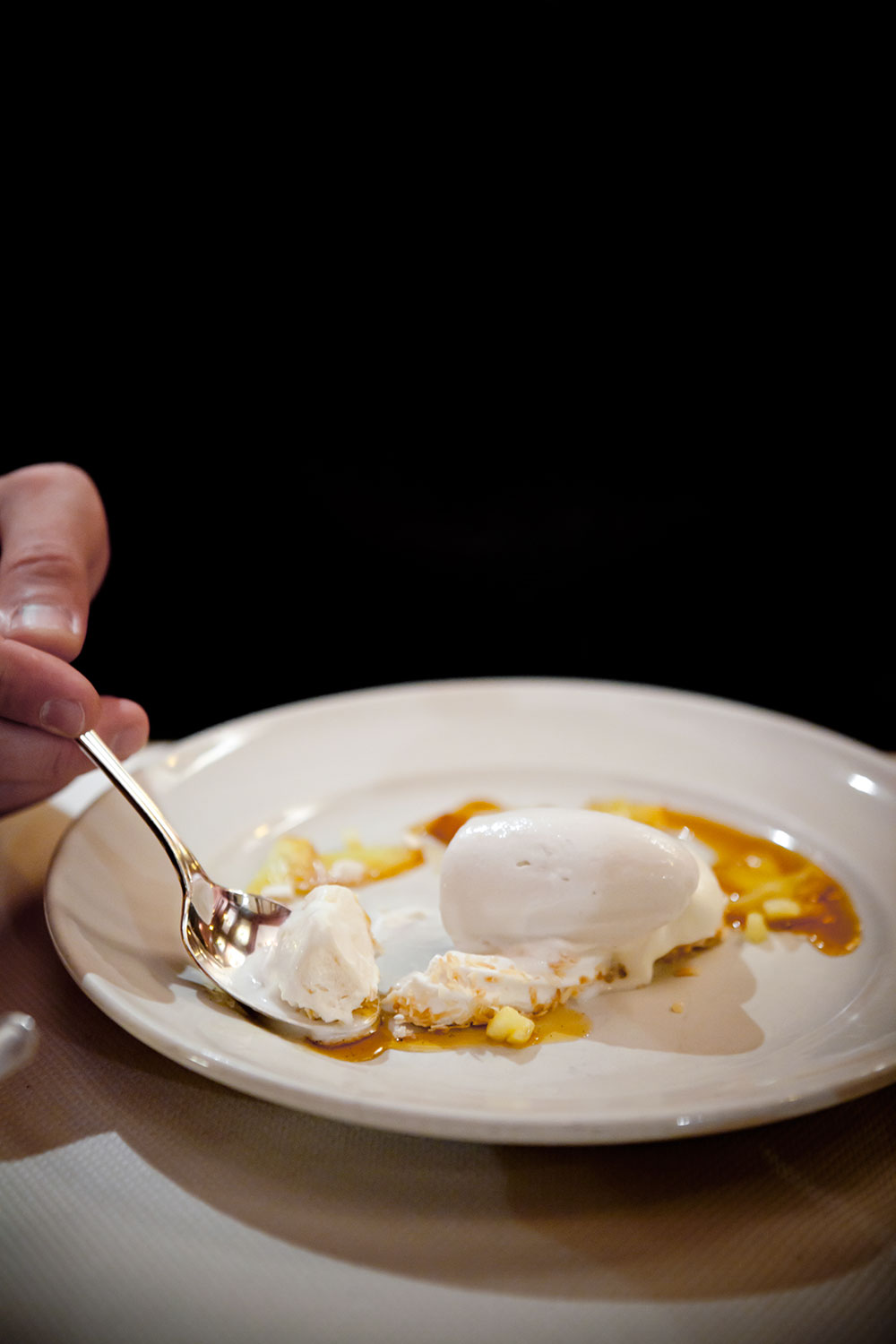 A light and very creamy quenelle of coconut sherbet sitting on top of a thin layer of meringue dotted with coconut flakes alongside a generous serving of roasted pineapples swimming in that out-of-this-world syrup.
As someone who consumes three times more coffee than water, my tastebuds couldn't believe what they were getting to experience the first time I drank Blue Bottle coffee. We just got out of Cookin! on Divisadero and were standing in front of a cafe on the corner. My friend wanted to go to the bathroom before we hopped on the bus, so we decided to go in. I ordered a coffee and it took ages for the barista to prepare. She placed a paper filter in a cup with a hole on the bottom and poured hot water in a circular motion every other minute until the cup below was full to the brim. A minute later, I took my first sip. The aroma was quite strong, there were no nasty bitter tones and it was the smoothest sip of coffee ever. Right after I learned that they were proudly serving Blue Bottle Coffee, I refused to drink anything else. Call it snobbery if you like, but I had 12 days in San Francisco and I was going to drink the best coffee my money could buy.
Over at Chez Panisse, when I looked at the menu, I wasn't surprised to read "Blue Bottle Coffee, Chez Panisse blend."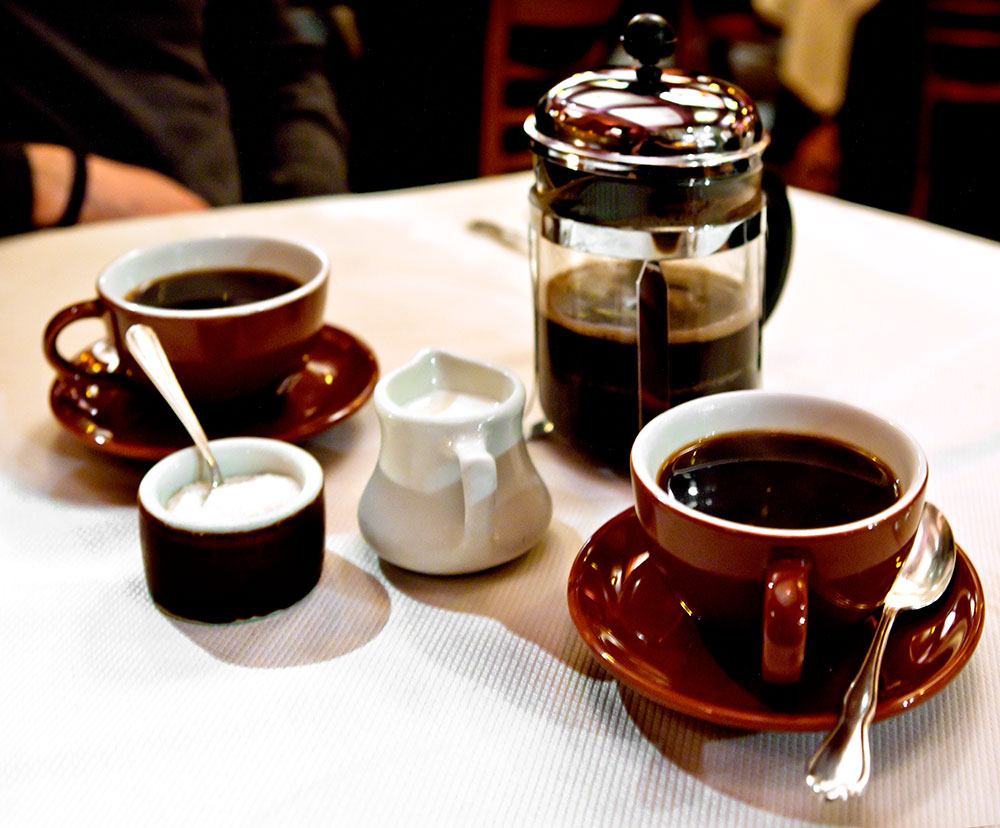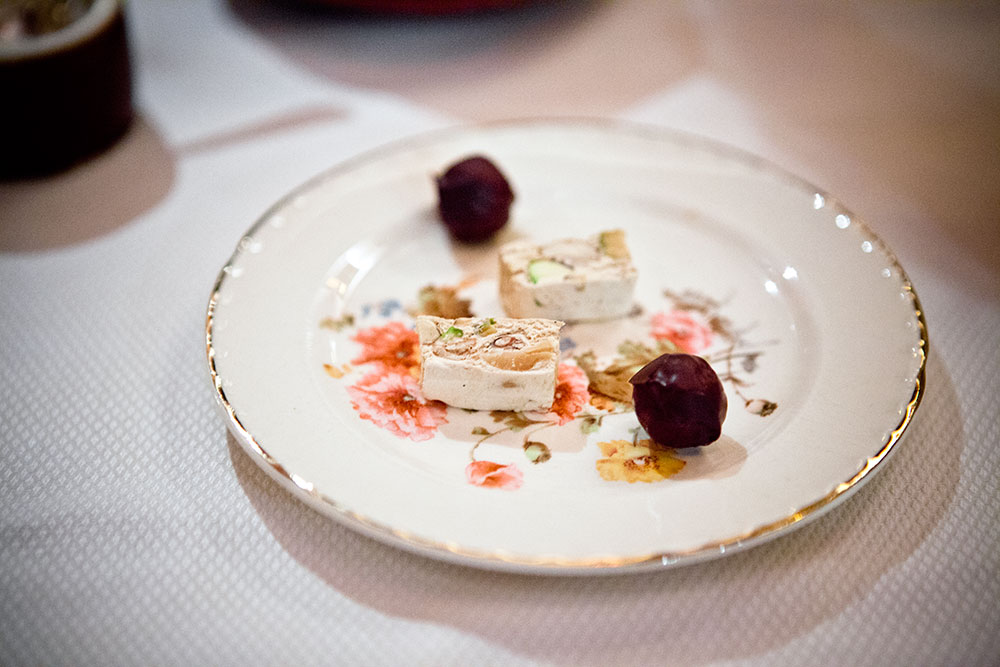 Ever since I got back from San Francisco I've been reminiscing about my Chez Panisse experience. Although the 24-hour trip is scary, I can not imagine waiting for another 2257 days before my next visit.
Up next is a great ice cream shop nearby… and you know which one.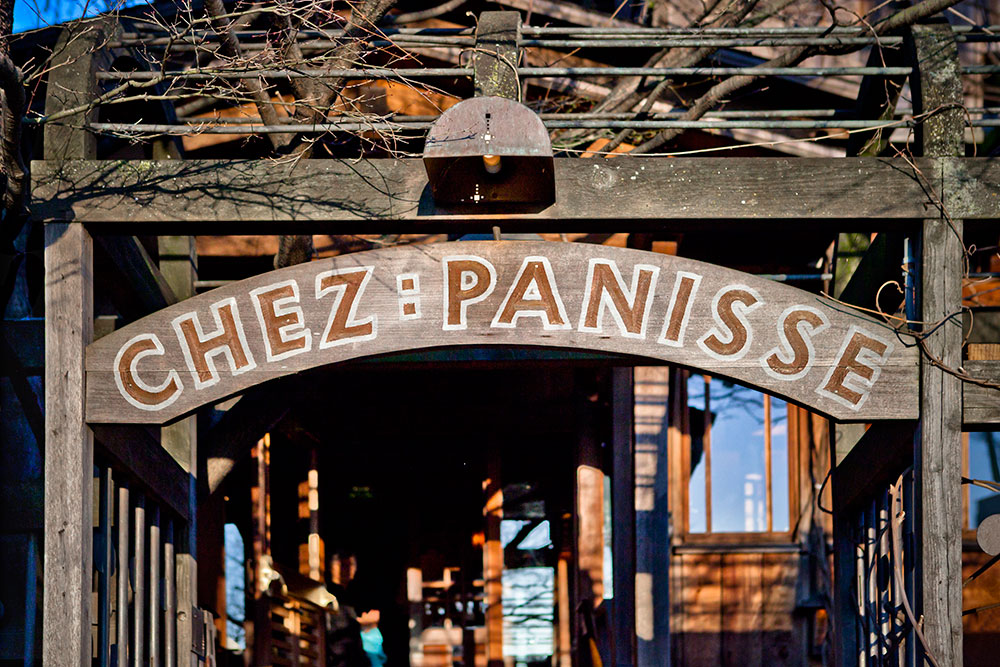 Chez Panisse Restaurant & Café
1517 Shattuck Avenue
Berkeley, CA 94709-1516
The weekly restaurant menu served downstairs is published every Saturday on Chez Panisse's website. For more information, please visit:
website – restaurant menu – cafe menu – map
Reservation (Monday to Friday, 9:00 AM – 9:30 PM)
Restaurant reservations: +1 (510) 548-5525
Café reservations: +1 (510) 548-5049
* Source: "Alice Waters and Chez Panisse" by Thomas McNamee.
Oh and I almost forgot… Great news!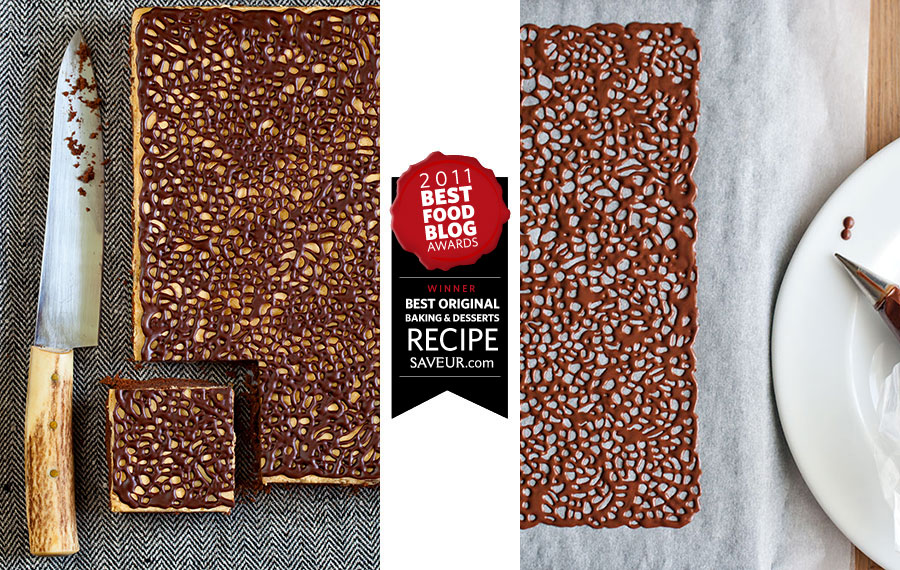 My Brownies with Hazelnut Butter and Chocolate Lace (aka Brownie Wears Lace) was named "Best Original Baking and Desserts Recipe" by Saveur magazine in their Best Food Blog Awards this year!
Many thanks to Saveur for nominating and YOU for voting. Congratulations to all the other winners (see the complete list here).