I always feel like I've accomplished something grand when I bake bread. I really don't know why. Considering some of the recipes I've tackled in the past, it certainly doesn't rank high on the difficulty scale. For instance, nothing would compare to these croissants. You don't need to break the recipe down to multiple days as I did with this chocolate cake. Juicing a stubborn fruit isn't involved for sure. And you don't even need to strain pounds of cheese for it.
If you don't count the time it takes to rise and bake, this classic white bread recipe takes less time than most of the cookie recipes in this blog. Yet somehow, I feel extremely proud.
The recipe is from Martha Stewart Living's February 2010 issue. There are three more variations mentioned in the magazine; multigrain, cinnamon-raisin and rye. I love it when you can tweak the recipe effortlessly and come up with completely different results.
It promises everything I look for in a freshly-baked, perfect loaf of bread: Golden brown crust with a tender and flavorful interior.
Wait until you see what I did with two slices of this bread. Soon!
Update: Here's what I did: Peanut Butter, Banana and Chocolate Toast.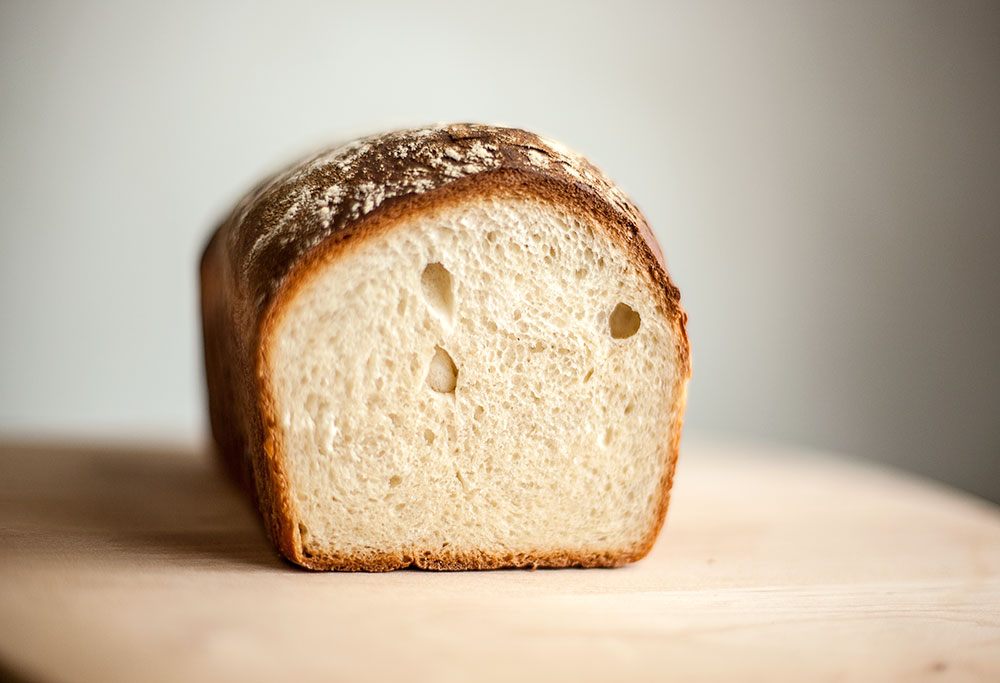 CLASSIC WHITE BREAD RECIPE

Recipe from Martha Stewart Living February 2010 issue.
Makes two loaves

Ingredients
1 tbsp plus 1+1/2 tsp active dry yeast
2+1/4 cups warm water
3 tbsp+ 2 tsp honey
4 tbsp unsalted butter, melted, plus more for pans
7 cups all-purpose flour, plus more for dusting
2 tbsp coarse salt
Method
Sprinkle yeast over half a cup of warm water, add 2 tsp of honey and whisk to dissolve the yeast. Let stand until foamy, about 5 minutes, then transfer to the bowl of a stand mixer fitted with the dough hook attachment. Add butter, remaining water and honey.
In a separate bowl, whisk flour with salt.
Add 3 cups of the flour mixture to yeast and mix on low speed until smooth.
Add remaining flour, one cup at a time, mixing until dough comes away from sides of bowl and forms a slightly sticky ball.
Butter a large mixing bowl and set aside.
Knead the dough on a floured surface until smooth and elastic, shape into a bowl and transfer to the buttered bowl. Cover with plastic wrap and let stand in a warm place until it doubles in volume, about an hour. (You may freeze half of the dough at this point to bake later.)
Butter two 4.5*8.5 inch loaf pans. Punch dough down, divide in half, shape into an 8.5 inch rectangle, fold long sides in to the middle, overlapping slightly. Press seam to seal and transfer dough, seam side down, to the loaf pan.
Dust each loaf with flour, cover loosely with plastic and let stand until dough rises about an inch above tops of pans, about 45 minutes.
In the meantime, preheat your oven to 450F.
Reduce oven temperature to 400F and bake, rotating pans after 20 minutes, until tops are golden brown, for a total of 45 minutes.
Let cool completely before slicing.
Loaves can be stored at room temperature for three days or frozen for up to three months.