The day has come. It's finally time to announce that my labor of love and obsession for the last seven years, titled The Artful Baker (and aptly subtitled Extraordinary Recipes From an Obsessive Home Baker), will be published by Abrams in October of this year!
It's also finally time to tell you what I've been up to for the past two years. I have to go back six and a half years, to the summer of 2010.
Right after I announced from my blog that I started working on my Turkish cookbook, I received an e-mail from an editor at Abrams. Her name was Sofia and she was telling me that she and her family had a great vacation in İstanbul, fell in love with the city, and even managed an early morning trip to the Kasımpaşa Kastamonu farmers' market—which she had read about on my blog—and brought back lots of goodies to their apartment for a proper Turkish breakfast. She thanked me for my blog post and ended with a note saying that she'd love to chat if I had a book proposal or any ideas to run by her. I wrote back, telling her that I didn't have a proposal as my Turkish publisher never asked for one (too good to be true, right?) and that I'd be more than happy to write one after I was done with the manuscript of my Turkish cookbook.
Back then, I was aiming to submit the manuscript to my publisher by the summer of 2011, but it never happened. It took me four and a half years to develop the recipes, write the stories, style and take the photographs, and design the book. I even ended up preparing the index myself. Unfortunately, by the time I was done with my Turkish book, Sofia had already embarked on a different career path. And so had two more editors from different publishing houses who wrote to me right after Sofia did. Fortunately, I have an amazing agent—and I'm sure fate must have intervened—and my book fell into the hands of another great editor at Abrams, who fell in love with it.
It took me a year and a half, working day and night, to write the English-language version and now I can't wait for you to hold it in your hands.
I still can't believe how fast the last seven years have passed. I remember the first meeting I had at my Turkish publisher's offices like yesterday. On my way to the meeting, I was debating with myself if I was competent enough to write a book that was worthy of a permanent place in my readers' bookshelves. I had a successful food blog, but I didn't feel that it necessarily gave me a privilege to write a book. Did I have anything new to offer? Did I really deserve to be on a bookshelf, side by side with the works of my heroes and heroines?
Ten minutes into the meeting, I asked Çağatay, vice president and publisher of my Turkish publisher back then, if he thought the world really needed another baking book. He responded: "I can't speak for the whole world, but if you're writing it, Turkey desperately needs it."
Looking at the image below—a collage of only half of the 6000+ Instagram posts, all published by readers who bought my Turkish book and baked from it—I realize how right he was and how stupid my question was.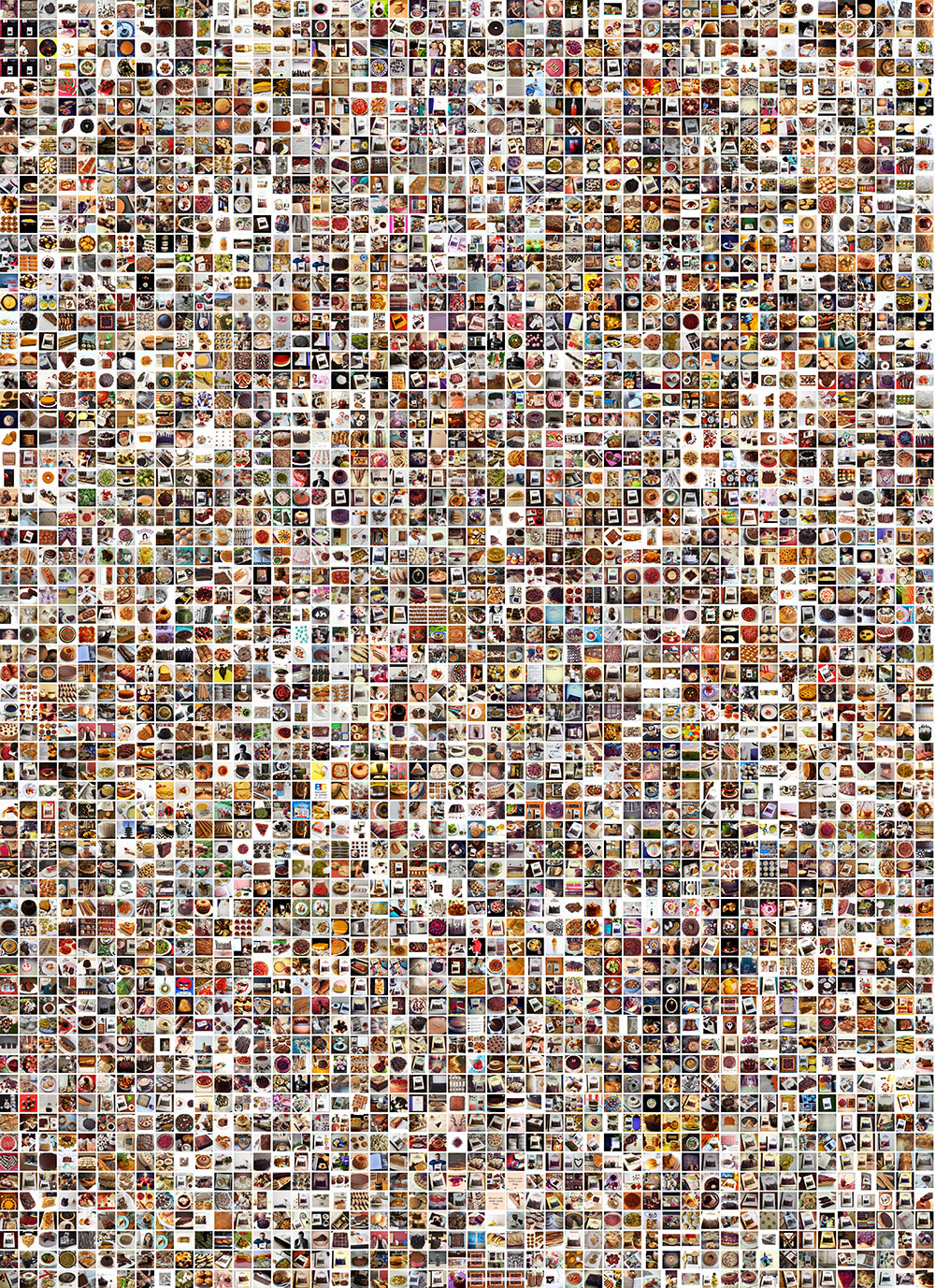 Now it's time to share my book with the rest of the world and I hope that it makes its way into many more bookshelves.
I have various posts planned about the stages the book went through. Today, I'll give you a general look at the book. Here are a few highlights from each chapter:
FROM SAN FRANCISCO TO İSTANBUL, FROM BLOG TO BOOK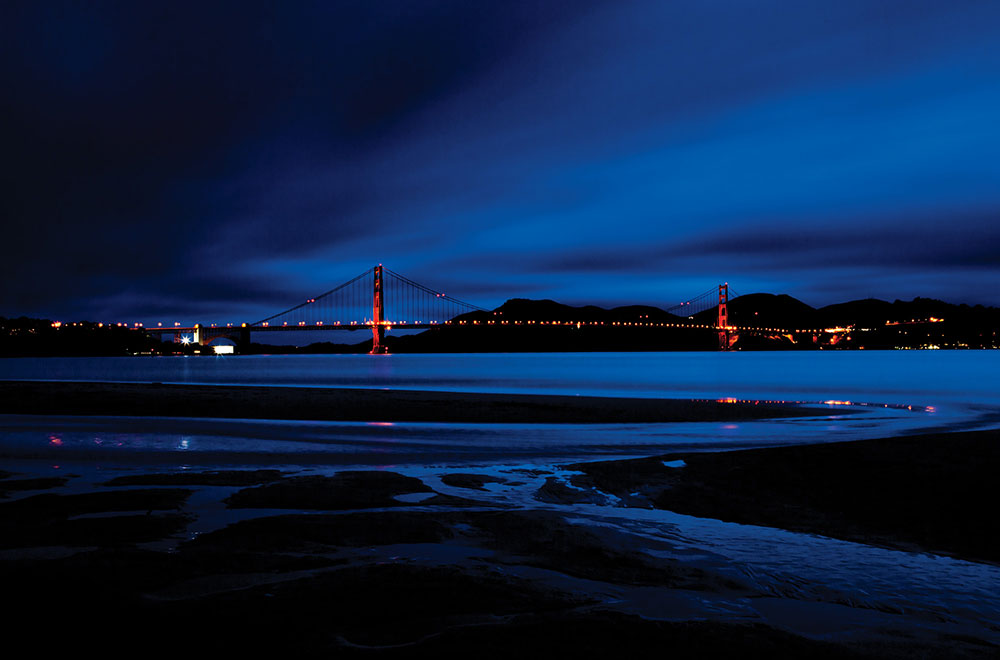 In this introductory chapter, I share how I first started cooking in college; why I stopped cooking when I moved to San Francisco; my obsession with San Francisco, The Golden Girls, and baking after I moved back to Istanbul; beginning my blog, why I named it Cafe Fernando, and how it became bigger than I ever could have imagined; what led me to quit the corporate world to become a full-time food blogger; and my journey writing this book.

BEFORE WE BEGIN
Right before getting to the recipes, I share my golden rules of baking, vital to achieving success, efficiency, and peace of mind in the kitchen.
COOKIES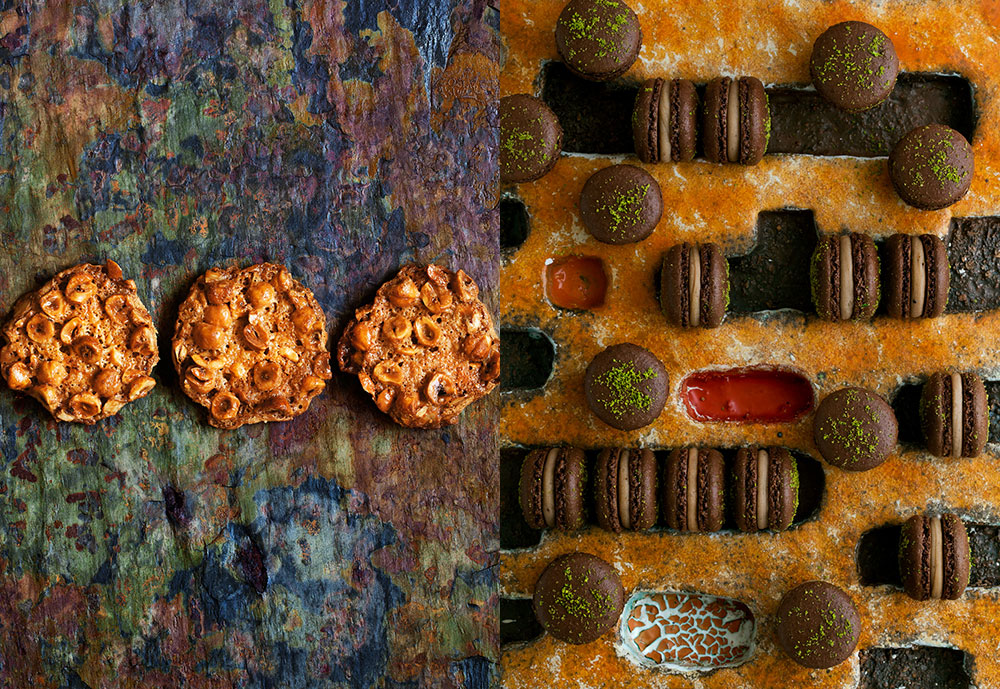 The chapter starts with Cenk's House Cookies, my version of the Danish butter cookies I ate as a child while playing at the foot of my grandma's chair. You'll also get to meet my favorite cookie in the world, Hazelnut and Caramel Cookies, a cross between my friend Banu's hazelnut cookies and Lindsey Shere's Almond Tart, the most famous dessert at Chez Panisse for decades until it was taken off the menu despite David Lebovitz lobbying against the change. And then there's my foolproof macaron shells recipe, followed by four macaron recipes, including my favorite, Cocoa and Chestnut Macarons.
BROWNIES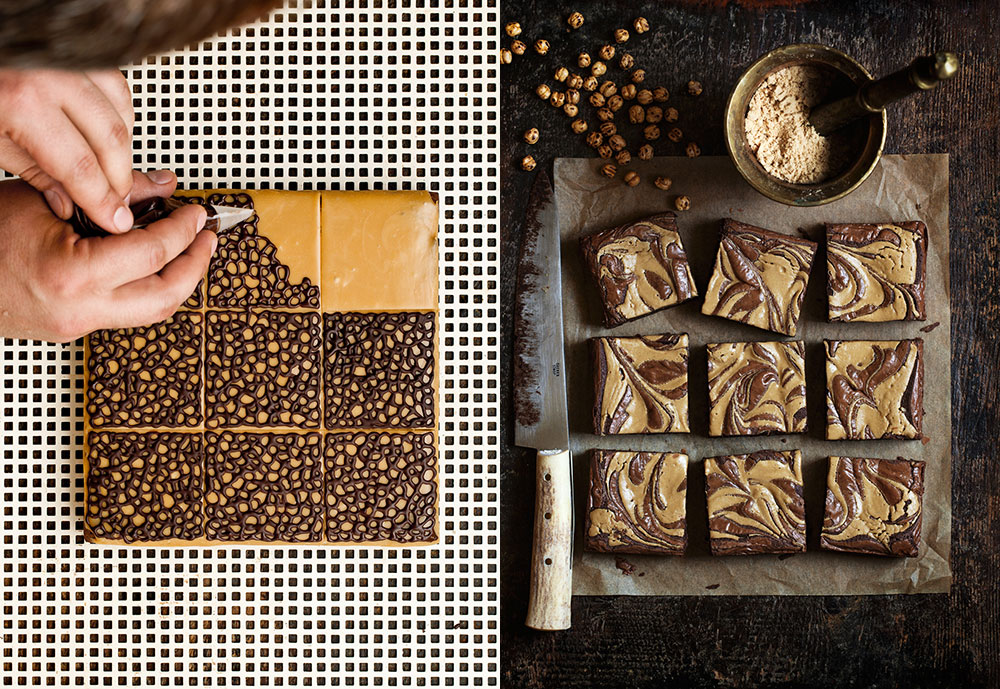 Have you ever tried brownies made with sarı leblebi (double-roasted chickpea) flour? If not, you absolutely must try my Tahini and Leblebi Swirl Brownies.
There's also the revamped version of the brownies I designed for Dolce & Gabbana, Brownie Wears Lace: Fudgy brownies + blond chocolate ganache + bittersweet chocolate lace.
CAKES, MUFFINS, CHEESECAKES & MERINGUES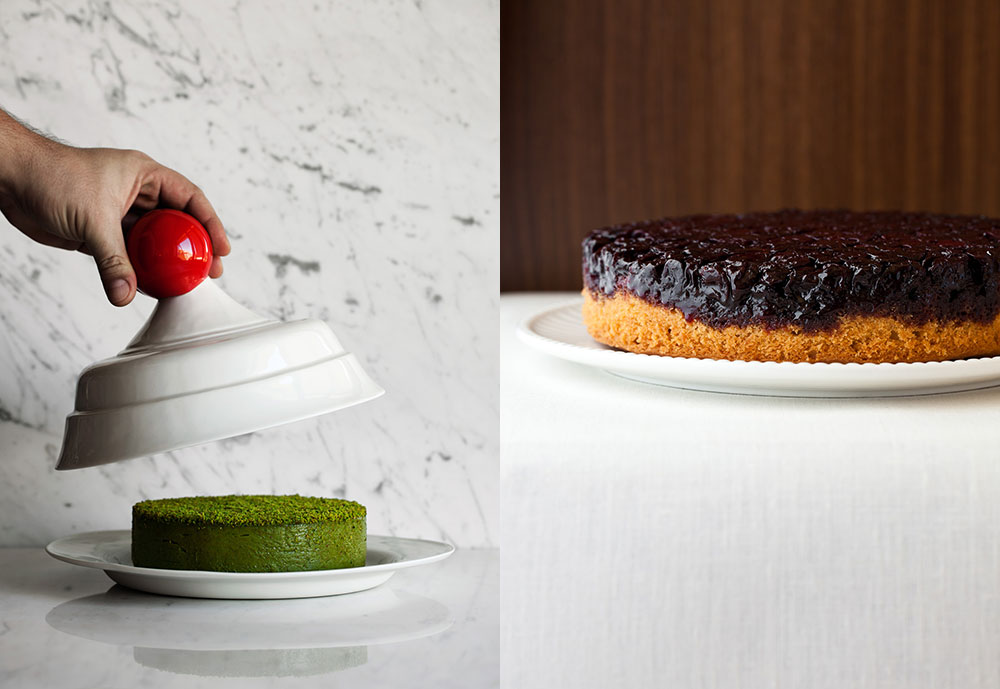 In this chapter, you'll find my favorite recipe in the book: Sour Cherry and Almond Upside Down Cake. It is also one of the easiest recipes in the book. For the cake, you put the ingredients into the bowl of a food processor one after another and press a button! And don't worry if sour cherries aren't in season; the cake is so flavorful, it doesn't even need a fruit layer.
In addition to the updated version of my signature Devil Wears Chocolate cake (the one on the cover), an over-the-top vanilla Bundt cake, and a pumpkin cheesecake that has almost a pound of pumpkin in every slice, you'll get the recipe for the Matcha and Pistachio No-Bake Cheesecake, which I developed in the hopes of making up for the trauma I've put my friends through with the first matcha cheesecake I baked for them several years ago.
TARTS, GALETTES, PIE, QUICHE, COBBLER & CRUMBLE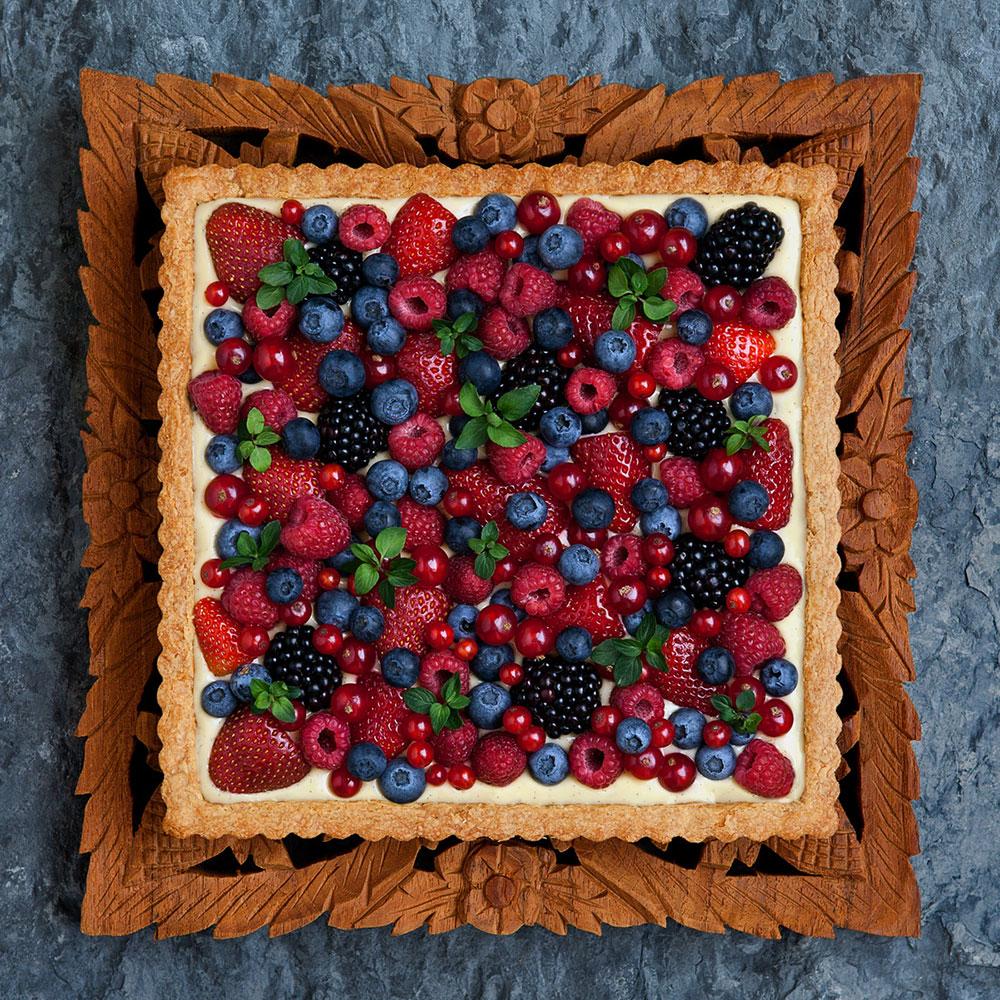 You've got to adore a chapter that starts with a recipe titled Blanche. It's a timeless tart, named after another—Golden Girl Blanche Deveraux!
BREADS & PASTRIES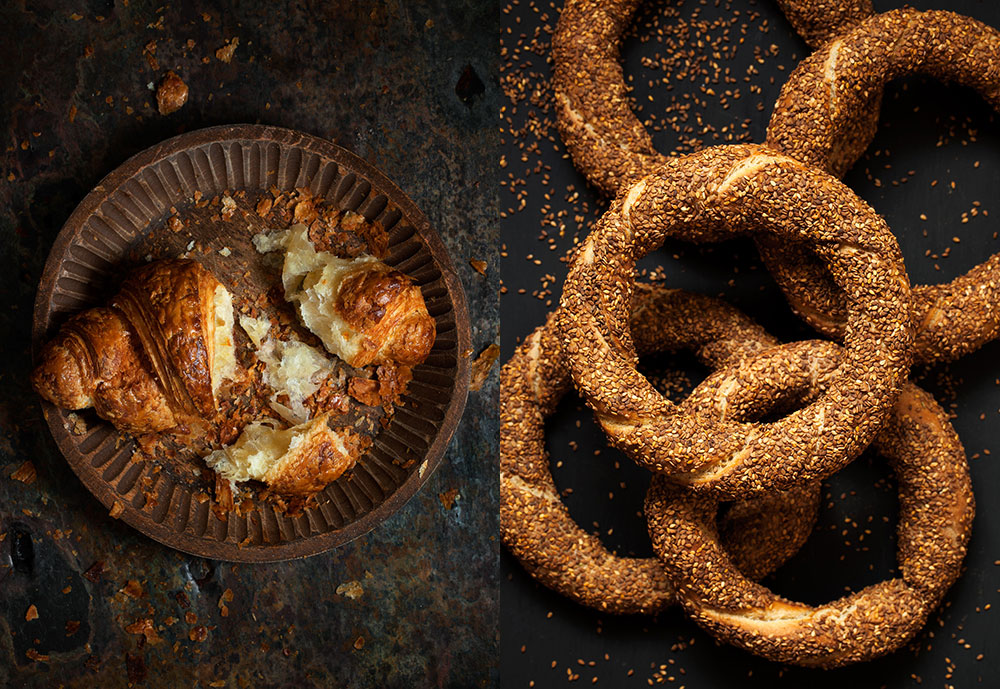 Here's a recipe you won't find in any other cookbook: Sourdough Simit. Ever since Dianne Jacob gifted me a package of San Francisco sourdough starter culture, I've been baking İstanbul's beloved simit (a ring-shaped bread encrusted with sesame seeds) using the Lactobacillus sanfranciscensis bacteria, which is named after my home away from home. After numerous trials, I updated the recipe on my blog for the book. I've also included a yeasted variation, in case you'd like to take a shortcut.
Some other highlights include my foolproof Croissants and Pains au Chocolat recipes with step-by-step photos, including instructions to make both croissants and pains au chocolat using the same dough; a Granola that bakes into perfect little clusters that retain their crunch right up until the last spoonful; and a Profiteroles recipe, which became one of the most tried recipes in the Turkish book.
ICE CREAMS, FROZEN YOGURT & SORBETS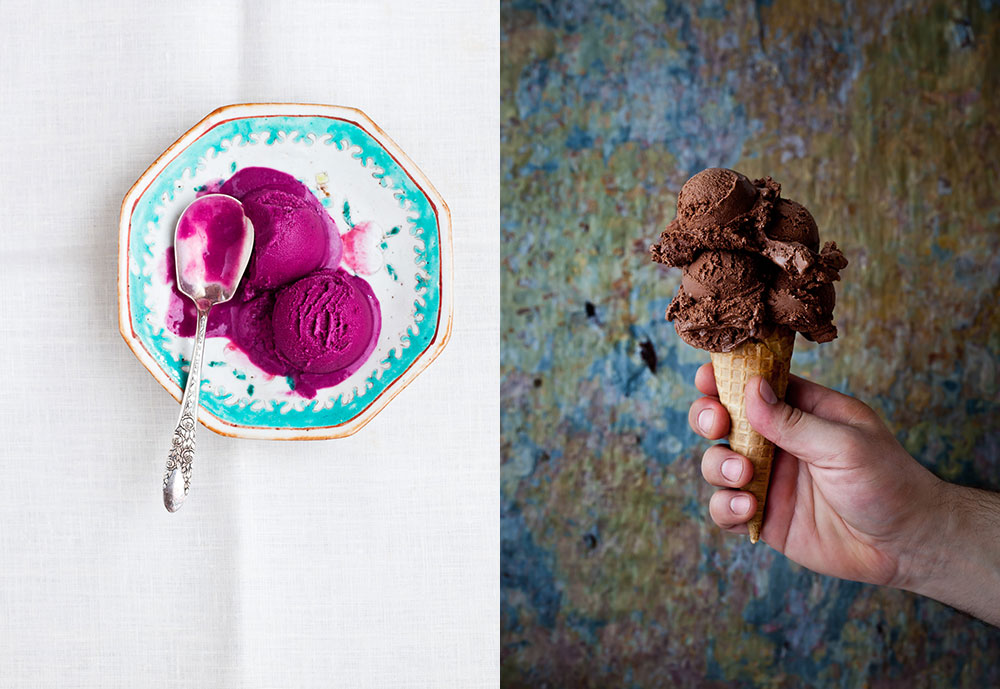 I am very specific when it comes to ice cream. Chocolate ice cream must have the right proportion of chocolate to custard so that I can keep eating for as long as I wish. Vanilla has to be extravagant, flecked with a million vanilla seeds. Any caramel in ice cream must be cooked darker than most people dare. Strawberry ice cream should have an intense fresh strawberry flavor and be packed with sweet, sticky pieces of roasted strawberries. Sorbets ought to capture the essence of the fruit and be balanced with acid without an invasive taste of lemon. And homemade frozen yogurt should be as creamy as ice cream without using thickeners. The recipes in this chapter satisfy my high expectations and I hope you love them as much as I do.
CONFECTIONS & DRINKS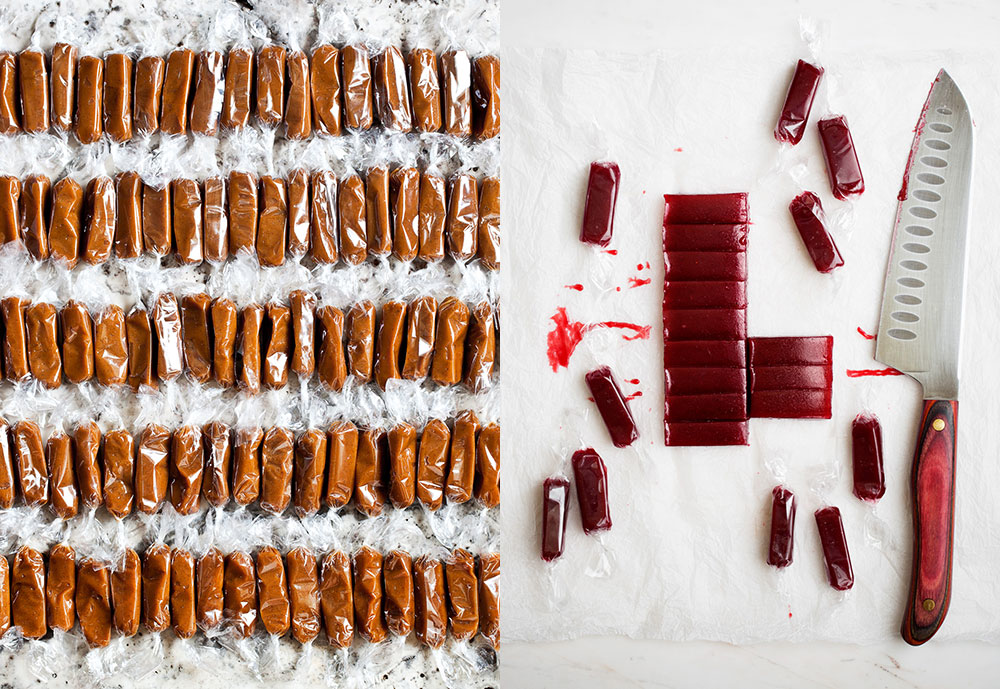 I'm generally self-deprecating about my own recipes, even more so when they're inspired by the works of great masters, but I could not be more proud of the caramel recipes in the book. The first is the classic Salted Butter Caramels, inspired by the Jacques Genin caramels I discovered at the best candy shop on earth: A l'Etoile d'Or. The other two are Passion Fruit Caramels and Million-Dollar Raspberry Caramels, which weren't ready by the time my Turkish book went into print. I'm so glad I got the chance to work on the recipes further and was able to include them in this book.
JAMS & JELLIES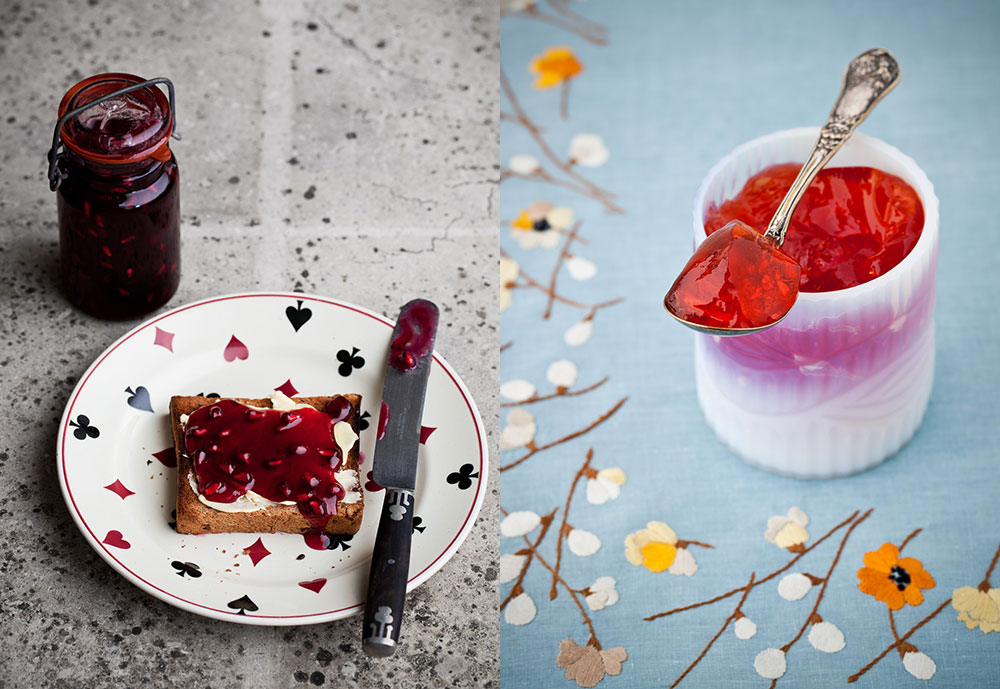 I've finally cracked the code to the perfect Pomegranate Jam and it has changed my jam making forever. Aside from the recipes that include quinces and milk-based jams, all the jams and jellies in this chapter are made with homemade Green Apple Pectin Stock, which allows me to cut the granulated sugar considerably.
BASE RECIPES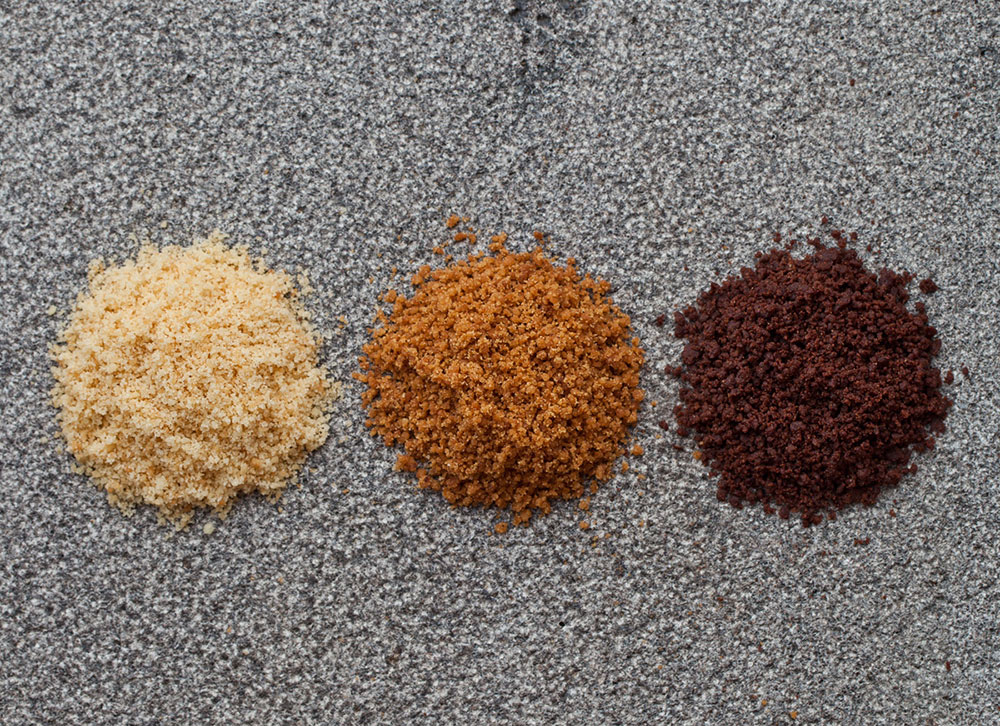 Yes, I make my own wafer crumbs. Would I peel, seed, and cut a 6.6-pound pumpkin into pieces, bake them, puree them, blot the puree to remove excess moisture, and use the drained puree to make the smoothest, creamiest, and most pumpkin-y pumpkin cheesecake ever, then bake it on a crust made with store-bought wafers? I don't think so. Some may say life is too short to make Homemade Wafer Crumbs. I say, life is too short to eat a cheesecake that is anything short of spectacular. And making homemade wafer crumbs is easier and faster than you think. If you don't count the baking time, you can make three batches of wafer crumbs (vanilla, cocoa, and cinnamon & ginger) in ten minutes flat—faster than running out to the store for wafers and pulsing them at home!
INGREDIENTS, MEASUREMENTS & CONVERSIONS, EQUIPMENT, and SOURCES
At the back of the book, you'll find detailed information about the defining characteristics of the most common ingredients used in the book (along with suggestions about substitutions and storage) and the list of equipment that will make your life in the kitchen easier and the time you spend there more enjoyable.
A very important detail: Throughout the book, measurements of ingredients (including liquid ingredients) are provided in both volume and weight (grams). I know how important this is to most of you! Where a volume measurement isn't useful (e.g., for chocolate or some of the fresh produce), weight measurements are provided in both ounces and grams.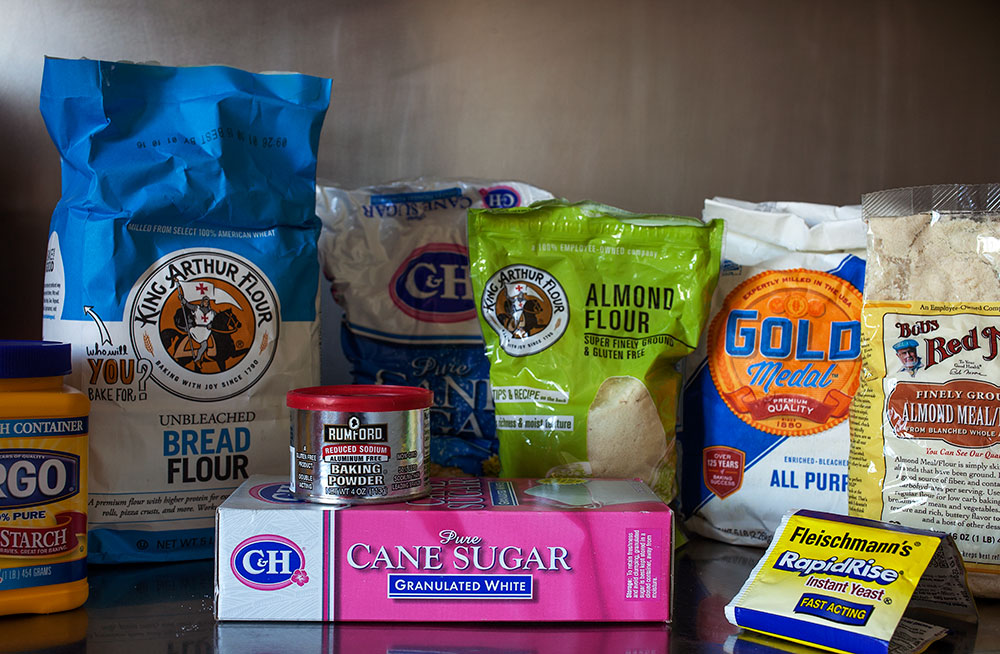 Every recipe in the book has gone through a meticulous development phase, tested by an army of home bakers having varying levels of skill, equipment, and access to ingredients, and revised to ensure that they will work flawlessly in any kitchen. My dear friend Rachel Berman Boller tested the recipes with US ingredients as well. It was a herculean task and I'm forever grateful to her. On my last trip to San Francisco, I had bought a luggage full of baking supplies, just in case some of the recipes needed revisions during the testing phase. A few needed tweaking, but it turns out that US and Turkish ingredients aren't that different after all.
A few design details: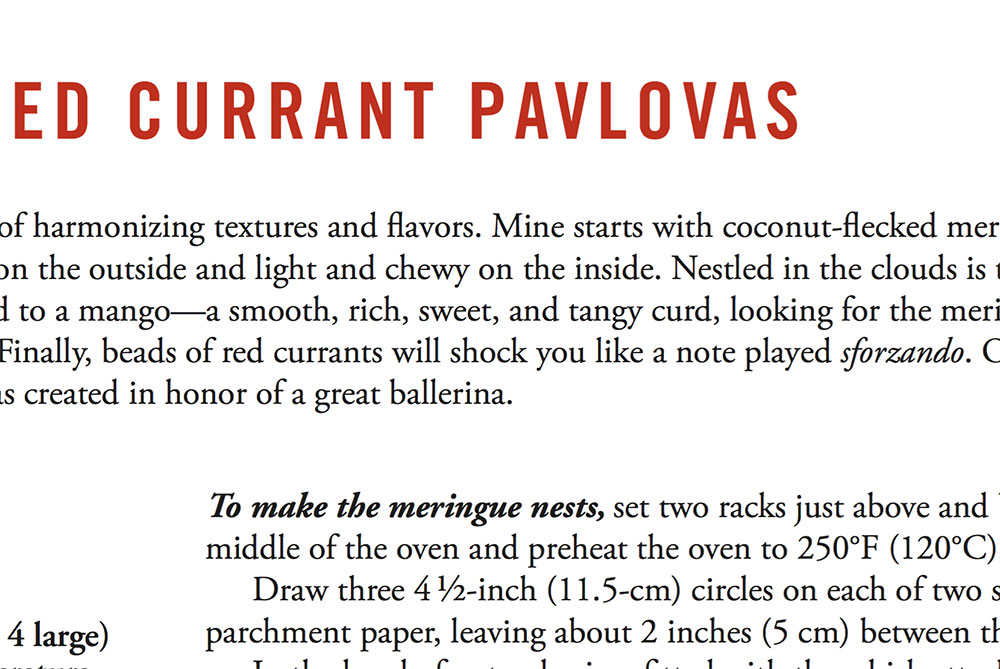 Abrams liked the design of my Turkish book so much they decided to stick with it. As you may remember from older posts, the headings are in Golden Gate Bridge International Orange!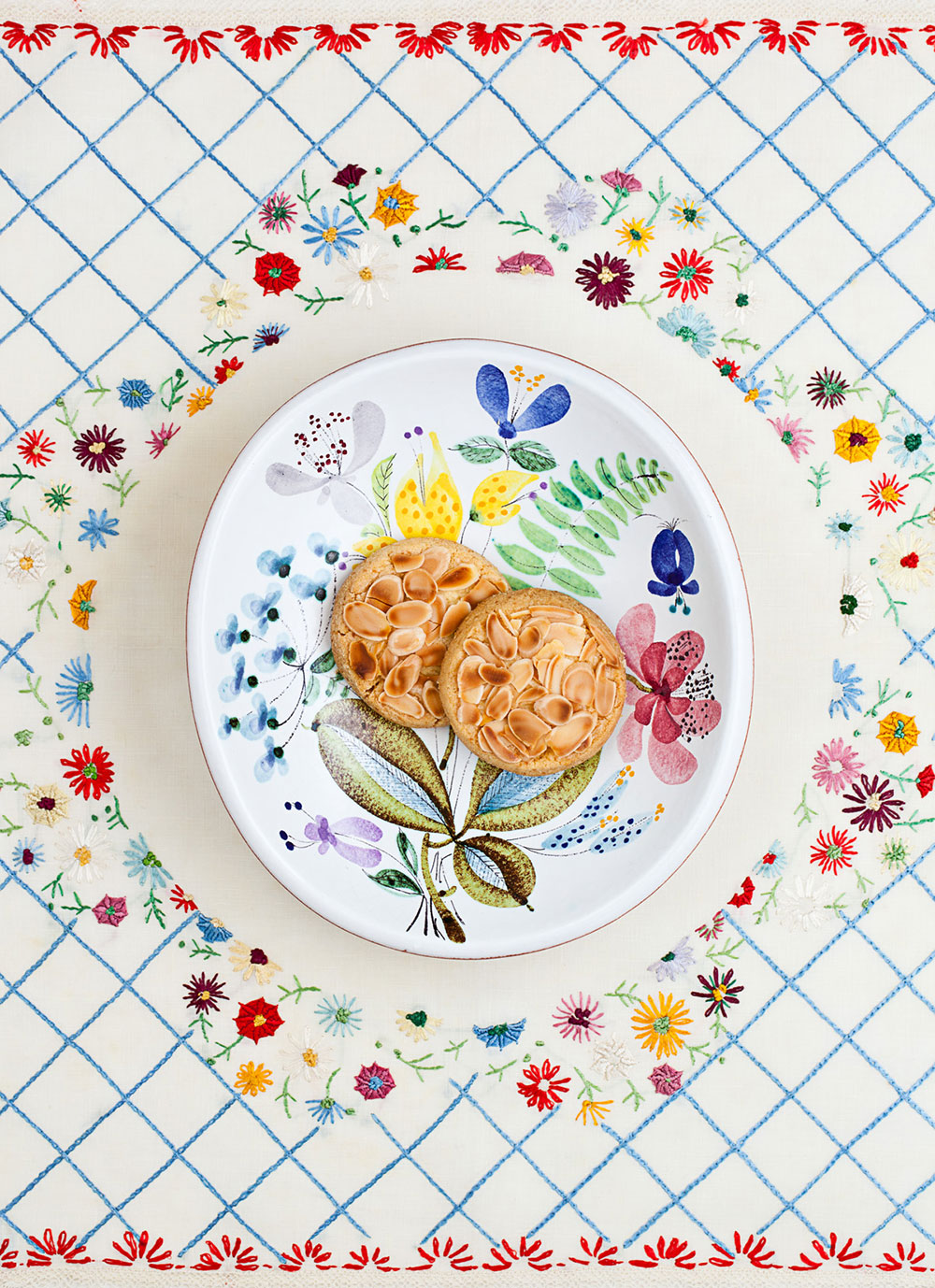 I can't wait for you to meet my spiritual grandmother, Esin Giz. She not only contributed with two of her beloved recipes, but also was so generous to let me use her entire collection of embroidered tablecloths. My absolute favorite is the cloth in Cenk's House Cookies (above)—she embroidered it when she was 10 years old, if you can believe it—but her masterpiece is definitely the tablecloth she embroidered with colorful butterflies based on her father's design.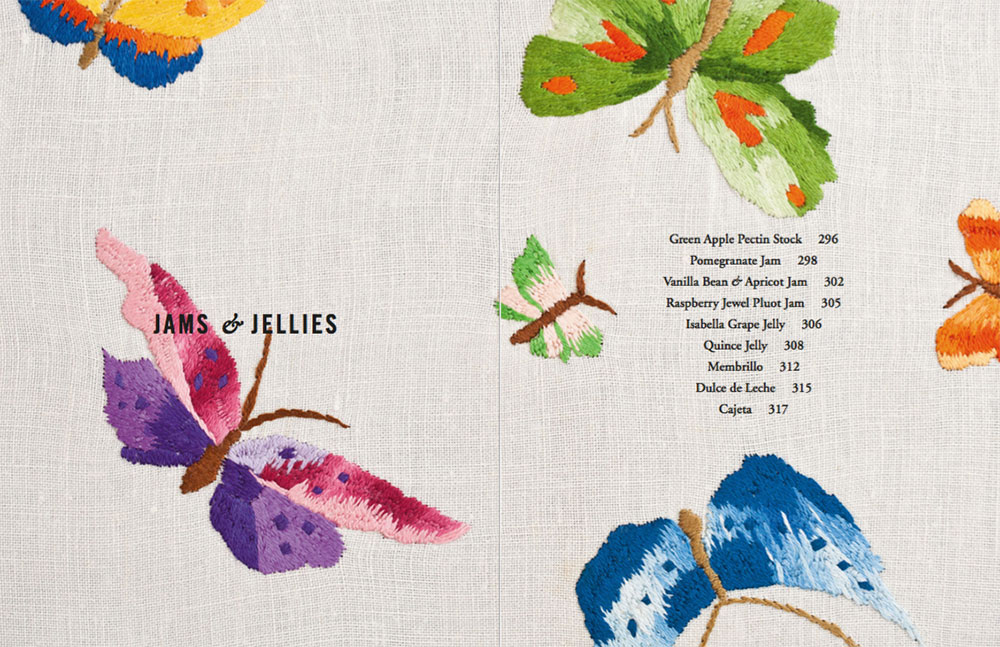 You'll see fragments of it on the background of chapter openers.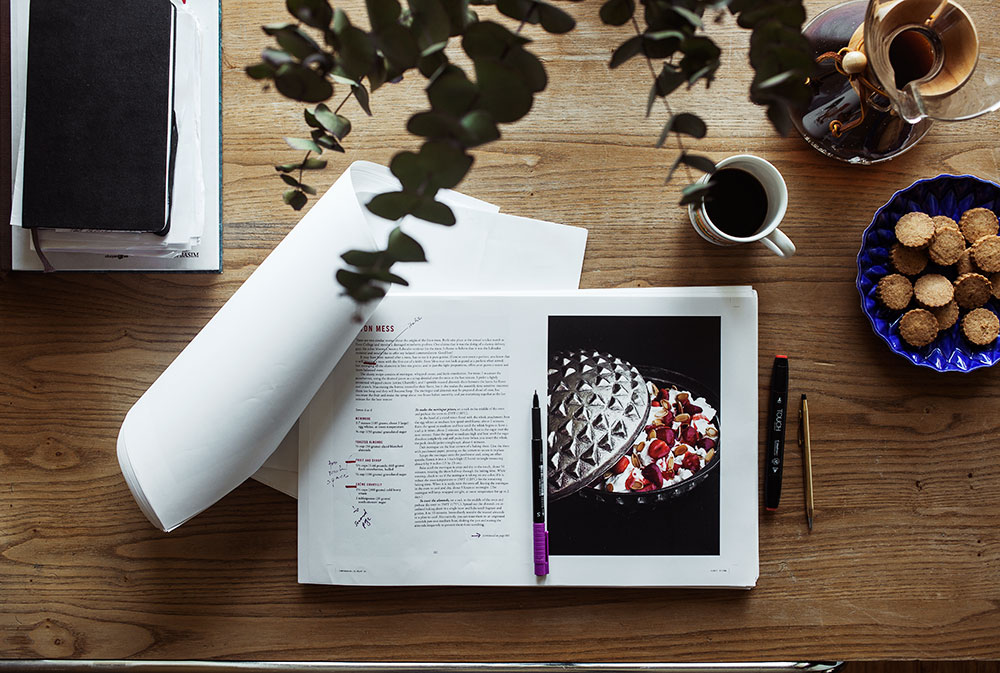 After four editing passes on the manuscript and countless e-mails about every design detail you can think about, the book was finally released to the printer.
We kept the linen spine, but decided to go for a different color that would also match the foil we're using for the title on the cover as well as the spine itself.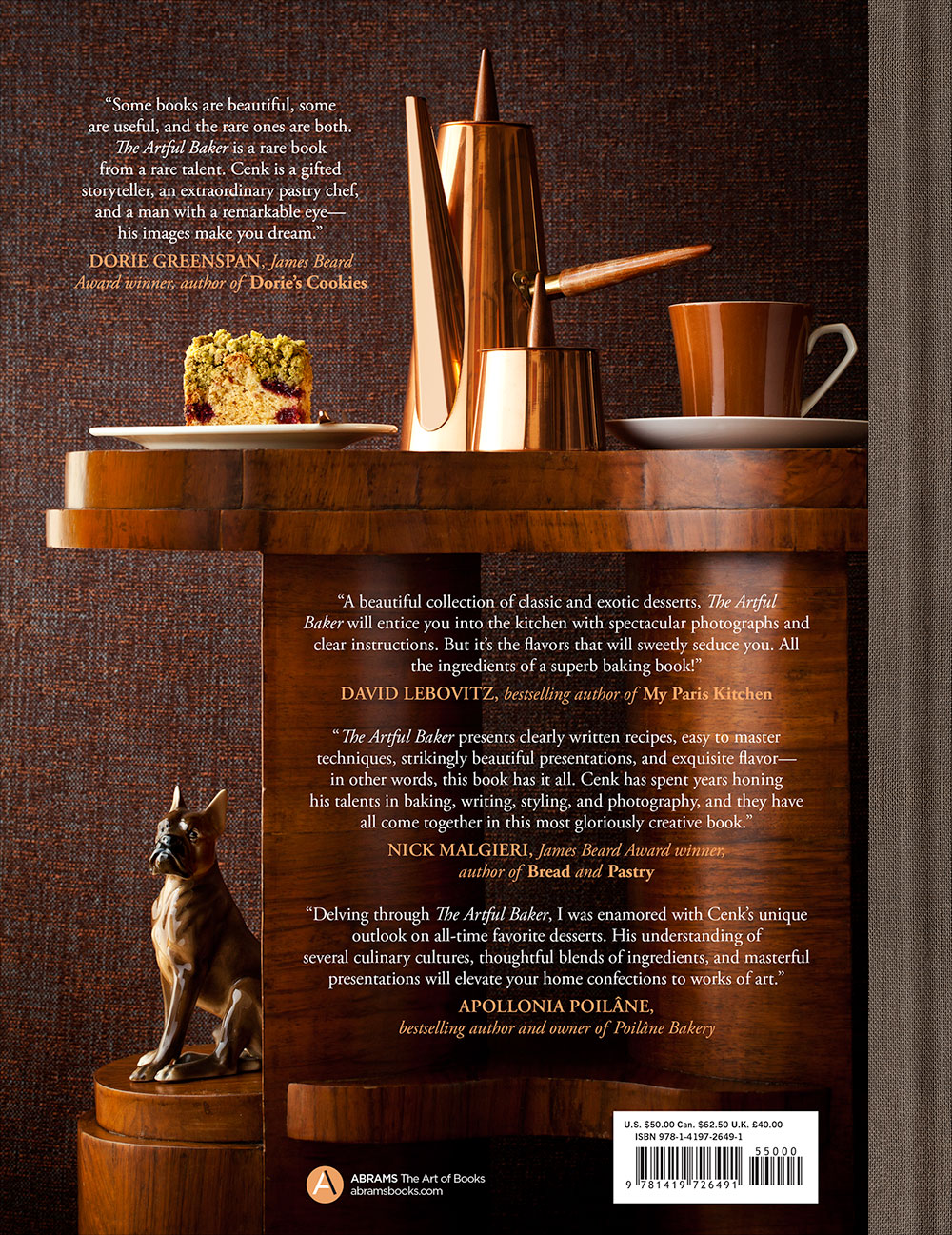 I feel blessed and can't thank the Abrams team enough for involving me in every step of the production.
The Artful Baker is available for pre-order now: Amazon // Barnes&Noble // IndieBound // Amazon UK
You can pre-order a copy now and have it in your mailbox by the official release date of October 17, 2017.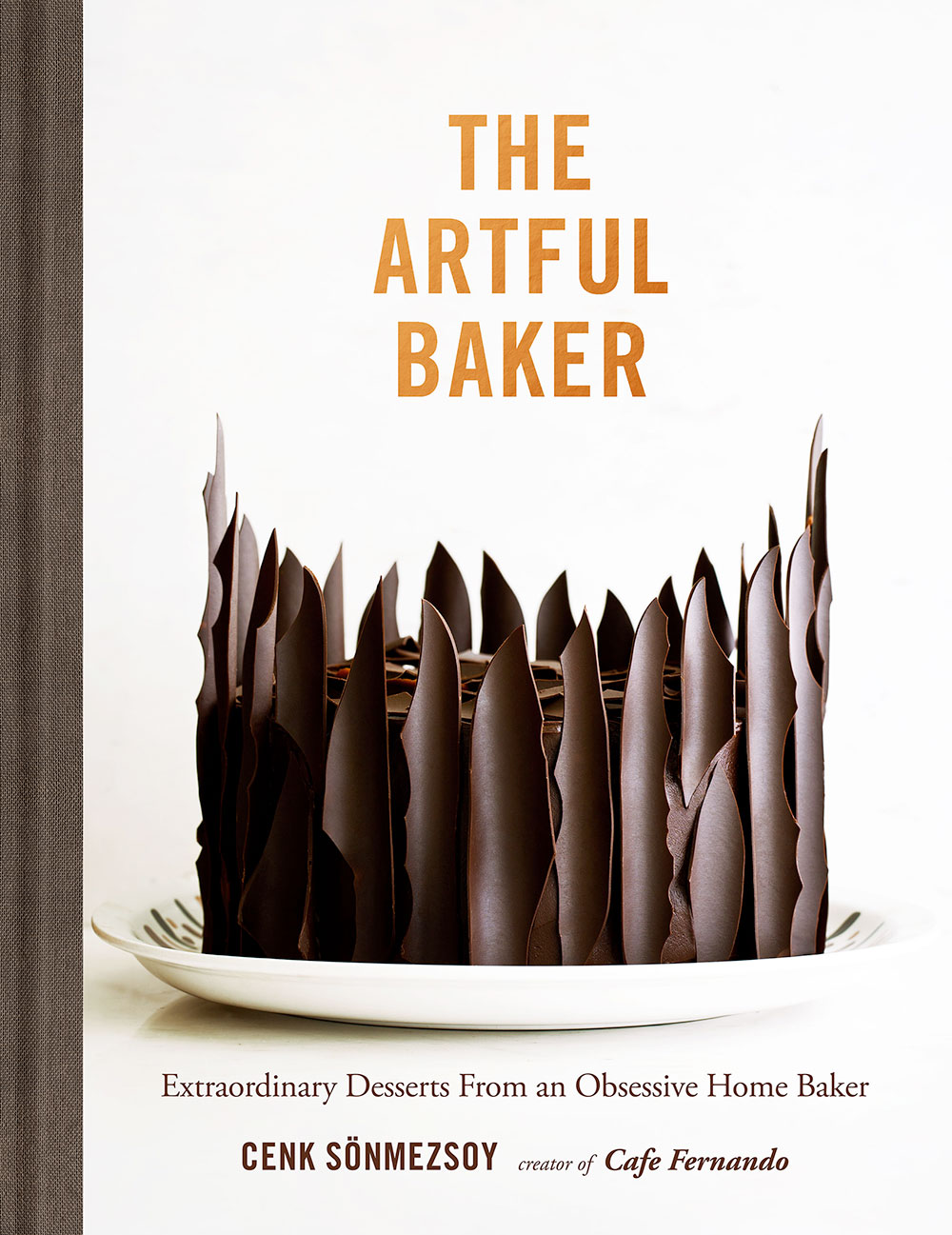 To keep updated on the developments, you can subscribe to my blog via e-mail, bookmark the book's website—which will be updated with the book tour information close to the release date—follow me on Instagram, or join the The Artful Baker/Cafe Fernando Facebook group.
That's it for now. I'll be back with posts about the editing and production stages as well as recipes from the book.
Wish me luck!