Julia Child once said: "People who love to eat are always the best people." I'd like to add to that that they also make the best food writers.
I know very few people who loves to eat more than my dear friend Katie Parla, whose latest book, Tasting Rome, hit the shelves last week.
Today, I'm giving away one copy of Tasting Rome and three exclusive gifts to a lucky winner: nine 8″ x 10″ photo prints by the talented co-author and photographer of the book, Kristina Gill (whom we all know from her In the Kitchen With column at Design*Sponge), an 18″ x 24″ illustrated map by artist Lena Corwin, and a recipe booklet with 6 brand-new recipes.
According to my mom, I've been to Rome twice, the first time when I was three and the second time when I was six. I don't remember a thing, but she has photos to prove it. I've been longing for a visit that I'd be able to remember in the future, but I've been living between deadlines for the longest time. Right now, the best I can do is read about what Rome has to offer and cook from Katie's book.
The day the book arrived, I was fortunate to find a big chunk of Pecorino Romano left in the fridge from recipe testing, so I made half a batch of Leonardo Vignoli's Caccio e Pepe for dinner. I can not get enough of that emulsified cheese sauce, so I was really happy to read that the recipe in the book is a saucy version. The recipe has only three ingredients, so the key is really getting the proportions right. I've made caccio e pepe several times in the past and this was by far the best version.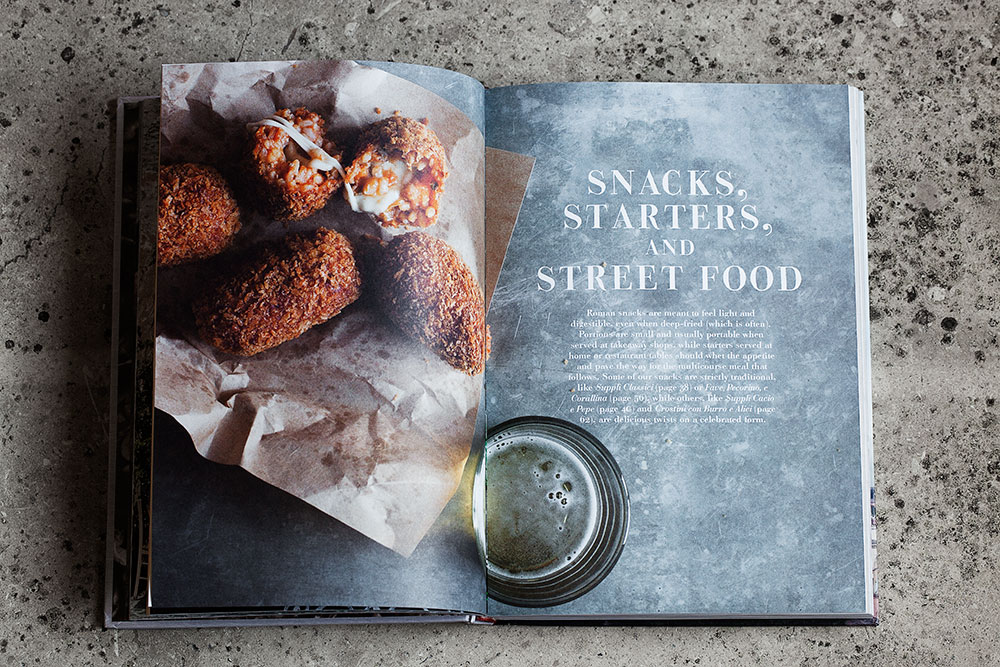 And then, the next day, I was stopped dead in my tracks when I watched Joe Tarasco, chef of Marta in Manhattan, making supplì cacio e pepe. Last month's issue of Conde Nast Traveler featured Rome, and as part of the coverage, the magazine asked Katie to track down Rome-style pizza places in NYC. The first in the series was Marta in Manhattan. Take a look at how supplì caccio e pepe is done and pay special attention at 2:08 when Katie shows the creamy center.
I'm working day and night against a very tight deadline, and as soon as it's over, I'm making it.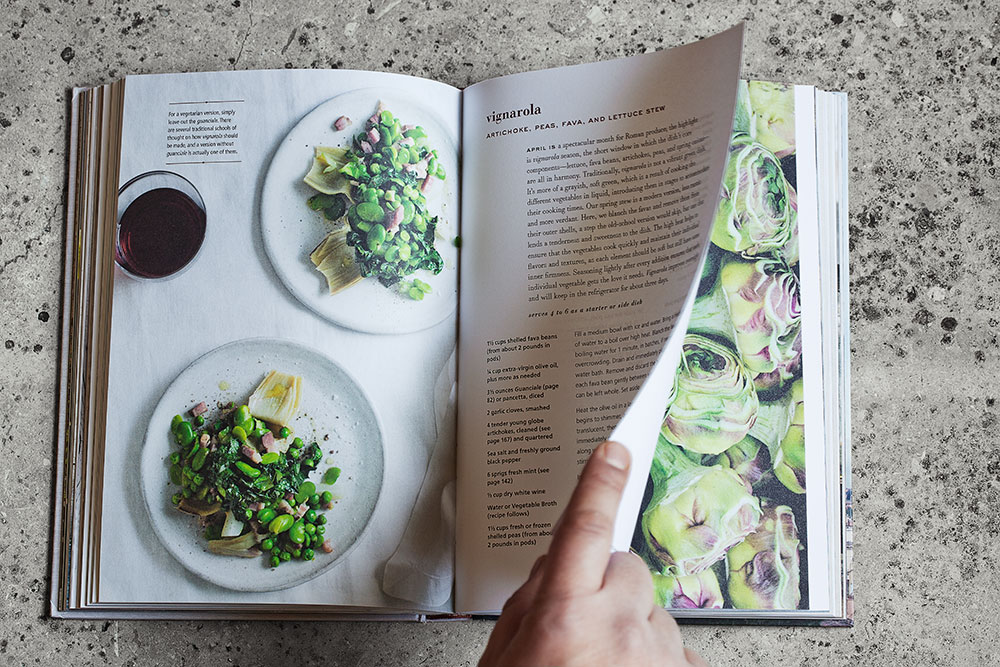 I had every intention of making Vignarola next, a stew of artichokes, peas, fava and lettuce, which screams spring on a plate, but peas have yet to grace the stalls at the farmers' market.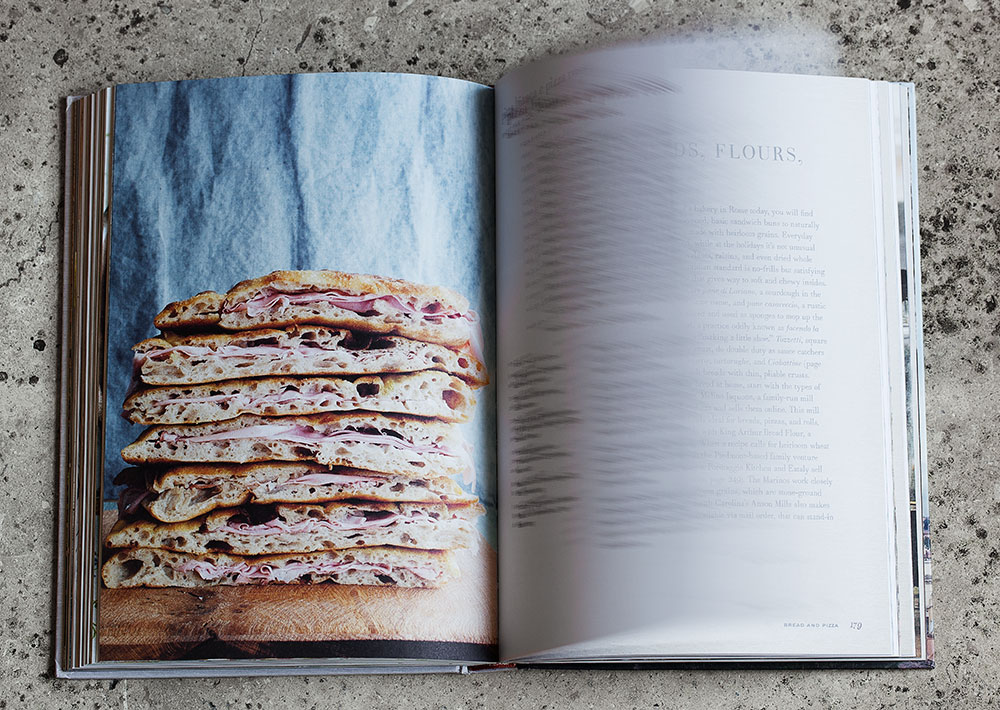 Paging through the book, the photo of the stacked slices of pizza bianca filled with mortadella captured my interest instantly, but I have my eye on pizza rossa, which is made from the same dough. I'll be waiting for the summer's finest tomatoes to tackle that one.
Take a look at how my pal Katie and Jim Lahey does it at Sullivan Street Bakery:
In the end, I decided to try fave dei morti, 'fava beans of the dead' or day of the dead cookies, which Roman bakeries sell on All Souls' Day, called the Commemorazione dei Defunti or Giorno dei Morti, to commemorate the dearly departed.
The dough came together so quickly and easily and I had just enough ground almonds left for another batch, so I decided to try swapping 1/4 cup of the flour with cocoa powder and the ground cinnamon with espresso powder.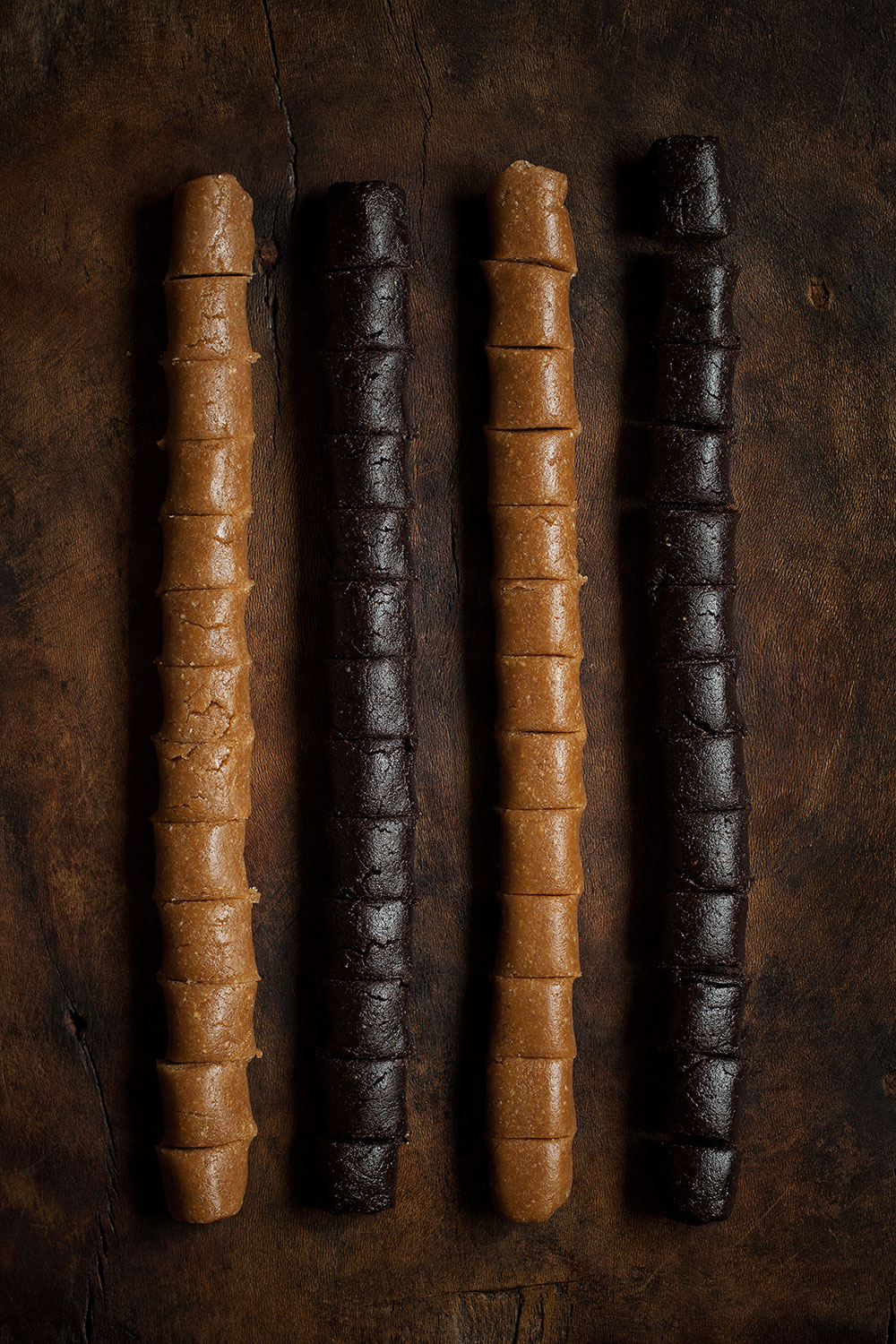 After you roll the dough into logs and cut them into pieces, you make an indentation in the center of each piece with your thumb, which resembles the shape of a fava bean.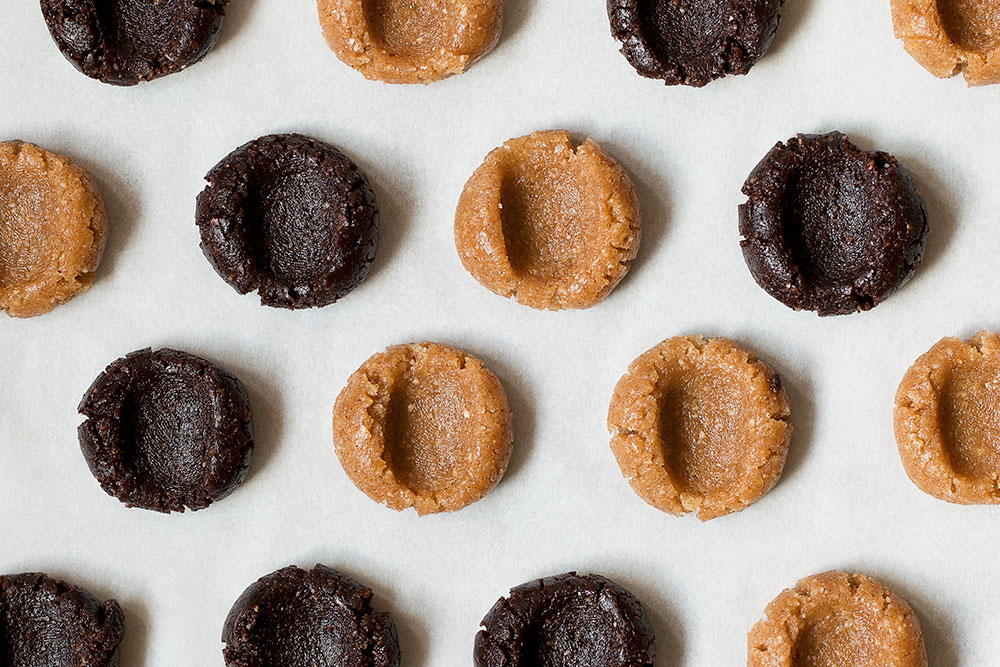 Both turned out amazing, but the original version is hard to beat.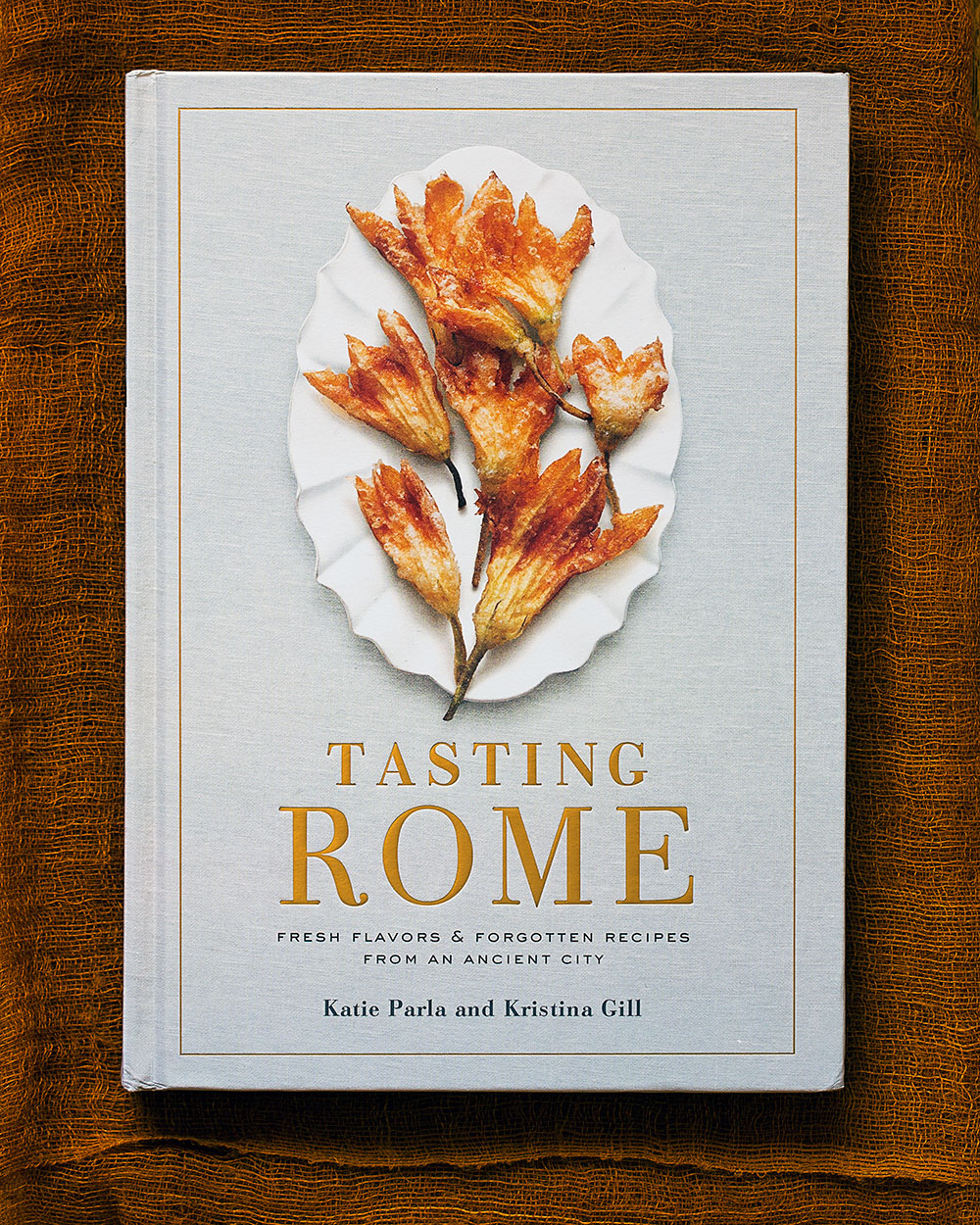 Katie's publisher has put together a list of amazing gifts for the launch of the book. People who pre-ordered the book during the first phase of the launch are going to receive 3 photo prints by Kristina. The campaign is now in its second phase; if you order Tasting Rome until April 12th, you'll receive an 18″ x 24″ exclusive illustrated map by artist Lena Corwin as a free gift (details here). In the third phase, those who order the book between April 13th through April 21st will be eligible to receive the recipe booklet with 6 brand-new recipes (open to US residents only).
How about a free copy of the book and all 3 exclusive gifts? All you have to do is to leave a comment below and let me know what your favorite gelato flavor is! Did you know that there are around 2,500 gelaterie in Rome?
By the way, Katie is on a book tour right now; be sure to check out her events page for details.
Win a copy of Tasting Rome + 9 photo prints + illustrated map + recipe booklet!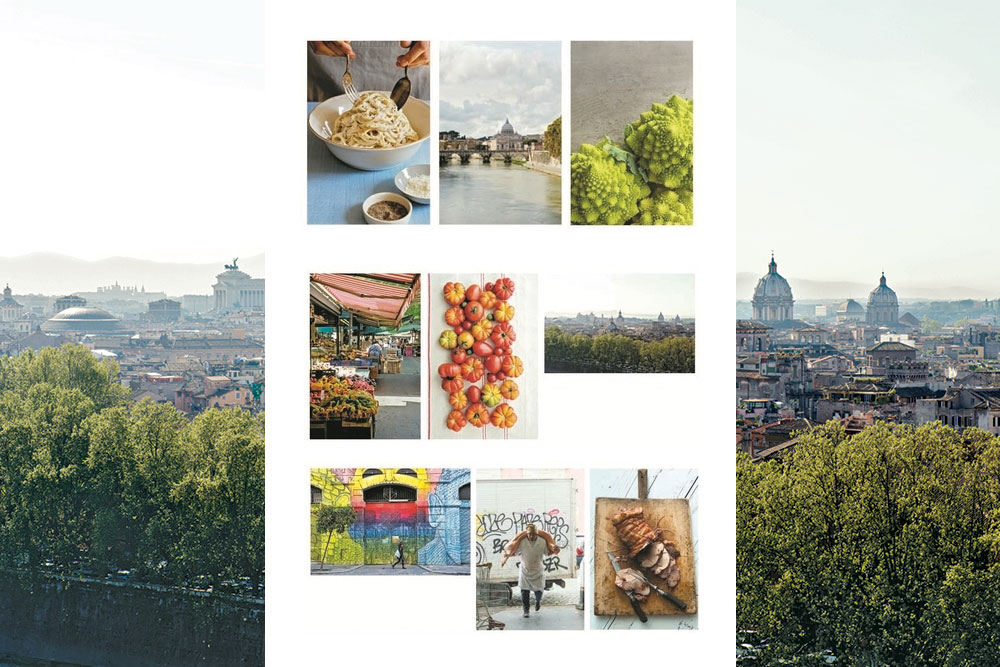 One lucky reader will receive a copy of Tasting Rome, all nine of the 8″ x 10″ photo prints by Kristina (above), an 18″ x 24″ illustrated map by artist Lena Corwin (below), and a recipe booklet with 6 brand-new recipes.
To enter, simply leave a comment below and let me know what your favorite gelato flavor is. Please make sure to fill out the e-mail address field (you email address will not be displayed publicly) so I can contact you if you win. Entry is open to anyone 18 years of age and over, worldwide. Giveaway ends at 10 PM GMT (3 PM PDT/6 PM EDT) on April 10th, 2016 and the winner will be chosen by a random number generator. I'll contact the winner by e-mail and the winner will have 48 hours to respond. If I don't hear from you by then, I'll choose another winner. I'll announce the winner on April 14th, 2016 on this page.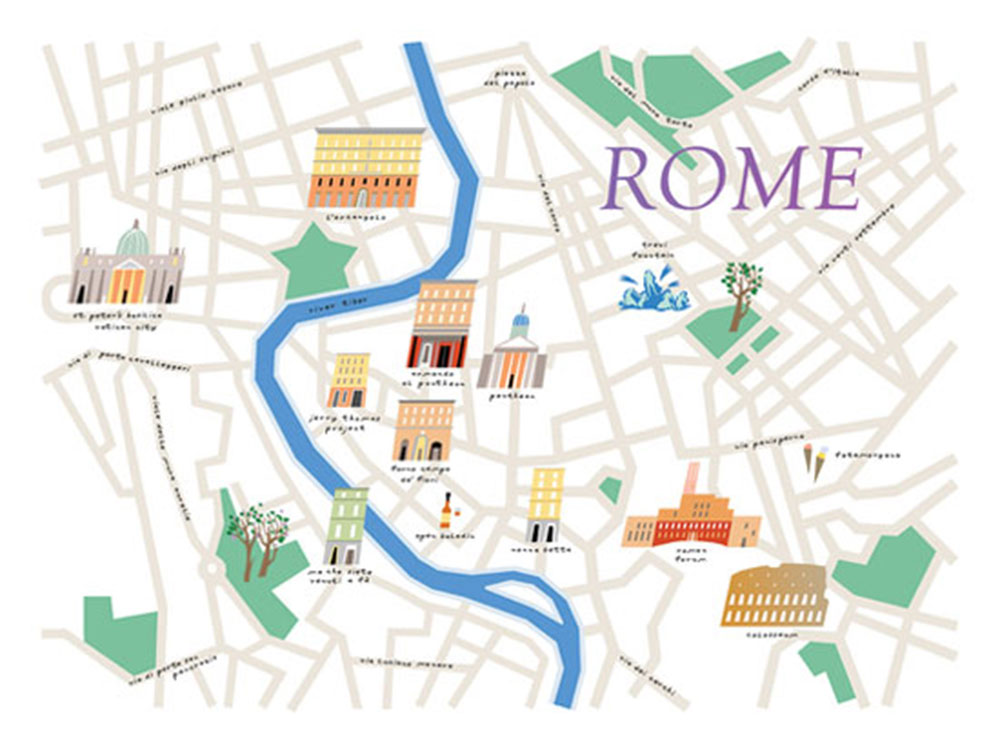 Many thanks to Clarkson Potter for sponsoring the giveaway. No purchase or payment necessary to enter or win this giveaway. Limit one entry per person, per email address, per day. By entering this giveaway, you accept and agree to be bound by the above rules.
AND THE WINNER OF THE GIVEAWAY IS CAMILLE PONCHAUT! CONGRATS!
fave dei morti
makes 36 fave dei morti
Recipe from Tasting Rome. Reprinted by permission of Clarkson Potter.
1 heaping cup (115 grams) blanched almond flour
1/2 cup (100 grams) sugar
3/4 cup plus 2 tablespoons (110 grams) all-purpose flour, plus more for dusting
2 teaspoons ground cinnamon
2 tablespoons (30 grams) unsalted butter, at room temperature
1 large egg
(Notes: The amounts in grams are added by me. The weight of the blanched almond flour is an estimate. Tasting Rome conversion chart states: 1 cup all-purpose flour = 125 grams.)
Preheat the oven to 350°F/175°C. Line a baking sheet with parchment paper.
In a medium bowl, mix all the ingredients together by hand to form a firm dough. Turn out onto a lightly floured surface and knead a couple of time, then halve. Roll each half into a small log about 3/4 inch (2 cm) in diameter. Slice the log into 1-inch (2.5-cm) pieces and, with your thumb, make an indentation in the center of each. The indentation will resemble the shape of a fava bean.
Place these fave on the prepared baking sheet and bake for 12 to 15 minutes, until dry and just beginning to brown. Remove from the oven and allow to cool completely on the baking sheet, about 30 minutes. They will be soft when they come out of the oven but will harden as they cool.
Variation: To make the cocoa and espresso fave dei morti, use 2/3 cup (83 grams) of all-purpose flour plus 1/4 cup (25 grams) of Dutch-processed unsweetened cocoa powder instead of the flour and 1 1/2 teaspoons of espresso powder instead of the ground cinnamon.