Raspberry Crumb Cake
September 30th, 2007 | Category: Cakes, Fruit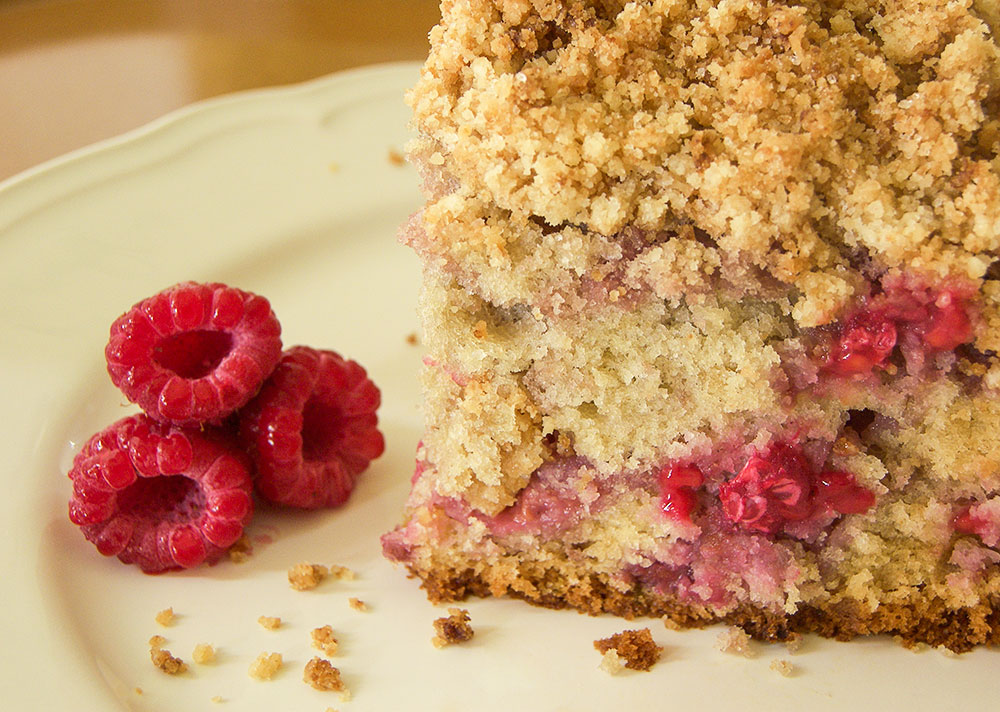 It is 8:00 pm on a Sunday night and you have no clue as to how the weekend passed by so quickly. You have merely 3-4 hours left and you suddenly recognize tomorrow is Monday. It is a work day.
Unless you are David Lebovitz and you plan on touring the chocolate shops in Paris and having coffee and madeleines with Dorie, there is a slim chance that you look forward to it.
So if you too are not living the sweet life in Paris, do what I do: Bake a cake. It is the perfect remedy for the Monday Morning Syndrome!
This is another one of those Monday morning cakes that puts a smile on my face. Moist cake batter topped with crispy crumble dough… After tasting this cake, I seriously consider topping every cake with this crumble topping from now on!
Enjoy!
Here are some more cake ideas:
RASPBERRY CRUMB CAKE
recipe adapted from Dorie Greenspan's "Baking: From My Home to Yours"
Ingredients
Crumble topping:
1/2 cup plus 2 tbsp flour
3 tbsp sugar
3 tbsp brown sugar
1/8 tsp salt
5 tbsp chilled butter
Cake batter:
2 cups raspberries, fresh or frozen (not thawed)
2 cups plus 2 tsp all-purpose flour
2 tsp baking powder
1/2 tsp baking soda
1/4 tsp salt
2/3 cup sugar
grated zest of half a lemon
3/4 stick (6 tbsp) unsalted butter, at room temperature
2 eggs, room temperature
1 tsp pure vanilla extract
1/2 cup buttermilk
Method
Center a rack in the oven and preheat the oven to 350F. Butter an 8 inch square pan and put it on a baking sheet.
For the crumb topping: In a food processor, pulse flour, salt and sugars. Cut butter into 1/4-inch cubes and add to the flour mixture. Pulse until the butter is pea-sized and coated with flour. Do not let the dough come together in a ball. Set aside at room temperature.
For the cake: Using your fingertips, toss the raspberries and 2 tsp of flour together in a small bowl just to coat the berries; set aside. Whisk together the remaining 2 cups of flour, baking powder, baking soda and salt.
Working in the bowl of a stand mixer, rub together the sugar and zest together with your fingertips until the sugar is moist and aromatic. Add the butter and, with the paddle or whisk attachment, or with a hand mixer, beat the sugar with the butter at medium speed until light, about 3 minutes. Add the eggs one by one, beat for about 1 minutes after each addition, then beat in the vanilla extract. Don't be concerned if the batter looks curdled-it will soon smooth out.
Reduce the mixer speed to low and add the flour mixture and the buttermilk alternately, the flour in 3 parts and the buttermilk in 2(begin with the dry ingredients). You will have a thick, cream batter. With a rubber spatula, gently stir in the berries.
Scrape the batter into the buttered pan and smooth the top gently with the spatula. Pull the crumb mix from the refrigerator and scatter over the batter.
Bake for 55 to 65 minutes, or until the crumbs are golden and thin knife inserted into the center of the cake comes out clean. Transfer the cake to a rack and cool just until it is warm or until it reaches room temperature.
Comments