I forgot to mention one last detail about the book: It weighs 5.5 pounds! So you could imagine my surprise and gratitude when a reader brought 3 copies in a carry-on luggage to my second book signing.
I certainly didn't expect that. Actually, I was worried that most of the readers wouldn't be so willing to lug the giant. I couldn't let anyone leave empty-handed, so I brought along a box of recipe cards. The recipe printed on them was for my (then) latest addiction: Pistachio Butter, Chocolate & Fleur de Sel Tartine.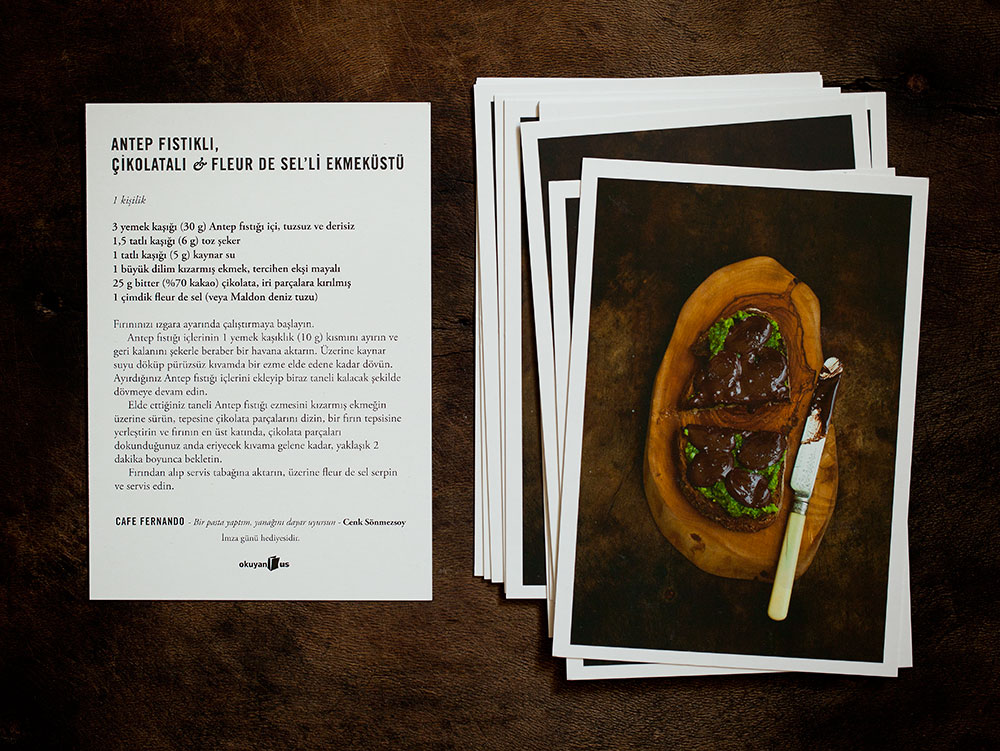 Five years ago, when my friend Sara of Ms. Adventures in Italy visited Istanbul, she brought me a jar of crema di pistacchio from Italy. The moment I opened the jar and took a whiff, I knew I was in trouble. After much deliberation, I decided to save it for a special occasion and later made Pistachio Eclairs with it for the celebration of my first Saveur award. I was also lucky to find a similar product in Istanbul, but sadly it vanished from the shelves pretty quickly. If I only knew how easy it was to prepare!
You start by pounding together pistachios (blanched and peeled) and granulated sugar. The sugar acts as an abrasive and provides the friction to create a smooth paste. Then, you add a dash of boiling water to melt the sugar crystals and thin the paste to make it spreadable. For this tartine, I prefer a chunky pistachio butter, so I reserve a tablespoon of the pistachios, add them to the smooth butter at the end and keep pounding until chunky. If you prefer your pistachio butter smooth, just use all the pistachios at the beginning.
There are a thousands things you can do with it, but if you need a quick one, this tartine is it.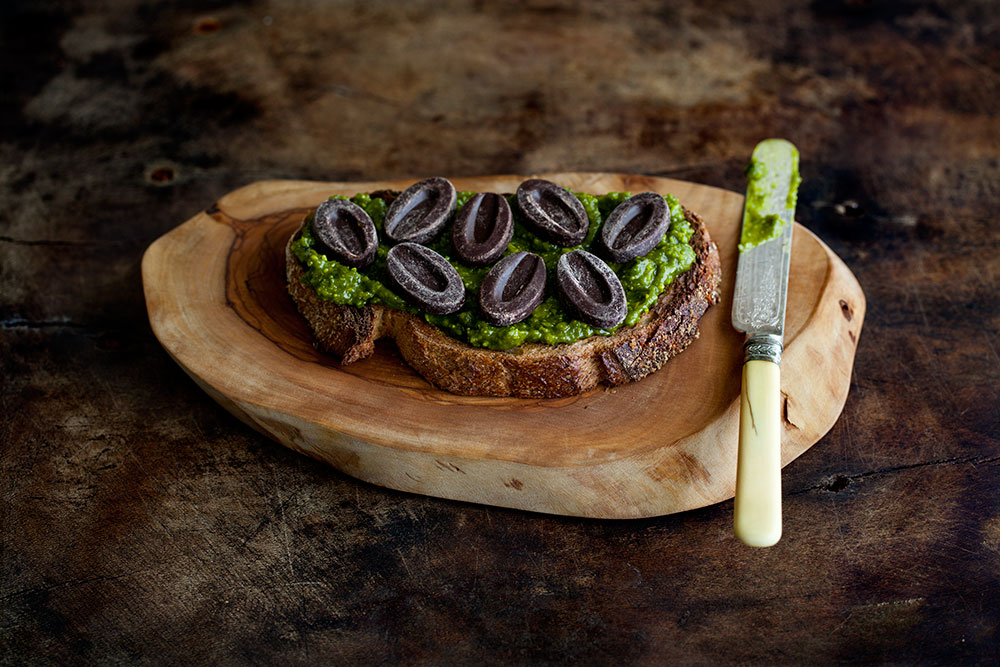 Here's how you do it: Spread a thick layer of pistachio butter on the best sourdough bread (toasted) you can find, arrange pieces of good quality bittersweet chocolate (with a high cocoa butter content so that it melts easily) on top and put it under the broiler.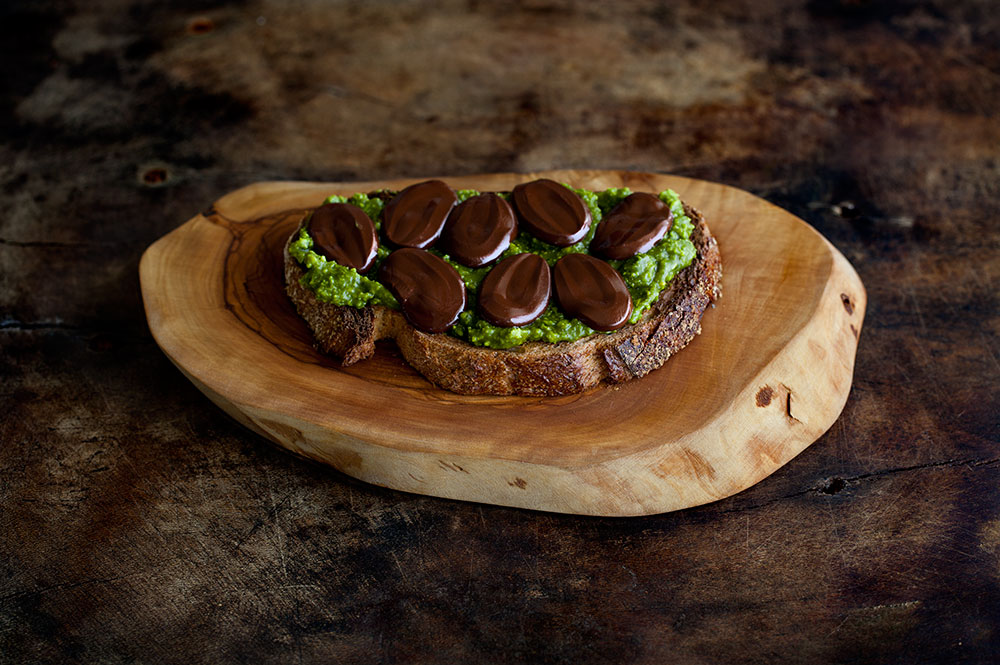 Don't forget that chocolate burns very quickly, so keep an eye on the tartine once it's in the oven. It only needs 1-2 minutes. The pieces may still look firm, but melt they will – with just a prick of a knife.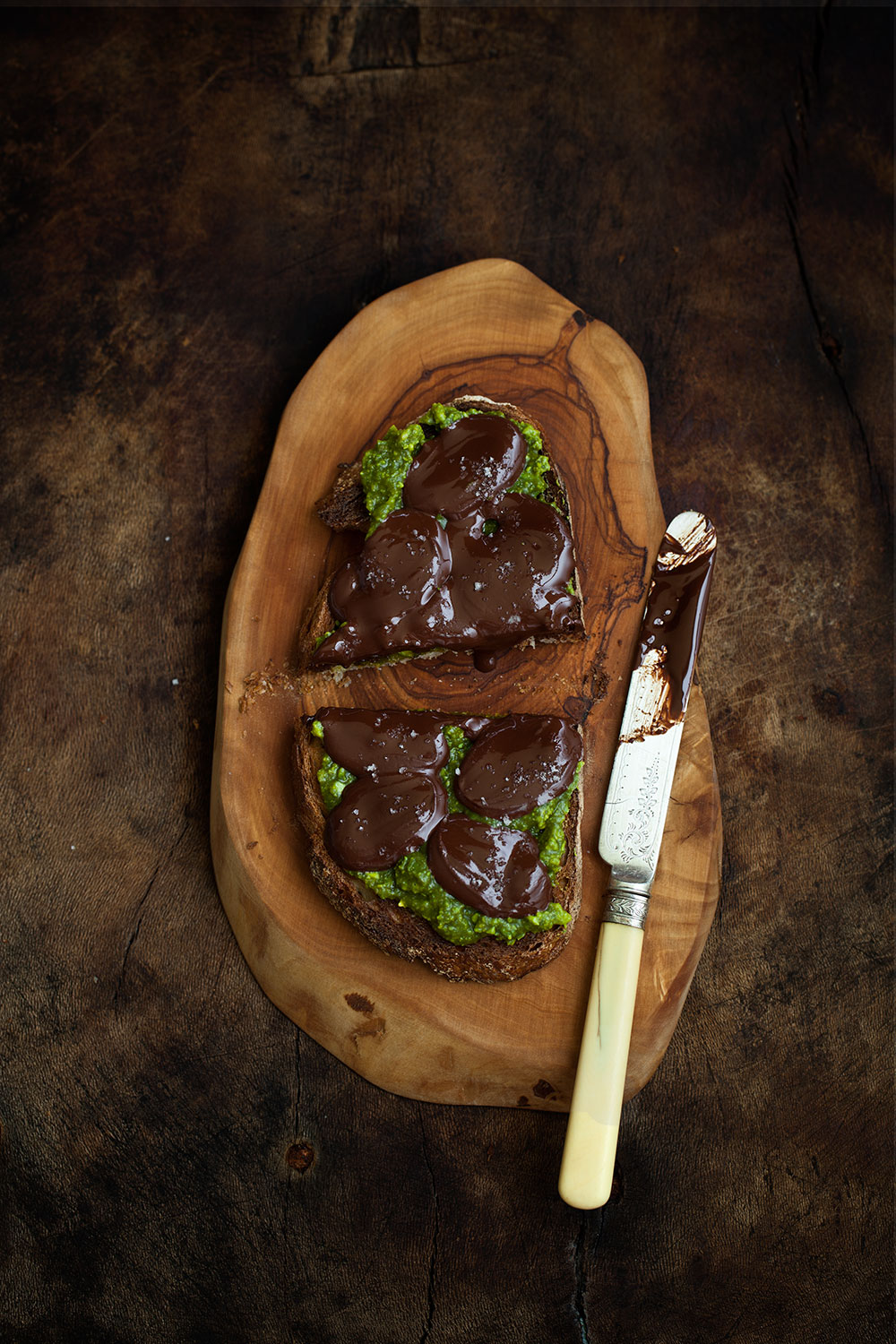 Sprinkle with fleur de sel and enjoy!
PISTACHIO BUTTER, CHOCOLATE & FLEUR DE SEL TARTINE
Serves 1
Ingredients
3 tablespoons (30 g) pistachios, blanched and peeled
1+1/2 teaspoons (6 g) granulated sugar
1 teaspoon (5 g) boiling water
1 large slice of sourdough bread, toasted
1 ounce (28 g) bittersweet (%70 cacao) chocolate (preferably with a high cocoa butter content, such as Valrhona Guanaja or Manjari), cut into large chunks
A big pinch of fleur de sel (or Maldon sea salt)
Method
Preheat the broiler to high and set a rack in the upper third of the oven.
Reserve 1 tablespoon of the pistachios and pound the remaining 2 tablespoons with the sugar to a paste in a mortar.
Add the boiling water and continue pounding until smooth.
Add the reserved pistachios and pound until just chunky. If you prefer a smooth butter, use all the pistachios on step 2.
Put the toasted bread on a baking sheet lined with parchment paper. Spread the pistachio butter in an even layer. Place the chocolate pieces on top and cook under the broiler until the chocolate pieces melt with a prick of a knife, about 2 minutes. Keep a close eye on the tartine – since the chocolate pieces are very close to the broiler, they may easily burn.
Transfer the tartine to your serving plate, sprinkle with fleur de sel and serve immediately.