Why haven't I thought of this before? Individual servings of creamy and tangy lemon cheesecake. But most importantly, why haven't I seen these before? Someone must have discovered cheesecake cupcakes decades ago, right? So, even though I have zillion cookbooks, flip through jillion food magazines and read gazillion food blogs, why don't I remember seeing cheesecake cupcakes before?
Has the time come? Am I so over saturated with images of food that I don't really see what I'm looking at anymore?
Or is it just about turning the right page (or clicking the right link) at the right time?
When I saw the individual cheesecakes recipe in delicious. magazine's June 2009 issue, I didn't just mark the page and continued reading. I opened the fridge door and checked if I had cream cheese. Luckily, I did. I also had fresh mulberries from my father's garden. Perfect!
The beauty of this recipe is that you don't need to go through the process of a water bath, which is quite scary especially for cheesecake virgins.
Believe me, it is very hard to screw up with this recipe. And even if you do, don't forget: Combination of berries and powdered sugar is the best concealer known to the home baker.
I love it when I get to salvage leftovers from a previous baking adventure. Once in a while, I bake more cookies than I can eat.
OK, all the time. Since I am against trashing anything edible, I always freeze them and wait for a recipe to come by.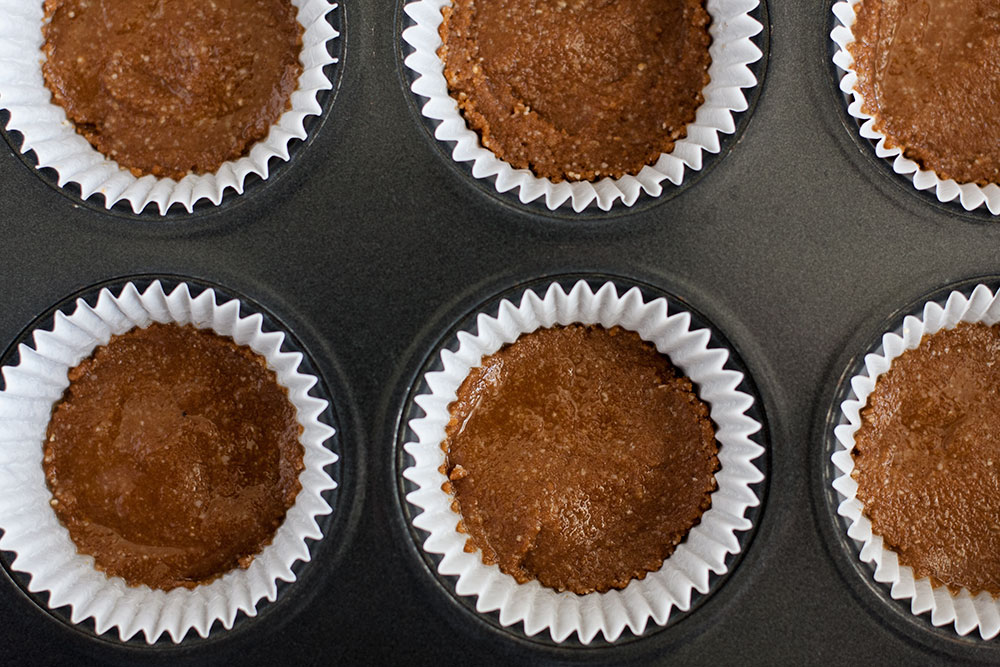 Thanks to this lemon cheesecake cupcakes, there opened some space to be filled in my freezer. Maybe a batch of pomegranate frozen yogurt? Oh yeah.
LEMON CHEESECAKE CUPCAKES

Recipe adapted from delicious. magazine's June 2009 issue
Makes 12 lemon cheesecake cupcakes
Ingredients
Cookie base:
3+1/2 oz (100 gr) gingersnap (or shortbread) cookies
2 oz (55 gr) ground almonds
1 tbsp sugar
3 tbsp butter, melted
Filling:
Important: For a creamy consistency, make sure that all the ingredients below are at room temperature.
1 lb. cream cheese
3+1/2 oz heavy cream (or sour cream)
1/2 cup sugar
2 large eggs
1/2 tsp vanilla extract
1 tbsp finely grated lemon zest
1 tbsp lemon juice
5 oz mulberries (or any kind of berry)
2 tbsp powdered sugar
Method
Preheat your oven to 325F.
Line a 12-hole muffin tin with muffin cases and set aside.
Crush the cookies to fine crumbs and mix with ground almonds, sugar and melted butter.
Press 1 heaped tablespoon of mixture into the base of each muffin case and place in the refrigerator to chill.
Beat the cream cheese, heavy cream and sugar in a mixer until light and fluffy.
Add the eggs, one at a time, followed by vanilla extract, lemon juice and lemon zest, beating well after each addition.
Rap the mixer bowl hard on your counter to knock out the air bubbles trapped inside the filling.
Spoon the mixture over the cookie bases 3/4 full.
Press three mulberries into the filling and bake for 25-30 minutes or until the cheesecakes are puffed and starting to color.
Cool, then chill until ready to eat.
Decorate each cheesecake with more mulberries and dust with powdered sugar to serve.