I have a friend who doesn't know what a sourdough starter is. Worrying, to say the least. What's even more worrying is that she still ordered it and when it arrived, asked me to guide her through "a quick recipe" on the phone. "I have an hour before my boyfriend arrives and I want to surprise him with a homemade bread," she naively begged.
Where do I start?
Tartine's Basic Country Bread is certainly out of the question. Actually, anything that has the word "sourdough" before it is out of the question.
Trying my best to be patient, I explained her that "quick" and "sourdough" are two words that don't belong in the same sentence and guided her through a basic flatbread recipe I developed on the spot. Not that it needed any type of leavening, but just so that her first sourdough starter didn't end up in the trash bin. This made me realize that my blog was in dire need of a "relatively quick" sourdough bread recipe. One that didn't need multiple folds with hours of waiting in between or any type of special equipment (a Dutch oven is in the "special equipment" category for her). And I knew exactly what I should be working on. A recipe that I started developing right after my first sourdough bread, but had to be put on hold for the book: Sourdough Simit.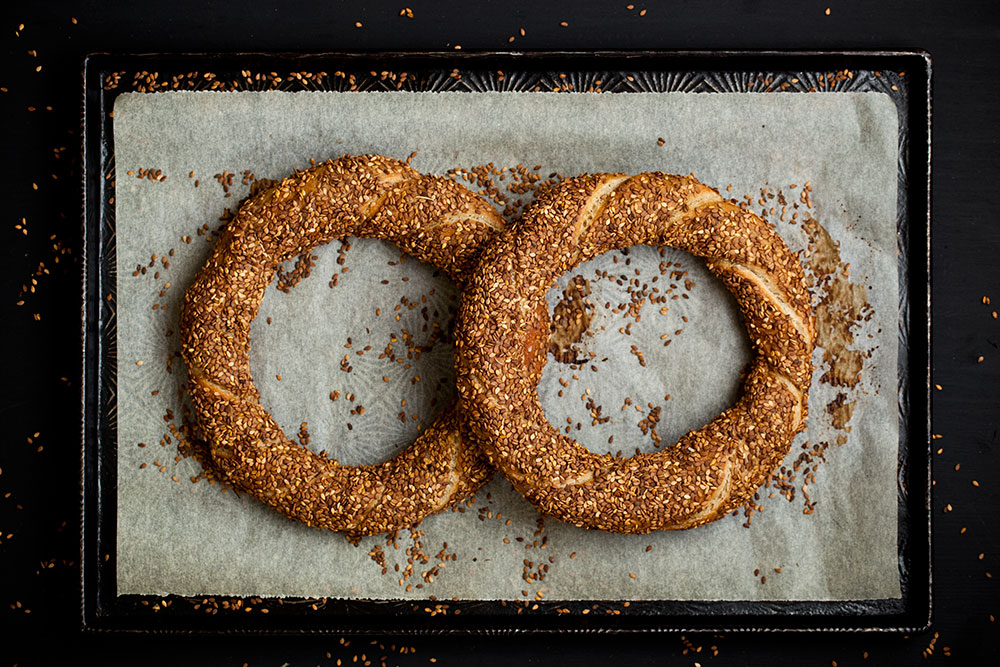 Simit is a circular Turkish bread encrusted with sesame seeds. Some say it is similar to a bagel, but aside from its shape, I really can't see any other similarities.
If you've ever visited Turkey, you must have seen street vendors selling them from their trolley or carrying them on a tray on top of their head everywhere. That's the real deal. We call it "sokak simidi" (street simit), which is much denser and crustier than the imposters sold at some bakeries. When you see a simit trolley, look around –  there's always Turkish tea nearby. And not only on the streets; in my childhood, a ferry ride in Istanbul without simit and tea was unthinkable.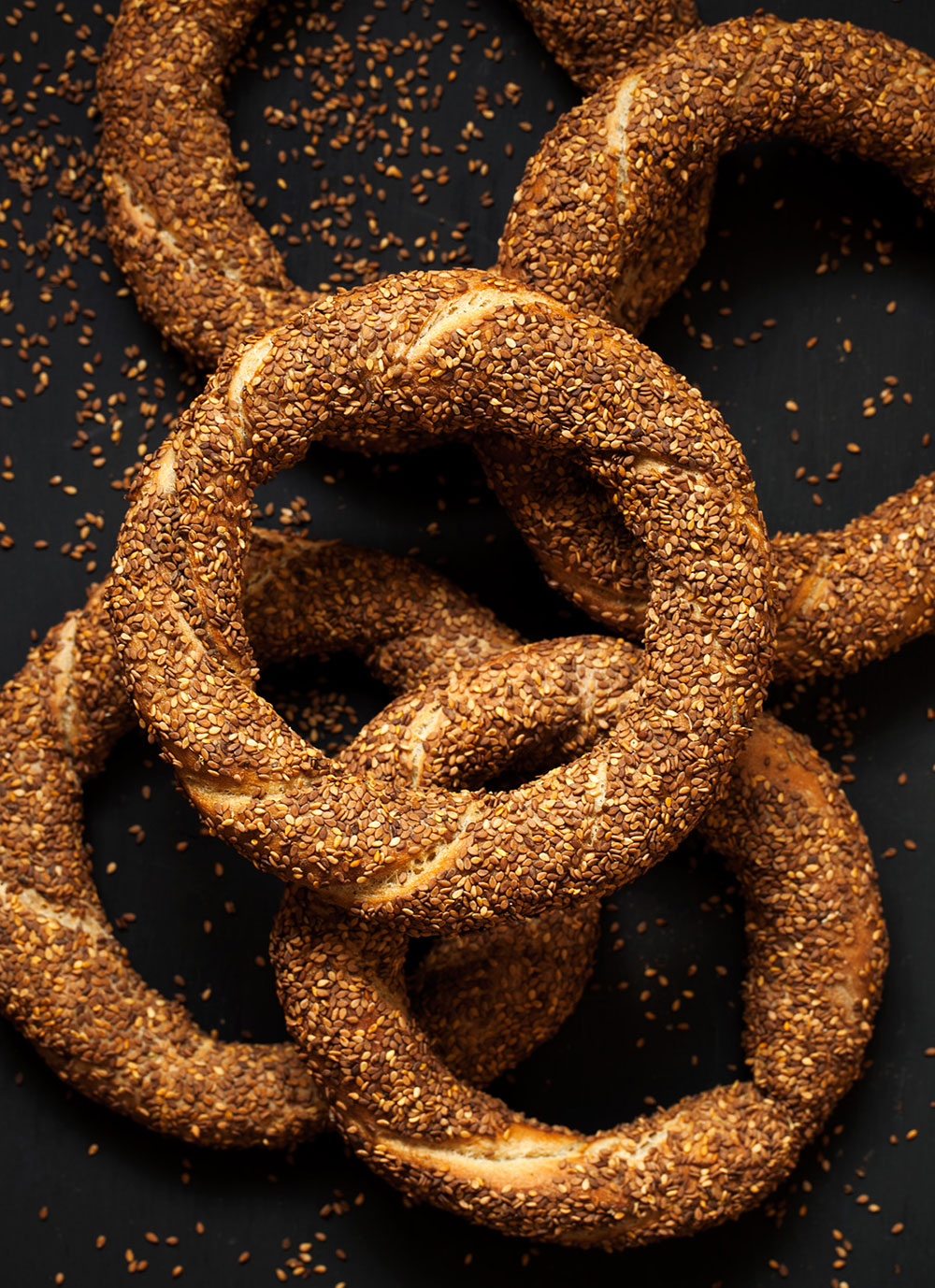 But here's something you can't find anywhere on the streets: Sourdough simit. Despite its popularity, I've never come across a sourdough variety. So I had to bake it myself.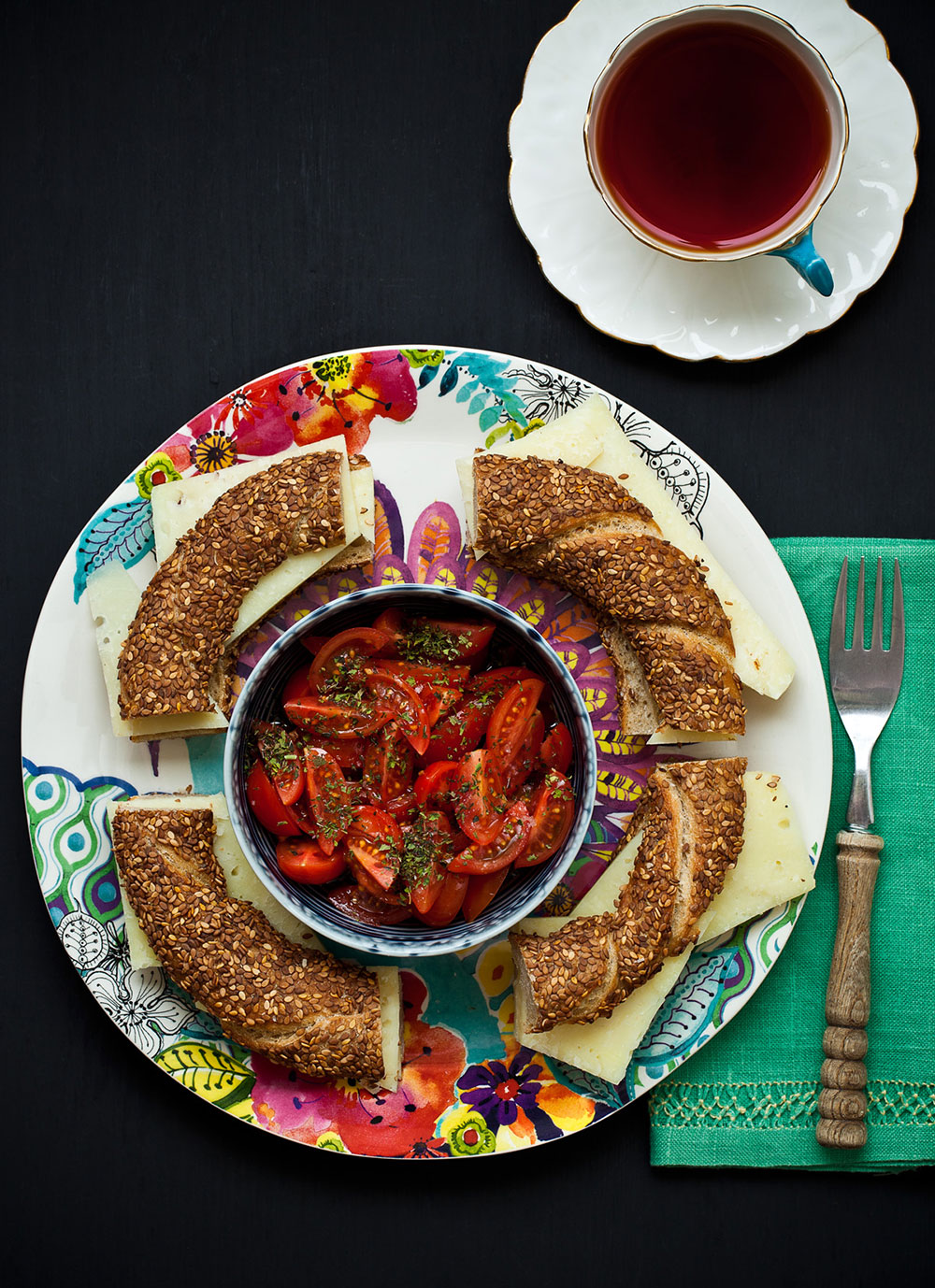 I've enjoyed the first two with aged Kaşar cheese in the middle and cherry tomatoes with olive oil & dried mint on the side at breakfast. The next day, a couple of them went in the oven with cheese in the middle (again, with tea) and the remaining two became croutons for my favorite Chicken Caesar Salad.
Hope you enjoy it as much as I did.
SOURDOUGH SİMİT RECIPE
Ingredients
Dough:
5.25 ounces (150 g) sourdough starter
1 cup + 3 tablespoons (280 g) water, at room temperature
1 tablespoon (20 g) molasses*
3,5 cups (490 g) bread flour
1+1/4 teaspoons (10 g) fine sea salt
Coating:
2 tablespoons (40 g) molasses*
1/2 cup (120 g) water, boiling
1+1/4 cups (200 g) sesame seeds, toasted**
* I prefer grape molasses.
** You can toast sesame seeds in a wide, dry, non-stick frying pan on medium heat, shaking the pan every 20-30 seconds for even toasting until they start to shine, turn golden-brown and smell fragrant, which takes about 20 minutes. To toast them in an oven, pour them on a half-sheet pan and bake in a preheated oven at 350 F for 8-10 minutes, until golden and fragrant.
Method
To prepare the dough, put the sourdough starter in the bowl of a stand mixer, add water and molasses and whisk to dissolve completely.
Switch to a dough hook, add flour and mix on slow speed for 2-3 minutes, then increase the speed to medium-high and mix for 7-8 minutes more, until you obtain a smooth and slightly sticky dough. Cover with plastic and let rest for half an hour at room temperature.
Tear the dough into walnut-sized pieces, add salt and mix on medium-high speed for 5 minutes, until the dough comes together and absorbs the salt completely. Cover with plastic and let rise until doubled in volume, for 3-4 hours at room temperature, or (preferably) in the refrigerator overnight.
If you're letting it rise in the refrigerator overnight, bring the dough to room temperature by letting it sit on the counter, covered, for 2-3 hours before the next step.
Line two baking sheets with parchment paper and set aside. Scrape the dough onto a floured surface, flatten and divide into six equal pieces, each about 5.25 ounces (150 g). Roll each piece into a 35-inch-long and an-inch-thick strand, cut in the middle, place them side-by-side, pinch the ends, twist the strands by rolling in opposite directions from each end and pinch to join the ends. Place the rings on baking sheets, cover loosely with plastic and let rise for about 2 hours, until 1.5 times their size. At this point, each simit will measure around 5.5 inches in diameter.
Half an hour before baking, set a rack in the middle and preheat the oven to 500F.
Pour molasses into a bowl big enough to fit a shaped dough, pour boiling water on top and whisk to dissolve the molasses completely. Put the sesame seeds in another large, shallow bowl.
One roll at a time, dip them into the water, lift and wait for a few seconds to drain the excess water, place them on the sesame seeds, press slightly, turn over and press slightly again, this time to encrust the other side and transfer them to the baking sheets. During this process, simits will stretch naturally and will measure around 7 inches in diameter.
Decrease the oven temperature to 400 F and bake, one tray at a time, until golden, for about 25 minutes. Cool on a rack and serve while still warm.