The inspiration for this potato salad came when I was preparing eggs & pastırma for a brunch with friends. For those who haven't heard of it before, pastırma (pass-trrr-mah) is an air-dried cured beef, which I consider to be one of the ultimate treats for a typical Turkish breakfast or brunch. Pastırma is believed to be the origin of the Italian pastrami, but for me the taste is much closer to a beef jerky.
The last time I prepared the dish, I was juggling many dishes at once. The pastırma slices fried more than intended and became ultra crispy. Instead of starting over, I crumbled and sprinkled them on top of eggs. It was a smashing success. Following that brunch dish, I kept on overcooking my pastırma slices and sprinkling the salty bits on top of everything. And the minute they hit these warm potatoes in a creamy mustard dressing, I knew this recipe was going to be a keeper.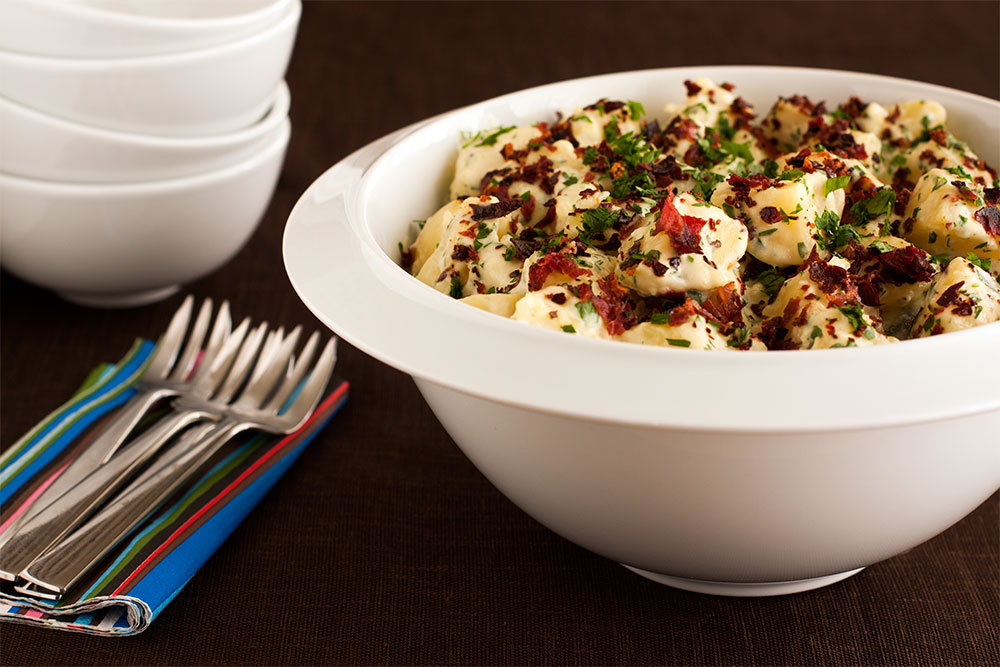 You can find pastırma at your local Middle Eastern grocer (may also be called halal pastrami or dried beef strips) or here, but in case you can't, you can definitely prepare this salad with bacon. I am sure it will be equally delicious.
And if you're lucky to find it, please note the following: The last step in preparing pastırma involves covering the meat with a paste of spices that include crushed cumin, fenugreek, garlic and hot paprika, which is called çemen (che-men). Çemen doesn't fry well, so I recommend discarding it before frying the slices. It is usually too sticky to handle but resting the pastırma slices an hour  in the fridge uncovered dries the çemen and makes it easier to peel off.
Here are two slices of pastırma, çemen removed.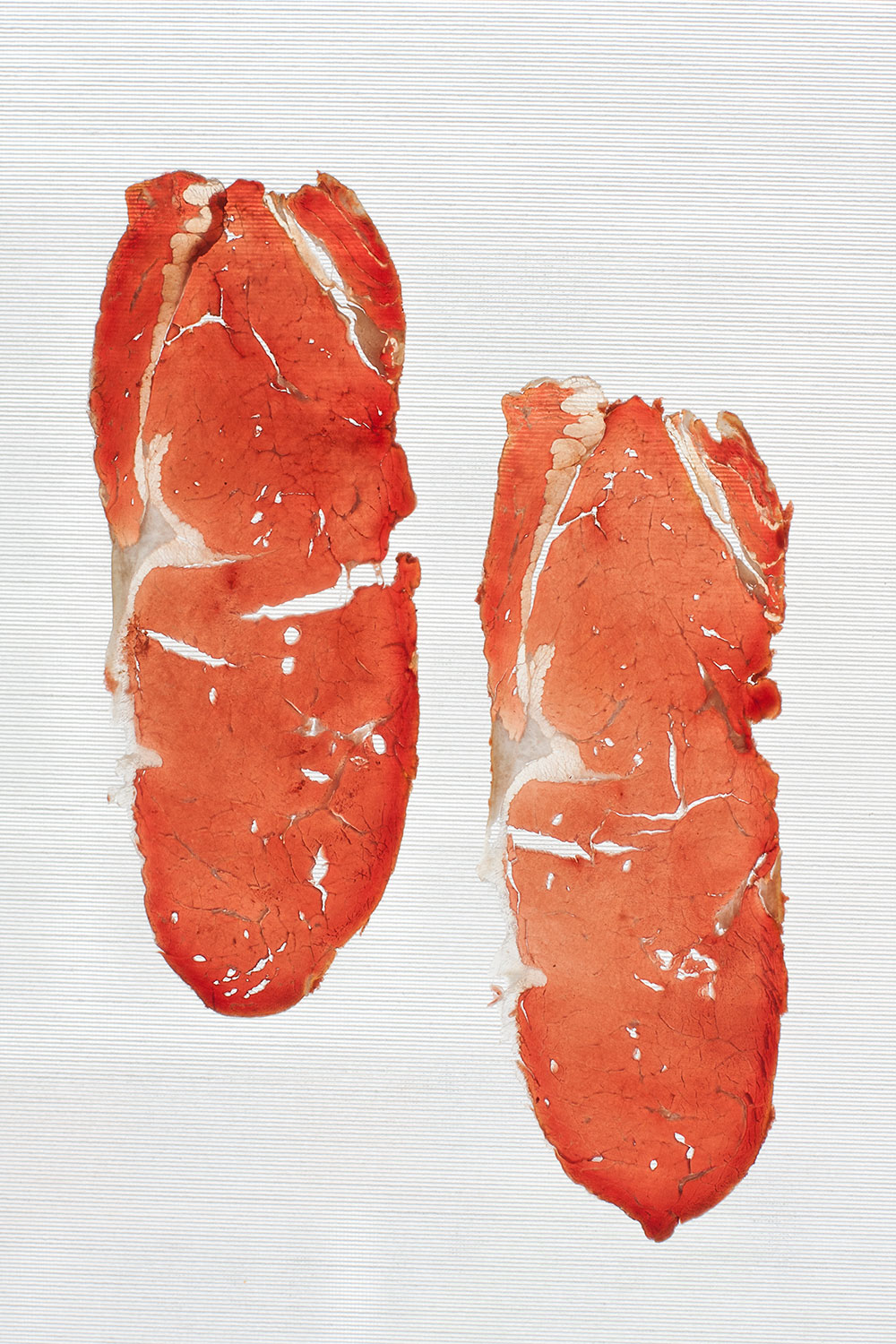 You can also use pastırma as a filling in these börek dishes.
By the way, here's a great tip for storing parsley: Cut half an inch from the bottom and put them in a glass with fresh water. Place a zip lock bag on top and it will keep fresh for weeks!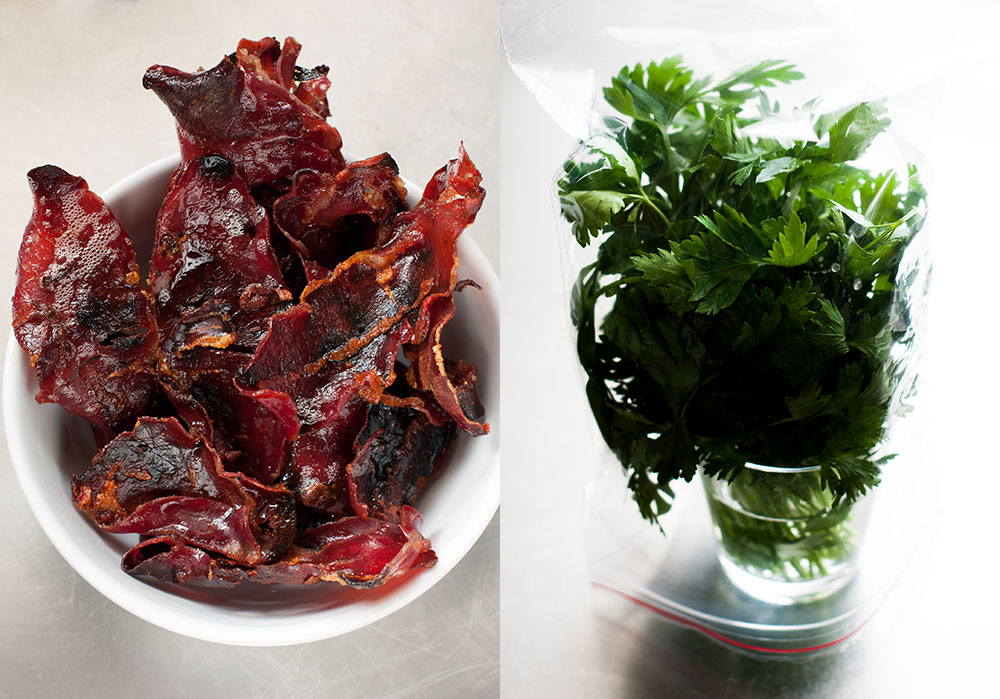 Enjoy.
POTATO SALAD WITH CRUNCHY PASTIRMA RECIPE
4-6 servings
Ingredients
2.25 pounds Yukon gold or other waxy potatoes, scrubbed
3.5 oz pastırma (or bacon), sliced thinly
4 tbsp olive oil
3 cloves of garlic
1/4 cup + 2 tbsp mayonnaise
2 tbsp buttermilk
1 tbsp Dijon mustard
2 tbsp parsley, chopped
2 tsp red wine vinegar
Sea salt and black pepper
Method
Place potatoes in a large pot, cover with hot water and season generously with salt. Bring to a boil, reduce to a simmer and cook until soft when pierced with the tip of a knife, about 30-40 minutes. Run under cold water to cool slightly, then drain and peel off their skins.
Halve the potatoes, then slice each halve into one inch thick pieces and set aside.
Fry pastırma slices in two batches (one tablespoon of olive oil for each batch) until crispy. Transfer to a cutting board and wait until they cool down.
Sprinkle salt on garlic cloves and mash to a paste with a fork. Place in a mixing bowl and combine with mustard. Add red wine vinegar and whisk until combined.
Add mayonnaise, buttermilk and the remaining two tablespoons of olive oil and whisk thoroughly. Season with salt and pepper to taste. Add potatoes and toss to combine.
Crumble the pastırma slices and add to the potato salad, toss and transfer to your serving bowl. Sprinkle with parsley and serve warm.