I have some very good news. Cafe Fernando was named the "Best Culinary Travel Blog" at Saveur's 1st Annual Food Blog Awards! Many thanks to Saveur for nominating and YOU for voting. Congratulations to all the other winners – it is an honor to be in such great company.
This calls for a celebration and the best way I know how is to bake something fantastic.
What makes these pistachio eclairs fantastic is a secret ingredient. In fact, so secret, it even managed to hide from me for more than a year. Actually, I might be the one to blame… I have a very clumsy cleaning lady. She is super sweet, but God knows you can set up a bar with the glasses she's broken. And not just any glass; she somehow manages to find the rarest piece. I've learned my lesson over the years, so whenever I buy or receive something precious, I hide it. I hide it at the very back of the hardest-to-reach cabinet, which is on top of the refrigerator (she's 5′ 1″), and make sure to camouflage it with cheaper items – just in case she decides to climb on a chair.
Although this sounds like a great idea, it creates another problem: Hard-to-find ingredients that are way past their expiration dates.
More than a year ago, Sara of Ms. Adventures in Italy visited Istanbul. She was too kind to bring me gifts from Italy and among them was a jar of Crema di Pistacchio.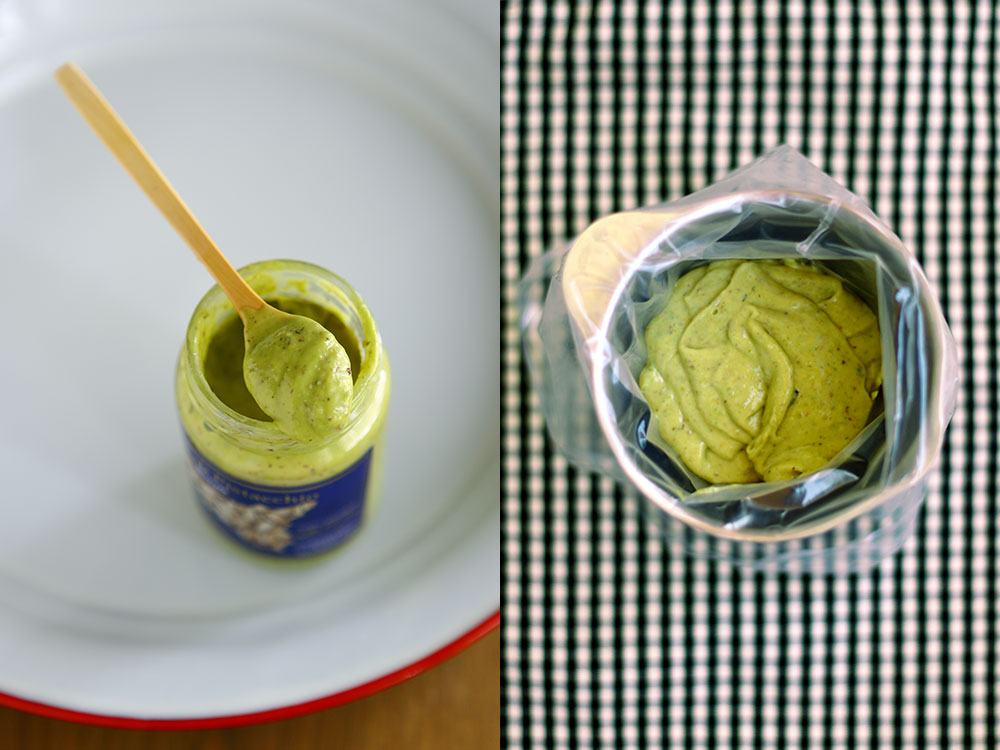 As you've probably guessed, it is a creamy paste prepared with pistachios from Bronte, a town in Sicily considered to be the world capital of pistachios. World-famous pistachios in a glass jar – just the kind of thing my super sweet cleaning lady would gladly destroy.
So, as soon as I brought it back home, I immediately stuffed it in my super-secret hiding place. AND forgot all about it. I initially planned to wow the guests at the New Year's Eve Dinner Party with David's Pistachio Gelato recipe, but then my Paris trip pulled me in a different direction.
Well, now is the time. I prepared my usual pastry cream (without butter and half the sugar) and whisked in a whole jar of Bronte pistacchio cream. I don't know how, but it is as if someone roasted a ton of pistachios and magically trapped the smell inside this tiny jar. I stuffed the eclairs with this fantastic mixture and glazed them with a sticky chocolate ganache.
And don't worry if you don't have a generous friend living in Italy, you can find Bronte pistachio cream online here and here. And if you're living in Turkey, here's a very nice substitute: Bronte's Turkish cousin, Fıstıko!  It has twice the amount of pistachios (%80) and is much more grainy than the Italian version, but I'm sure it will work great with the recipe (can be found at Carrefour Express).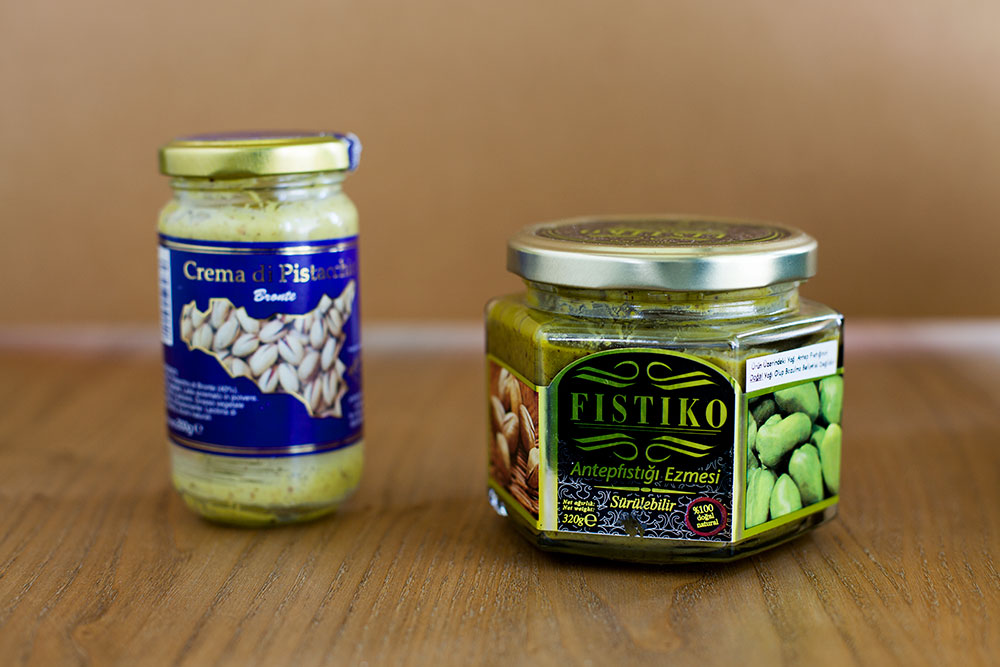 Enjoy!
PISTACHIO ECLAIRS

Ingredients
Pâte à choux (14 eclairs)
1 cup water
6 tbsp unsalted butter
1/2 tsp salt
1+1/4 cups all-purpose flour
4 large eggs, at room temperature
Pistachio Pastry Cream (2 cups)
1+1/2 cups whole milk
4 large egg yolks
1/4 cup sugar
3 tbsp cornstarch, sifted
A jar of Bronte Pistacchio Cream (7 oz)
Chocolate Ganache Glaze (1 cup)
4.5 ounces bittersweet chocolate (%70), chopped
1/4 cup heavy cream
2 tbsp whole milk
2 tsp light corn syrup (optional)
Method
To prepare the pistachio pastry cream (I recommend preparing this a day in advance), fill a large bowl with ice cubes and cold water and set aside.
In a small saucepan, bring the milk to a boil and set aside.
In a medium, heavy-bottomed saucepan, whisk together the egg yolks, sugar and cornstarch.
Whisking constantly, drizzle one quarter of the hot milk over the yolks. Continue adding the hot milk, half a cup at a time, until it has been incorporated.
Put the pan over medium heat and whisking vigorously, bring the mixture to a boil.
Keep at the boil (still whisking) until thick, for 1-2 minutes, then take off heat and whisk in the pistachio cream.
Scrape the mixture into a large mixing bowl, put the bowl over the ice bath, and stirring frequently, cool the cream to 140 F (60C).
Remove the cream from the ice bath, cover the bowl tightly with plastic wrap (press the plastic against the cream's surface to create an airtight seal) and put in the refrigerator. Pastry cream can be refrigerated for 2 days.

To prepare the eclairs, preheat the oven to 375 F (190 C). Bring water, butter and salt to a rapid boil in a heavy bottomed medium saucepan over high heat.
Add the flour all at once, lower the heat to medium low and quickly start stirring with a wooden spoon, until a light crust forms on the bottom of the pan. Keep stirring for a couple more minutes to dry the dough. Take off heat.
Add eggs one by one while beating the dough until it is shiny and thick. Once all the eggs have been incorporated, the still-warm dough should be used immediately.
Spoon the dough into a pastry bag fitted with a plain 3/4-inch tip and pipe out 4- inch-long strips, making sure to leave about 2 inches of puff space between them.
Bake for 10 minutes before slipping the handle of a wooden spoon into the oven to keep the door slightly ajar. After the 15th minute, rotate pans front to back and top to bottom and continue baking for another 10 minutes (total baking time is 25 minutes) until the eclairs are golden, firm and puffed (adjust cooking time accordingly). Transfer the eclairs to a rack and let cool.
To prepare the chocolate ganache glaze, bring cream and milk to a boil in a small saucepan. Place chopped chocolate (and corn syrup if you're using) in a mixing bowl and pour the hot cream mixture, through a sieve, over the chopped chocolate. Wait for a minute and then stir slowly with a spatula until smooth. Let stand, stirring occasionally until slightly thickened.
Assembly – When the eclairs reach room temperature, cut them lengthwise into two, fill the bottom layer with the pistachio pastry cream, glaze the top with chocolate ganache glaze and place on top of the bottom layer.