If we don't count the several cups of coffee, I really don't have a habit of eating breakfast. And I know it's bad. Very very bad. While I am doing my best to get into the habit of feeding myself something nutritional every morning, I haven't had much success in the past. Traditional Turkish breakfast dishes such as feta cheese and tomatoes in olive oil, honey and clotted cream, poached eggs with yoghurt, etc. are the last things I want to see in the morning. I've come to realize that I have a better chance with things that can be soaked in milk. So when I read Molly's post about homemade granola, I wanted to give it a shot.
If she says it is the greatest, there is no need to think twice (she is one of those food bloggers whose recipes I follow religiously).
The preparation was a breeze. I've made it twice since then and reached a perfect mix for my own taste. The photos belong to the first batch. For the second batch, I used almonds with skins and it definitely tastes better (much healthier too). I also reduced the amount of almonds to 2 cups and got rid of pecans (not a big fan). Brown rice syrup isn't available here in Turkey so I used grape molasses instead. Since grape molasses is already naturally sweet, I didn't use any brown sugar. Apple sauce isn't easy to find in Turkey as well, so I used baby food (fruit puree without additives and sugar) instead! There were lots of varieties and I've decided on a mix of apple and peaches.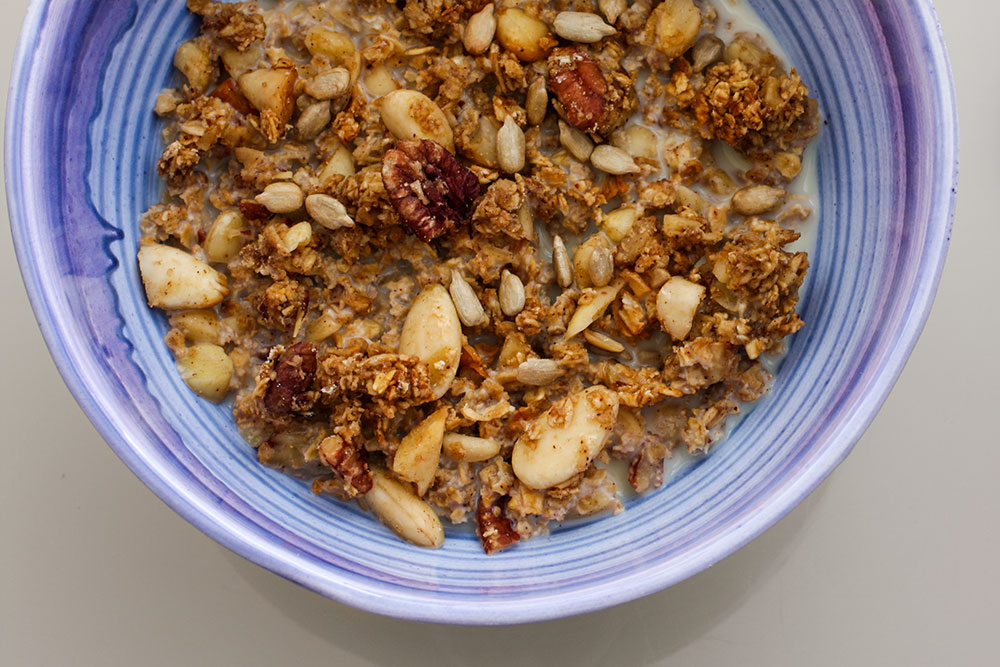 By the way, I totally concur with her suggestion of soy milk. I was especially fond of the result after the granola was soaked in soy milk for about half an hour. It might not make sense to soften the granola after all the stirring to make it extra crispy in the oven, but the soaking process tints the soy milk (a wonderful teak color) and lends a delicious smoky flavor. Just yum!
A big thank you to Molly for introducing this great recipe.
HOMEMADE GRANOLA RECIPE
Molly's original recipe is here.

Ingredients
Yields approximately 9 cups
Dry ingredients

5 cups rolled oats
2 cups raw almonds (with skins on)
1 cup hulled raw sunflower seeds
1/4 cup sesame seeds
1 tbsp ground cinnamon
1/2 tbsp ground ginger
1 tsp salt
Wet ingredients

1/2 cup unsweetened apple sauce
1/2 cup unsweetened peach puree
1/3 cup grape molasses
1/4 cup honey
2 tbsp olive oil
Method
Preheat your oven to 300 F.
Line two rimmed baking sheets with parchment paper and set aside.
In a large bowl, combine all of the dry ingredients. Stir to mix well.
In a small bowl, combine all of the wet ingredients. Stir to mix well.
Pour the wet ingredients over the dry ones, and mix until completely blended.
Spread the mixture evenly on two rimmed baking sheets.
Place the baking sheets on lower and upper thirds of your oven.
Bake for 35 to 40 minutes, rotating pans and stirring the mixture every 10 minutes.
Remove the pans from the oven, give it a good stir and set aside to cool.
Transfer to an airtight container and store in your refrigerator.