Ever since Vera read my Kasimpasa Food Market post, we have been planning to visit the market and put together a feast with the produce available at the stands that week. But as we started emailing each other about the brunch menu, we realized that the shopping would leave us with very little preparation time.
So we ditched the idea of shopping and started planning how on earth we were going to prepare the following in a couple of days.
Our initial menu for the brunch for was something like this:
Focaccia
Pain a l'Ancienne
Caprese Tart
Plum Jam Tart (inspired by David's Easy Jam Tart)
Mint Lemonade
Chocolate Gelato
Watermelon Granita
Fried sucuk
Fruit salad
Cheese platter
Vera's Tomato and Feta Cheese Salad
Vera's Mosaic Roll Cake (crushed Petit Beurre biscuits are mixed with an egg, cocoa, butter, sugar, orange peel and milk and then rolled into a log and chilled in the freezer – it is super yummy)
Did I mention we were going to be only eight people? True, the menu looks ambitious and a bit over the top when you consider a party of eight, but the funny part is we really didn't think it was too much up until two days before the brunch.
As soon as I read the recipes for Focaccia and Pain a l'Ancienne and realized that I needed two days to prepare both, I knew we were in trouble. So we cut the menu in half. I am not going to tell you which ones made it to the final menu as I plan to write about them in the upcoming weeks, but we obviously couldn't let the focaccia go.
The recipe is from Peter Reinhart's award-winning book (and my bread bible) The Bread Baker's Apprentice. The texture was exactly what we hoped for: Crusty and golden brown on the outside and soft in the inside.
I realized that I ran out of olive oil in the middle of the night so I prepared the herb oil (to be spread on top of the dough before dimpling it in) with Nigella seed oil. It has a very strong flavor so I was a bit skeptic about the results, but it turned an otherwise ordinary focaccia into an extraordinary one. Even though it smells strong, the final taste was quite subtle.
What is more interesting than focaccia infused with Nigella seed oil is that we dined with royalty! Yes, take a look – it is Charles!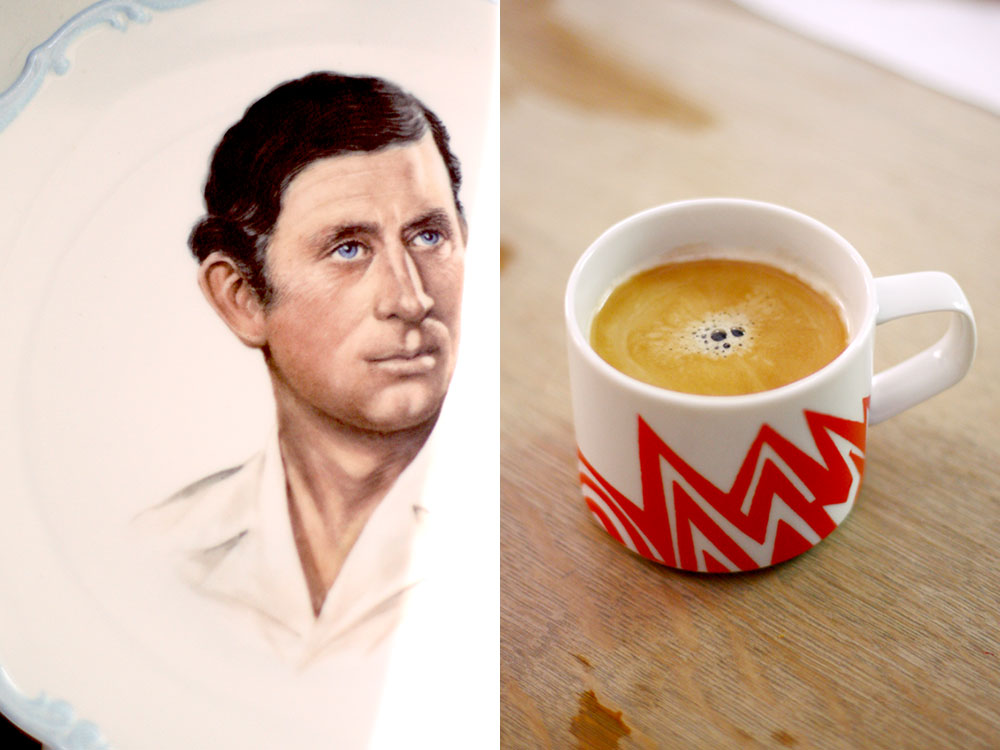 He looks a bit sleepy so I thought I'd put a triple espresso shot next to him.
And here we have Princess Diana, smiling gracefully as always. Only if she knew her face would soon be covered with oozing yolks and a spicy tomato salad.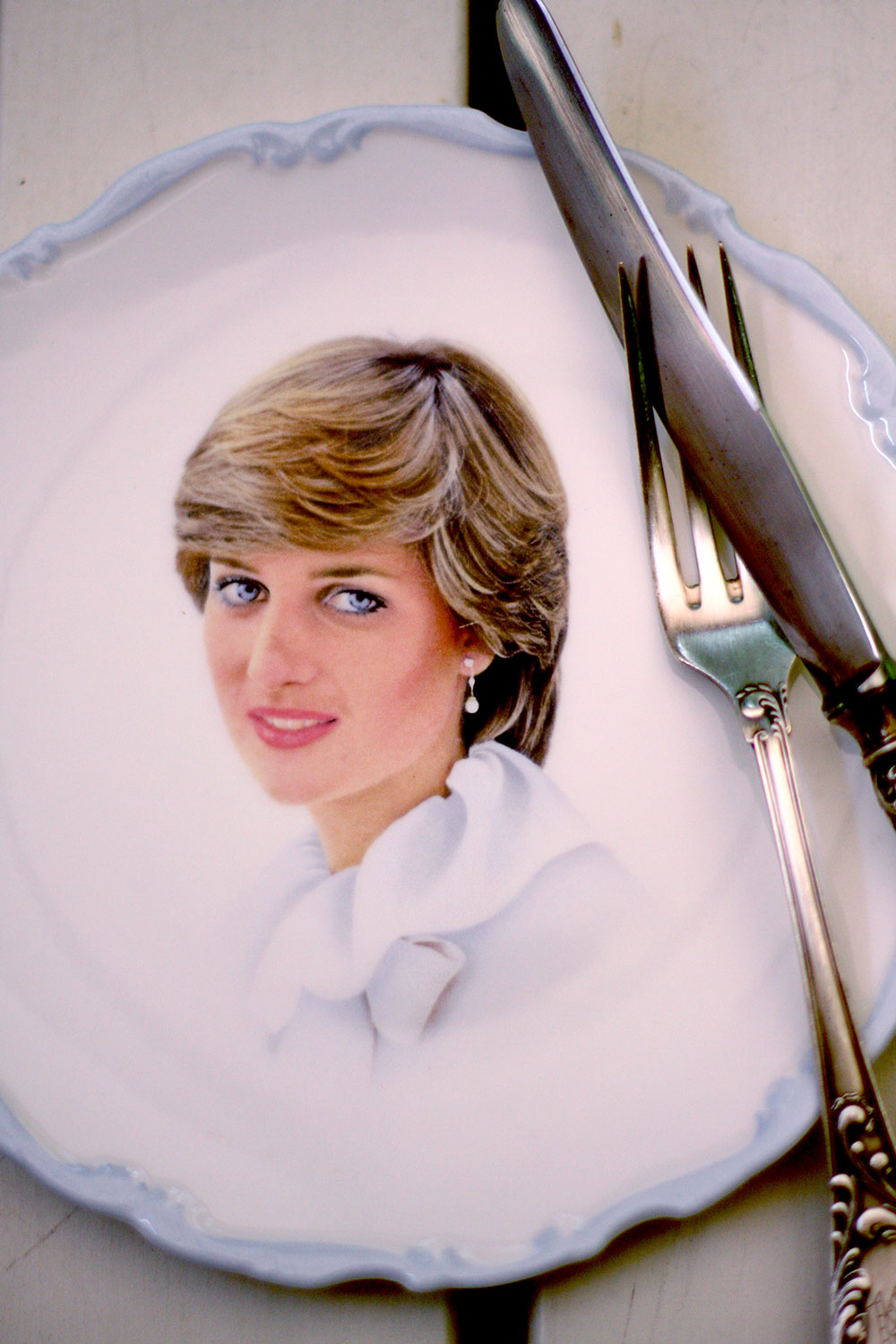 Here's a shot of the brunch table, which only shows half of the menu.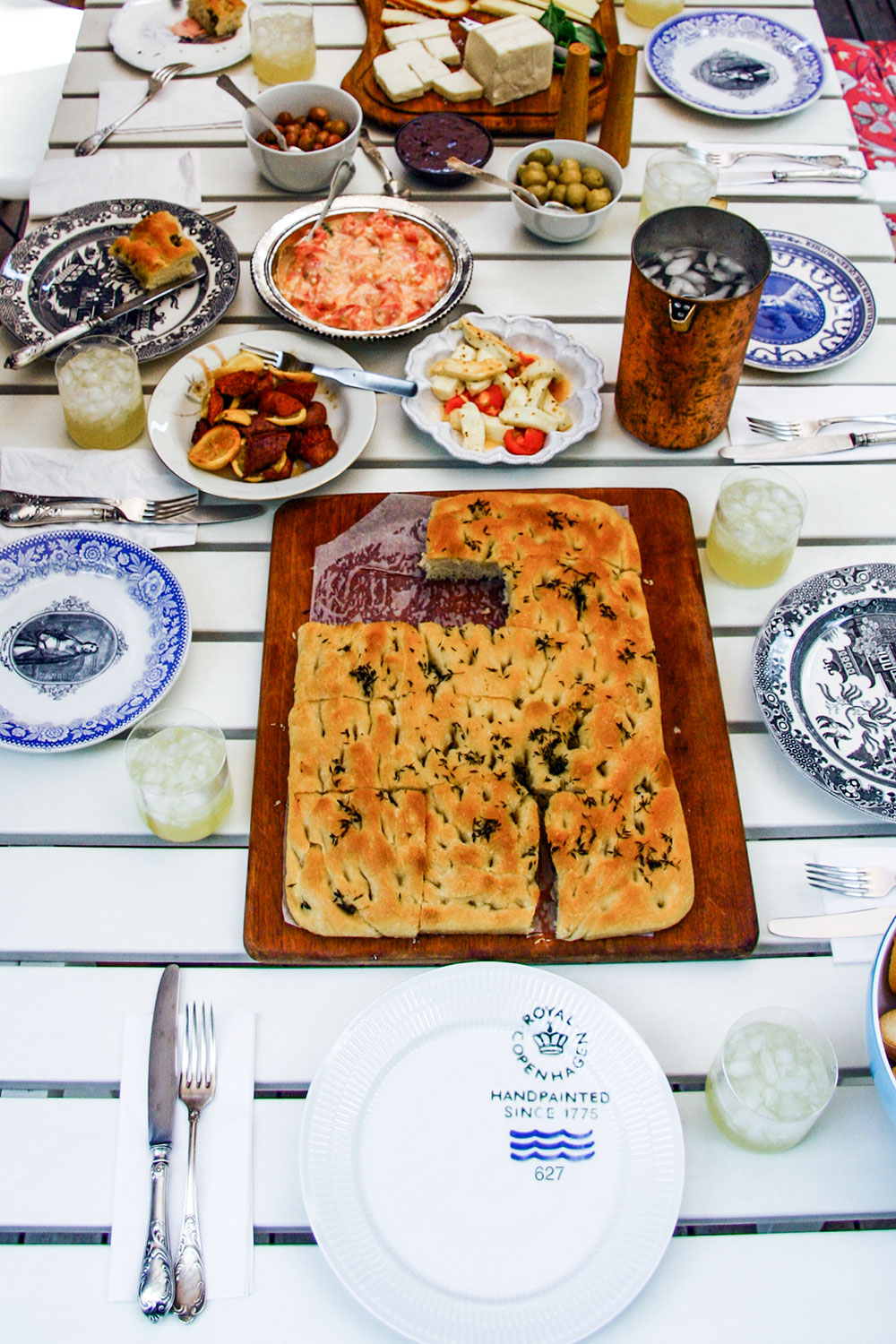 We have thyme focaccia, Vera's spicy tomato salad (with feta cheese, pomegranate molasses and crushed hot red pepper flakes), fried sucuk with lemon, and green olives with homemade plum jam in between.
Here's the lounge area for people to recuperate from indigestion: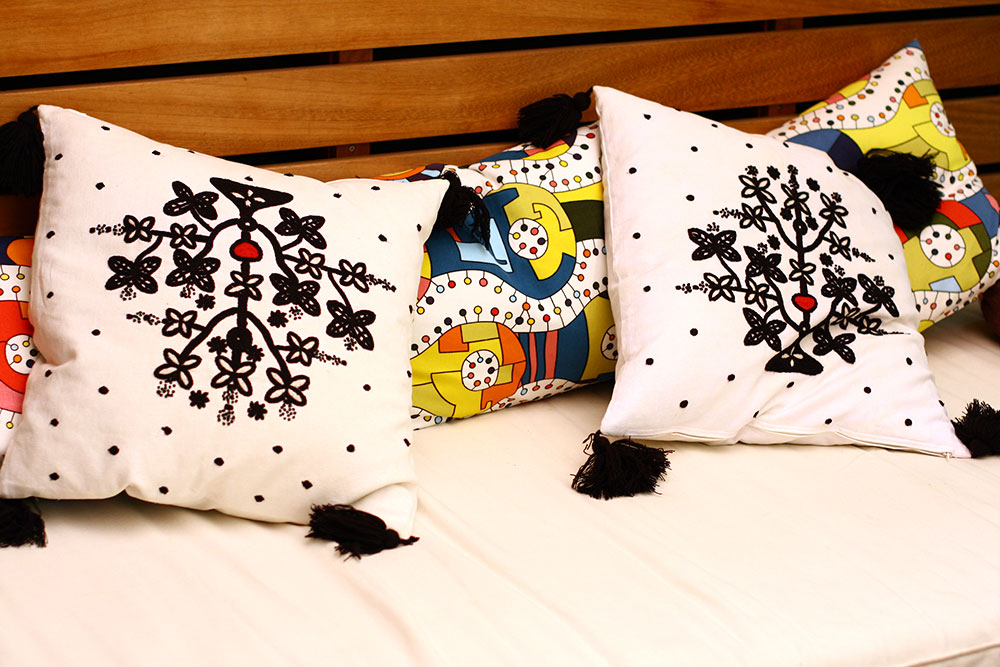 Needless to say, Vera's plates rock! She gathers them from flea markets all around the world. Here are two she got from Antwerp: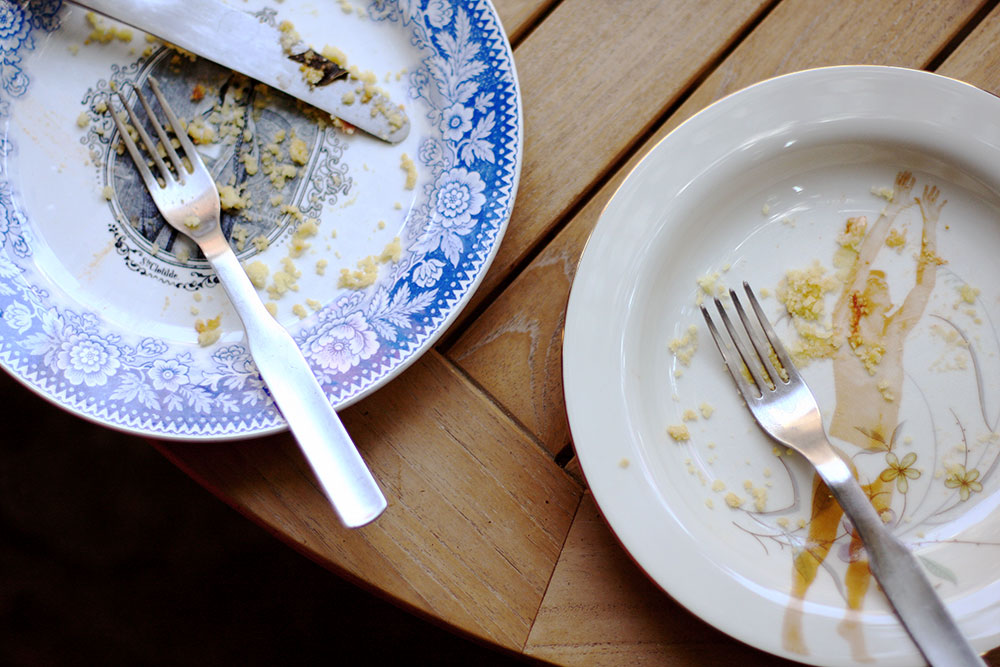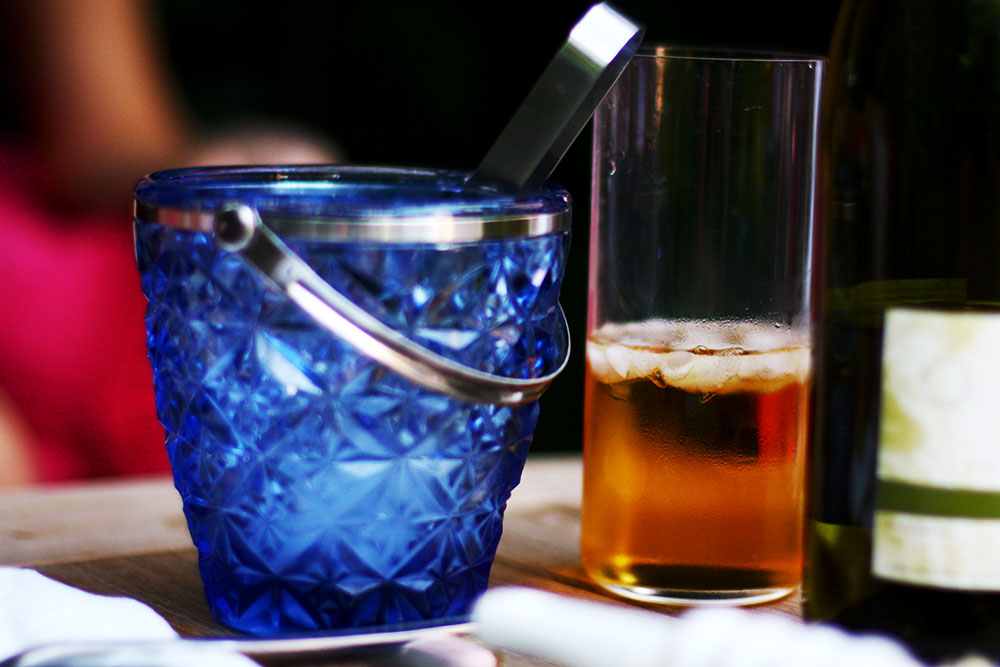 After a short break, we resumed with eating. I took the warm caprese tart from the oven and brought it to the table while Mahir poured ice-cold white wine to wash it down.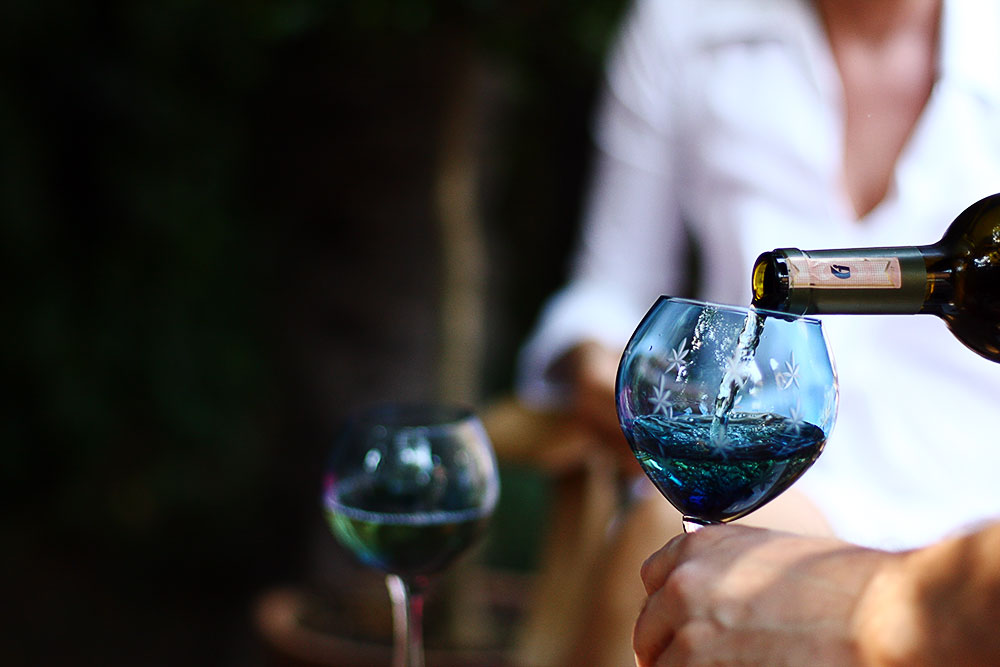 There are more recipes to come, one of which is easily the most challenging I've ever tackled. Hope to share the adventure next week. Until then, bon appetit.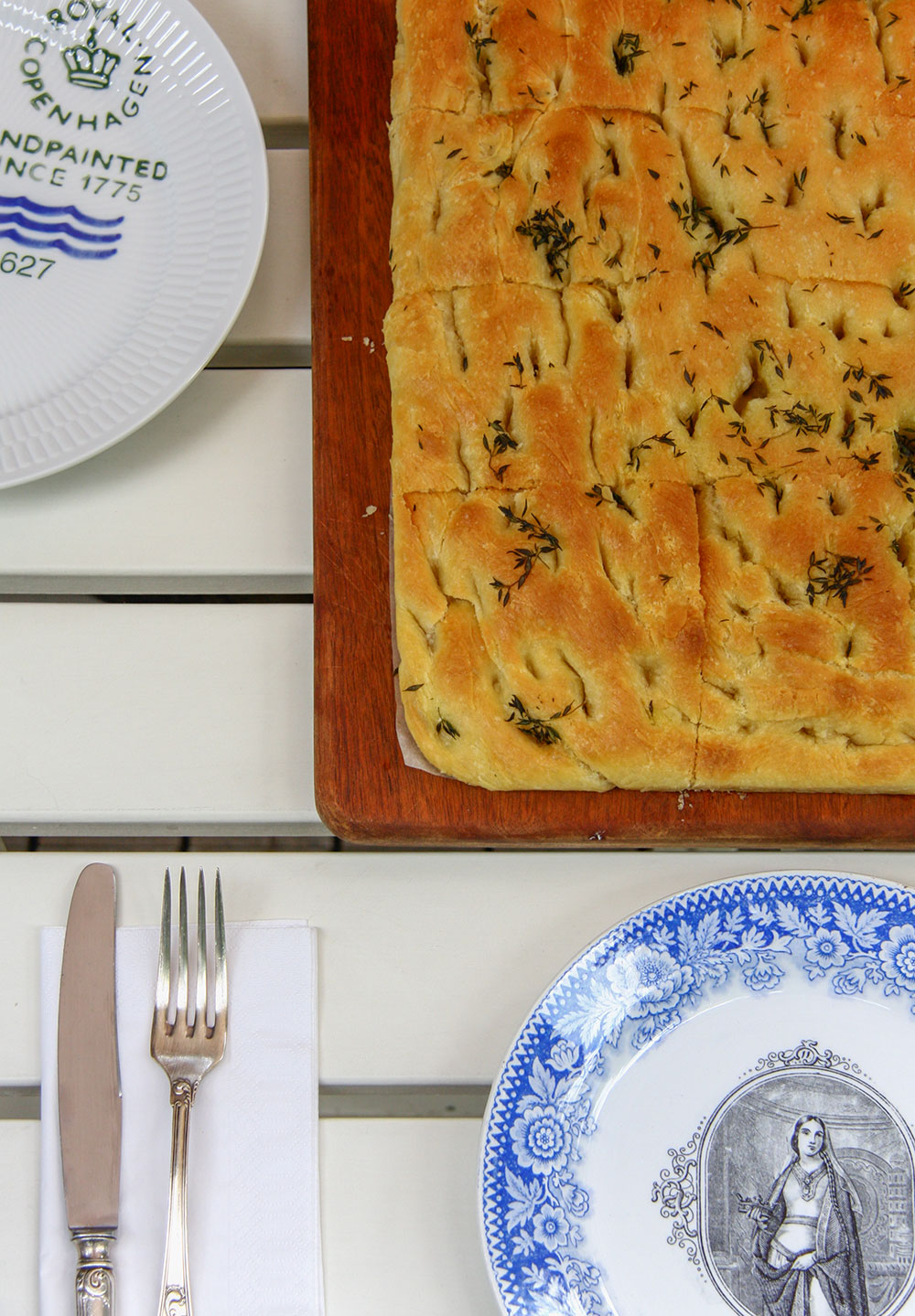 FOCACCIA RECIPE
Recipe adapted from Peter Reinhart's The Bread Baker's Apprentice
Dough Ingredients
5 cups (22.5 oz) unbleached bread flour
2 tsp salt
2 tsp instant yeast
6 tbsp olive oil
2 cups water, at room temperature
Herb Oil Ingredients

1/4 cup olive oil
1/4 cup Nigella Seed oil (optional; may replace with olive oil)
8-9 sprigs of thyme
Method
To prepare the herb oil, warm olive oil and Nigella seed oil to about 100F and add your herbs (you may use basil, parsley, oregano, tarragon, rosemary, thyme, cilantro and sage in any combination).
Stir together the flour, salt and yeast in the bowl of an electric mixer. Add the oil and water and mix with a large metal spoon until all the ingredients form a wet, sticky ball.
Switch to dough hook and mix on medium speed for 5-7 minutes, or as long as it takes to create a smooth, sticky dough. The dough should clear the sides of the bowl but stick to the bottom. You may need to add additional flour to firm up the dough enough to clear the sides of the bowl, but the dough should still be quite soft and sticky (I added three tbsp of extra flour).
Transfer the dough on a floured surface and dust liberally with flour, patting the dough into a 6-inch square. Wait 5 minutes for the dough to relax.
Coat your hands with flour and stretch the dough from each end to twice its size. Fold it, letter style, over itself to return it to a rectangle shape. Mist the top with spray oil, dust with flour and loosely cover with plastic wrap.
Let rest for 30 minutes. Stretch and fold the dough again; mist with oil and dust with flour and cover. After 30 minutes, repeat this one more time.
Allow the covered dough to ferment on the counter for 1 hour. It should swell but not necessarily double in size.
Line a 17 by 12-inch sheet pan with baking parchment and drizzle 1/4 cup olive oil over the paper, and spread it with your hands to cover the surface. Lift dough with lightly oiled hands and transfer to sheet pan, maintaining rectangular shape as much as possible.
Spoon half of the herb oil over the dough. Use your fingertips to dimple the dough and spread it to fill the pan simultaneously. Do not flatten; only use your fingertips. Dimpling allows you to degas only part of the dough while preserving gas in the non-dimpled sections. Do not worry if you are unable to fill the pan 100 percent. As the dough relaxes, it will spread out naturally. Use more herb oil as needed to ensure that the entire surface is coated with oil.
Loosely cover the pan with plastic wrap and refrigerate over night (or for up to 3 days).
Remove the pan from the refrigerator 3 hours before baking. Drizzle additional herb oil over the surface and dimple it in. This should allow you to fill the pan completely with dough to a thickness of about 1/2 inch.
Cover the pan with plastic wrap and proof dough at room temperature for 3 hours, or until the dough doubles in size, rising to a thickness of nearly 1 inch.
Preheat the oven to 500F with the oven rack on the middle shelf. Place the pan in the oven. Lower the setting to 450F and bake for 10 minutes. Rotate pan 180 degrees and continue baking for 5 to 10 minutes, or until it begins to turn a light golden brown.
Remove the pan from the oven and immediately transfer the foccacia out of the pan onto a cooling rack. Allow the focaccia to cool for at least 20 minutes.