Ice cream and I go way back. In my childhood, after three consecutive pneumonias and intense medical treatments to cure it completely, I developed quite an appetite as a result of the treatment (yes, it is all my doctor's fault). Since then, I am walking on the thin line between "extra few pounds" and "over weight". As nutritious as it is, I suspect ice cream has a lot to do with it.
To me, ice cream is what water is to other people. My source of life. The scary part is, I am really not exaggerating.
I had been contemplating on an ice cream machine forever. At the start of my research for the perfect ice cream machine, I was really sad to see that there are not that many alternatives in Turkey. I even paid a visit to some stores that sell industrial equipment, but couldn't find a decent machine that will fit into my kitchen. My last resort was Amazon. Because of the voltage difference and a packed countertop, I knew my best bet was the ice cream maker attachment from KitchenAid. So I ordered it. It arrived on Friday. I waited impatiently for Saturday to come.
Having frozen for 15 hours, the attachment was ready to use. I quickly whipped up a custard based chocolate ice cream, took out the freeze bowl and placed it on the bowl-clamping plate… But there was something wrong with the dasher. It wouldn't fit. After a quick look at the instruction booklet, it was obvious: The attachment that was advertised as "converts any KitchenAid stand mixer into an ice cream maker" wouldn't fit my mixer. Was there something wrong with my baby? I didn't think so. A closer look at the illustrations in the booklet showed that my beating shaft was actually different than the ones illustrated. My dasher had a huge round spring that wouldn't allow the dasher to be pressed upward. Devastation!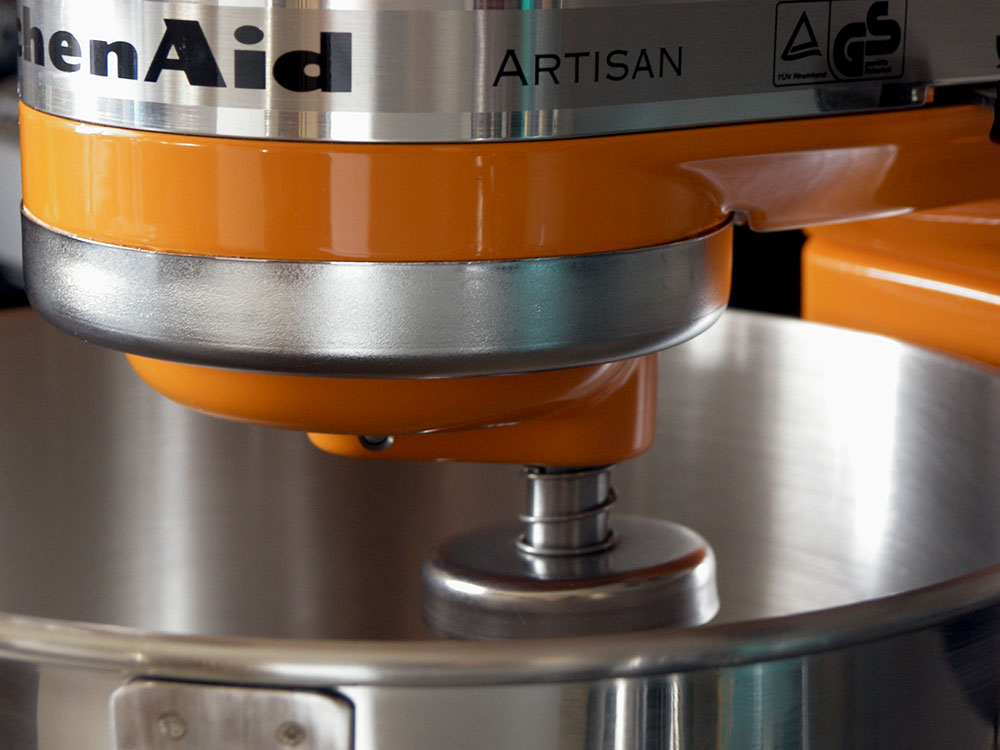 After staring at the machine for a few minutes, I decided I wasn't ready to give in. So I started mixing with a wooden spoon. After stirring constantly for 30 minutes, my mixture reached the soft serving consistency. I did it! I transferred the mixture to the freezer box with my aching hand and waited impatiently for another 5 hours.
The result? Just amazing. Without exaggeration, it was one of the best chocolate ice creams I have ever tasted. It also got raving reviews from a very tough jury of eight people.
Now my mission is to figure out how to customize the dasher so that it would fit with my beating shaft. Wish me luck!
Chocolate Ice Cream
(Recipe adapted from Joy of Cooking)
Ingredients
1 cup whole milk
1 cup heavy cream
4 ounces (110 gr) bittersweet chocolate (half of it chopped, the other half grated)
1/3 cup plus 2 tbsp cocoa powder
1 tsp pure vanilla extract
1/2 cup sugar
5 egg yolks
Method
Fill a large bowl with cold water and ice and set aside. In a small saucepan, whisk milk, cream and cocoa powder until smooth. Over medium-high heat, bring mixture to the scalding point (mixture starts to foam up). Chop and add half of the chocolate (2 ounces – 55 gr) to the milk mixture and stir until the chocolate melts and the mixture is smooth.
In a stainless steel bowl (I used my kitchen aid mixer bowl), whisk 5 egg yolks and 1/2 cup sugar until pale and fluffy. Add the hot milk mixture in a slow and steady stream. Place the bowl over a saucepan of simmering water and stir until the custard is thickened (will coat the back of the spoon and an instant thermometer will read 170F/77C).
Immediately transfer the bowl into the water bath (bowl with cold water and ice) to stop the cooking process. Mix in the vanilla extract and stir until the custard cools. Transfer it into the refrigerator and chill for 3 hours.
Transfer the cold custard to the container of your ice cream machine and process according to the manufacturer's instructions. During the last 2-3 minutes of the process add the other half of the chocolate (grated). Transfer the ice cream to a shallow plastic container and freeze for 5 hours minimum.