My first paid job as a food stylist and photographer! Can you believe it? I remember the first time a food magazine approached me. It was nearly two years ago, a couple of months after I launched my blog. The editor liked what she saw and offered me to put together 14 pages of sweet and savory cookies – in two days I must add. When I asked her what the terms were, she said: "Ohh, we don't pay. But we'll make sure to mention your blog." Isn't it nice of her? Well anyways, those days are gone and I've finally found someone who is willing to compensate for my hard work.
The magazine I am talking about is BRAVACASA, one of Italy's best interior design magazines. BRAVACASA recently launched in Turkey and they hired me to put together the food section for the first issue. I came up with four different recipes around a Chocolate & Hazelnut theme. Here's one of those recipes: Chocolate and Hazelnut Granola.
More will follow!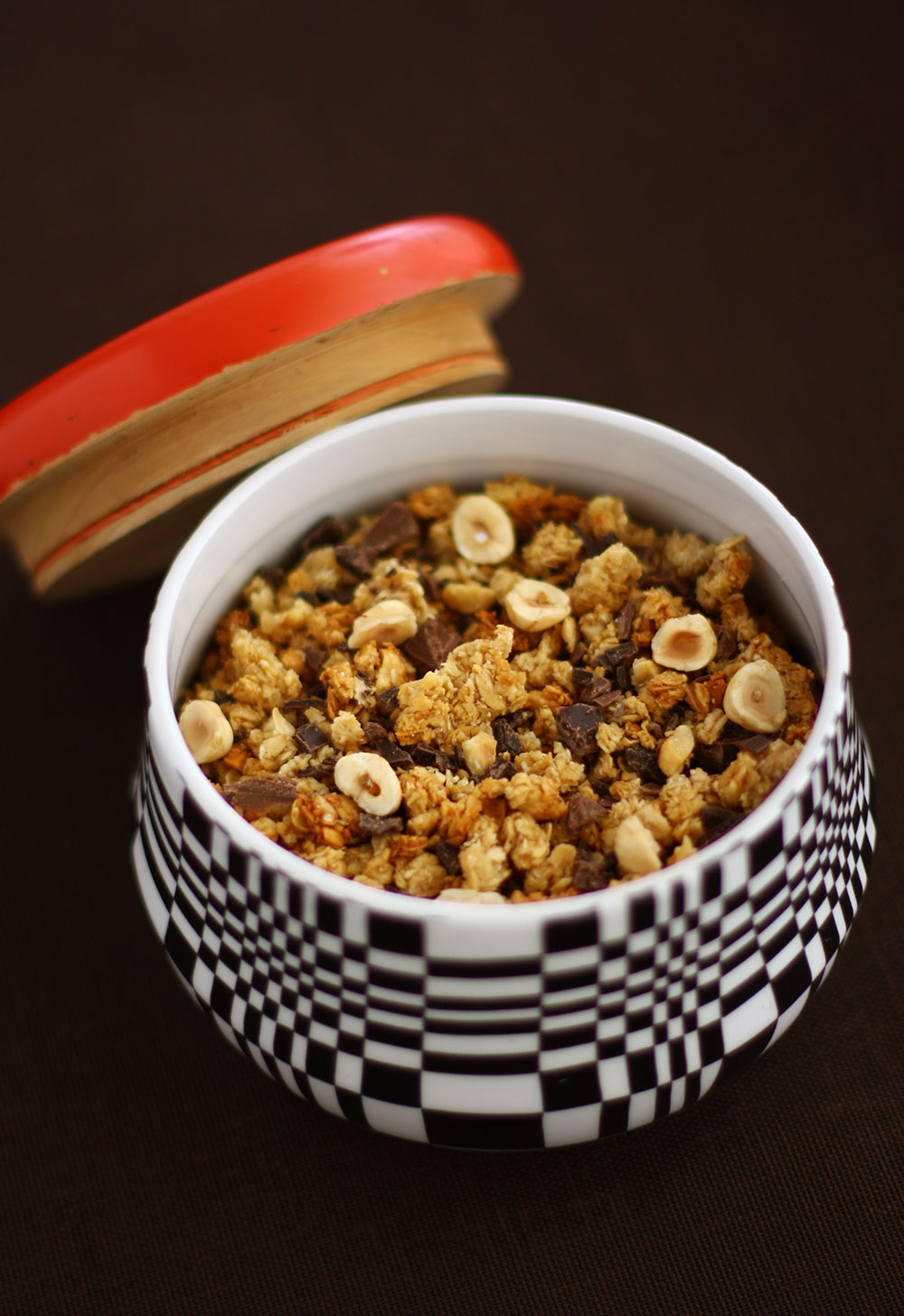 A couple of tweaks in the old version turned out to be a very satisfying breakfast.
CHOCOLATE AND HAZELNUT GRANOLA RECIPE
Dry Ingredients

5 cups rolled oats
1 + 1/4 cups hazelnuts, chopped finely
1/2 cups shredded sweetened coconut
1 tsp salt
1 + 1/2 oz milk chocolate, chopped
3 oz bittersweet chocolate, chopped
Wet Ingredients

1/2 cup honey
2 tbsp canola oil
1/3 cup fruit puree (I've used a mixture of pineapple, peach and pear baby food)
Method
Preheat your oven to 300F.
Line two rimmed baking sheets with parchment paper and set aside.
In a large bowl, combine oats, hazelnuts, coconut and salt. Stir to mix well.
In a small pan over medium heat, stir all of the wet ingredients until completely blended.
Pour the wet ingredients over the dry ones, and mix until completely blended.
Spread the mixture evenly on two rimmed baking sheets.
Place the baking sheets on lower and upper thirds of your oven.
Bake for 30 to 35 minutes, rotating pans and stirring the mixture every 10 minutes.
Remove the pans from the oven, give it a good stir and set aside to cool.
Transfer to an airtight container, mix in both chocolates and store in your refrigerator.