I have lived the majority of my life in San Francisco in the foggiest and most depressing part of the city – just because it was closer to school. Cliff House on one end and my school on the other. If it weren't for Ton Kiang, Buffalo Burger (which serves an amazing Philly Cheese Steak) and Musée Mécanique, to which I brought all of my friends visiting from Turkey to take silly pictures at the photo booth inside and not to mention watch the hilarious Laffing Sal go crazy, I don't think I'd ever set foot into the Richmond district again.
The day I moved into my tiny studio in the Marina was possibly one of my happiest days in San Francisco. Nowadays, I only get to watch my old neighborhood from the Exploratorium's roof cam, but can still smell the food, the flower shops and cafes on Chestnut street.
Finding an affordable studio in that area was not easy. Just when I thought I've checked out all the ads within my price range, I came across my studio by pure chance. A friend of mine was visiting from Istanbul, who assumed I'd show him around and take him to wonderful restaurants, but I designated him as the driver and set out to check the streets instead, just in case there would be rentals that were not advertised in the paper or online. While we were driving one day, I got a call back from one of many ads I answered the week before. We couldn't find parking and I didn't want to be late for the appointment, so I told my friend to find a parking spot by himself, jumped out of the car and ran to check out the place. The studio was small and given my tight budget I really didn't mind, but there was wood paneling all over the place and it made the place look even tinier and quite dark.
So I thanked the lady and we started walking to our car and just when I was getting in, a sign caught my eye: "For Rent". I called the number below, and five minutes later I was standing in the middle of the living room, watching the restaurants and cafes on Chestnut street from above. This place had to be mine.
I shook hands with the apartment manager and decided it was time to celebrate. We started walking down the street and just as I was passing by Williams Sonoma, this wonderful smell made me turn around and I saw the Zao Noodle Bar sign. The menu at the entrance looked promising so we went in and ordered half the menu. Everything I had was fantastic. I also had my first Vietnamese coffee there. At the time, possibly because I was so excited to have found a great studio, I thought that was the best Asian meal I ever had.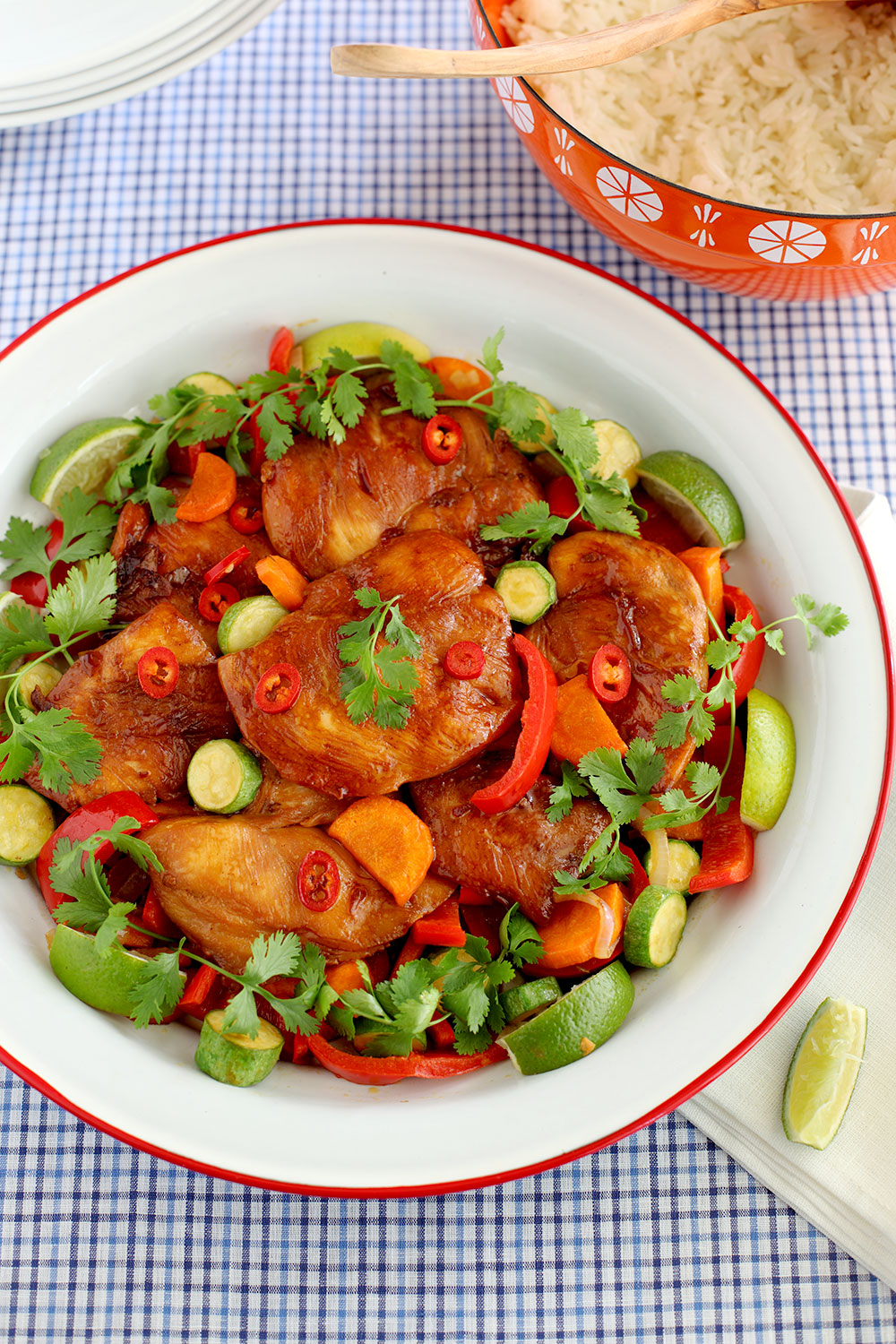 This Chicken Stir Fry dish takes me back to that day and reminds me of my first Zao experience. Chicken pieces enrobed in a thick sweet glaze with garlic, ginger, fiery chilli pepper, a few of my favorite vegetables, fresh cilantro and lime. Served over fragrant jasmine rice.
When it was time to write up the recipe, I struggled to find a name for it. Was it Thai? Maybe Vietnamese? But I've used an all-purpose marinade (which I thought made it Chinese) and butter. Butter in an Asian dish? Was that possible? After a quick research, I came across some Asian recipes that used butter. I got excited and searched for a fancy name for my dish, but no luck. Then I decided to email an expert with the hope that she'll reply back with a fancy Vietnamese, Thai or Chinese recipe name, but turns out this is a standard chicken stir fry (Thank you Jaden!).
Well, if you've read so far, it means the name doesn't really matter, right?
Hope you like it, too.
CHICKEN AND VEGETABLE STIR FRY RECIPE

Ingredients
4 (about 1 pound) boneless, skinless chicken breasts, pounded until 1 inch thick and cut in half
1/2 cup + 2 tbsp store-bought all-purpose marinade (I used Amoy brand)
2 tbsp butter (or peanut oil)
3 cloves of garlic, finely minced
1 tbsp freshly grated ginger
1 large carrot, peeled and cut into 1/4 inch half-round slices
1 red bell pepper, seeds removed and sliced into 1/2 inch strips
6 mini (or 1 adet large) zucchinis, sliced into 1/2 inch round slices
1 red onion, halved and sliced thinly
1 chilli pepper, seeds removed and sliced into thin rounds
2 limes, cut into wedges
15 sprigs of cilantro
Method
Pour 1/2 cup of all-purpose marinade in a wide and shallow bowl, add chicken pieces, cover with plastic and let marinate in the refrigerator for an hour (three hours max).
Heat half of butter in a large skillet over medium heat (or peanut oil in a wok on high heat) with garlic and ginger, add the chicken pieces and cook 5 minutes on each side. Transfer to a plate and let stand.
Heat the rest of the butter, add sliced carrot, bell pepper, zucchinis and red onion and stir fry for 5 minutes, until tender.
Add chicken pieces back in, 2 tbsp of all-purpose marinade, cover and cook for 2 more minutes.
Transfer chicken and vegetables in a serving dish and garnish with sprigs of cilantro and lime slices. Serve over jasmine rice.