Another fruit I am trying to eat as much as possible these days is sour cherries. The frozen stuff that I use throughout winter never comes close to these delicate berries. In addition to preserving some of them to enjoy for a couple more months and the occasional sour cherry sherbet, another recipe I am quite fond of is an adaptation of the Cherry Frangipane Galette from Martha Stewart's Baking Handbook.
Instead of the tiresome process of preparing puff pastry, and because of the fact that there are twelve(!) discs of sweet tart dough ready to be used in my freezer, I baked a tart instead of a galette.
What I like most about this tart is the combination of different textures. There is the crumbly and buttery tart dough, then the frangipane filling, which is soft on the inside and slightly crispy on the outside, and lastly the sour berries that slap you in the face with each bite.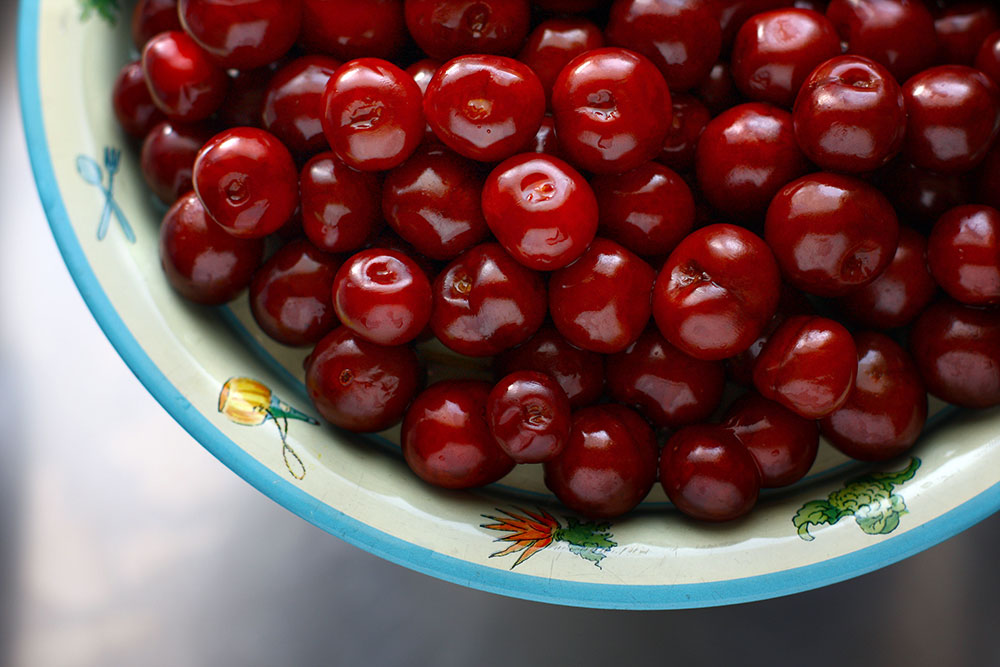 SOUR CHERRY FRANGIPANE TART RECIPE

Ingredients – Sweet Tart Dough
Recipe from Dorie Greenspan's book "Baking: From My Home to Yours"
1+1/2 cups all-purpose flour
1/2 cup confectioners' sugar
1/4 tsp salt
1 stick plus 1 tbsp (9 tbsp) unsalted butter, chilled and cubed
1 large egg yolk
Method – Sweet Tart Dough
Preheat the oven to 375 F (190C) degrees.
Pulse flour, sugar and salt in a food processor.
Add butter and pulse until it resembles a coarse meal.
Stir in the yolk and pulse again until the dough forms clumps and curds.
Turn the dough out onto a work surface and very lightly and sparingly, knead just to incorporate dry ingredients.
Butter a 9-inch fluted tart pan with a removable bottom. Press the dough evenly over the bottom and up the sides of the pan. Freeze crust at least 30 minutes before baking.
Bake blind for 15 minutes, remove the weight and let cool.
Ingredients – Filling
Recipe adapted from Martha Stewart's Baking Handbook
1 cup blanched almonds
1 large egg
1/2 cup sugar
1/4 tsp salt
3 tbsp butter, cut into small pieces
1 1/2 cup sour cherries, stones removed
Method – Filling
Pulse almonds, sugar and salt in a food processor. Add butter and the whole egg and process until the mixture is smooth.
Spread the mixture on the partially baked tart dough. Smooth the top and place the sour cherries.
Reduce the temperature to 350 F (180C) and bake for another 20 minutes. Serve warm.