The scoop of ice cream above, clotted cream Maras (MA-rush) ice cream to be specific, was nestled on top of a bowl of warm semolina halva with a spoon stabbed in the center for the whole duration of the photo shoot (you'll see in the photo below). And the spoon stayed still for at least 20 minutes. All this was possible due to the core ingredient of Turkish ice cream: Salep.
Aside from a traditional winter drink, salep also refers to a powder of dried orchid tubers, used in thickening the delicious Turkish ice cream, which is indigenous to Kahramanmaras – a city in southeastern Turkey. The local orchids contain a nutritious starch-like polysaccharide (complex carbohydrate) called bassorin, which accounts for the thick consistency. The resulting ice cream is extremely elastic and chewy and stays solid for quite a long time. The spoon stabbed in the center of the scoop was intended to summarize this magical quality. Unfortunately, since the top part of the photo was cropped, you weren't able to see that in the published article very clearly. Aren't I lucky to have a blog with endless space to fill?
So, this is the original photo: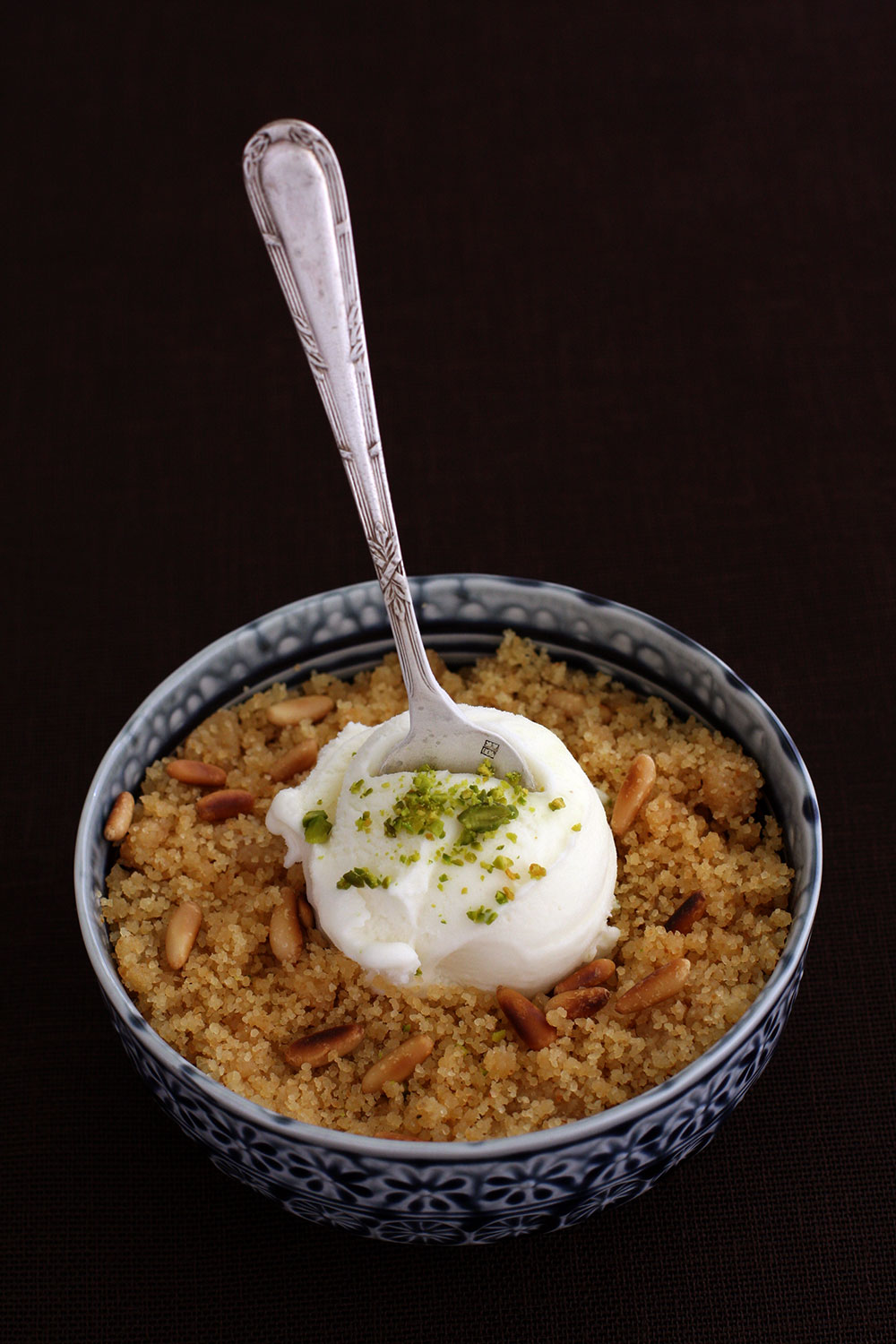 I recall a heated discussion at the comments section of David's Pistachio Gelato post.
A couple of his readers commented that only Turkish people get to enjoy the ice cream made with salep because we want to keep it all to ourselves. While that claim sounded possible, knowing how bountiful and hospitable my culture is, I wanted to dig a little deeper to find out the reason why.
While it's true that we can't get enough salep for our ice cream – and you will definitely not blame us if you had tasted it – the reason why salep isn't exported is not just that. The orchids (mainly Cephalanthera Kotschyana and Dactylorhiza Osmanica among 38 others) from which salep is extracted are becoming extinct.
Apparently, 1000 orchids are needed for 1 kilogram of salep powder, which is valued at around 200 USD. A mid-sized ice cream factory uses up to 12 million orchids per year. Because of this serious threat, it is forbidden to export.
After a few phone calls, I learned that one of the largest producers of Maras ice cream grows its own orchids. It is not a child's play, let me tell you… The secret is in the ingredients: goat's milk, salep and sugar. And not just any milk or salep. The importance of the local ingredients is so paramount that all the production takes place in Kahramanmaras and the ice cream is shipped to other cities from the original factory. It is impossible to achieve the same taste with a goat's milk from elsewhere.
The process starts with picking the tubers. After careful inspection, the tubers that pass the quality test are boiled in milk (or water) and then dried under shade to maintain its color and consistency. Once grinded, it is then added to the goat's milk with sugar and mixed in huge containers for a specified amount of time. Finally, other flavorings are added and the ice cream is ready for packaging and freezing.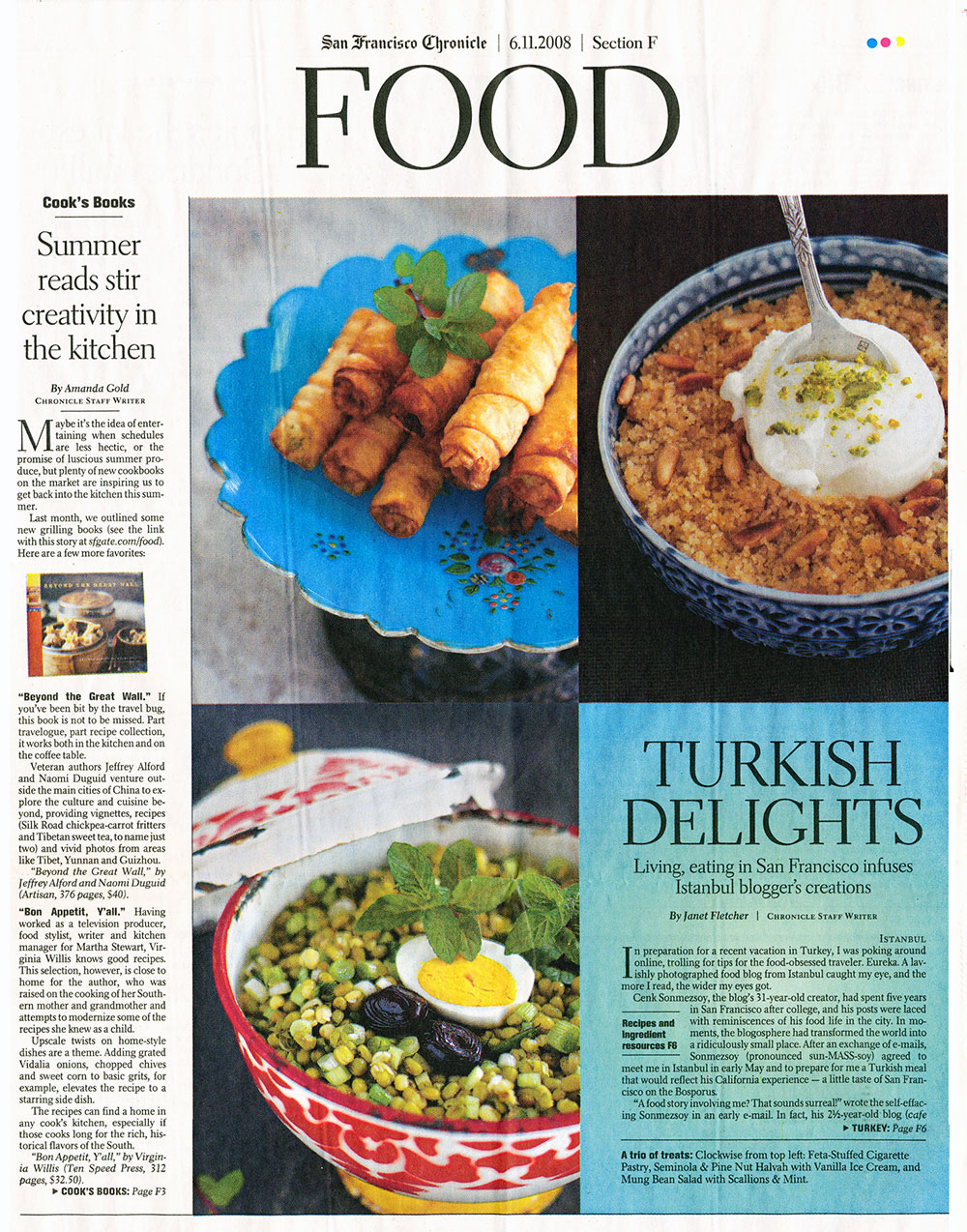 So there you have yet another reason to visit Turkey.
On a different note, as promised, here's my dinner table with all the props I gathered from friends for the article. I laid them out a week before Janet arrived and stared at them for hours.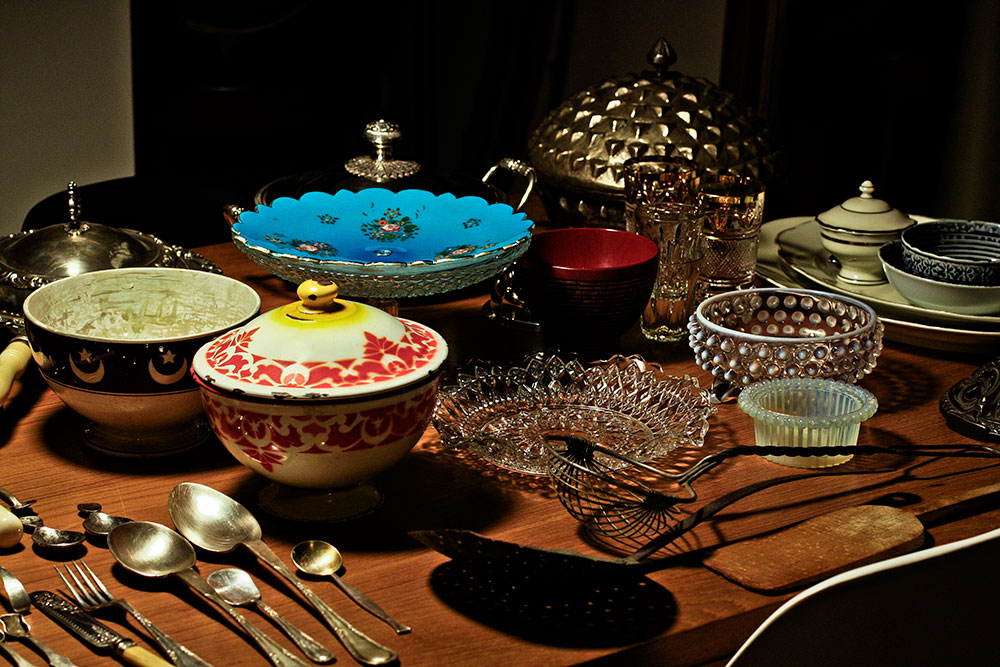 The below recipe is inspired by the delicious Vietnamese Coffee I first tasted at The Slanted Door (yes, that restaurant again!). Semolina Halva is traditionally prepared with a mixture of milk and sugar or water and sugar. The substitute (sweetened condensed milk) was right on spot. This halva has exactly the same texture with all the others I have tasted in restaurants, but developed a unique caramel taste thanks to the delicious sweetened condensed milk.
The most important part of the recipe is cooking the semolina until it develops a golden color. I tested the recipe many times and concluded that the right color is achieved after 20 minutes. The photo Doug took during the process is much more explanatory: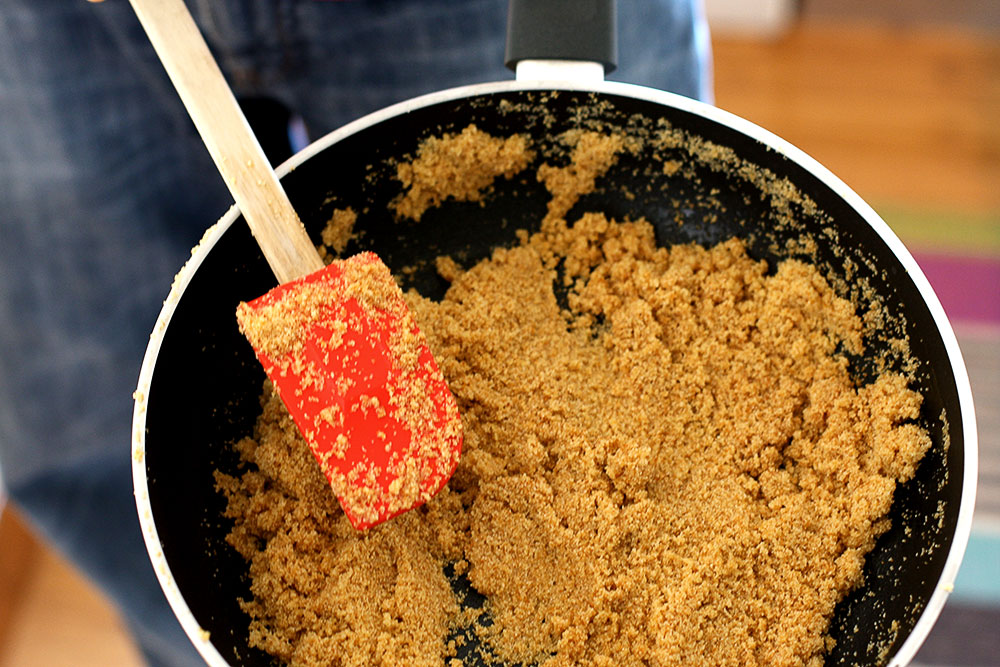 SEMOLINA HALVA RECIPE
4-6 servings

Ingredients
6 tablespoons (80 grams) unsalted butter
2 tablespoons canola oil
1+1/3 cup (250 grams) semolina
1/4 cup (50 grams) pine nuts, toasted
1 can (400 grams) sweetened condensed milk
1+1/4 cup boiling water
4 scoops of vanilla or pistachio ice cream
Method
Place butter and canola oil in a heavy-bottomed, wide skillet with a lid and melt over medium heat.
Add semolina and stir constantly on medium heat, until the semolina is cooked and golden brown, about 20 minutes.
Meanwhile, combine sweetened condensed milk and boiling water in a small saucepan and keep hot over medium low heat.
When the semolina develops its golden color, immediately add the hot milk (be careful, it may splatter) mixture through a sieve, mix, cover and let it cook on medium heat for about 15 minutes, stirring the halva every 5 minutes with a spatula.
Take the skillet off the heat, place a couple of paper towels over the skillet and secure by placing the lid. Let steep for 15-20 minutes until extra moisture is absorbed.
Stir pine nuts into the halvah. Put about 1/2 cup warm halvah into each of four to six bowls.
Top with a scoop of ice cream. Garnish with pine nuts and pistachios.
Serve warm.