Today, I am going to share a quick & easy (and very tasty) dinner recipe that used to come into rescue during weekdays, while I was still working at a 9-to-9 job. Here's how it goes, minute-by-minute:
You've come back home from work feeling exhausted and have just taken off your clothes. Now, before jumping into the shower to get rid off the day's drowsiness, cut the tomatoes, the eggplant, the mushrooms and the peppers, making sure they're about the same size so they cook evenly. Then, mash the garlic with a little bit of salt, add olive oil, black pepper and toss with vegetables. Spread them on a baking tray and put it into the oven.
Just before you hit the shower, put a large pan filled with water over the stove. When you finish taking your shower, the water will be boiling. Add lots of salt into the boiling water, give it a stir and add your pasta. Right when you do that, the oven timer will start beeping, letting you know that the vegetables are done. Five minutes later, drain the pasta, mix everything together and serve with lots of grated Parmesan cheese.
Voila! Your dinner is ready in only 45 minutes. And the best part is, you've only spent 15 of those minutes in the kitchen and had a bit of a time to relax while it cooks.
After telling you how much of a time saver this recipe is, the tip that I am going to share might conflict with the "quick & easy" qualities of the recipe, but what can I do? It is about something I am truly obsessed with.
The skin of the cooked cherry tomatoes bugs me a lot. And I have to confess, no matter how tired and hungry I am after a long day, I always peel them off one by one. If you are as obsessed with this as I am, I would like to give you a little tip.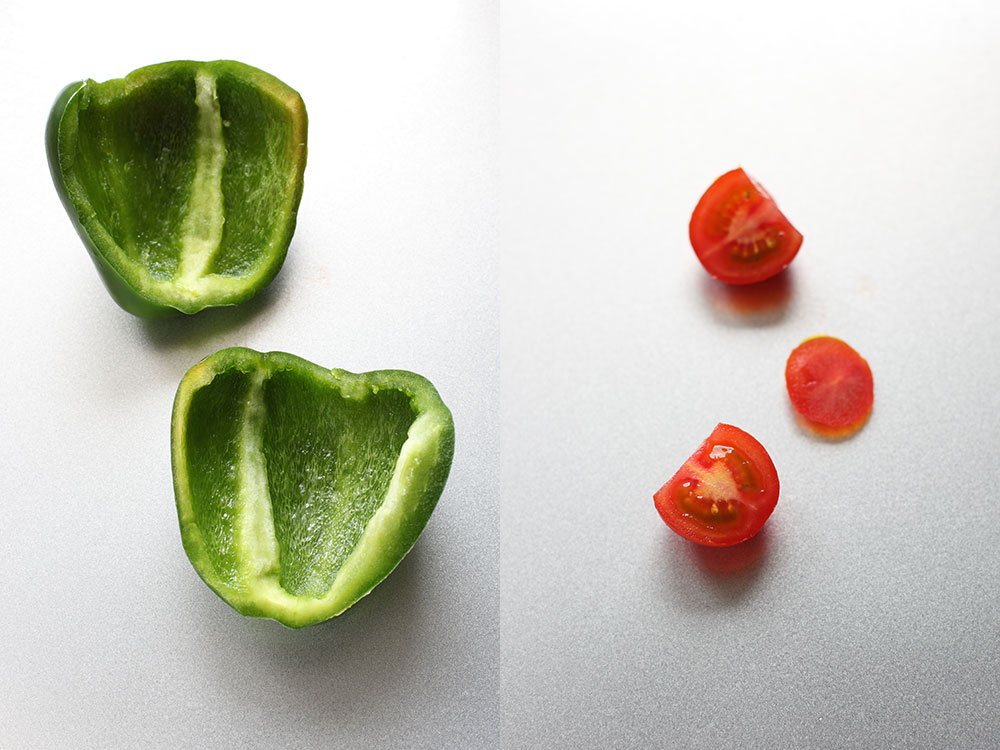 When you cut the tomatoes in half, it is hard to peel the skin off in one go after they're cooked. Sure, once they are cooked, the skin splits up of its own. But when it comes to peeling it, the part that clings to the stem acts stubbornly. And the fact that the tomatoes are still hot doesn't really help. So, before cutting them in half, I slice a thin section from the top part horizontally and then cut them in half. This makes it much easier to peel off the skin.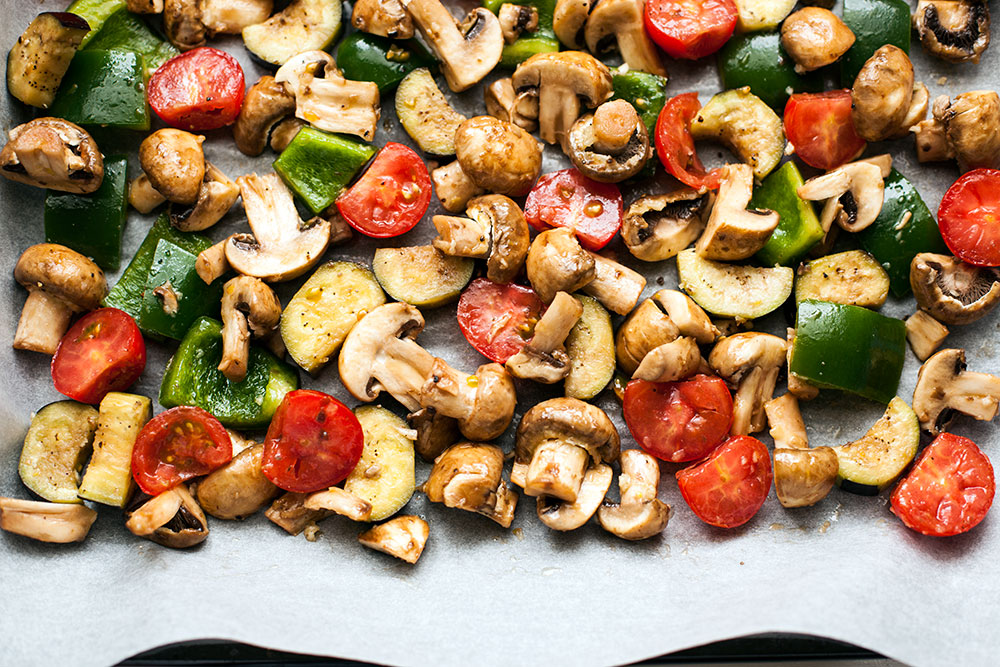 I'd say the most important part of the recipe is to spread the vegetables in a single layer. At the end of 30 minutes, the vegetables should absorb the water that they released and the edges should start caramelizing. There should remain only 3-4 tablespoons of juice in the oven tray. You need that juice to make the sauce, so do not let them dry completely. To ensure proper caramelization, drain the vegetables well and dry them with a towel.
Bon Appetite!
PENNE WITH ROASTED VEGETABLES

Ingredients
Serves 2

3 cloves of garlic
1 tsp salt
1 eggplant, cubed
12 cherry tomatoes, top section removed then sliced in half
10 oz mushrooms, sliced in half
1 green bell pepper, coarsely chopped
Freshly ground black pepper
6 tbsp olive oil
10 oz Penne pasta
2 oz Parmesan cheese
Method
Roughly chop the garlic cloves and sprinkle them with salt. Mash them with a fork to create a fine puree.
Toss the vegetables with garlic, freshly ground black pepper and 3 tbsp of olive oil in a large bowl and spread them in a single layer on a large rimmed baking sheet.
Roast, stirring occasionally for approximately 30 minutes or until the edges of the eggplants start to caramelize.
Meanwhile, bring a large pot of water to boil. When vegetables are nearly done, cook the pasta according to package directions or until al dente. Drain.
Return the pasta into the pan and toss with the cooked vegetables and 3 tbsp of olive oil.
Top with a generous grating of Parmesan cheese and serve.