I like personalized things. Be it an apron or napkins with initials OR a candy with your blog's name on it!
I can see the envy in your eye, fellow blogger!
Well , let me tell you… It was not very easy to get. Especially when your blog's name sounds like a real cafe. Upon my order, a customer representative from M&M emailed me a very long and detailed agreement asking me to sign and basically promise that I will not market, resell or otherwise distribute these candies to any third party for commercial purposes.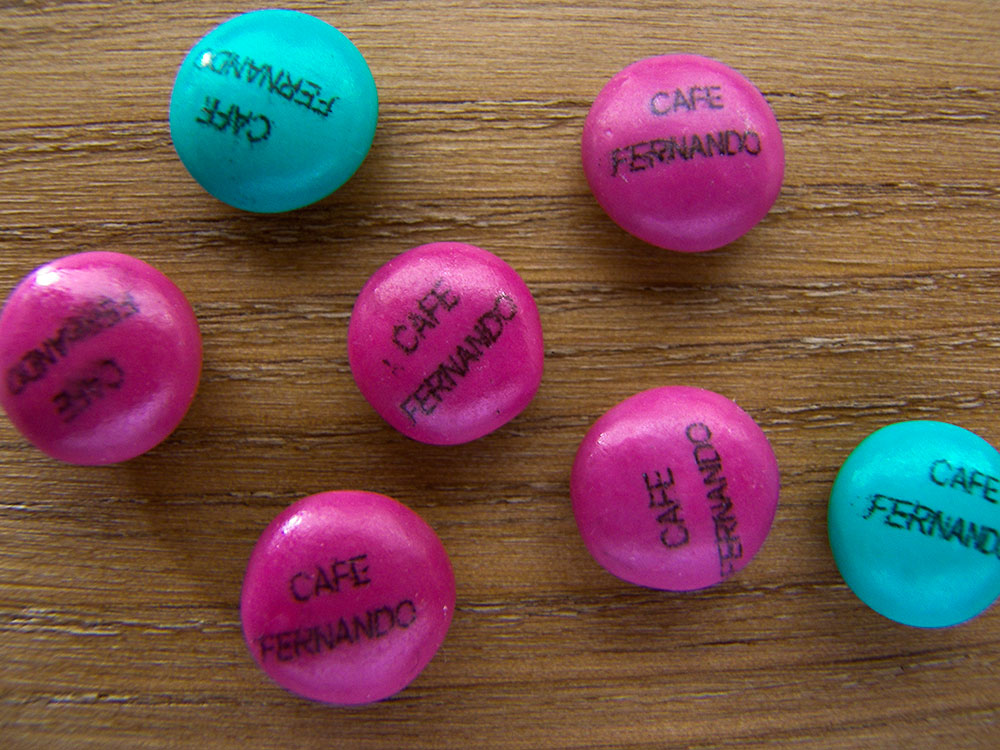 I wasn't surprised at all. But even tough I had no intentions of selling the product to a third party, I was not willing to sign anything for a pack (actually 4 packs is the minimum order and it is a lot – even for me) of candies.
I emailed the customer rep. and explained that it was not meant to be sold in a cafe, and that Cafe Fernando is actually the name of my blog. Jamie turned out be a very understanding customer representative. So thank you again, Jamie.
Back to the candies… You can choose up to two colors available on their website and have two lines with up to eight letters printed on them. Don't let the flash animation displaying your choice of words printed so nicely on the screen fool you. That is not what you get.
The letters on the candies are not that sharp and crisp. Especially if you choose to have a word composed of 8 letters. I also ordered another set with only 5 letters and it is considerably nicer. But still not as sharp as they display online before you put in your order.
All and all, I think personalized candy is still a great idea.