Isn't it outrageous that a food blogger who is a shameless chocoholic and a die hard Golden Girls fan does not have a chocolate cheesecake in his repertoire? As far as I'm concerned, he should have written the book on chocolate cheesecakes by now. Shame on me.
The truth of the matter is, I lack one very important ingredient here in Istanbul: cream cheese. Actually, cream cheese in Turkey refers to a cheap, artificial-looking (and tasting), savory cheese spread. For cheesecakes and desserts alike, our best option is Labneh, a soft cheese that has a similar consistency with cream cheese, but contains less fat and more water. Because of these two qualities, I have never been completely satisfied with the cheesecakes I've baked. Although I'm far away from writing the book on chocolate cheesecakes, I'm proud to say that a recent experiment led to the smoothest cheesecake I've ever baked.
If you're living in the US or any other country with Philadelphia cream cheese overflowing from its supermarket shelves, this revelation is of very little interest to you. At any case, please keep reading on. Who knows, one day you might find yourself in a supermarket in Turkey, with an unstoppable cheesecake craving, not knowing what to do with the poor cream cheese substitute you just bought. And then you'll be thankful you've read this.
By the way, don't even get me started with alternatives like Ricotta and Mascarpone. I find Ricotta cheesecakes to be on the bland side and an 8-ounce tub of Mascarpone costs 15 USD (!) in Istanbul.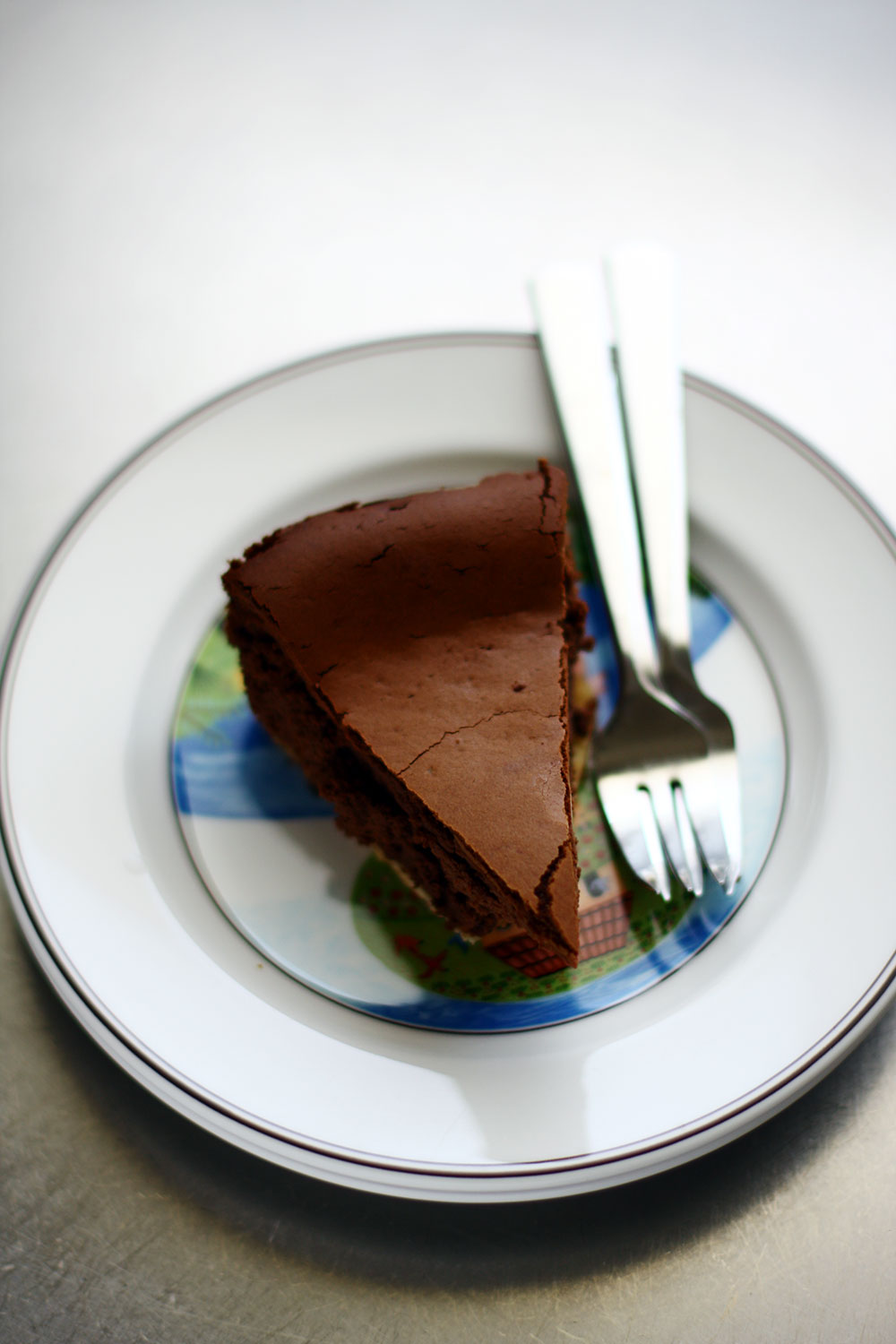 What you need to do is to simply strain the hell out of four 8-ounce tubs of Labneh. The straining process (for an hour) gets rid of almost a cup of water! The result is a smooth and dense cheesecake – just the way I like it.
I am not a fan of cookie bases, so I prepared the crust myself. It is basically an adaptation of my house cookies, which I really should write about someday. Next, I developed a basic chocolate cheesecake filling and started testing it on friends. The first trial was a success, but a couple of fellow chocoholics weren't as happy as the rest.
So I did what I always do when developing recipes that have chocolate in it. It is basically looking for an answer to a very important question: How much more chocolate can this recipe handle? And it goes something like this… On the second time around, you double the amount of chocolate. Feel like the recipe will benefit from even more chocolate? Don't be skimpy, double it again. Genius, right?
Nearly three quarters of a pound of chocolate that is. And you'd think it's too much? Think again, because the last time I baked this, I seriously thought it needed a thick, creamy chocolate glaze on top.
Now, if you'll excuse me, I'm gonna go get my Golden Girls fix.
CHOCOLATE CHEESECAKE RECIPE
Ingredients
For the crust:
1 cup all-purpose flour
1/4 cup blanched almonds
1/8 tsp salt
1/4 cup sugar
1 tbsp sweetened coconut flakes (optional)
1 egg yolk
5 tbsp butter, cold and cut into small cubes
For the filling:
1+2/3 pounds cream cheese (or Labneh*), at room temperature
11 ounces bittersweet chocolate, melted and slightly cooled
4 eggs, at room temperature
1 cup sugar
1 tsp vanilla extract
1/8 tsp salt
1 tbsp cornstarch
* If you're using Labneh, place 2 pounds of it on a strainer lined with 4-5 sheets of paper towel and wait for half an hour. Turn the cheese upside down on a fresh set of paper towels and strain for another half an hour. This will yield approximately 1+2/3 pounds of strained Labneh cheese.
Method
Preheat your oven to 350F.
Butter a 9-inch springform pan and line bottom with parchment.
To make the crust, put the almonds into a food processor with a metal blade and pulse until finely ground. Add flour, salt, sugar and coconut flakes and pulse until finely combined. Add butter and pulse until coarse crumbs form. Add the egg yolk and mix until the dough gathers around the blade.
Turn the dough into the pan and press evenly on the bottom (you can also line the sides if you like a thinner crust).
Freeze the crust for about 20 minutes and then bake at 350F for 25 minutes. Cool the crust until it reaches room temperature.
To make the filling, working with a stand mixer fitted with the paddle attachment, beat cream cheese on medium speed until smooth, then beat in sugar. Add the eggs, one at a time, followed by vanilla, cornstarch and salt and beat for another 10 minutes, scraping the bottom and sides of the bowl as necessary. Pour in chocolate and beat until completely combined.
Remove the bowl from the mixer and rap it hard on your counter to knock out the air bubbles trapped inside the filling.
Scrape the batter into the cooled crust and bake at 325F for 55-60 minutes,.
Allow the cheesecake to cool to room temperature, then refrigerate for at least 8 hours (it will stay fresh for 3 days).
To serve, run a knife between the filling and sides of the pan, then open and remove the sides of your springform pan.