OK. The secret is out. I'm adapting the script for the official Turkish adaptation of THE GOLDEN GIRLS. There. I've said it. And somehow, it still doesn't sound real. If you had a chance to read about my first day in San Francisco, I'm sure you'd understand.
If you haven't, here's the jist of it: 1998. I landed at The San Francisco International Airport on a foggy Fall morning  and spent my whole day getting lost and eating greasy food, all the while carrying a forty-pound backpack. On the verge of collapse, I saw the neon lights of my motel, hugged the homeless guy who passed out on the street and ran to my room. Ten minutes later, I was lying in bed… almost paralyzed. Then I turned the TV on… and there they were… Four familiar faces gathered around a kitchen table, listening to the story the eldest was telling. I knew these women.  Thousands of miles away from friends and family, watching these women comforted me. I forgot about my aching feet & hurting back and slowly fell into sleep.
From that day on, I started watching the show religiously. The Golden Girls became an obsession for me. I've even named my blog after the show  (Fernando is Rose's one-eyed teddy bear).
I'm not gonna bore you with the calculations, but between then and now, I must have watched each episode nearly 100 times. So you should imagine my face when I got the call from a friend asking me to adapt the scripts.
And the best part? Since sitcoms are 80 minutes in Turkey (I know.. don't ask), I will be writing extra scenes, too!
Remember the pilot where Blanche was stood up at the altar by a bigamist? I've always thought that the episode needed some kind of a bachelorette party. And a chocolate cake with ganache frosting, cupcakes and Nutella fountains won't hurt either, right?
And that's just the half of it. The other half is… four of Turkey's most famous and iconic actresses accepted to play the girls! Of course, I'm not alone in this. I am adapting the show together with an amazing Turkish screenwriter. Most of you probably won't know her, so let me put this into context: Imagine writing a cookbook together with Dorie Greenspan.
Here they are (from left to right): Ismet (Dorothy), Gonul (Blanche), Inci (Rose) and Safiye (Sophia).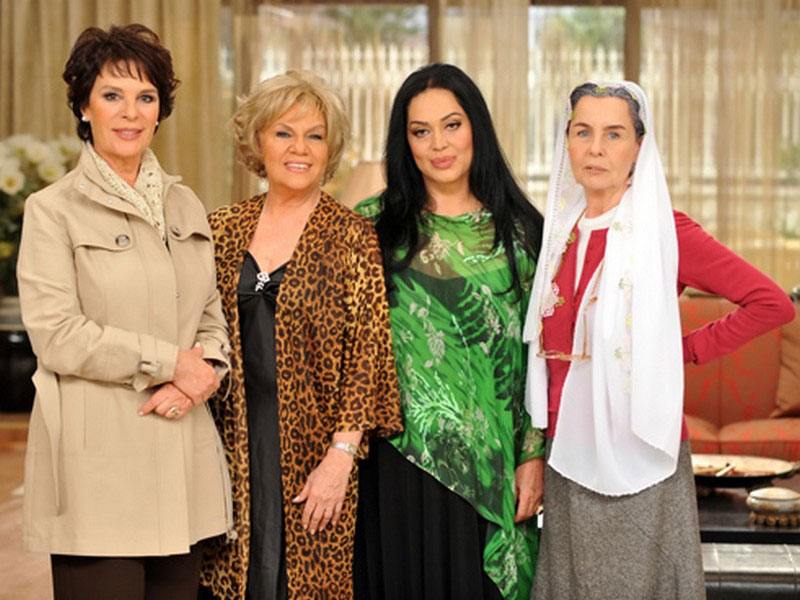 And here's the living room: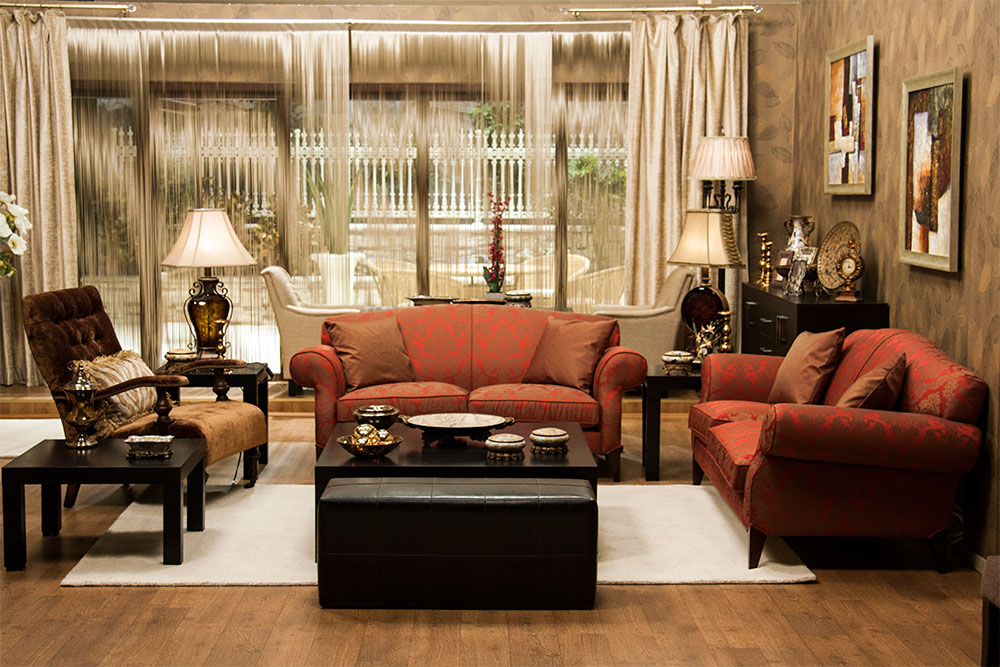 This sure calls for a celebration. So here they are: Rose Nylund's World Famous Ice Cream Clown Sundaes.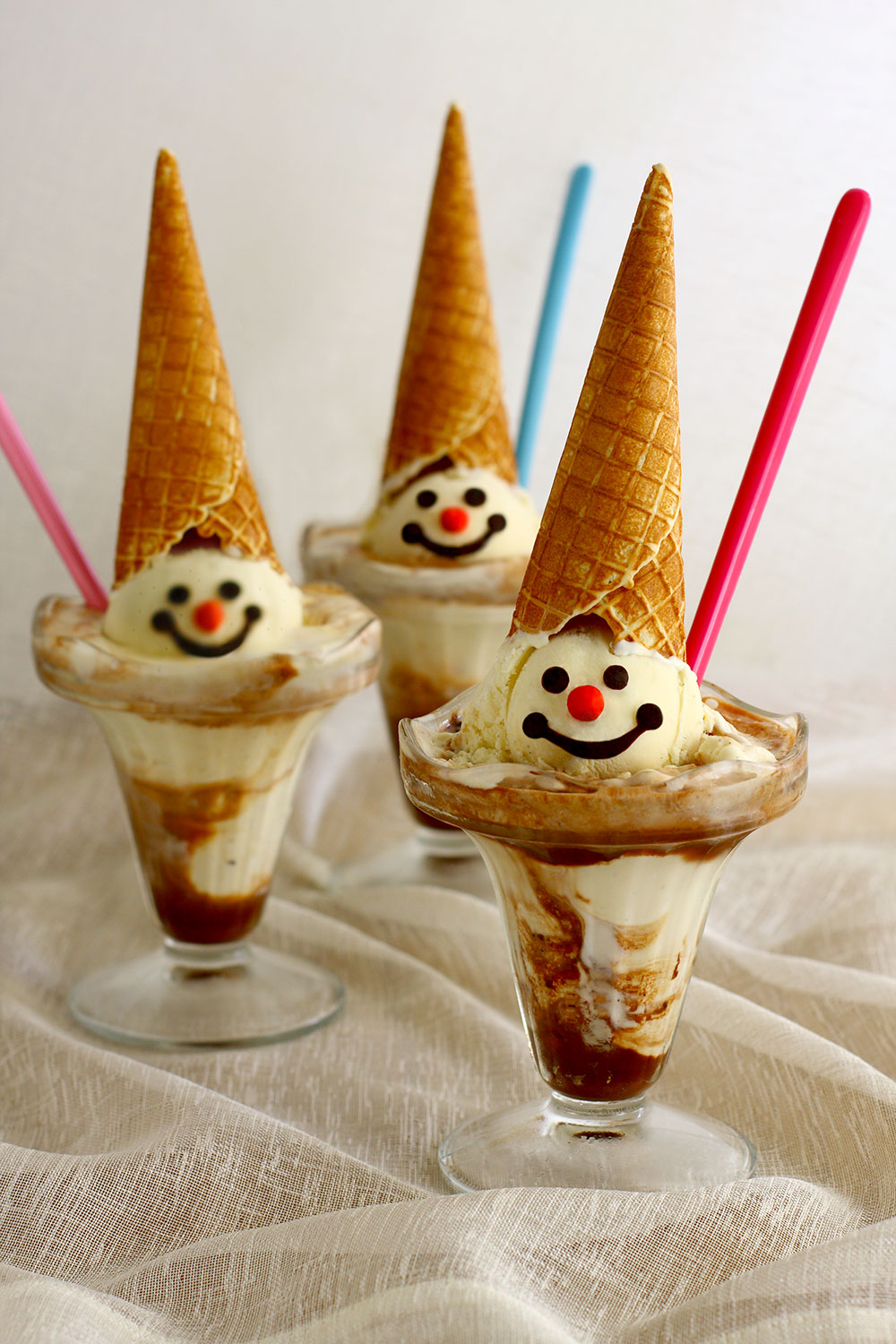 In Season 2, Rose prepared these sundaes to welcome Dorothy's friend Jean, who later fell in love with her. Since this is Cafe Fernando, the vanilla ice cream as well as the chocolate sauce are homemade. Recipes courtesy of David Lebovitz and Dorie Greenspan respectively.
ROSE'S ICE CREAM CLOWN SUNDAES – FROM THE GOLDEN GIRLS
Serves 4
Ingredients
A quart of homemade vanilla ice cream (recipe here)
3/4 cup chocolate sauce (recipe below)
4 ice cream cones
Red candy pieces for the nose, chocolate eyes and mouth (recipe below)
Method
Using a tulip shaped glass, pour a small amount of the chocolate sauce to the bottom. Place a scoop of ice cream in the glass. Pour some more chocolate sauce. Top with a scoop of vanilla ice cream and place an ice cream cone upside down on top of the scoop.
Cut a round shape from a red-colored soft candy and place it on the scoop as the nose.
Using melted ice cream as glue, stick the chocolate eyes and mouth onto the scoop.
Serve immediately.
CHOCOLATE SAUCE

Recipe adapted from Dorie Greenspan's "Chocolate Desserts by Pierre Herme".
Yields approximately 3/4 cup

Ingredients
3+1/2 ounces bittersweet chocolate
1/2 cup water
1/4 cup heavy cream
2 tbsp sugar
1 tbsp light corn syrup
Method
Place all ingredients in a medium saucepan and bring to a boil over medium heat, stirring constantly.
Reduce heat and simmer until the sauce thickens slightly and coats the back of a wooden spoon (approximately 10-15 minutes).
Use immediately or allow it to cool, then chill until needed.
CHOCOLATE EYES AND MOUTH

Ingredients
1+1/2 ounces bittersweet chocolate
Method
Melt the chocolate over a bain-marie.
Draw 8 eyes and 4 mouths on a parchment paper with a thin paint brush and place in the refrigerator to harden.