Here's the Chocolate and Chestnut Buche de Noel with Marzipan Mushrooms and Acorns we enjoyed at the New Year's Eve dinner party. Come December, there would be a debate at the Mansion on what to prepare for the dinner party. For dessert, a few would always insist on a chocolate and raspberry cake, just because nothing can top that. Some wouldn't even participate in the debate, since they pretty much enjoy everything. For me, it has to be something new. For one, I have a food blog and it is always nice to blog about something new. Secondly, how do we know the cake we ate last year was the best without exhausting all the possibilities from the piles of cookbooks I bought over the years? Someone needs to put them into good use, right?
Right. So I decided to try something I haven't baked before. Hence the Buche de Noel (or Yule Log if you want to call it that). The funny thing is I ended up using a recipe from an old issue of Martha Stewart Living!!
New Year's eve was a work day, so I had to plan everything down to the last minute. Two days before the dinner, I prepared the marzipan mushrooms and acorns as well as the chestnut puree and chocolate ganache filling.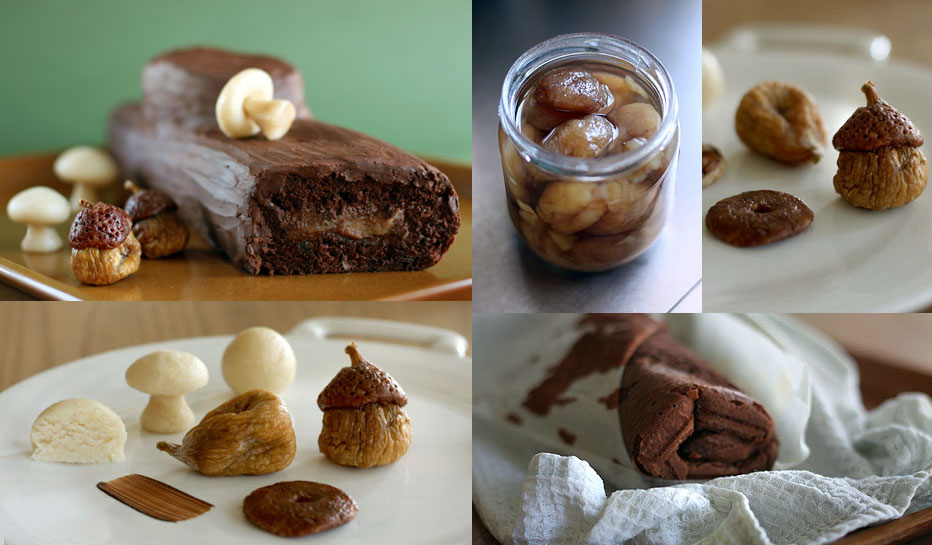 I baked the chocolate genoise the day before and assembled everything the day of. I must admit that I was a bit scared of the Buche de Noel challenge.
But I was lucky. A week before I baked it, the whole Daring Bakers community tackled the same challenge. I read a lot of their posts and made mental notes of their tips and tricks. That's the best part of being a food blogger!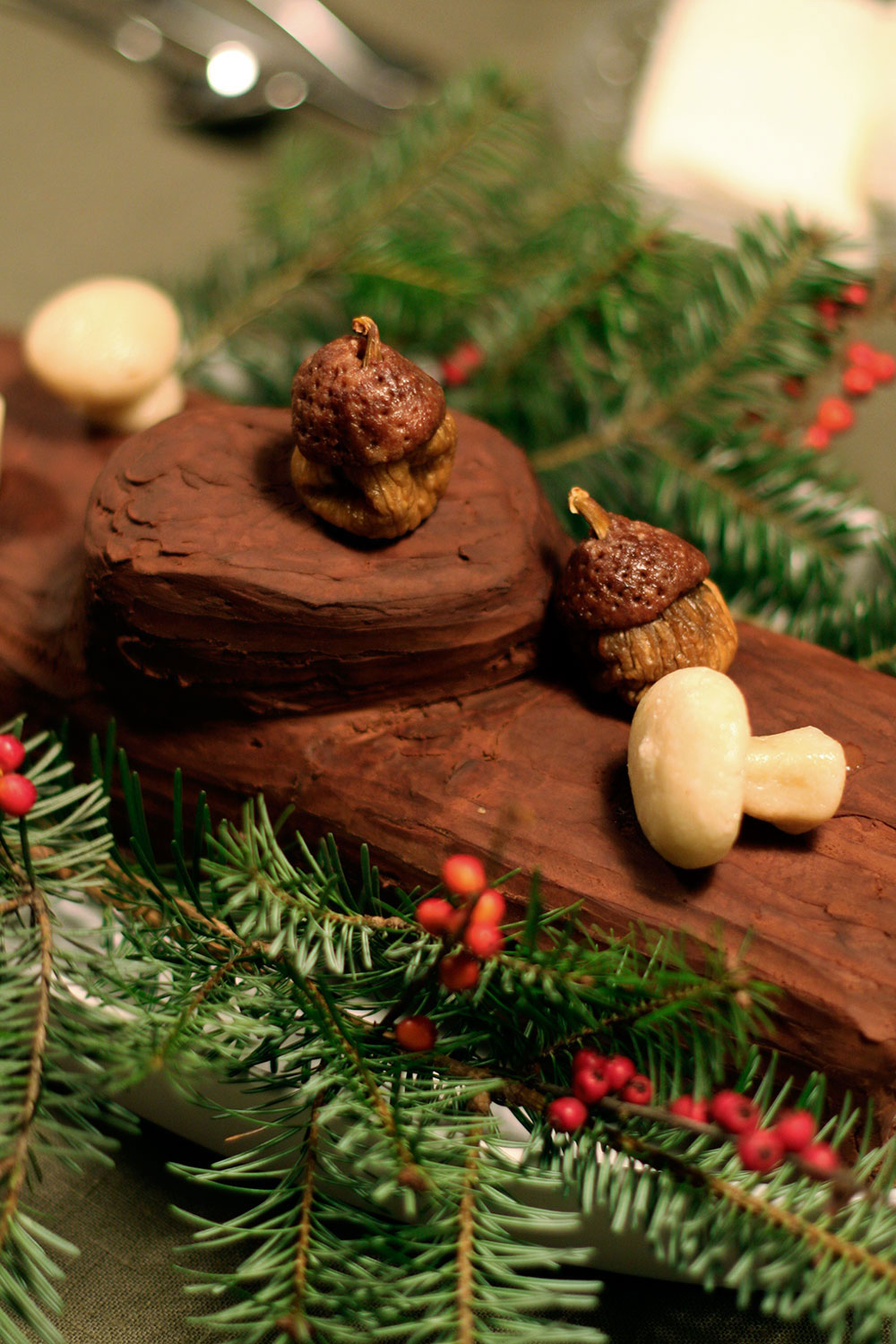 CHOCOLATE AND CHESTNUT BUCHE DE NOEL WITH MARZIPAN MUSHROOMS AND ACORNS
Chocolate Genoise Cake
recipe from Martha Stewart Living December 2003
Ingredients
Makes one 10 1/2-by-15 1/2-inch cake
5 tablespoons unsalted butter, plus more for parchment and pan
2/3 cup sifted cake flour (not self-rising) (I used all-purpose)
1/3 cup sifted cocoa powder, plus more for dusting
Pinch of baking soda
6 large eggs
3/4 cup sugar
2 teaspoons vanilla extract
Method
Heat oven to 350 degrees. Butter a 10 1/2-by-15 1/2-by-1-inch jelly-roll pan. Line with parchment; butter and flour paper, tapping out the excess flour.
Sift flour, cocoa, and baking soda together twice into a medium bowl. Set aside. In a small saucepan over low heat, melt butter. Skim off white foam, and pour clear yellow butter into a bowl, discarding white liquid at the bottom. Set aside in a warm place.
In a medium-size heat-proof bowl, whisk together eggs and sugar. Set bowl over a pan of simmering water; stir until mixture is warm to the touch and sugar has dissolved. Remove from heat, and beat on high speed until mixture is thick and pale and has tripled in bulk. Reduce speed to medium, add vanilla, and beat 2 to 3 minutes more.
In three additions, sift flour mixture over egg mixture, folding in gently with a spatula. While folding in last addition, dribble melted butter over batter and fold in.
Spread batter evenly in pan, leaving behind any unincorporated butter in the bottom of the bowl. Tap pan on counter to remove air bubbles. Bake until cake springs back when touched in center, 15 to 20 minutes. Don't overbake or cake will crack. Let sit in pan on a wire rack until cool enough to handle.
Dust surface with cocoa powder. To make rolling easier, trim edges of cake, and cover with a sheet of waxed paper and a damp dish towel. Invert onto a work surface, and peel off parchment; dust with cocoa. Starting from one long end, carefully roll up cake in towel. Wrap in plastic; refrigerate until ready to use.
Chocolate Ganache and Chestnut Filling & Icing

Ingredients
Makes 3 cups chocolate ganache and 1 cup chestnut filling
12 ounces bittersweet chocolate
2 cups heavy cream
11 ounces candied chestnuts (drained weight)*
* You can substitute with a cup of canned chestnut puree
Method
Chop chocolate into small pieces, and place in a medium bowl. Heat cream until bubbles begin to appear around the edges (scalding); pour over chocolate. Let stand 5 minutes, then stir until smooth. Refrigerate until cold but not solid, stirring occasionally.
Transfer candied chestnuts into a food processor and mix until it turns into a paste.
Marzipan Mushrooms and Fig&Marzipan Acorns

Ingredients
Makes 3 mushrooms and 3 acorns
5-ounce log of marzipan
1 tsp cocoa powder
3 dried figs
Method
For marzipan mushrooms, pinch off small portions from the marzipan log and roll into balls. Flatten slightly, then, using a paring knife, form a hollow in each ball. Pinch off an equal number of small portions of marzipan, and roll into cylinders. Insert stem into the hollow of each cap. When ready to use, dust lightly with unsweetened cocoa powder (optional).
For fig&marzipan acorns, mix 3 teaspoons of marzipan with 1 teaspoon of cocoa powder. Roll a teaspoon of marzipan into a small ball. Flatten in your hand; using a toothpick, make a hole in center. Insert fig stem into hole; mold marzipan around top of fig. Roll marzipan firmly against the small holes of a box grater to make dimples (alternatively, you can use a toothpick). Repeat with remaining marzipan and figs.
Assembly
To assemble cake, carefully unroll genoise on the back side of a baking sheet (discard the plastic wrap and waxed paper, but keep the towel). Spread 1 1/2 cup of the cooled chocolate ganache evenly on cake to within 1 to 2 inches of one long end. Spread the chestnut paste on top of the ganache. Reroll cake, starting from other long end, using towel to help roll it. Cover with plastic wrap; chill until firm, about 1 hour.
Place cake, seam side down, on a serving platter; tuck parchment around it to keep platter clean while decorating.
Whip remaining ganache at medium speed until it has the consistency of soft butter. Cut two wedges off ends of cake at a 45 degrees.angle; set aside. Ice log with a thin layer of ganache. Attach wedges on diagonally opposite sides of log. Spread ganache all over log, using a small spatula to form bark-like ridges. Chill until ganache is firm, about 30 minutes.
When ready to serve, arrange marzipan mushrooms and acorns around and on cake, and dust lightly with confectioners' sugar (optional).