The Chicken Caesar Salad page of my recipe notebook must be the most stained and wrinkled page ever. A clean, cream-colored page of my Moleskin is the birth place of my recipes. Sometimes it stays clean forever, and in some instances – like the below Chicken Caesar Salad recipe – the notes I jot down turns it into a crime scene.
But I must add… Those recipes turn out to be the most treasured. So, as promised, I am giving you a killer Chicken Caesar Salad recipe today. Cafe Fernando's birthday is coming up. Stay tuned for a nice surprise.
If you're a fan of Caesar Salad, I highly recommend that you take a look at Julia Child's narrative and recipe "There are no anchovies in Caesar Salad", which was published in "From Julia Child's Kitchen".
No one can tell it like Julia.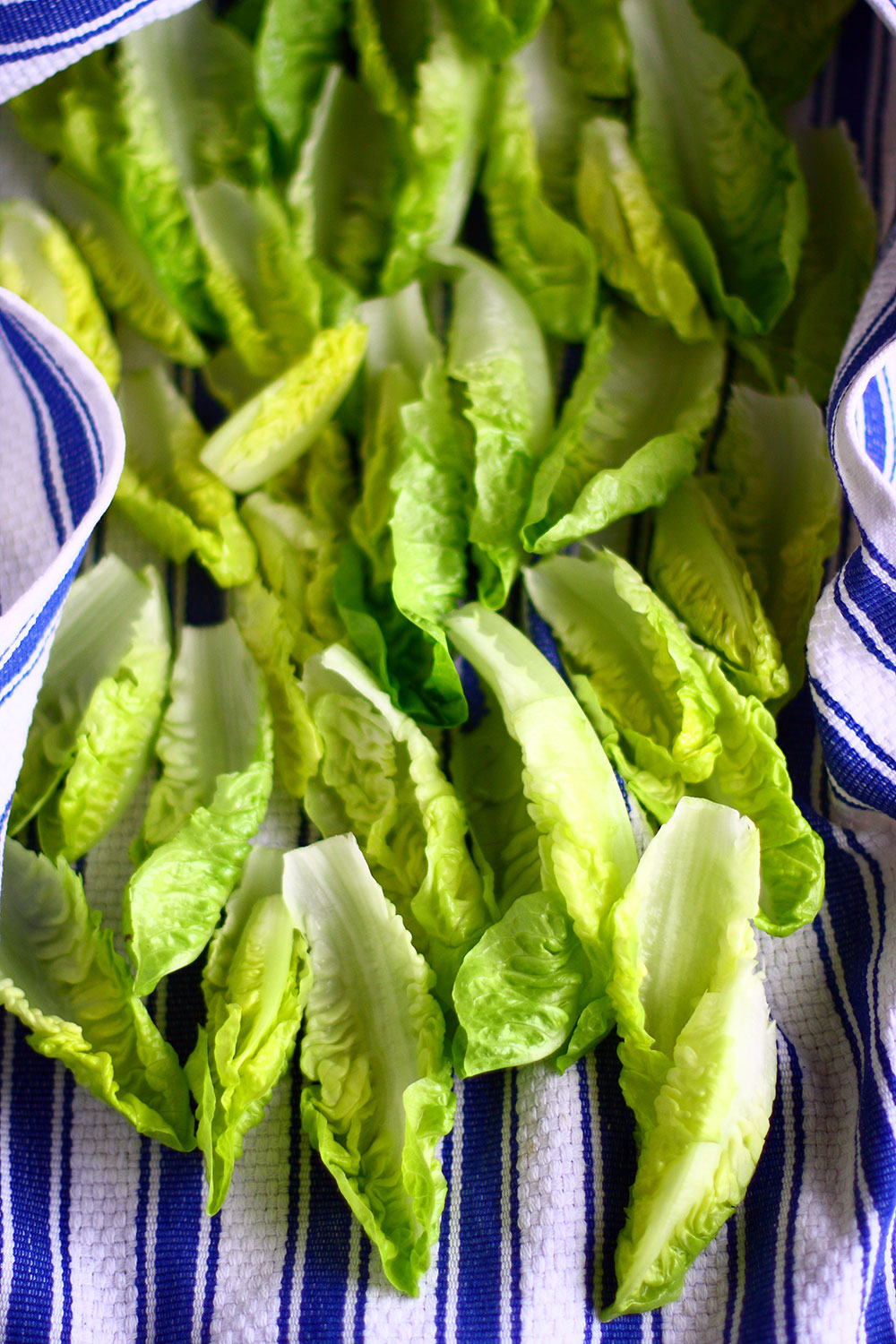 I've discovered these tiny crisp Romaine hearts in my local supermarket a while back. And I'm addicted ever since. They are the perfect size for a single bite and and allows you to "eat the salad with your fingers, in the approved and original Caesar manner" as Julia puts it.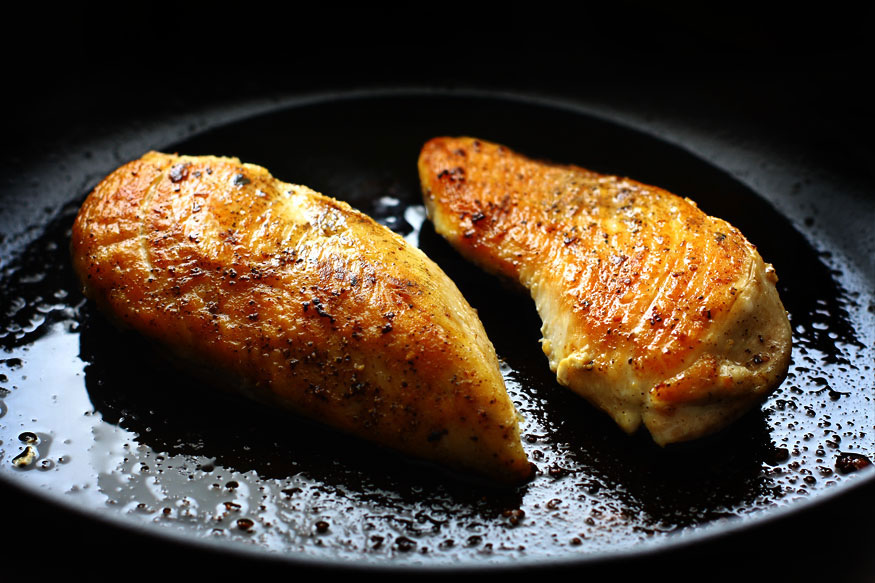 I've also experimented with a new technique. Brining chicken breasts… It does a make a difference! Brining provides juicier and more flavorful meat. No more sawdust chicken! Brining solutions vary in the amount of salt and sugar that is used according to your preference in saltiness & sweetness – and of course the amount of chicken you're planning to brine. For two chicken breasts, I've used 2 tablespoons of kosher salt and 2 tablespoons of sugar dissolved in a quart of cold water. Place them in a large pot, cover and store in the refrigerator for 30 minutes (not longer).
Don't skip sugar as it will improve the natural caramelized flavor. See how beautifully the breasts are browned? That's what I'm talking about.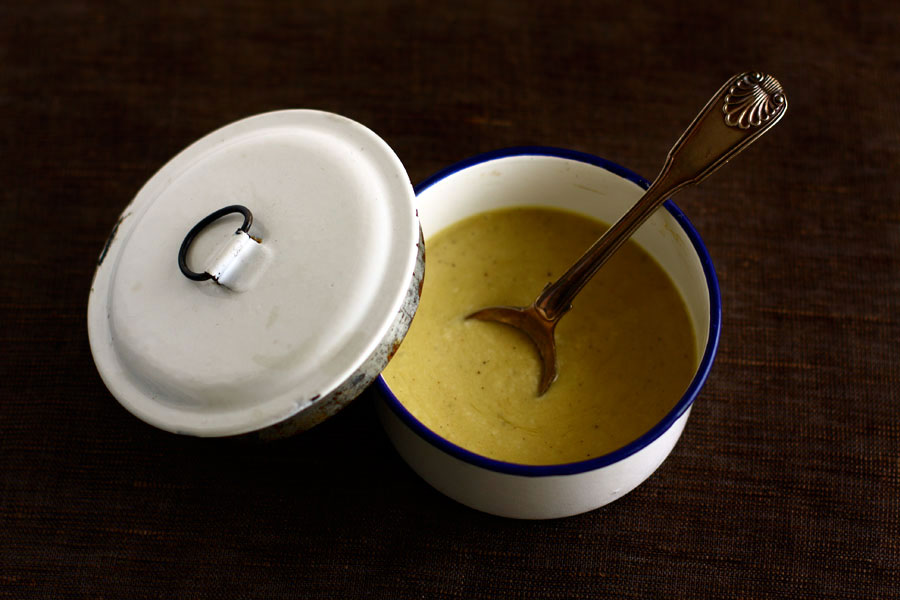 I prefer to add grated Parmesan cheese right into the sauce for a thicker consistency. You may choose to shave thin slices and sprinkle on top instead.
Hope you enjoy!
CHICKEN CAESAR SALAD RECIPE

Ingredients
2 chicken breasts (approximately 1 pound), brined (explained above)
6 romaine hearts, washed and thoroughly dried
2 slices organic rye bread
3 garlic cloves, divided
3 oz Parmesan cheese, grated
1/4 cup + 2 tbsp extra virgin olive oil, divided
1 tbsp lemon juice
1/2 tsp Dijon mustard
1 + 1/2 tsp Worcestershire sauce
3 tbsp buttermilk
salt and pepper
Method
To prepare the croutons, preheat your broiler. Cut each slice into small cubes, place on a baking sheet and broil until golden. Mash a clove of garlic with some salt to a smooth paste. Place into a frying pan together with a tablespoon of olive oil and heat just to warm. Toss with croutons and set aside.
Place the remaining 2 garlic cloves, mustard, buttermilk, Worcestershire sauce and lemon juice in a blender and puree until smooth.
While the blender is working, drizzle ¼ cup of olive oil from the feeding tube.
Add the grated Parmesan cheese and puree until thoroughly combined.
Add salt and pepper to taste. Set aside.
Drain the brined chicken breasts and pat dry with a paper towel. Transfer to a bowl and rub with a tablespoon of olive oil and salt & pepper.
Heat a frying pan (preferably cast iron) over medium-high heat. Add the chicken and cook for 8-10 minutes each side or until cooked through. Transfer to a plate and cover with foil. Set aside for 5 minutes to rest. Thinly slice across the grain..
Toss the romaine hearts with the Caesar dressing and arrange on your serving plates.
Top with chicken pieces and croutons and serve warm.