My trials with Dorie Greenspan's sweet tart dough recipe continue. This time, I added pistachios to the dough for this raspberry and pistachio tart and it turned out amazing (even tough I over-baked it).
It would have been better to use more as I hoped to see some flakes here and there in the dough.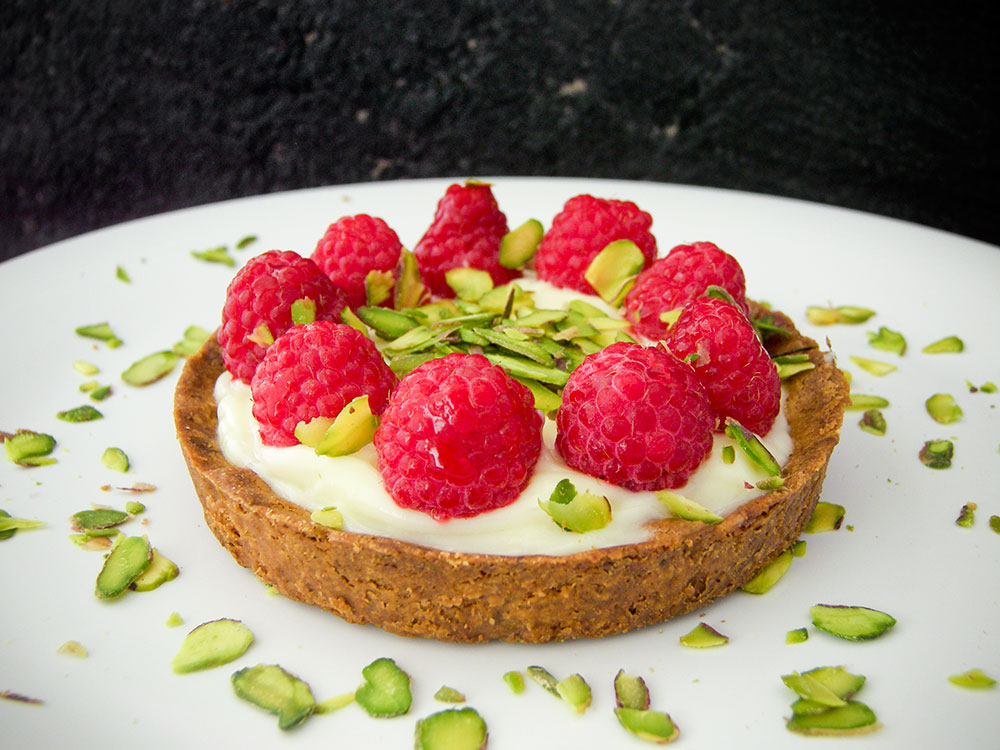 Dorie Greenspan's basic pastry cream recipe is a star, too. Adding the butter in bits at room temperature is what makes it so silky. I recall this technique from the book "Chocolate Desserts by Pierre Herme" – another wonderful book by Greenspan.
I have prepared the chocolate pastry cream from this book for my Christmas cake as well as a raspberry version for my Swan Eclairs in the past and know how much of a difference it makes.
RASPBERRY and PISTACHIO TART

Recipe adapted from Dorie Greenspan's book "Baking: From My Home to Yours"
Makes one 9-inch tart or four 4-inch tarts
Ingredients
For the crust:
1+1/2 cups all-purpose flour
1/2 cup confectioners' sugar
1/4 cup unsalted pistachios, skinned
1/4 teaspoon salt
1 stick plus 1 tablespoons unsalted butter, chilled and cubed
1 large egg yolk
For the pastry cream and garnish:
2 cups whole milk
6 large egg yolks
1/2 cup sugar
1/3 cup cornstarch, sifted
1+1/2 teaspoons pure vanilla extract
3+1/2 tablespoons unsalted butter, cut into cubes and at room temperature
12 oz fresh raspberries
Finely chopped unsalted roasted pistachios
Method
To prepare the crust, preheat the oven to 375 F (190C) degrees.
Pulse flour, sugar, pistachios and salt in a food processor. Add butter and pulse until it resembles a coarse meal. Stir in the yolk and pulse again until the dough forms clumps and curds. Turn the dough out onto a work surface and knead just to incorporate dry ingredients.
Butter a 9-inch fluted tart pan with a removable bottom. Press the dough evenly over the bottom and up the sides of the pan. Freeze for 30 minutes before baking.
Bake blind for 25 minutes, remove the weight and bake for another 10 minutes. Let cool at room temperature. Alternatively, you can divide the dough between four 4-inch mini tart pans and bake them individually.
To prepare the pastry cream, bring the milk to a boil in a small saucepan.
In a heavy-bottomed saucepan, whisk the yolks together with the sugar and cornstarch until well blended. Still whisking, drizzle in about 1/4 cup of the hot milk. Whisking all the while, slowly pour in the remainder of the milk. Put the pan over medium heat and, whisking constantly, bring the mixture to a boil. Keep at a boil, still whisking, for 1 to 2 minutes, then remove the pan from the heat
Whisk in the vanilla extract. Let sit for 5 minutes, then whisk in the bits of butter, stirring until they are fully incorporated and the pastry cream is smooth and silky. Scrape the cream into a bowl. Press a piece of plastic wrap against the surface of the cream to create an airtight seal and refrigerate until cold or, if you want to cool it quickly put the bowl into a larger bowl filled with ice cubes and cold water and stir the pastry cream occasionally until it is thoroughly chilled, about 20 minutes. The pastry cream can be kept, tightly covered, in the refrigerator for up to 3 days.
To serve, spread the pastry cream in the tart shell and smooth the top with a spatula. Arrange the raspberries on top and sprinkle with the pistachios. Refrigerate for at least an hour before serving.