Preparing a well-balanced, flavorful vegetable broth at home is not only easy, but also a great way to salvage leftover vegetables in your fridge. Simmering a handful of vegetables, herbs and spices with water will reward you with nutritious and fragrant soups, risottos, stews, braises and countless other dishes. Just throw them in a pot, and you're done. It is really that easy. I've used this broth in a soup and vegetable dish recently and was amazed with the results.
The recipe you'll find below is a highly-customizable guideline. You can substitute pretty much anything in the recipe, but I strongly advise that you keep three vegetables that are essential for a highly aromatic vegetable broth : Carrot, onion and celery.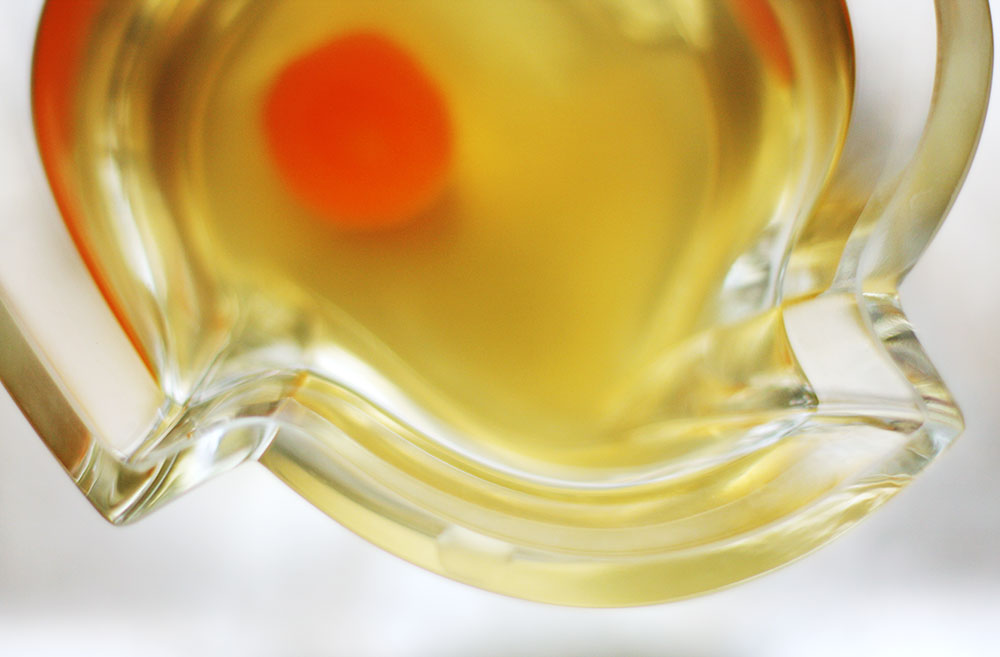 CHOOSING YOUR VEGETABLES, HERBS AND SPICES

Aside from the vegetables in the below recipe, you can add potatoes, mushrooms, bell peppers, turnips, zucchini, parsnip, leek, corn, tomatoes, chile and even a Parmesan cheese rind for extra saltiness.
Be a bit skimpy when it comes to spices. A little goes a long way, so it is always better to use them in small amounts. You do not want to overpower the taste with a single spice or herb. Bay leaf, black pepper and coriander seeds are my favorites.
TOOLS
A stockpot is ideal for making any type of broth or stock. A pot with a tight-fitting lid and heavy bottom also works great (such as the Le Creuset Dutch oven in the top photo). You can also use a pressure cooker, which will save time and keep all the flavor in.
Use a fine mesh strainer if you're opting for a clear broth. I hear coffee filters work great, too.
COOKING

I prefer a clear, light and fat-free vegetable broth. For that reason, I do not brown the vegetables and strain the broth through a fine mesh strainer without pressing the vegetables. If you prefer a more concentrated flavor, you can brown the vegetables in some olive oil before you pour in water as well as press the solids while you strain through a sieve, but keep in mind that the resulting vegetable broth will be darker and cloudy.
If you're going to prepare a soup, go with my lighter version. If you'd like to prepare a vegetarian gravy or another dish that doesn't require a clear broth, you may cook the vegetables a bit longer to achieve a more concentrated flavor and a syrupy consistency.
STORING
Planning is key. If you'll use some portion of the vegetable broth right away, then store that amount in a glass jar in your refrigerator. It will keep fresh for up to three days.
For the remainder, divide into 1 cup portions and store them in freezer-safe containers. I use freezer bags.
You can also freeze vegetable broth in ice cube trays and grab a cube or two for thinning sauces and finishing off braised dishes. If you're freezing the vegetable broth in ice cube trays, once frozen, make sure to place the cubes in an air-tight container.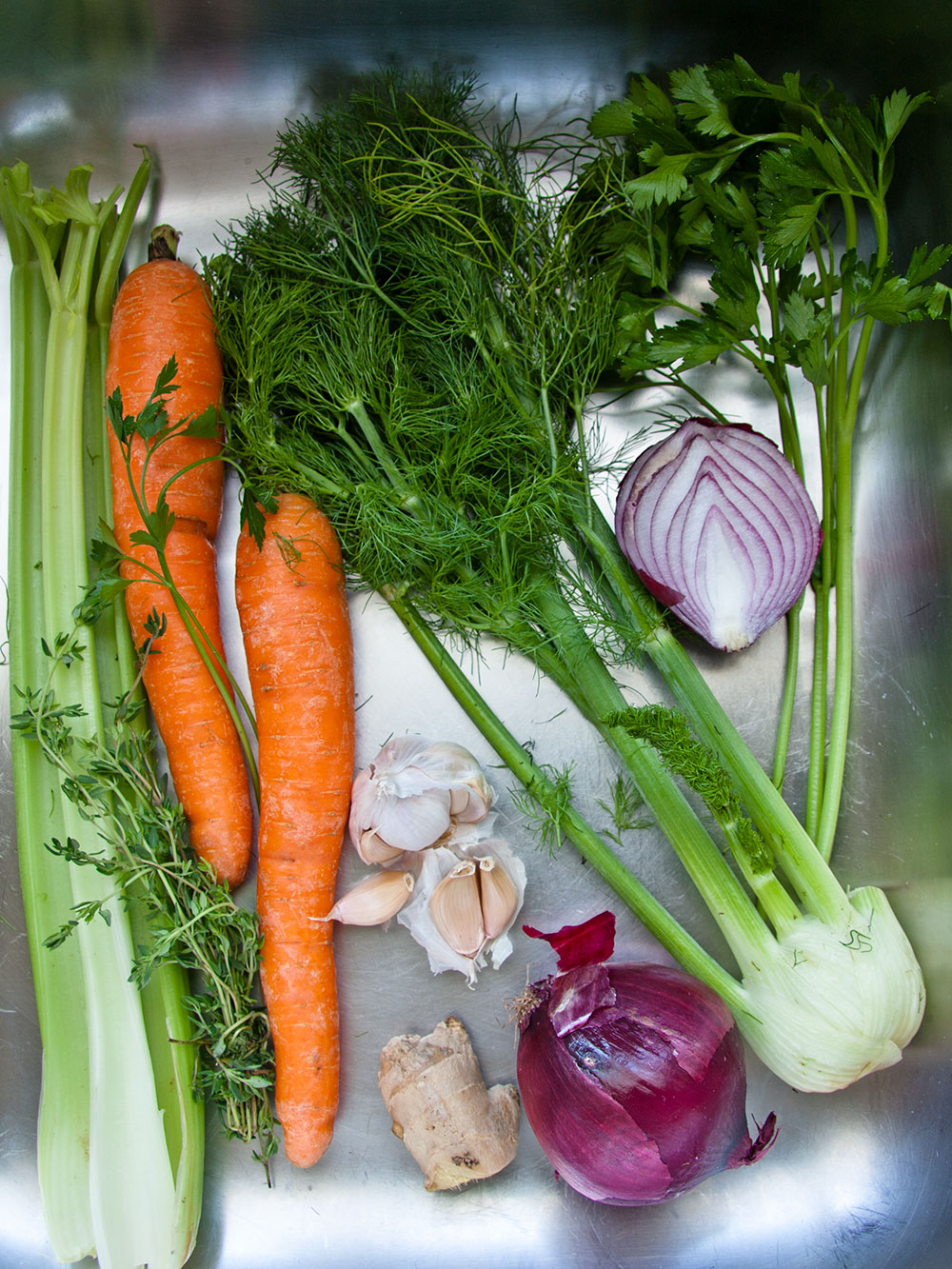 There is a great mushroom soup post coming up, so make sure to prepare this broth, reserve half of it and freeze the rest in 1-cup portions to use later on.
HOMEMADE VEGETABLE BROTH RECIPE
Ingredients
Makes 2.5 quarts
2 carrots
1 red onion
1 fennel
3 celery stalks
6 sprigs of flat-leaf parsley
6 sprigs of fresh thyme
3 slices of fresh ginger
4 cloves of garlic
10-20 coriander seeds
8-10 black peppercorns
1 Turkish bay leaf
1 tbsp sea salt
10 cups of water
Method
Wash and cut your vegetables into big chunks and place in a large saucepan or stock pot.
Add herbs, spices and cold water.
Cover and bring to a full boil. Reduce the heat and gently simmer until all the vegetables are beginning to fall apart (30-45 minutes).
Pass through a fine mesh strainer.
At this point, if you prefer a richer broth, you can reduce the vegetable broth by cooking it further to get a more concentrated flavor. If not, proceed with storing.
Let the stock cool to room temperature. Place the amount of stock you intend to use immediately (up to three days) in a glass jar with a lid and place it in your refrigerator.
For the remaining, place 1 cup portions in freezer bags or pour the vegetable broth in ice cube trays and freeze. If you're freezing the vegetable broth in ice cube trays, once frozen, make sure to place the cubes in an air-tight container.