I've been silent for such a long time. You must be tired of looking at Brussels Sprouts day after day. Truly sorry for that. I didn't even have a chance to share how happy I felt when I heard that Cafe Fernando was chosen as one of The World's 50 Best Food Blogs by Times Online!  It is a great honor to be included in a list full of my heroes and heroines. Take a look at the list and you'll know what I mean.
I've also missed the World Nutella Day (which is one of the most sacred days of the year for me),  as well as Sara's wonderful posts about Istanbul.
And why? Let's say there might be career change for me in the very near future. I have been working on the most exciting project ever, which required me to work day and night for the past three weeks and will continue to do so for the next couple of months. It is not related to food at all, but another subject that I'm equally (if not more) passionate about. I hate to be a tease, but I promise, I'll spill the beans once the deal is closed. So until then, this chicken soup will have to do. And then maybe a delicious salad. And then maybe a recipe inspired by this secret project. Stay tuned! Oh my God, stay soooo tuned!
We all know that chicken soup is regarded as a remedy for the common cold, but did you know that two scientists actually proved that claim? According to an article published in the medical journal "Chest", chicken soup inhibits neutrophil chemotaxis in vitro! Doesn't that sound… exciting? And a bit hard to understand? In layman's terms, it means chicken soup helps reduce common cold symptoms. Another important question: Does every chicken soup recipe inhibit neutrophil chemotaxis in vitro? Is it possible to deviate from this proven recipe without sacrificing its medicinal qualities?
What I understand from the findings of the study is this: As long as the chicken to water ratio is similar to the recipe tested, the answer is yes. With that in mind, I combined some of my favorite flavors and came up with the recipe below.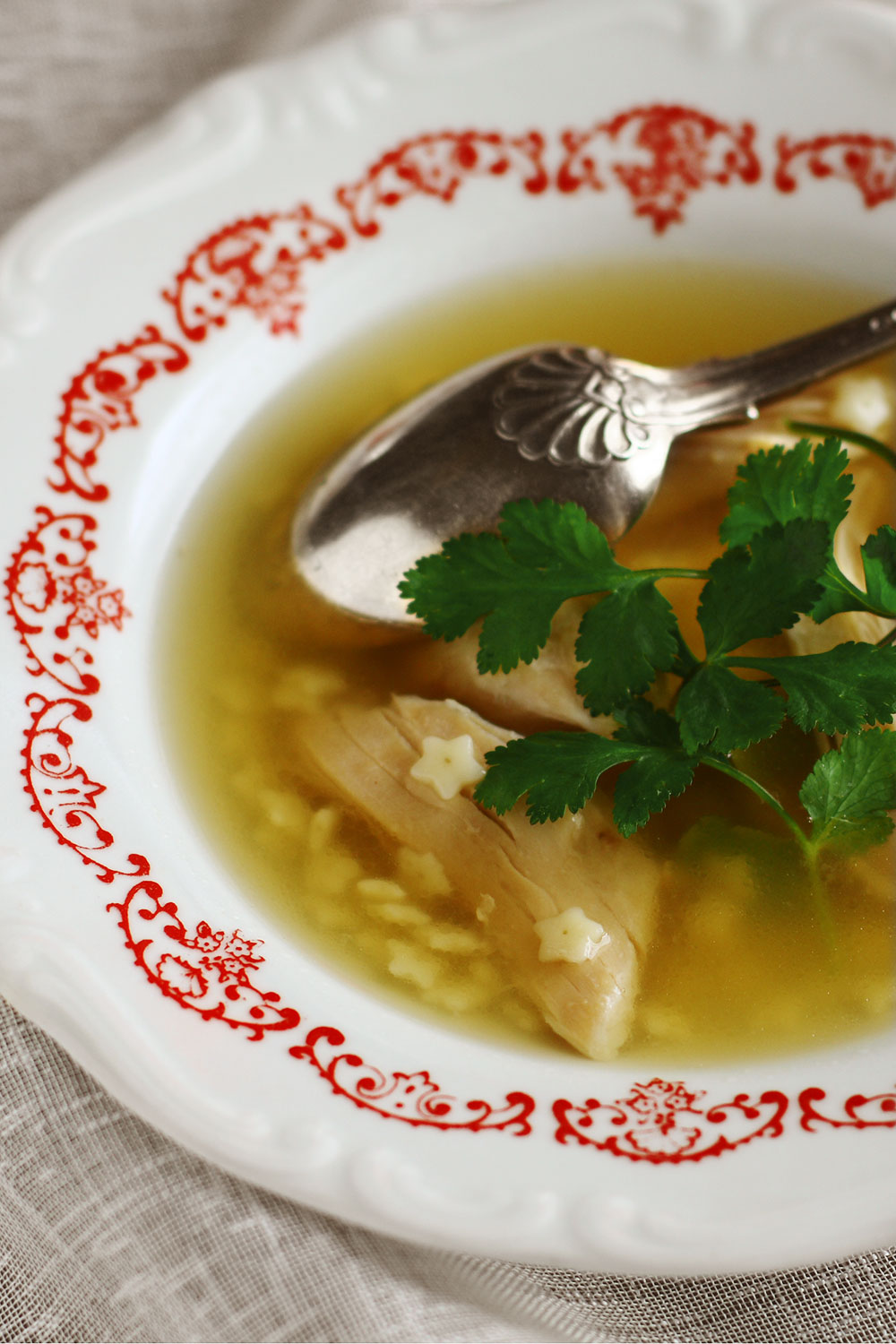 I prepare my chicken soup in a pressure cooker to extract every bit of goodness from the chicken bones. I always use leg quarters with back bones attached and fresh ginger for its heavenly aroma.
Once the soup is strained and the fat removed, I then add half a cup of Stelline (star-shaped pasta) together with the chicken pieces and garnish with a couple twigs of cilantro.
If you don't own a pressure cooker, you can also prepare it in a large pot. Make sure to adjust the cooking time (I'd say an extra 20-40 minutes depending on the toughness of the bird).
Enjoy!
CHICKEN SOUP WITH STELLINE
Ingredients
3 chicken leg quarters with back bones
5 slices of fresh ginger
10-15 black peppercorns
8-10 twigs cilantro (reserve half of it for garnish)
1 large onion, peeled and halved
2 large carrots, peeled and quartered
2 large potatoes, peeled and quartered
3 leeks, quartered
2 garlic cloves
2 tbsp sea salt (or 1 tbsp table salt)
6 cups of water
1/2 cup Stelline (star-shaped pasta)
Method
Place all the ingredients except Stelline and half of the cilantro twigs into a pressure cooker, seal and bring to full pressure over high heat (approximately 15 minutes). Reduce heat to medium high and cook for 30 minutes.
Remove pressure cooker from heat; use quick-release following manufacturer's instructions or allow pressure to drop on its own.
Open pressure cooker, strain the broth into another pot and let cool.
Discard the vegetables. Remove meat from the chicken parts and reserve (discard skin and bones).
To remove the fat from the broth immediately, pass it through a coffee filter.
Otherwise, cover the pot and place it in your refrigerator for at least 3 hours (overnight is best). As the liquid cools, the fat will rise to the surface. Remove your soup from refrigerator. All of the fat will have risen to the top of the pot and will have solidified. Scrape fat off of the surface with a spoon; either discard or freeze for later use (I saute my vegetables with it).
Once the fat is removed, place the pot over medium high heat, add the reserved chicken meat and Stelline and cook the soup for another 10 minutes.
Serve hot, garnished with a couple twigs of cilantro.