Artichoke with peas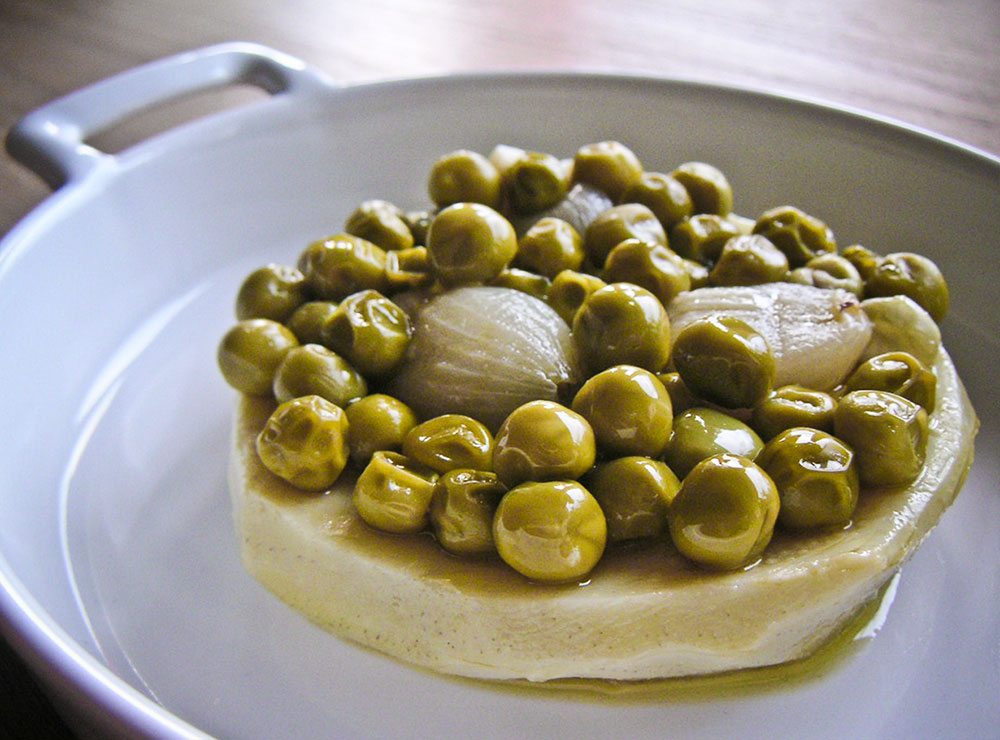 Artichoke in olive oil is a traditional Turkish appetizer. It has many variations when it comes to the topping, such as potatoes & carrots, broad beans & dill or as in my case: Peas.
This is one of those vegetable dishes, which I hated eating growing up as a child and started treasuring it in my 20s.
BRAISED ARTICHOKE with PEAS
Ingredients
4 artichokes
1+1/2 cup fresh peas
1/2 cup extra virgin olive oil
12 shallots
4-6 cups boiling water
1 teaspoon sea salt
3 teaspoons granulated sugar
2 lemons
Method
Cut the stalks off the artichokes, remove all the tough outer leaves and trim until you reach the tender heart. Rub with lemon all over.
In a bowl mix 3 cups of tap water and juice of a lemon. Place the rubbed artichokes in this liquid and set aside.
Cook the shallots in olive oil until transparent, add the peas, salt, sugar, juice of 1 lemon and 4 cups of boiling water. After simmering for 10 minutes, add the artichokes facing down and continue cooking on medium low heat until the artichokes are tender (30-45 minutes; add more boiling water as necessary).
Let cool in the same pot with the lid on. Serve room temperature or cold.
Note: Always use a stainless-steel knife and a stainless-steel pot. Iron or aluminum will turn the artichokes to an unappetizing color.
Comments