Were you looking for a refreshing lemonade recipe to cool you down this summer? Look no further. With humidity at 85%, it was the perfect drink this weekend at The Mansion while we played cards under the shade. It was also very appreciated as we munched our way through the brunch table at Vera's.
The mint I've used for this lemonade is no ordinary kind. I first noticed this mint in a salad my mom served at a dinner party. It looked and tasted nothing like the mint I was used to. The leaves are much smaller and crunchier than the ordinary kind and the smell is stronger. Upon further investigation, I've learned that it wasn't store bought; it was plucked fresh from my father's mini garden at our balcony. A week later, I had my own pot of mint. And a month later, now, I have enough mint to prepare mint lemonades all summer long!
Later I've also learned that this variety is called Chocolate Mint! Ha! No wonder I liked it so much. By the way, that name is no coincidence. When you pluck a leaf from the stalk, it does smell like chocolate. You'd have to smell it to believe it.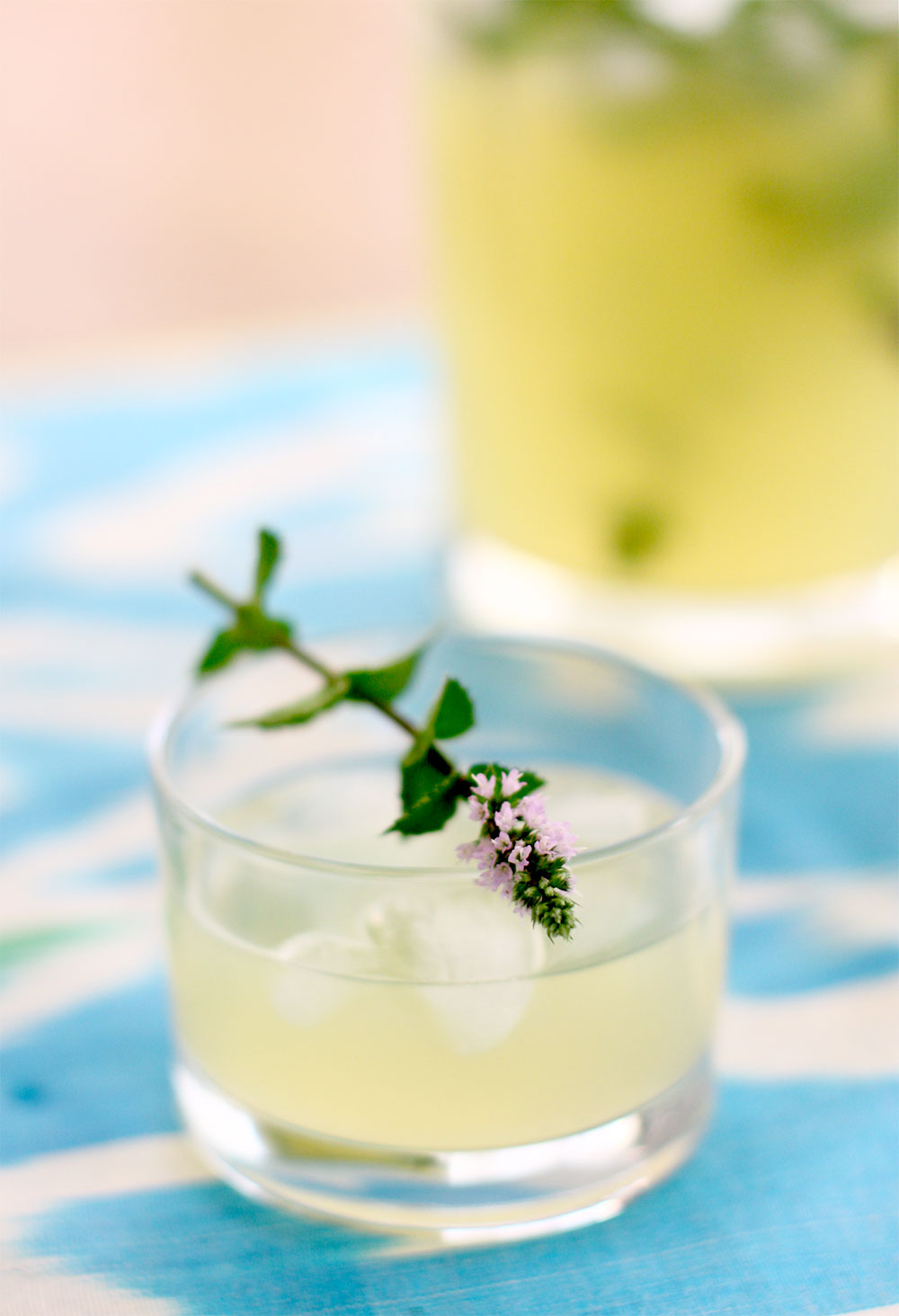 With or without Chocolate Mint, this lemonade is delicious. All you need to do is prepare a lemon syrup flavored with a bunch of mint, bottle it and keep in your refrigerator. Then you're good to go whenever you crave a glass of ice-cold lemonade.
MINT LEMONADE RECIPE
Adapted from Gourmet, July 2007
Ingredients
Yields about 6 cups
2 cups Mint Lemon Syrup (recipe below)
2 cups cold water
2 cups ice cubes
1 ¼ cups fresh lemon juice
Method
Stir together all ingredients in a large pitcher, then pour into glasses half-filled with ice.
MINT LEMON SYRUP RECIPE
Ingredients
Yields 2+1/2 cups
2 cups packed fresh mint sprigs
2 cups water
1 cup granulated sugar
Zest of 3 lemons
Method
Bring water, sugar and lemon zest to a boil in a medium saucepan, stirring until sugar is dissolved.
Remove from the heat, add the mint, stir to combine, and let stand at room temperature, covered, for 1 hour.
Strain the syrup through a sieve into an airtight container, pressing hard on and then discarding the solids.
The syrup will keep, covered and chilled, for five days.