Back in October, I embarked upon a 2-month-long adventure: Baking for Pure by Cuppa – the cafe/juicebar inside Harvey Nichols İstanbul (while holding my full-time job, I must add).
In our first meeting with the managers, they asked me to come up with a cookie that has a fairly long shelf life. What better than Biscotti, I thought. Also, to our knowledge, there were not any other coffee shops that sold Biscottis, so we thought it was spot on.
The turnover was much higher than anticipated. Even tough we didn't need a cookie with a long shelf life any more, Biscottis stayed on the menu and quickly became the best-selling item.
I tested many recipes for these Biscottis and came up with the following, which is a combination of many recipes. Since I don't bake for the cafe anymore, I can safely share the recipe. Hope you like it.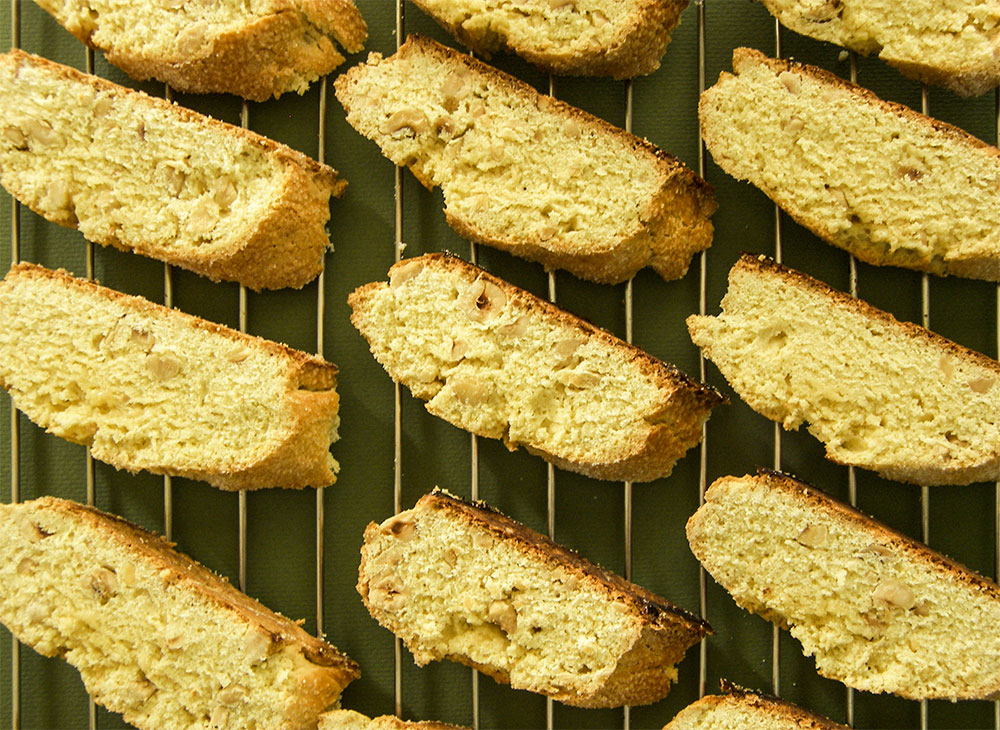 By the way, baking them on a wire rack the second time around makes them extra crunchy.
HAZELNUT BISCOTTI RECIPE
Ingredients
3 cups all-purpose flour
1 cup hazelnuts, chopped
1 cup sugar (plus more for sprinkling)
4 eggs
4 tbsp butter (at room temperature)
2 tsp baking powder
1/4 tsp salt
2 tsp pure vanilla extract
Method
Preheat your oven to 375 F. Line a baking tray with parchment paper and set aside.
Sift together flour, baking powder and salt.
In the bowl of an electric mixer fitted with the paddle attachment, beat butter for 2 minutes. Add sugar and beat on medium speed until light and fluffy. Add 3 eggs, one at a time and beat until incorporated. Add vanilla. Add flour mixture and mix until combined. Add the hazelnuts.
Flour your hands (the dough is quite sticky) and turn out dough onto a lightly floured surface. Cut in half and shape each into a 16 by 2 inch log. Place them onto the baking tray and flatten them slightly.
Lightly beat the remaining egg and brush the logs. Sprinkle generously with sugar. Bake the logs, rotating tray half way through for 25 minutes. Transfer the logs onto a cutting board and let cool for 20-30 minutes.
Reduce the oven temperature to 300 F. Cut the logs crosswise to half an inch thick slices. Place on a wire rack and bake for 30 minutes.