This is a moist, dense and rich carrot cake, studded with toasted walnuts and sweet coconut.
It is so delicious on its own, I didn't want to overshadow the perfectly balanced slices with the classic cream cheese frosting. A simple dusting of powdered sugar is what it only needs.
I've worked very hard for this carrot cake recipe. And so did the readers of my Turkish blog. I published this recipe four months ago and baked it three more times since then, based on the feedback I've got from readers. It was great at the beginning and now it's phenomenal.
Plus, it is so simple to make. You don't even need a mixer for this. Dry ingredients into one bowl, moist ingredients in the other. Mix them, pour the batter into your pan and that's it. You are done.
My starting point was the carrot cake recipe from Shirley O. Corriher's amazing book Bakewise, which I can't seem to put down since the day I bought it. I'm sure you wouldn't be surprised to hear that the chemistry behind baking fascinates me. And this book is all about that – the hows and whys of successful baking.
As for the carrot cake, I must say I've made significant changes to her recipe. The thing is, it was too moist and too sweet for my readers' taste. I didn't notice at the beginning, but baking the same cake with half the oil and sugar with a couple of tweaks to the dry ingredients proved their point.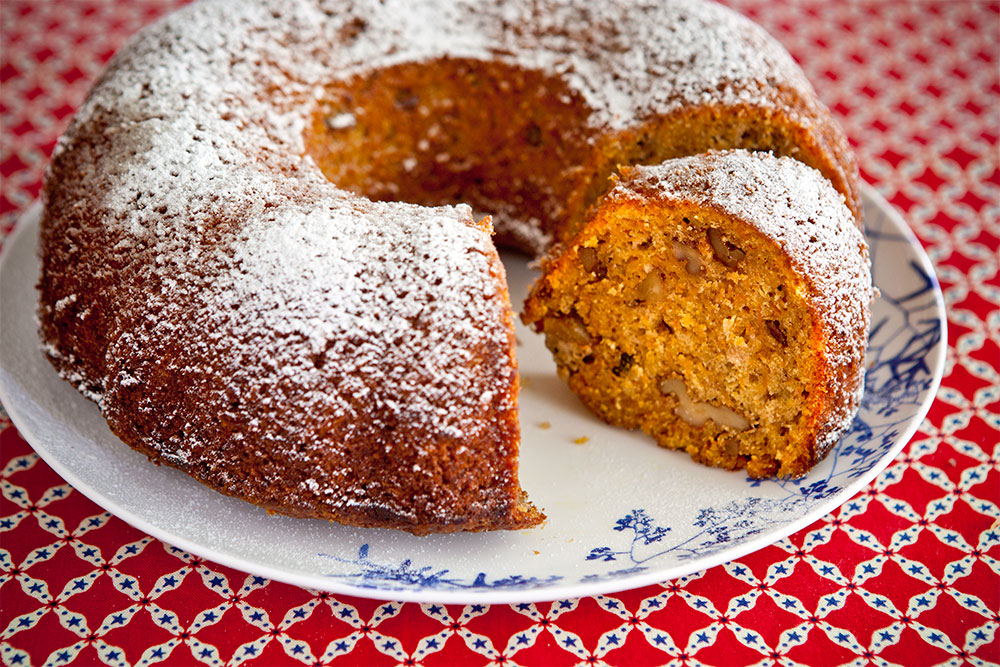 My addition of sweetened shredded coconut provides a tropical twist and blends in nicely with the rest of the spices. So don't skip.
Hope you like it as much as I do.
MOIST AND GOLDEN CARROT CAKE RECIPE
Recipe adapted from "Bakewise" by Shirley Corriher.
Ingredients
2 cups all-purpose flour
1+1/2 tsp baking powder
1 tsp baking soda
1/2 tsp salt
1+3/4 tsp ground cinnamon
Pinch of grated nutmeg
4 tbsp sweetened shredded coconut
4 large eggs
3/4 cup white sugar
1/2 cup light brown sugar
3/4 cup grapeseed oil (or canola oil)
3/4 pounds finely grated raw carrots (about 2+1/2 cups)
5 ounces walnut halves, toasted and chopped
1 tsp butter, for the Bundt cake pan
1/4 cup powdered sugar, for serving
Method
Preheat your oven to 350 F (170 C) and place a rack in the center of the oven. Butter a 9-inch Bundt cake pan and set aside.
In a large mixing bowl, whisk together the flour, baking soda, baking powder, salt, shredded coconut and ground cinnamon. Set aside.
In another mixing bowl, whisk together the eggs with the sugars until the batter is thick and light colored.
Add the oil and whisk to combine.
Add the flour mixture and stir just until incorporated.
With a large rubber spatula fold in the grated carrots and chopped nuts. Pour the batter into the Bundt pan and bake for 50 minutes or until a toothpick inserted in the center comes out clean.
Remove from the oven and let cool on a wire rack. After about 5 -10 minutes invert the cake onto a serving platter.
Right before serving, dust with powdered sugar.