I never would have thought one day I'd visit Paris, come back and tell you about a place that serves chocolate mousse in plastic cups.
But I really am going to. And please don't leave. Hear me out first. Here's how it happened:
Paris/Day 2/Noon/Hotel Room – We are dropping off morning's treasures and about to head out.
Friend: "I am so hungry. Let's grab a quick bite around the hotel and then we'll start exploring the chocolate shops, OK?"
Me: "There aren't any nice places around the hotel for lunch. Besides, we have to go to Cuisine de Bar, I've heard they have the best tartines. They even pour a welcome glass of wine if the wait is long!". But he insists. "Are you sure we can't have lunch somewhere closer? I really have to eat something now!"
I look at my map and go "My Paris map says no." You should have seen the look in my friend's face. I guess my riff on Carol Beer's catchphrase was to blame. So I shut up and we start looking for a place around the hotel to grab a quick bite.
Hunger makes you do strange things. Like choosing the first place you see for lunch without studying their menu or reading any reviews online! But luck was on our side and the place didn't turn out so bad. I am talking about Cojean.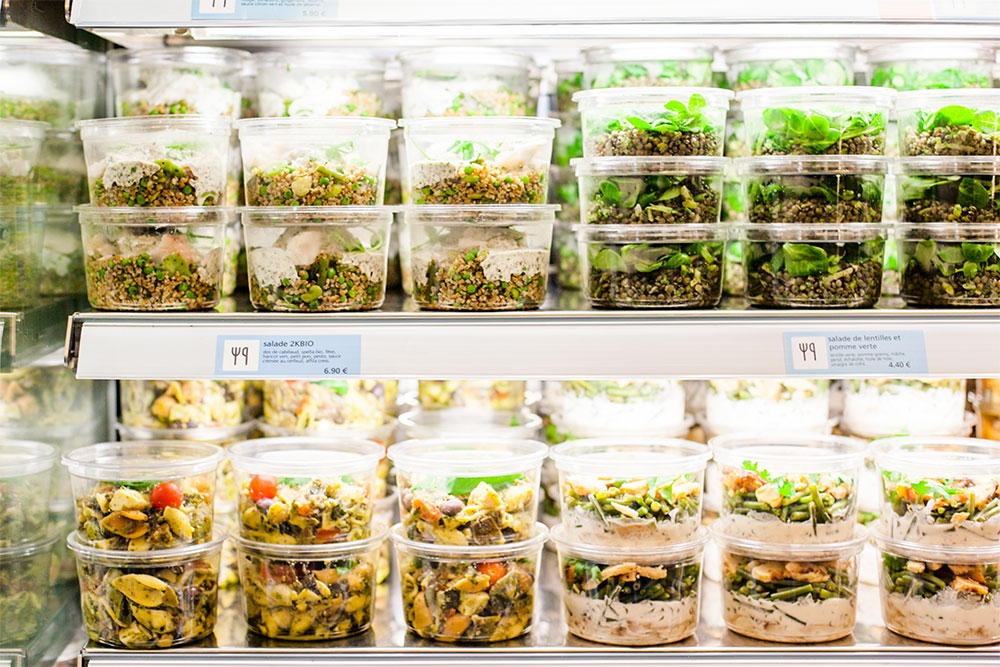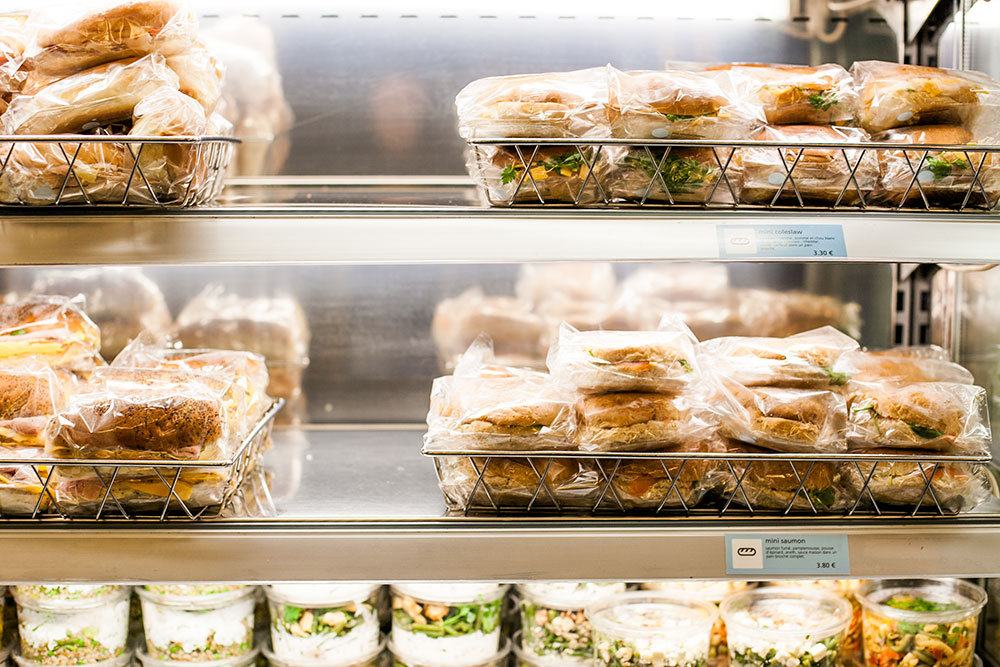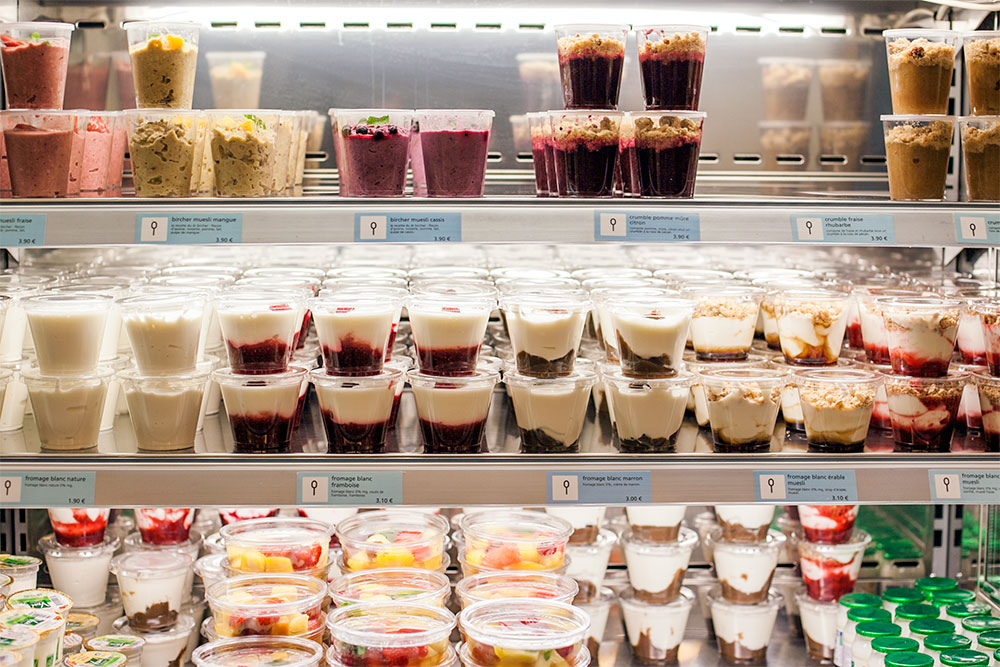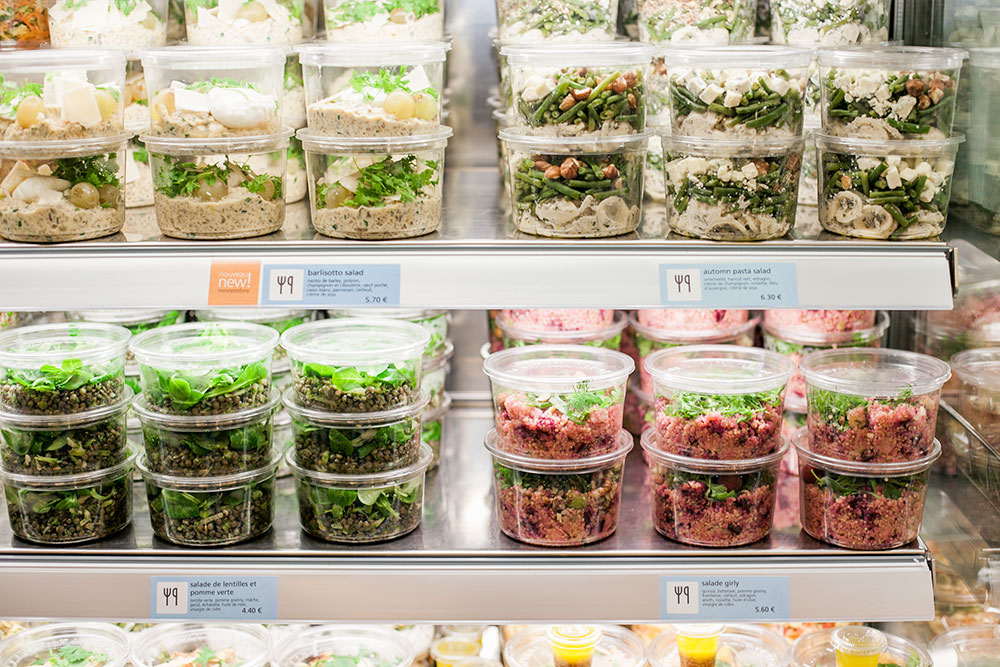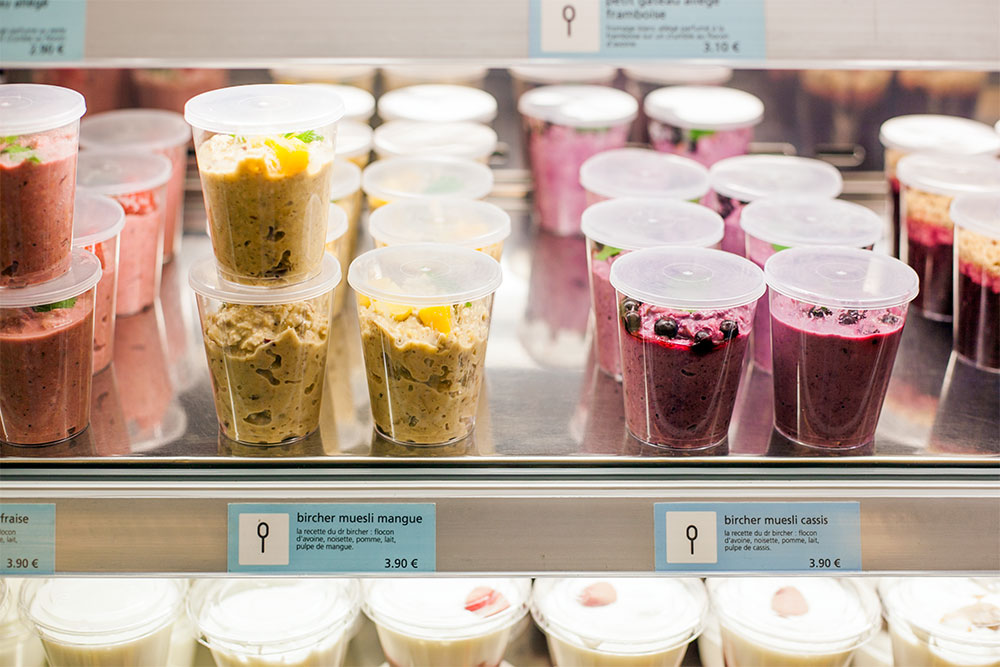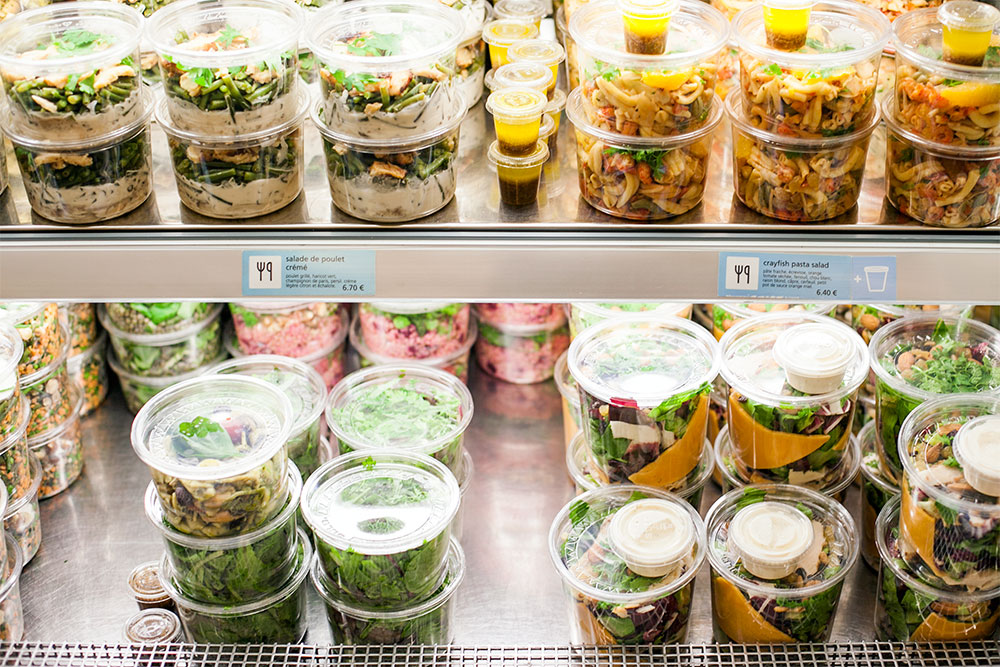 As you can see, they have a huge variety of salads, sandwiches, desserts and other breakfast items – all served in plastic containers.
I wasn't interested in the pre-packaged sandwiches, so I ordered one of the daily specials: Turkey and Cheddar sandwich. I had my eye on the carrot salad with sesame seeds and ordered the Wasabi soup as well.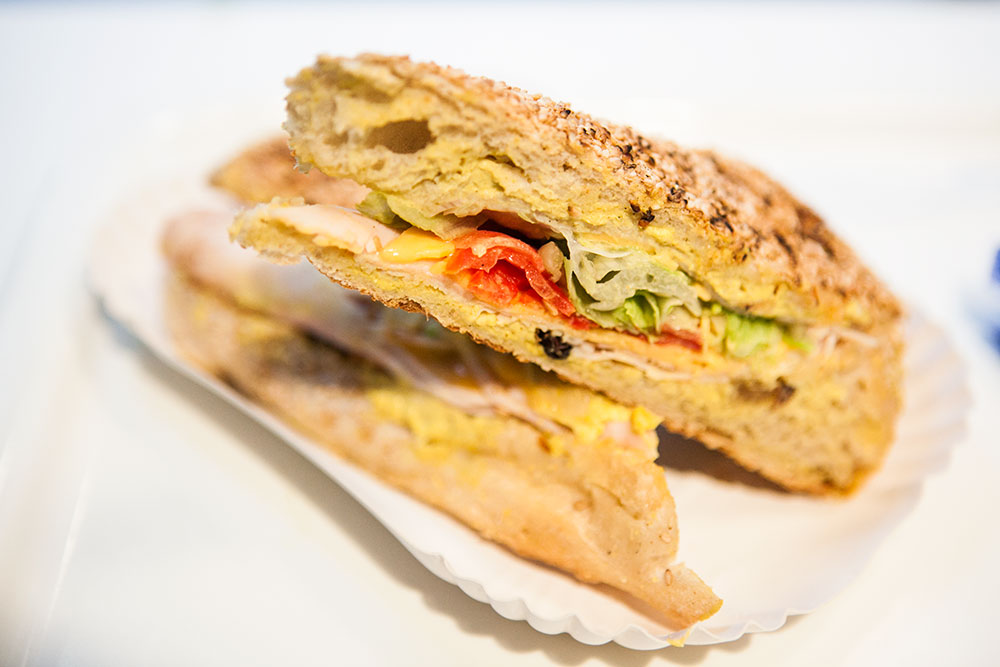 Everything I ate was spectacular. Especially the sandwich. The bread was dotted with various grains, still crunchy, the Cheddar cheese had melted smoothly and the lettuce in the sandwich was still crisp.
The service was great, too.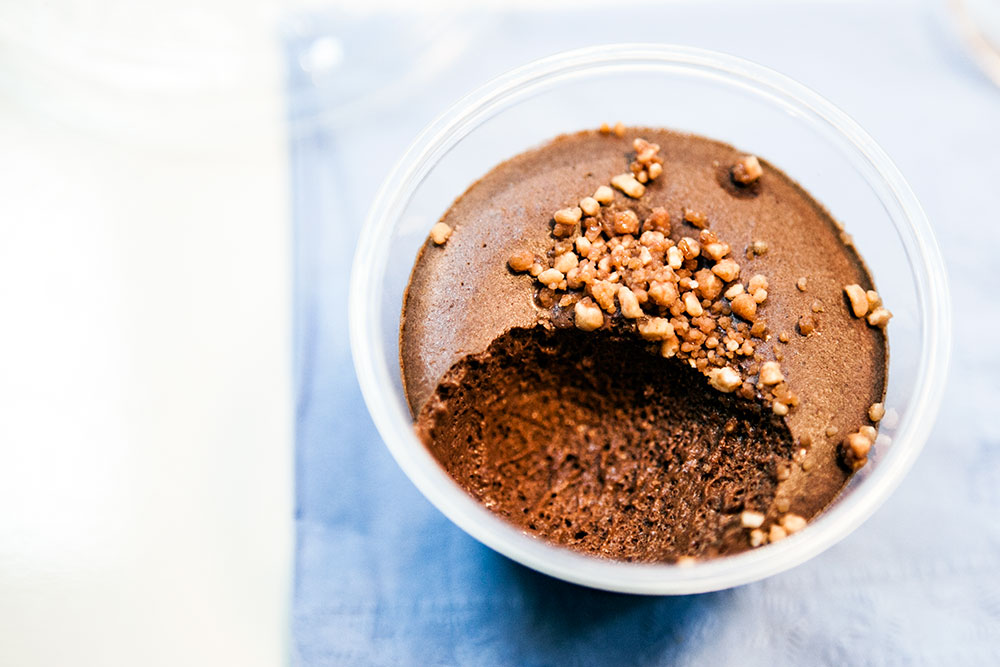 Our sandwiches were maybe 5 minutes late and without us asking, one of the staff brought a card with our order, apologized for the wait and said the coffees were on the house.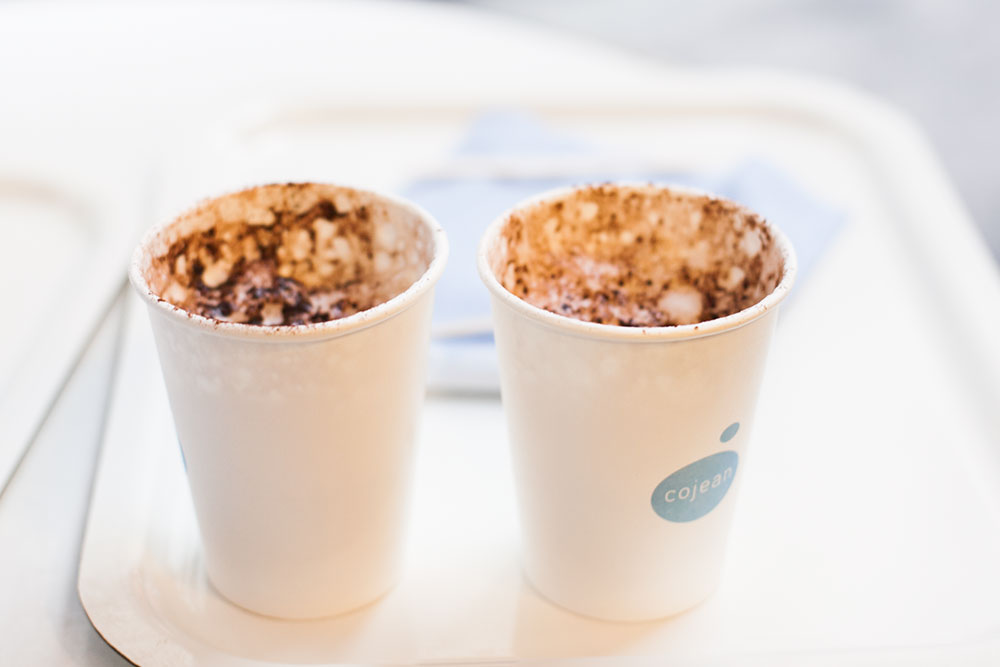 I am still not saying this is not a place to miss when you visit Paris, but just keep in mind that even though they serve chocolate mousse in a plastic cup, they do it with a huge smile. And it tastes pretty good, too.
You can find the list of Cojean branches here.
La Maison de la Truffe
The initial plan was to spend 5 nights in Paris, but once we started getting to know the city, we quickly realized that we should do everything in our power to add more days to our trip. We wanted to extend for another week, but our visas said no.
With only 3 more days added to our trip, there was no way I could have visited every place on my map, but I still wanted to try.
We walked day and night. Unfortunately, the caramels wear out around 7 PM, so when it was dinner time, the logical thing to do was looking for places to eat around the hotel.
I think it was the third night. We were walking around the hotel to find a place and saw a huge line in front of a restaurant. Then I turned around and saw an empty restaurant across the street. Now, I know how foolish it is to go into an empty restaurant, but we were tired, very hungry and had no patience to wait in line.
And boy were we glad we did. Turns out the restaurant (didn't even bother to look at the sign before we entered) belonged to a family, who were one of the oldest brokers of truffles in France.
And guess what? It was their opening day and we were their first customers. And actually, the only ones without a reservation. The front of the house told us it was their opening night and that they were expecting a flood of guests soon, but they simply could not turn down their first customer ever. They seated us next to the window and we started reading the menu.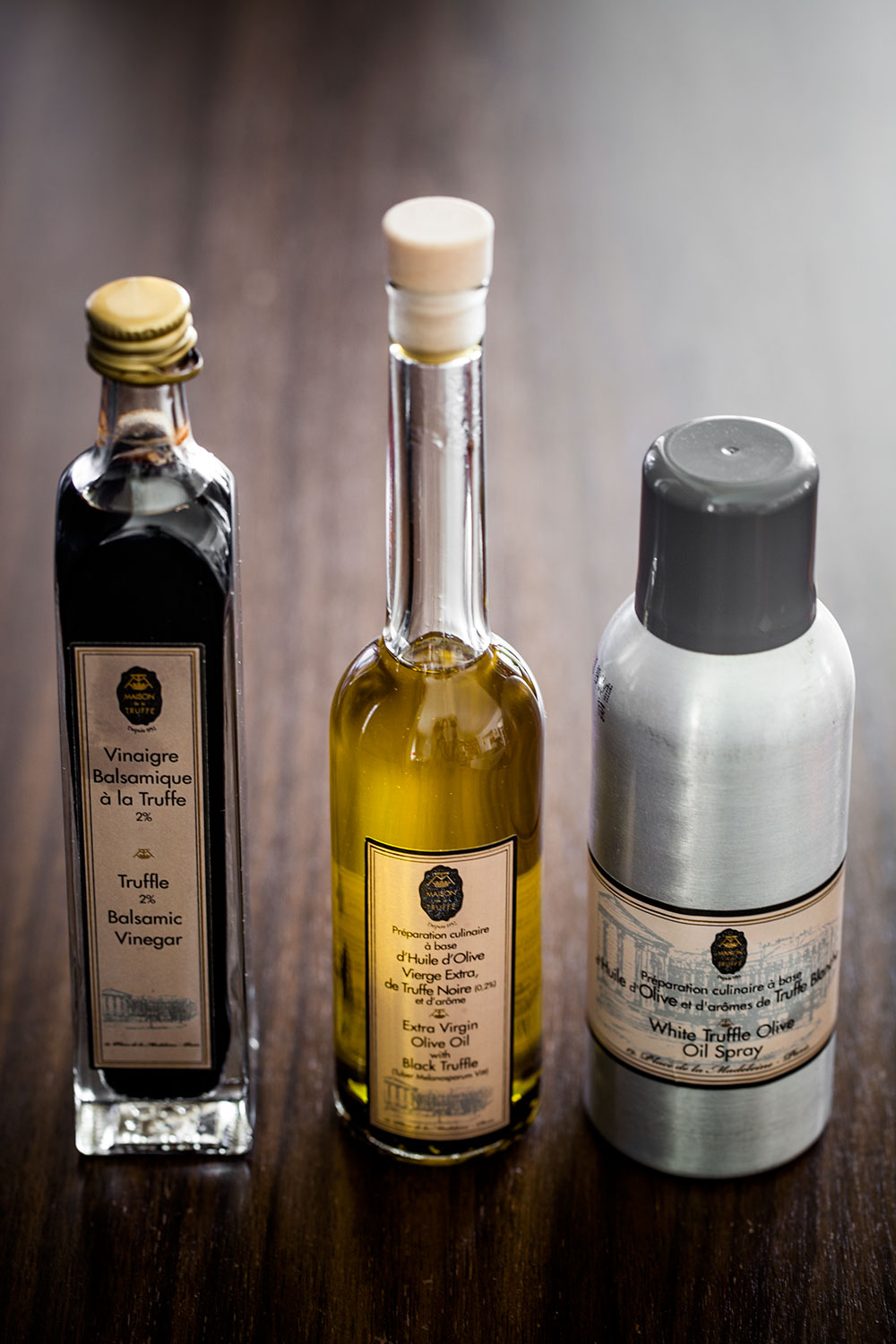 Wish I had my camera with me to show you all the wonderful things we ate. We started with a salad with Burgundy truffles and Parmesan, which was the only dish that wasn't memorable. The most successful ones were the sauteed bass with a black truffle caviar sauce and the black truffle Taglietelle. The menu is created to highlight their truffle varieties, so expect them in everything – from the Creme Brulee to the chocolates served with coffee.
They also have a small shop at the front selling a variety of truffles and truffle products, such as olive oil, vinegar, pasta, risotto, cheese, sauces and condiments. The white truffle olive oil in the spray bottle is the perfect gift.
LA MAISON DE LA TRUFFE
14 rue Marbeuf, 75008 Paris
Tel: (33) 01 53 57 41 00
19 place de la Madeleine, 75008 Paris
Tel: (33) 01 42 65 53 22
L'Avenue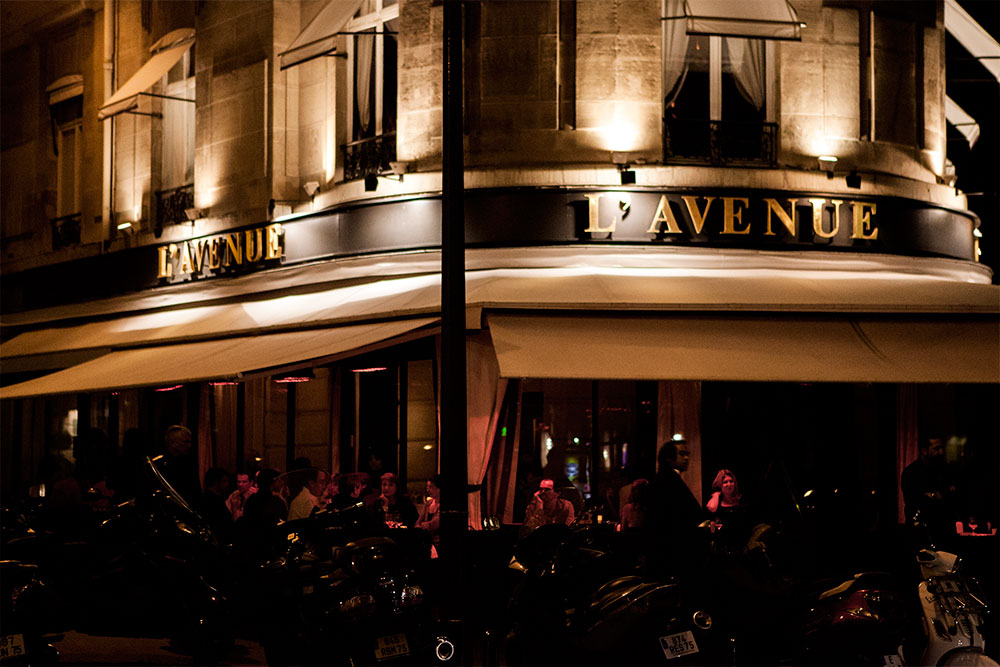 Here's another great restaurant close to our hotel: L'Avenue. Everything we ate was first class. The tomato juice was balanced so perfectly, my friend had to order a second because I decided to steal it after a sip. It was dark and all the photos I took have this red hue from the heaters above, so again, I'm sorry but I really can't show.
Here's what I enjoyed the most: Avocado with nut oil and bio cider vinegar, Crab Napoleon served between two discs of lemony mushrooms and my favorite, sweet and sour Mandarina duck.
L'AVENUE
41 avenue Montaigne, 75008 Paris
Tel: (33) 01 40 70 14 91
Le Relais de l'Entrecote
My biggest disappointment in Paris. A couple of years ago, I had a fantastic dinner with friends at their Geneva branch, so I didn't even hesitate before I went in.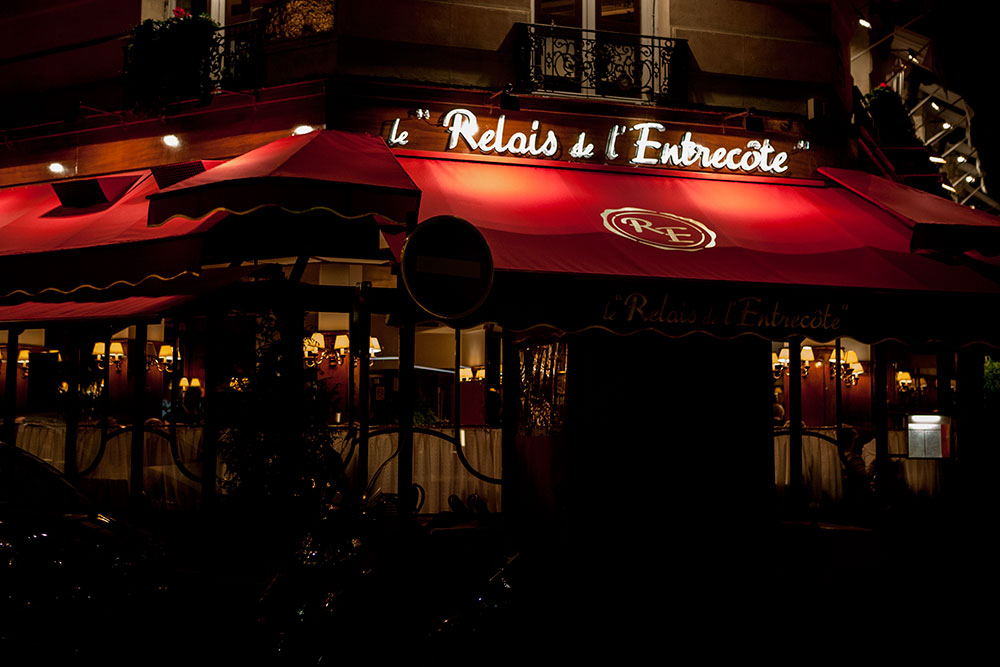 But the salad was soggy..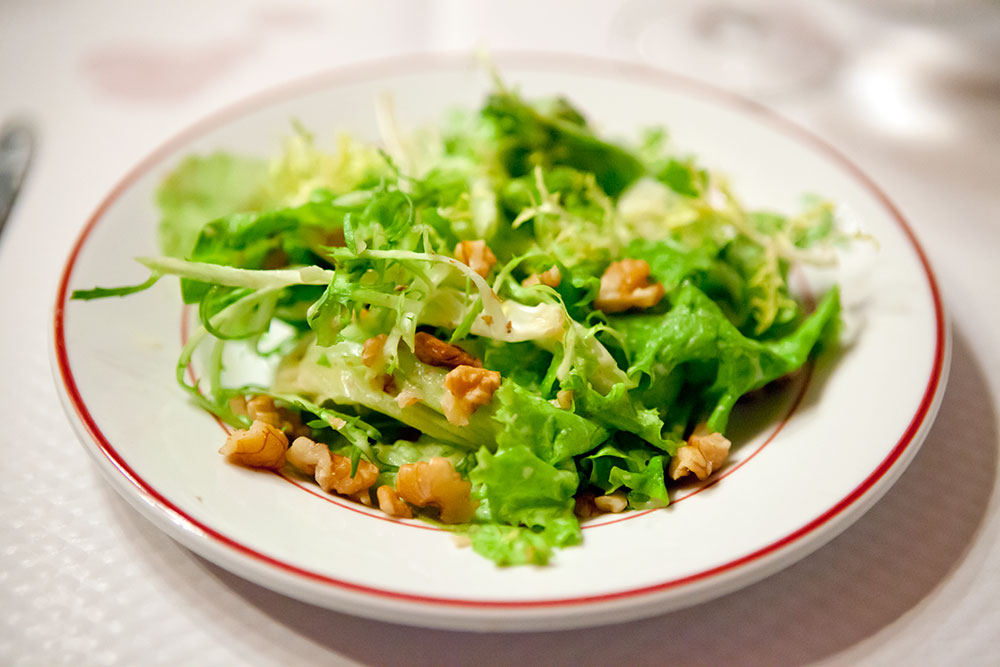 … the fries were cold and their signature sauce had so much lemon juice it was almost inedible.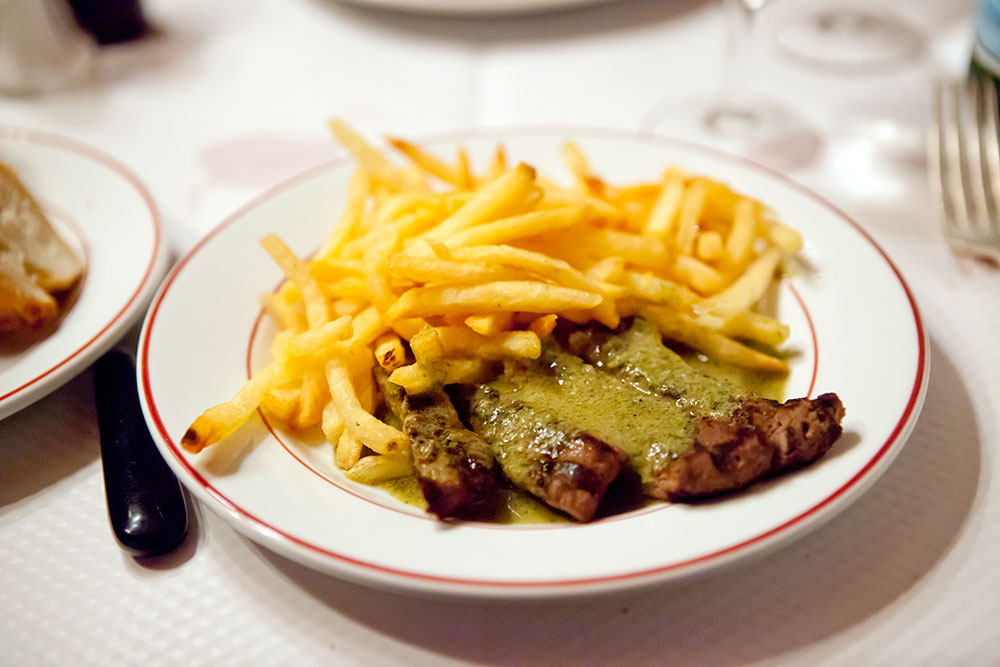 And that's pretty much the whole menu, so I didn't even bother sending them back. I'll say it again: Hunger makes you do strange things.
Mariage Freres
This is where I bought the Tahitian vanilla I used for the Passion Fruit, Mango and Chocolate Cake – the plumpest, moistest and most fragrant vanilla pods ever. But don't go there just for the vanilla; they have an amazing selection of teas.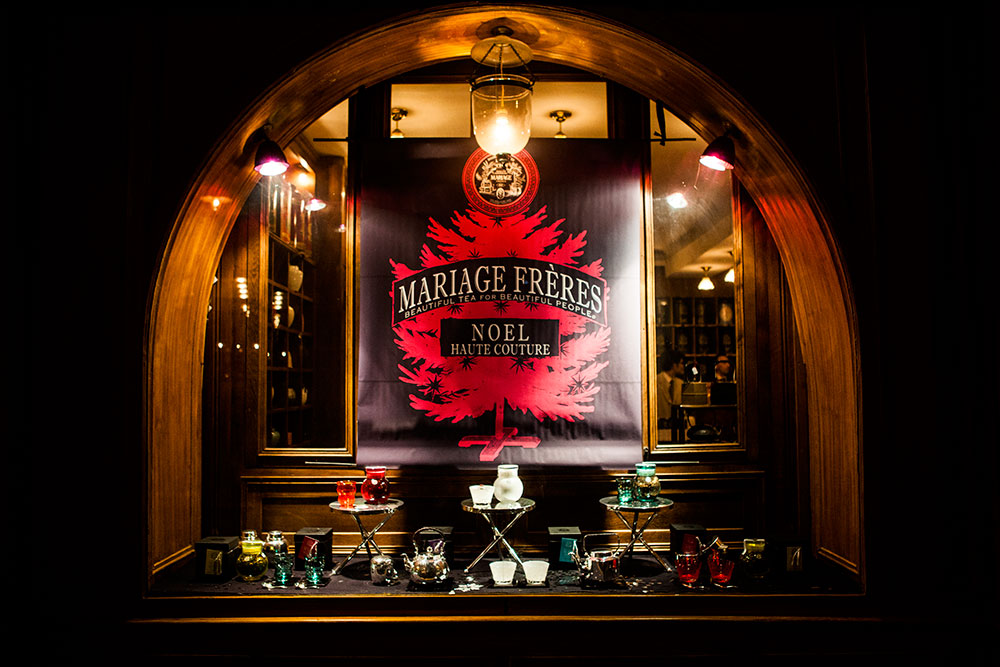 It is quite hard to choose from a variety of over 500 teas, so here's what I bought (and highly recommend): Casablanca (black tea with mint and bergamot), Russian Star (fruity green tea), Happy Valley Grand Cru Darjeeling, Rouge d'Automne (red tea with candied chestnut fragrance), Sakura Blanc (white tea with cherry blossom flavor).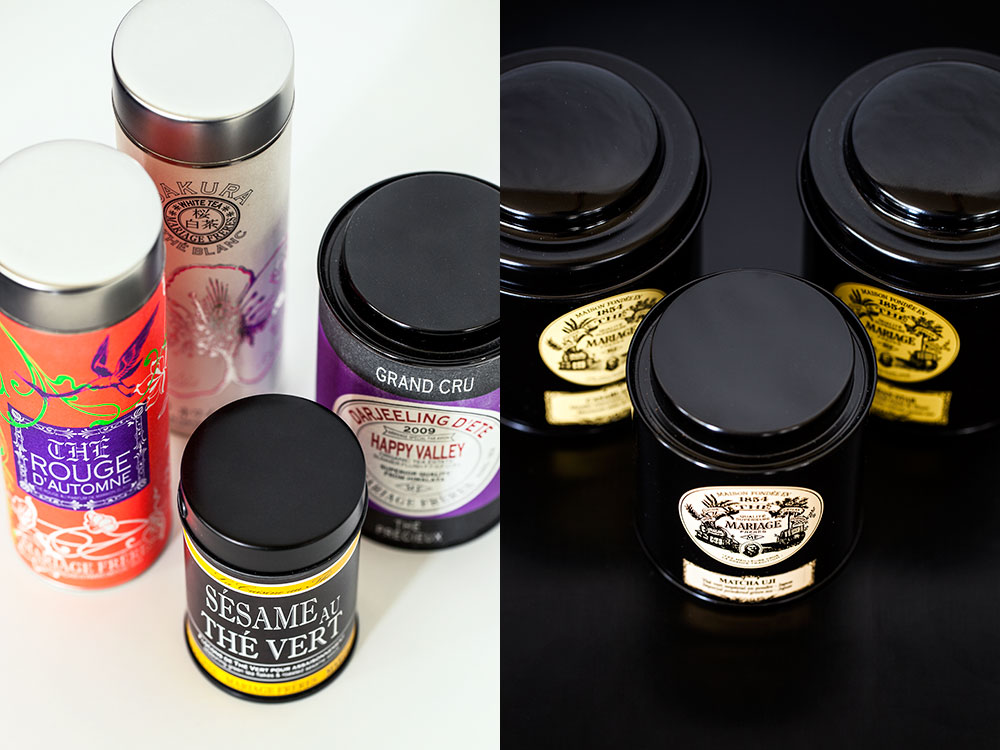 I also bought matcha powder and a small box of seasoning that has green tea flakes and roasted sesame seeds.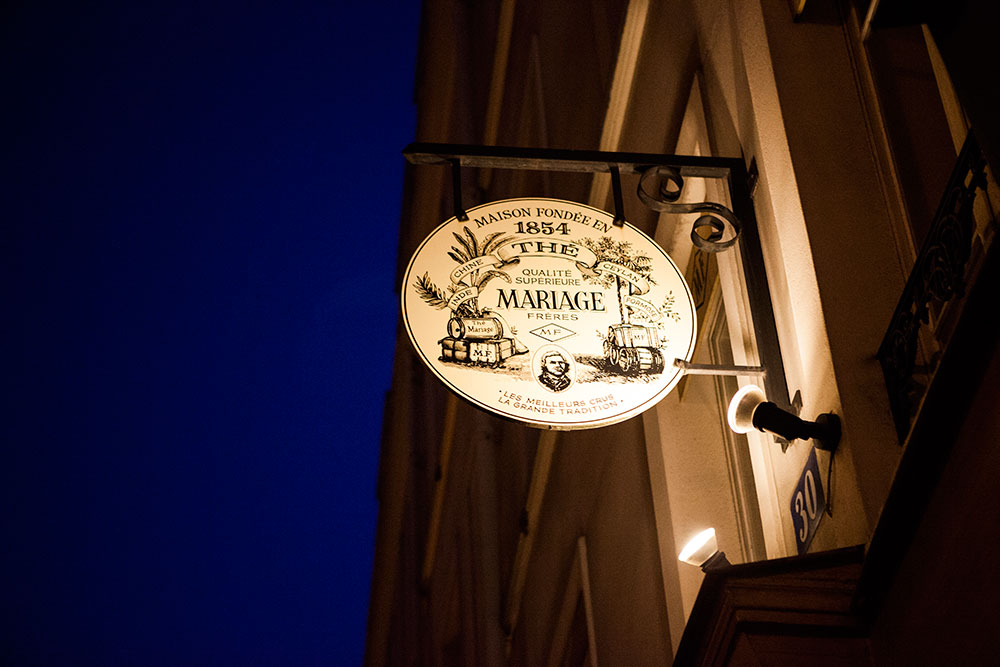 MARIAGE FRÈRES
30 rue du Bourg-Tibourg, 75004 Paris
Tel: (33) 01 42 72 28 11
Cuisinophilie
Right next to Mariage Freres is this cute little shop Cuisinophilie, where you can find vintage kitchenware such as bowls, eggbeaters, cookie jars and glass milk bottles.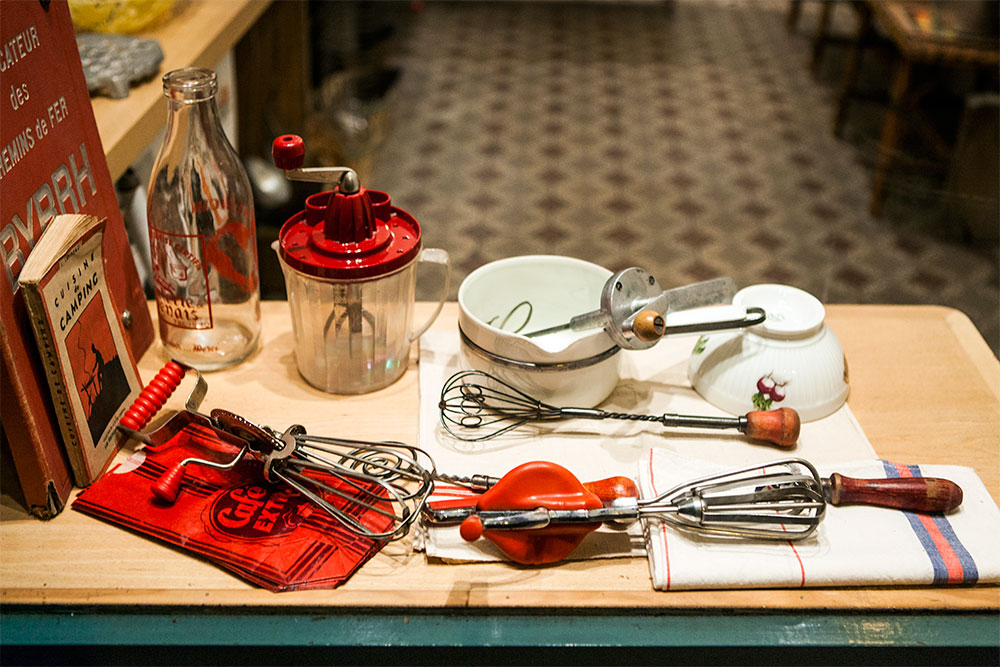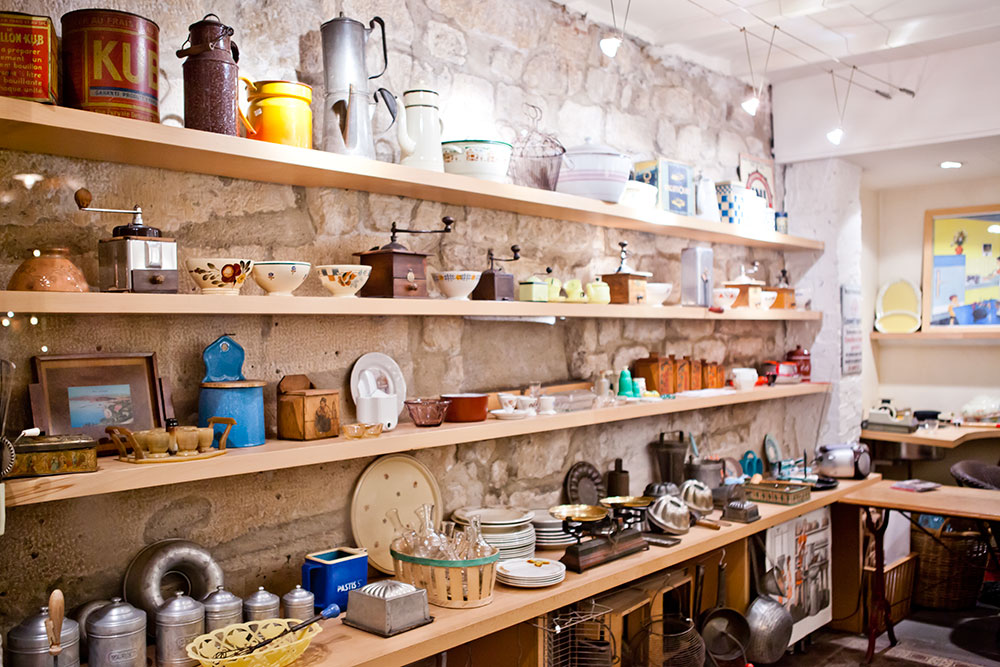 The prices are much higher than in Marché aux Puces St-Ouen de Clignancourt and Puces de Vanves, but in case you have limited days in Paris, you might want to check it out. Plus, it never hurts to look.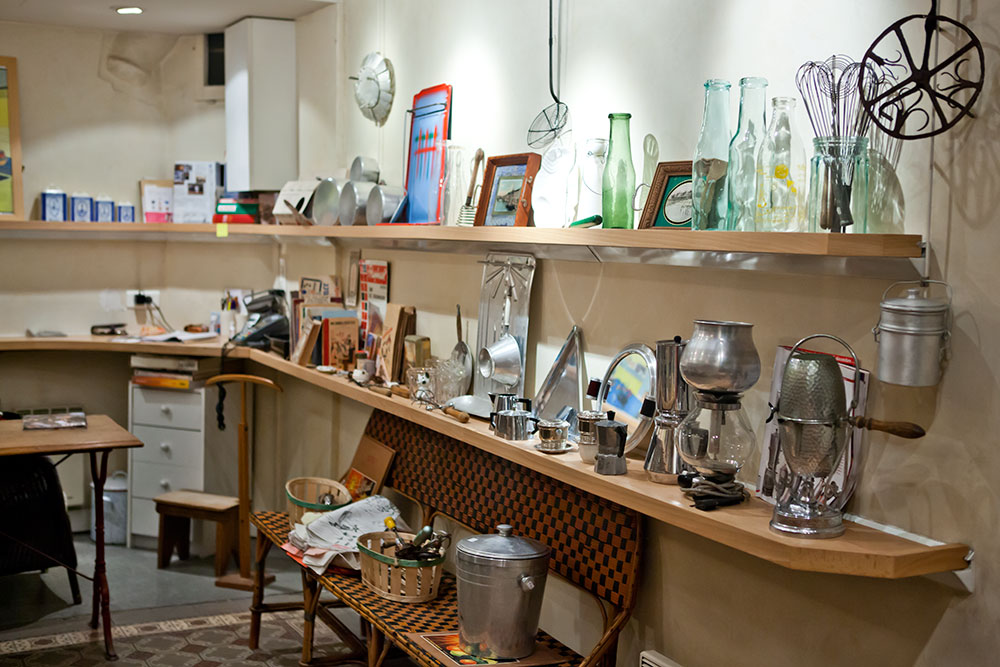 CUISINOPHILIE
28 rue du Bourg-Tibourg, 75004 Paris
Tel: (33) 01 40 29 07 32
(CLOSED for good)
L'As du Falafel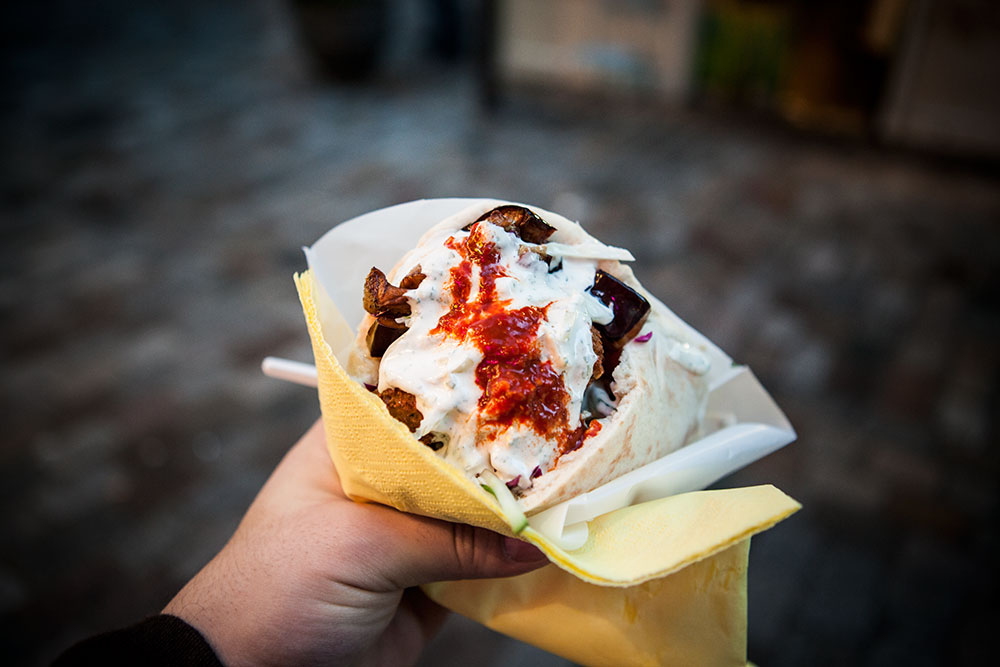 Another tasty stop at the Marais region: L'As du Falafel – possibly the most famous falafel joint in Paris. Crispy chickpea fritters served with lightly pickled red cabbage, fried eggplant, cucumbers, hummus, tahini and a dash of hot sauce. I can't say I am dreaming of it ever since, but I'll definitely stop by the next time I visit Paris.
L'AS DU FALAFEL
34 rue des Rosiers, 75004 Paris
Tel: (33) 01 48 87 63 60
Closed on Saturdays.
Au Petit Bonheur La Chance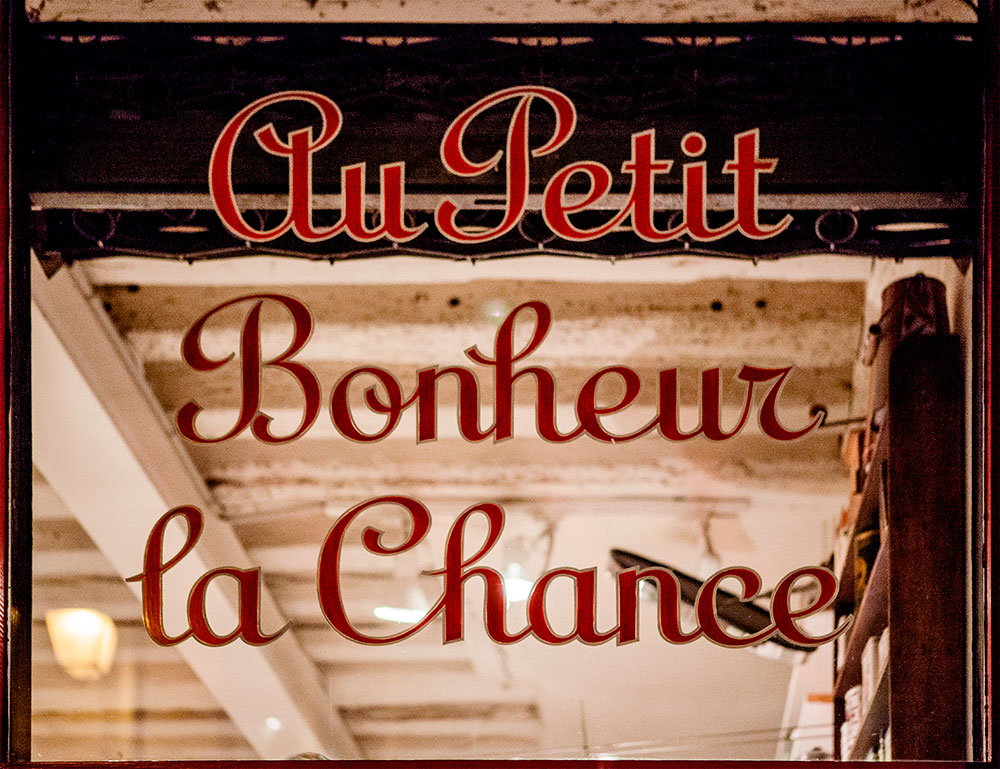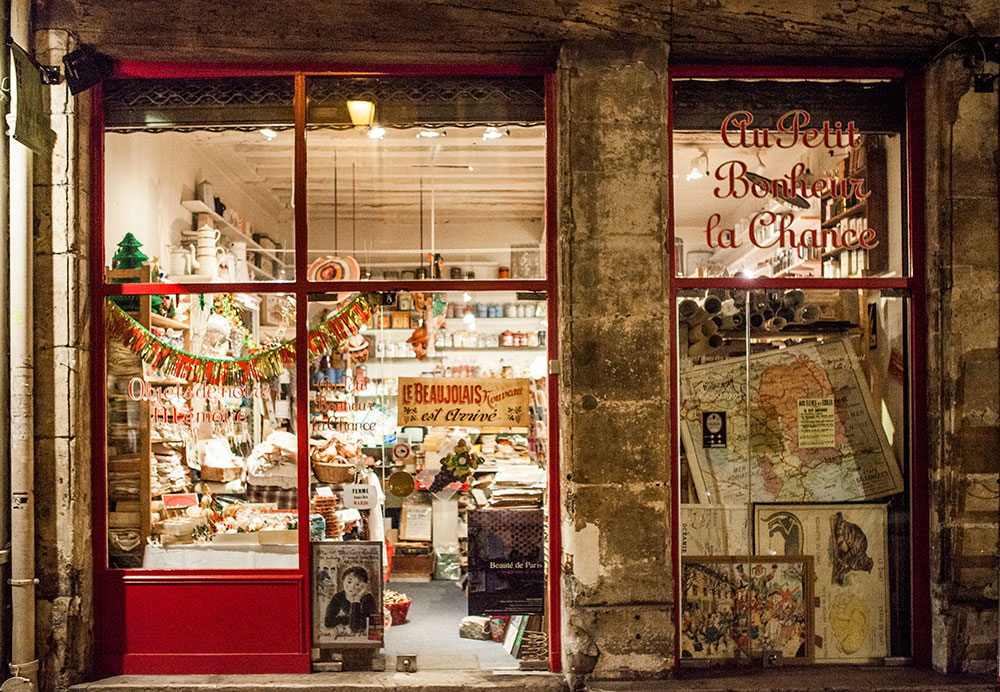 A tiny shop packed with vintage packaging, boxes, linens, buttons, bowls, posters and school supplies. It is almost impossible to navigate inside, but again, if you don't have time to visit the flea markets in Paris, this is the shop to visit.
AU PETIT BONHEUR LA CHANCE
13 rue St. Paul, 75004 Paris
Tel: (33) 01 42 74 36 38
Chez Omar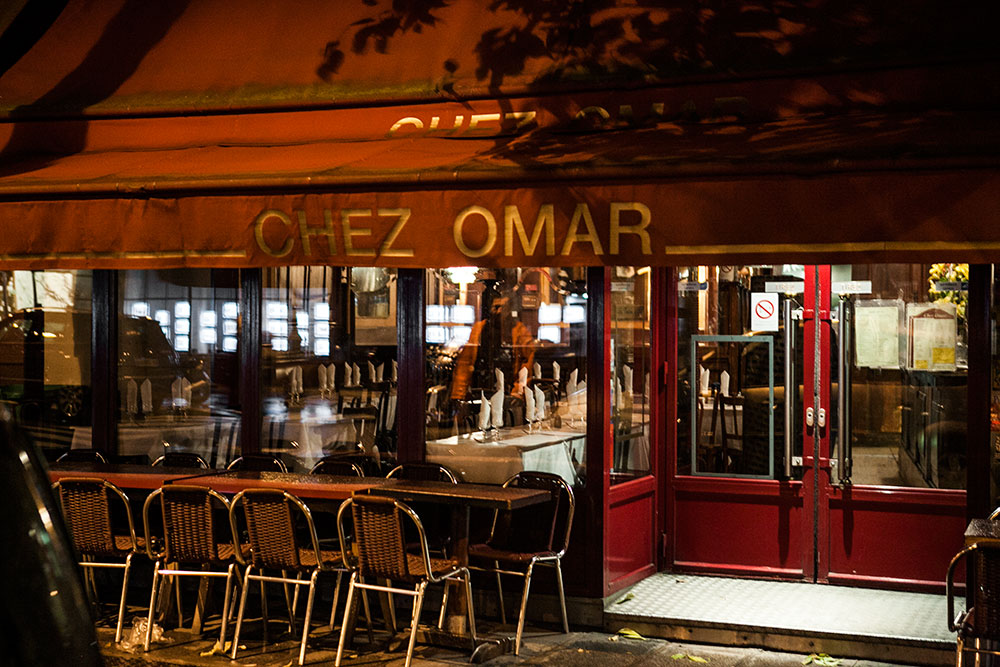 I definitely can't say the dinner at Chez Omar was a disappointment, but let's say I had high expectations and it just didn't live up to the hype.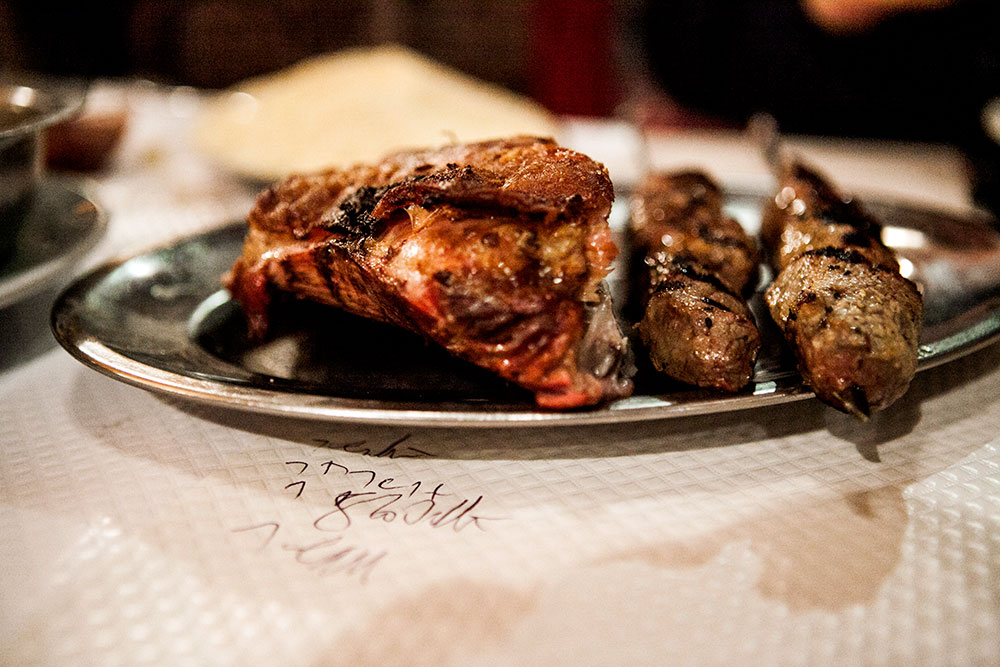 Probably because I've had the pleasure of eating at Beyti in Istanbul all my life and nothing comes close. I plan on doing an extensive post on Beyti (my favorite restaurant in Turkey) soon.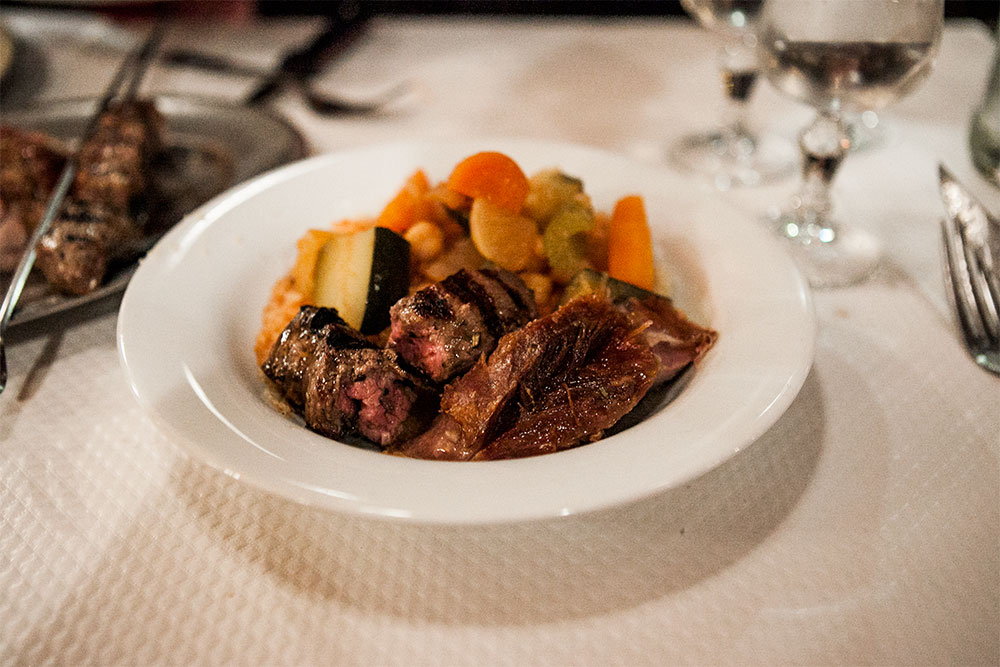 The meat was quite good, but I simply can't say the same for the vegetables and couscous served alongside.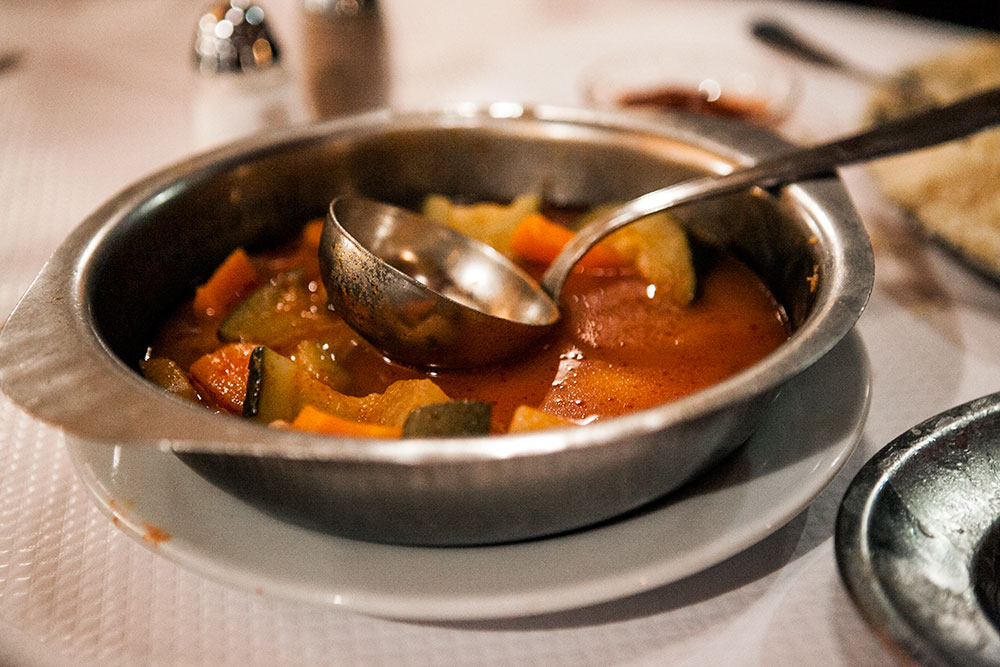 I might visit again, only if I happen to be in that neighborhood I must add, because I really want to taste this before making a final judgement. But considering how many places I've yet to see in Paris, that might not happen soon.
CHEZ OMAR
47 rue de Bretagne, 75003 Paris
Tel: (33) 01 42 72 36 26
More to come. Stay tuned.
Other Paris posts: