How I wish "applest" was a word. There really is no better way to describe this apple cake.
After considering several titles, some of which are bordering on outrageous, like "The Applest Apple Cake", "Ridiculously Appley Apple Cake", "Appleooza Cake", and the humble "Sweet & Sour Apple Bundt Cake", I've decided to name it Deeply Appley Apple Cake. And if you've ever tried Deeply Appley Apple Crumble from Nigel Slater's "Ripe", you'd know why.
If you haven't, allow me to clarify. Question: How many pounds of apples can you fit into a 9-inch Bundt cake, which weighs around 2.5 pounds straight from the oven? 1? 2?
Well, I'm proud to report that I've managed to fit 4.4 pounds of apples into this cake. And more importantly, I've managed to do that without sacrificing on texture – this is by far the lightest cake that has come out of my oven. Before I get into the how, let me take care of the why.
There is was this apple cake recipe in my archives. It looked fine and as far as I can remember, it tasted fine. I wouldn't have published it otherwise. But time and time again, readers who tried the recipe commented that they were not happy with the result. Most of the issues were minor, but one was something I just couldn't let go: The cake tasted nothing like apples. It had been quite a while since I had last posted a recipe, so as soon as I received that comment, I decided to push my book project aside for a while and set out to create an apple cake with the deepest apple flavor known to man.
The old recipe had a pound of cream cheese in the batter. A pound! I honestly don't know how that much cream cheese made its way into that batter. I wasn't going to let that happen this time and thought it would work infinitely better as a silky cream cheese frosting on top.
I macerated the shredded apples in sugar and spices, drained their juices, cooked the sweet apple juice until thick, let it cool and whipped it together with a pound of cream cheese. The result was fantastic. Silky-smooth cream cheese frosting with notes of cinnamon and allspice.
I didn't want to spend too much time developing a cake recipe from scratch, so I decided to adapt one of the cake recipes from the book. I played around with the ingredients, managed to incorporate about a pound of drained, shredded apples into the cake, baked it, frosted it, took a photo and finally had a taste.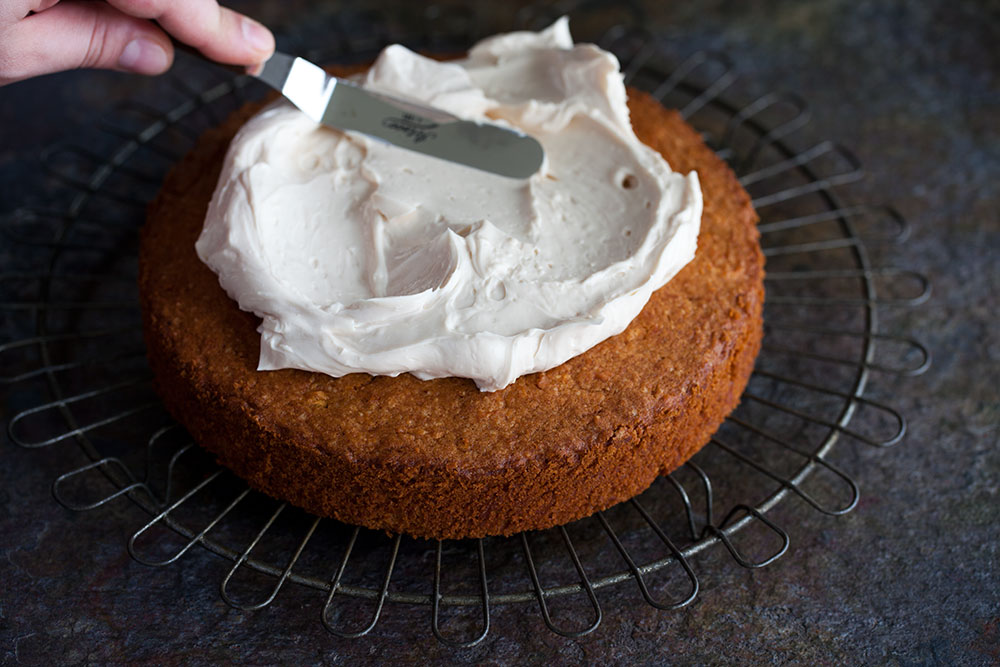 It was OK, but you certainly didn't feel like you were taking a stroll in an apple orchard with each bite. Not good enough to make up for the apple cake that tasted nothing like apples. All that work for nothing.
After another unsuccessful attempt, which isn't even worth mentioning, I gave up. It was taking much longer than I had anticipated and I had so many other pressing projects. A few days later, while I was editing a recipe for my book, I realized that the technique I've used to concentrate the flavor of another fruit in that recipe would work miracles for this apple cake as well.
And it did. Here's how: I started with 4.4 pounds of tart, tangy and firm red apples.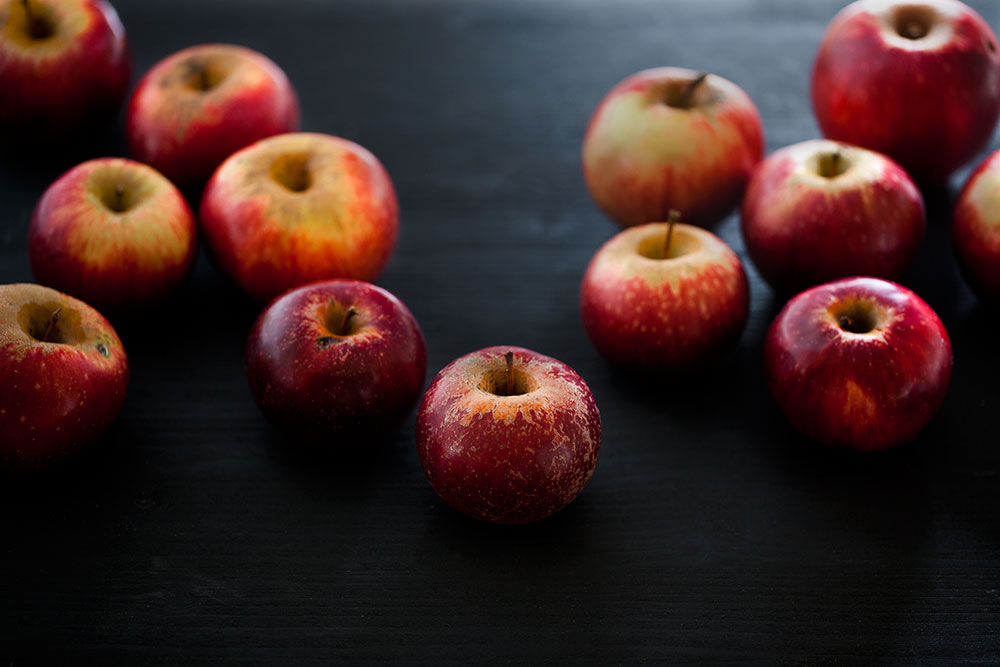 I peeled, quartered, cored, cut them into big chunks and baked them for an hour.
Then I pureed the baked apples, transferred it on a half sheet pan and baked it in the oven until it was reduced to a very thick puree.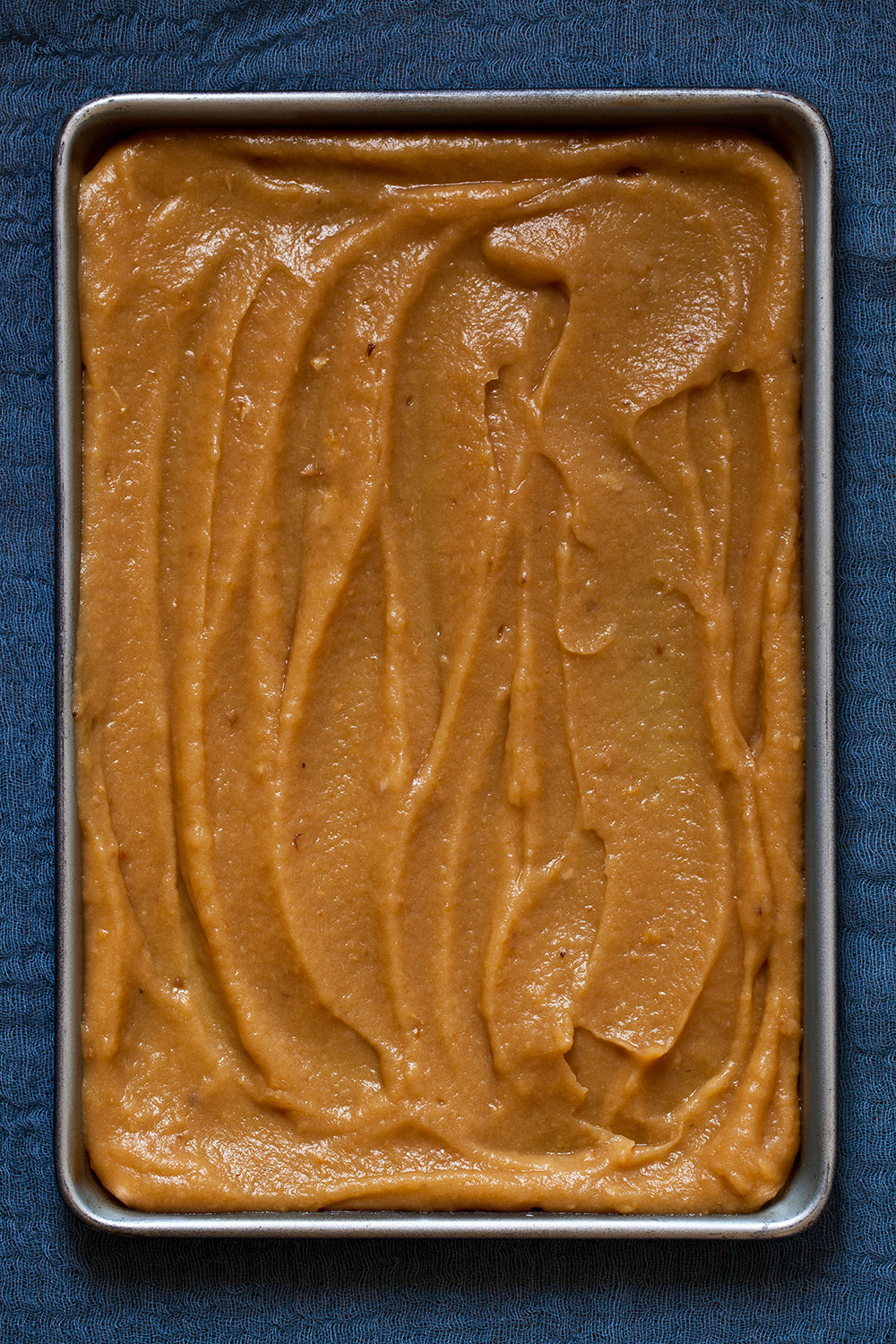 4.4 pounds of apples became a pound (about a cup and a half) of tart apple puree.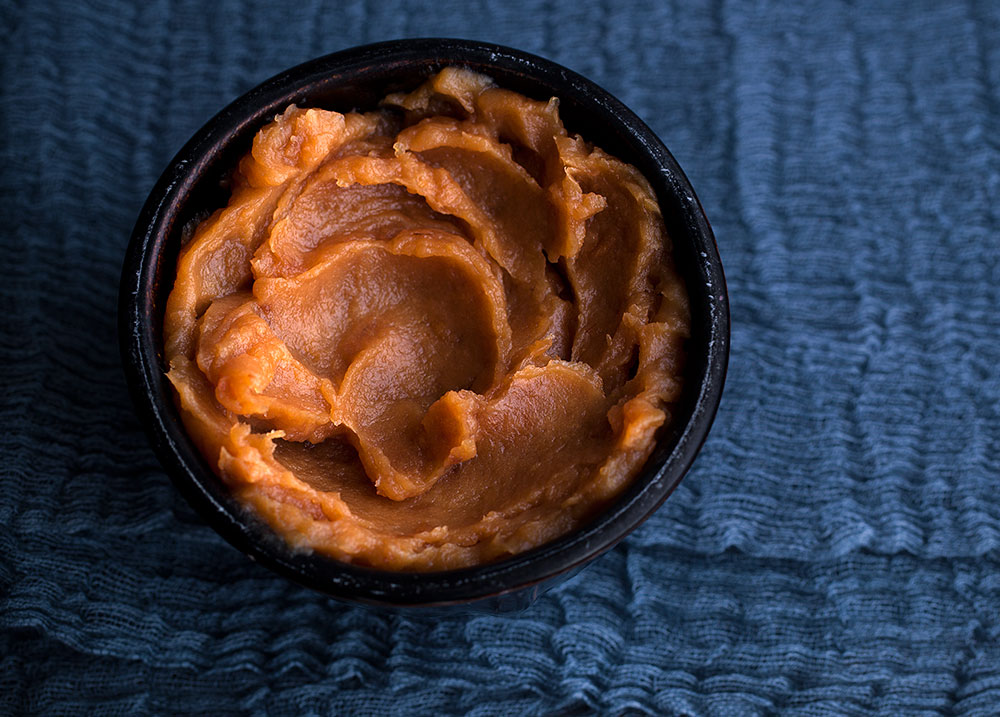 One thing to keep an eye on is the consistency of the reduced puree. The baking time will depend on the juiciness of the apples. I've used a variety called Arap kızı (Arabian girl), which is a tart, tangy and firm red apple. I've checked to see if a similar kind is available in other parts of the world and the closest one I've found is Winesap.  After almost an hour in the oven, the apple puree will become quite thick but it should still be soft enough to dissolve in the cake batter. If it's too thick, you may add a couple of tablespoons of water and puree with a blender to thin it.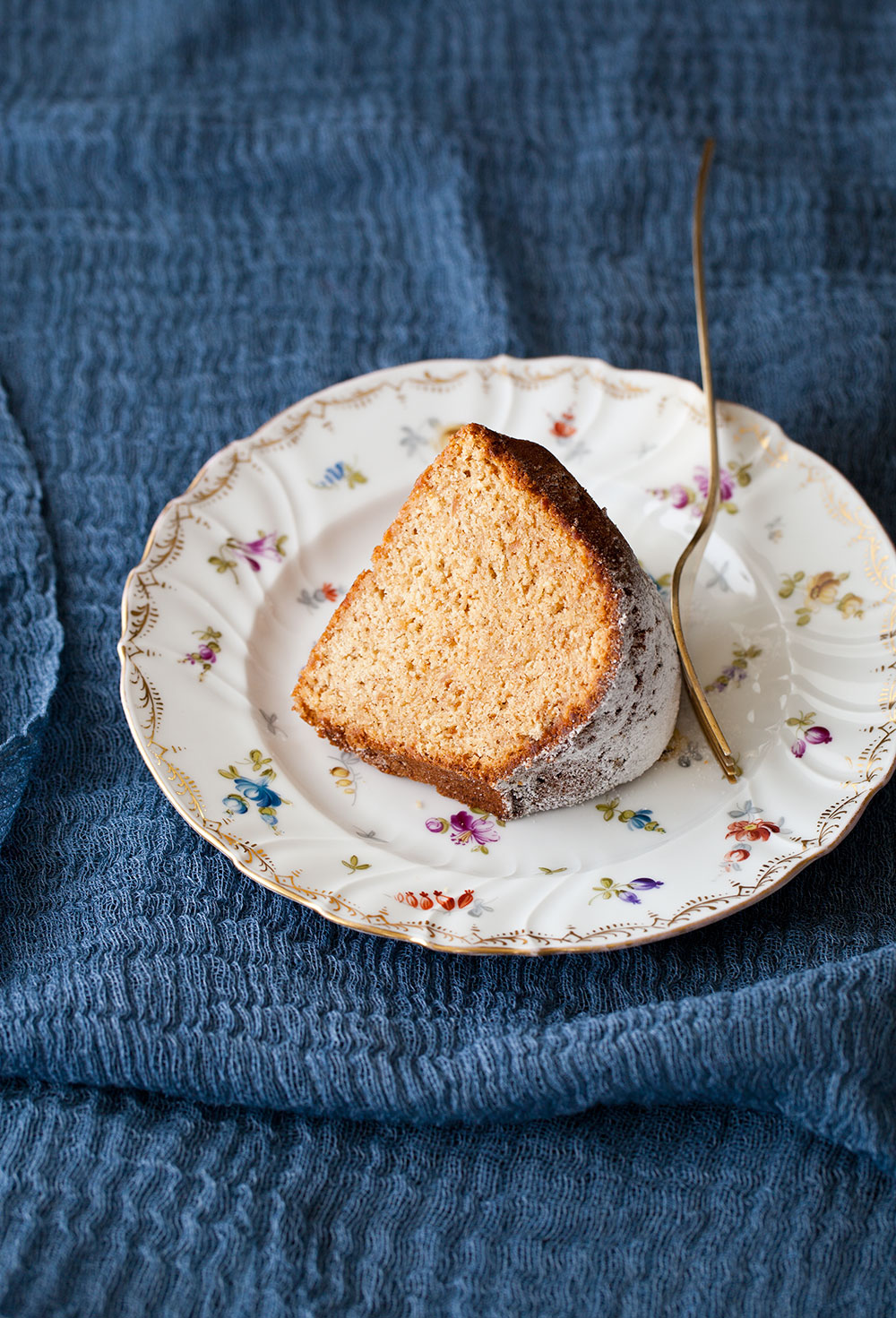 A friend who tasted it said: "I've never eaten anything like this before; it's like biting into an apple!" Mission accomplished.
DEEPLY APPLEY APPLE CAKE RECIPE
10-12 servings
Ingredients
For the apple puree:
4.4 pounds (2 kg) apples, preferably tart, tangy & firm, such as Winesap
For the cake:
2 cups (280 g) all-purpose flour
2 teaspoons (8 g) baking powder
1/2 teaspoon (3 g) baking soda
1/4 teaspoon (2 g) fine sea salt
1+3/4 sticks (200 g) butter, at room temperature
1,5 cups (300 g) granulated sugar
1 teaspoon (3 g) ground cinnamon
1/4 teaspoon (1 g) ground allspice
4 large eggs, at room temperature
1,5 cups (390 g) apple puree (recipe below)
To serve:
1 tablespoon (10 g) powdered sugar
Method
Preheat your oven to 350 F (180 C).
To prepare the apple puree, peel, quarter, core and cut the apples into large chunks, place on a parchment-lined baking tray and bake for an hour, stirring once after 30 minutes. Remove tray from oven. Drop oven temperature to 300 F/150 C.
Transfer baked apples into a mixing bowl and puree with a hand-held immersion blender until smooth. Transfer apple puree on a half sheet pan, smooth the top with a spatula and bake, stirring and smoothing every 15 minutes to prevent a crust to form on top, for 50-60 minutes, making sure it doesn't dry out completely. The puree will thicken but it should still be soft enough to dissolve in the cake batter. If it's too thick, you may add a couple of tablespoons of water and puree with a blender to thin it.
Remove tray from oven, transfer apple puree into a bowl and let cool. Increase oven temperature to 350F/180C. You'll have a bit over 1,5 cups (400-450 grams) of apple puree. Some of the puree will stick to the pan; fill it with hot water and let stand for a while for easy clean-up.
To prepare the cake, butter and flour a 10-cup (9-inch) Bundt pan and set aside.
In a medium bowl, whisk together flour, baking powder, baking soda and salt.
In the bowl of an electric mixer fitted with the paddle attachment, beat butter on medium speed until light and fluffy, for about 2 minutes. Add sugar, cinnamon and allspice and beat on medium speed for 3 more minutes, scraping down the sides with a spatula as necessary. Add eggs, one at a time, making sure each one is fully incorporated before adding the next. Add 1,5 cups (390 g) of the apple puree and beat until fully incorporated, for about a minute.
Stop the mixer, sift the flour mixture on top and beat on the lowest speed just until incorporated. Transfer batter into prepared pan, smooth the top with a spatula and bake until a toothpick inserted in the center of the cake comes out clean, 45-50 minutes.
Let it cool in the pan for 30 minutes, then turn out onto a rack to cool completely.
Dust with powdered sugar before serving. Wrapped airtight, the cake will keep at room temperature up to 3 days.