I have been celebrating the New Year's Eve at The Mansion for as long as I can remember. But last year, plans changed and at the very last minute, I found myself in Alaçatı – a small village far away from home.
We arrived the day before New Year's Eve and decided to check out a few of the antique shops in the village. As we reached the village center (a few steps from Vera's house) we couldn't believe our eyes. Apparently, 15.000 people were expected from neighbouring towns for the big night, so all the store owners in the village decided to convert their stores into small (and very loud) night clubs. So much for a quiet getaway.
Since spending the night outside with 15.000 strangers getting drunk was out of discussion, we decided to have an early dinner at Vera's favorite restaurant and planned for a quite night in front of their fireplace. Turns out we were not the only ones planning to eat out that night! Every restaurant in the village was fully booked. Shocked, we asked the owner if she'd be kind enough to reserve a turkey for us. Well, of course, we were not the only ones planning to eat turkey that night. Every single turkey they had was reserved. We begged and begged and ended up convincing her to share half a turkey and a few side dishes with us. Half a (small) bird was nowhere near enough for four, but you should have seen our dessert table!
This adventurous getaway reminded me of the salad Vera and I had prepared almost three years ago. Remember her Almodrote de Kalavasa? Right after Vera put it in the oven, she took one look at Yotam Ottolenghi's "Plenty" and instantly chose the Spicy Moroccan Carrot Salad as a side dish for the night. I don't remember the exact recipe, but I have been tossing hot carrots with warm, fragrant olive oil ever since.
Right when you start cooking the carrots in salted water, spices and olive oil go into a skillet and warmed until fragrant. By the time the carrots are done, the spices release their oils and that olive oil turns into a fragrant, spicy sauce.
You drain the carrots, toss with the spicy olive oil while still hot and wait for them to absorb all the spices.
I've added green lentils to make the salad even more substantial, and lots of fresh cilantro and thinly sliced scallions for freshness.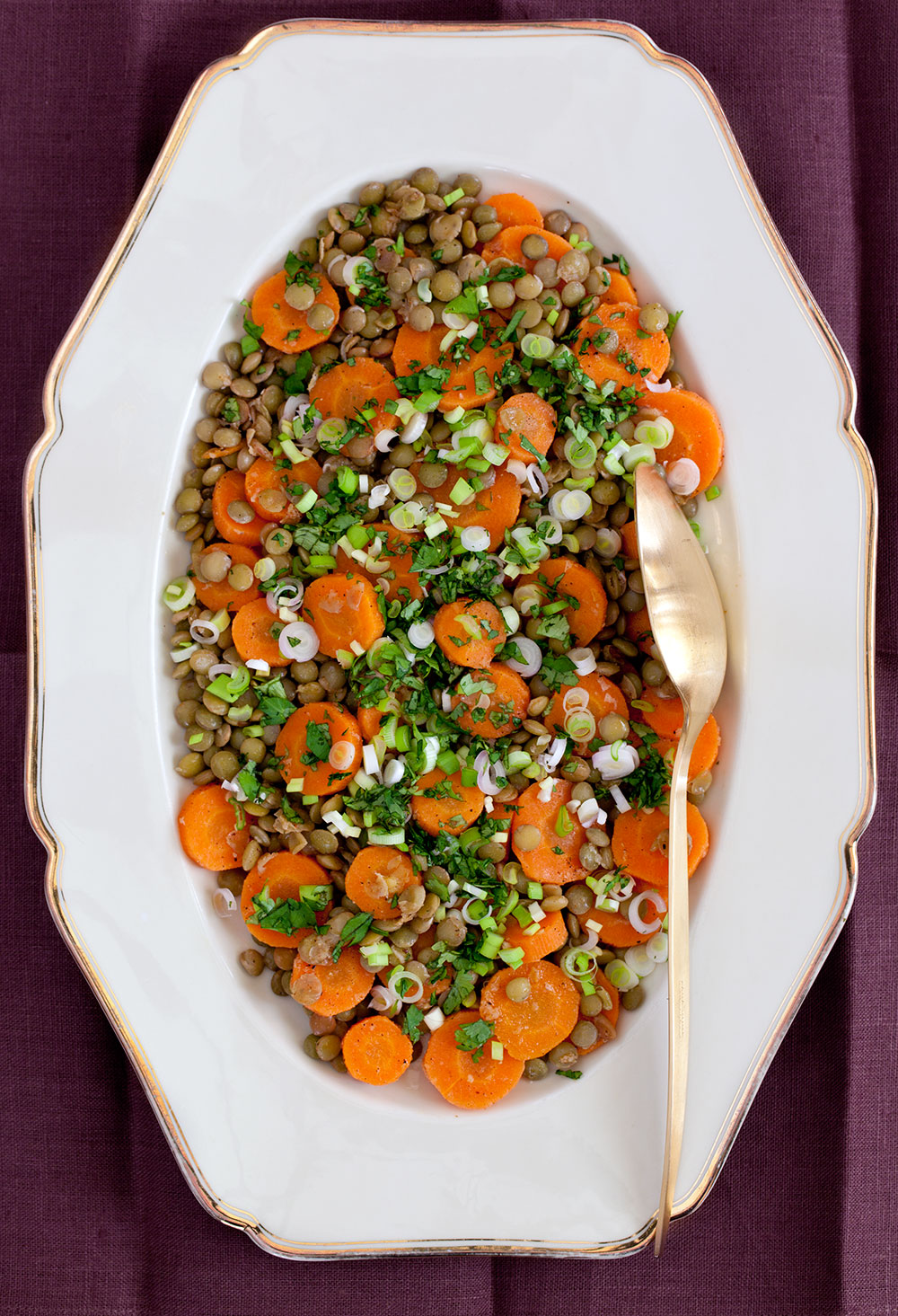 Enjoy!
SPICY CARROT AND GREEN LENTIL SALAD
Inspired by Yotam Ottolenghi's "Plenty".

Serves 4
Ingredients
3 large carrots
3 tablespoons extra-virgin olive oil
1/4 teaspoon ground ginger
1/4 teaspoon ground black pepper
1/4 teaspoon sweet paprika
1/8 teaspoon (pinch) ground star anise
1/8 teaspoon (pinch) ground cumin
1,5 cups cooked green lentils*
2 teaspoons red wine vinegar (or lemon juice)
Salt to taste
4 scallions, thinly sliced
2 tablespoons chopped fresh cilantro (or flat-leaf parsley)
* Wash and pick over the lentils. Place them in a large saucepan and cover with water. Bring to a boil, reduce the heat to maintain a gentle simmer and cook, uncovered, until tender, 20-30 minutes. Strain, season with salt to taste and use as directed below.
Method
Peel the carrots and cut them into half-inch thick rounds. Place them in a large saucepan, cover with boiling water, add a big pinch of salt and simmer for about 10 minutes, until they're soft but still retain their color and a bit of a crunch. Drain and set aside.
While the carrots are simmering, heat the olive oil in a frying pan with ginger, black pepper, paprika, star anise and cumin until fragrant.
Pour the fragrant olive oil in a large mixing bowl, add the warm carrots, cooked lentils, red wine vinegar and mix well. Season with salt to taste and let stand for 15 minutes.
Transfer to a serving dish, sprinkle scallions and cilantro on top and serve warm.