The above mung bean salad wasn't actually included in the original "San Francisco on The Bosphorus" menu. Instead, I planned to prepare another traditional salad called Gavurdagi, which is usually served at kebab restaurants. A small Mexican restaurant on Columbus Street (crossing Chestnut) that we used to visit with colleagues for lunch on a regular basis was the inspiration.
They would always bring a complimentary bowl of tortilla chips accompanied by three different salsas while we anxiously waited for our burritos. Gavurdagi salad is very similar to a Mexican salsa. Finely chopped cucumbers, tomatoes and onions suddenly transform into a delightful spicy salad with the addition of red pepper flakes, sumac, olive oil and pomegranate molasses. I always order it along with a lahmacun before my main course at a kebab restaurant.
But later on, when mom mentioned that mung bean salad would be much more interesting to readers, I happily agreed. I also have to admit that her choice is much more in sync with the menu.
In Turkey, a salad that is made from any type of dry bean (usually white) with the addition of onions, flat leaf parsley, sumac, olive oil and vinegar is called a "piyaz" (pee-yahz). The dressing is made from olive oil and red wine vinegar and piyaz is traditionally garnished with hard boiled eggs and black olives. We enjoy it especially as a side order next to a plate of grilled meatballs.
The below recipe is very close my mother's original. I just like to add more scallions and mint than she does. There are two tips for a great piyaz. First, the beans should be cooked just until tender. Janet made the recipe numerous times at her home and adjusted the cooking time as well as some ingredients accordingly. I guess the mung beans over there need less time to cook. It might be wiser for you to follow her version of the recipe if you live in the US. Her version can be found here (scroll to the bottom). I am including my version of the recipe below.
The other tip is to make sure the beans are completely dry before you combine them with the dressing. I recommend drying the beans between paper towels after a thorough draining process.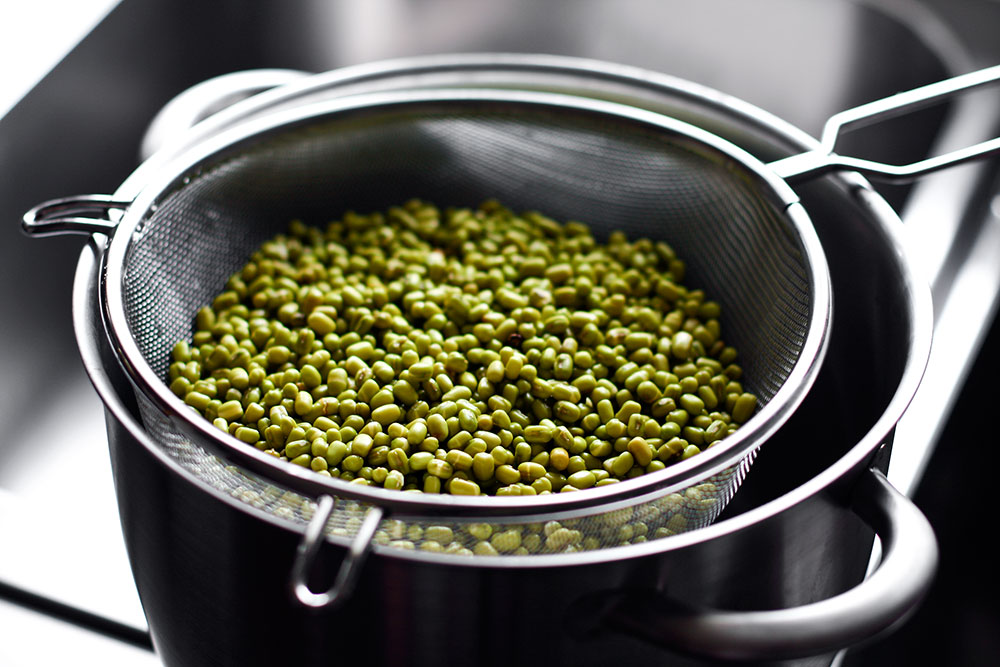 Hope you enjoy the recipe!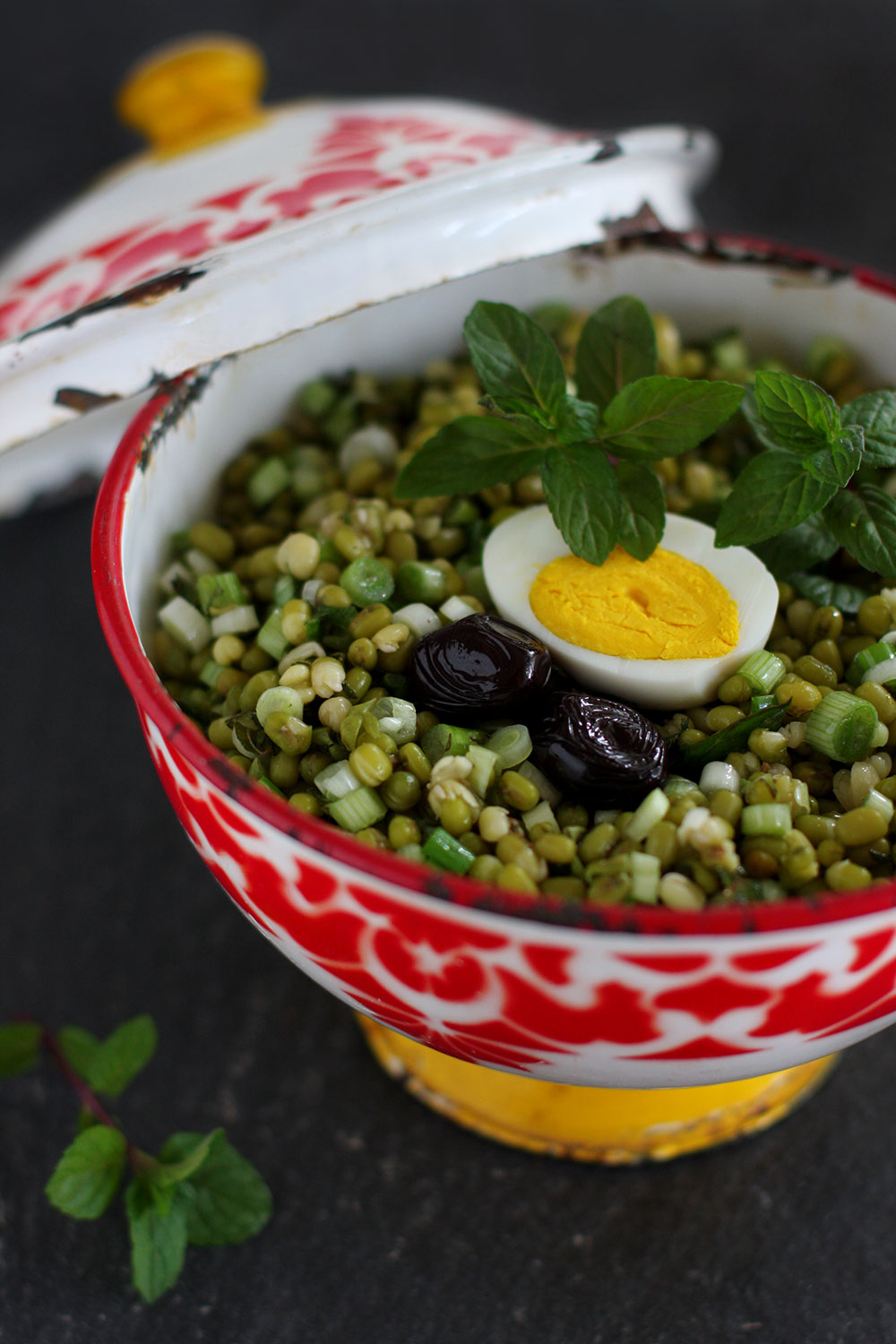 MUNG BEAN SALAD RECIPE
Serves 4
Ingredients
1 cup (215 grams) dry mung beans
1 bunch scallions, trimmed and sliced thinly (about 1 cup, 300 gr untrimmed weight)
1/2 bunch of fresh mint, washed and chopped finely (about 1/2 cup)
1/2 cup extra virgin olive oil
3 tablespoons red wine vinegar
1/2 teaspoon salt
2 eggs, hard boiled for garnish
16 black olives, pitted for garnish
Method
Place the dried mung beans in a large bowl of water and let soak overnight. Drain.
Bring a large pot of water to a boil. Add mung beans and boil for 10 minutes.
Drain the mung beans and repeat the process with a fresh pot of boiling water, this time for 7 minutes.
Drain mung beans and rinse under cold water. Drain well and place in a large bowl.
Add scallions, mint, olive oil, vinegar and salt and toss to combine.
Divide among serving dishes, garnish with hard boiled eggs, black olives and fresh mint leaves.