Remember my post about how I drove mom crazy with my overeating habit? This is my second attempt to break it.
Left to my own devices, I would boil an 18 ounce pack of Linguine, smother it in a rich tomato sauce prepared with a stick of butter and a head of garlic and eat that in one sitting. That's the old Cenk. The new Cenk, who suffers greatly from back pain and thus in immediate need to lose weight, prefers whole wheat pasta and lighter sauces, so even if he eats the whole pot the calorie intake is just a small fraction.

Here is my second trial with whole wheat pasta (take a look at the first trial here). Instead of the regular pesto sauce, which has loads of olive oil and Parmesan cheese, I prepared a much lighter alternative and was quite happy with the result.
Blanched almonds imitate the texture of Parmesan cheese wonderfully. Lemon juice and zest adds a kick and toasted pine nuts add extra crunch to the dish.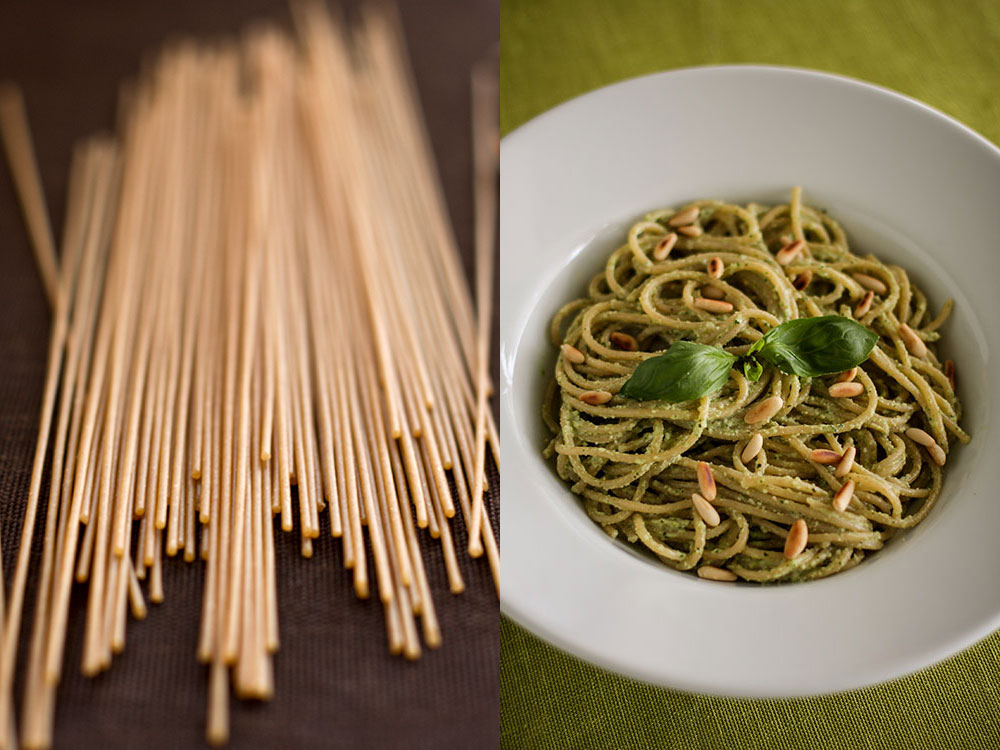 WHOLE WHEAT SPAGHETTI with ALMOND PESTO
Recipe adapted from Martha Stewart Living, February 2007
Ingredients
9 oz whole wheat spaghetti
1/3 cup whole blanched almonds
1 oz fresh basil, plus more for serving
1 tbsp finely grated lemon zest
3 tbsp lemon juice
3 garlic cloves
1/2 tsp salt
3 tbsp extra-virgin olive oil
1/4 cup grated Parmesan cheese
3 tbsp pine nuts
Method
Pulse almonds in a food processor until finely ground. Add lemon zest, lemon juice, garlic, basil, salt and Parmesan cheese; process until finely chopped.
With machine running, gradually add oil and process until smooth. Set pesto aside.
Bring a large pot of water to a boil. Add pasta; cook according to package instructions until al dente. Drain and return to the pot.
Add the pesto and mix well.
Heat a small saute pan over medium high heat and without adding any oil toast the pine nuts until they get a nice brown color.
Divide pasta among bowls and sprinkle with toasted pine nuts and fresh basil leaves.