If this strawberry crisp recipe is not the easiest and most adaptable recipe I have seen so far, then I don't know what is. If you think you have a quicker & tastier recipe, come forward. Otherwise, note this down.
The original recipe is called Strawberry & Rhubarb Crisp and it is from Kate Zuckerman's wonderful book The Sweet Life: Desserts From Chanterelle. It became an instant favorite of mine. Why? For one, it is delicious. Two, it was very quick to prepare and required just a small bowl and a food processor – minimal clean-up is good! Three, once you get a hold of the streusel topping recipe, alternatives are endless. And four, it is the perfect make-ahead dessert, especially if you happen to live alone.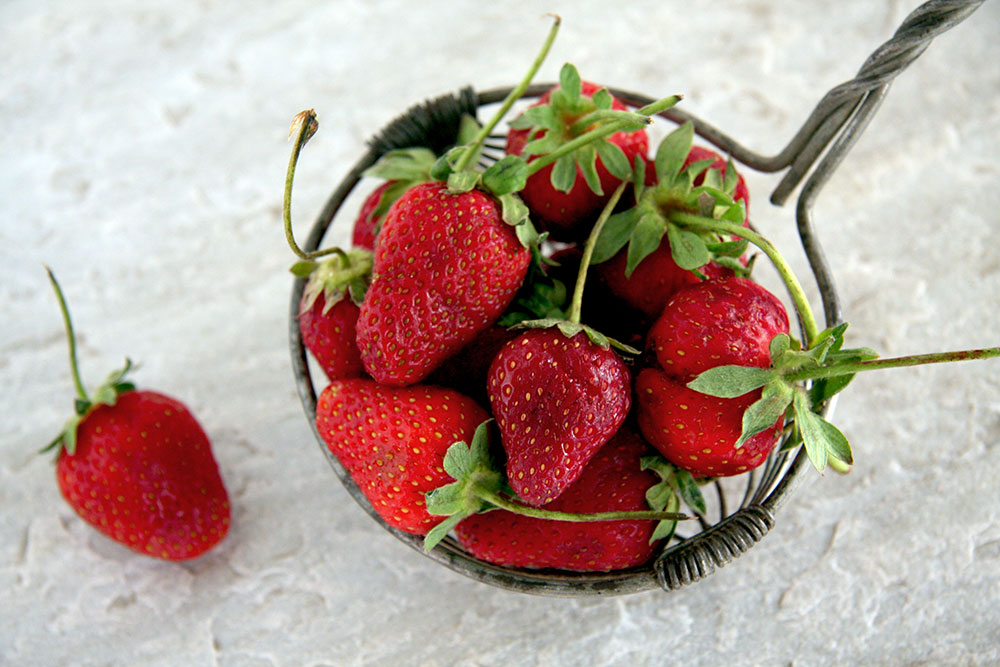 Once you prepare the streusel topping, you can keep it in the fridge and bake fresh single-servings with different fruit combinations any time you like. The topping has no eggs in it, so it keeps well for a long time.
You start by pulsing all the dough ingredients in a food processor. And then a quick toss of strawberries, sugar, lemon juice and flour. First the berries then the crumbly mixture and it is ready for the oven.
As I said, the variations are endless. In the short amount of time that I wrote this post, here is what I came up with:
– Apple Crisp (with ground cinnamon added into the dough)
– Pear crisp (with ground almonds added in the dough)
– Banana Crisp with Nutella Sauce (with ground hazelnuts added in the dough for extra awesomeness – although bananas may get way too mushy, but who cares when you can drizzle Nutella sauce on top, right?)
– Mango and Pineapple Crisp (served with raspberry sorbet)
– Peach Crisp (served with Vanilla Frozen Yoghurt)
I served this one with Macadamia Nut Brittle ice cream and it was delicious. Best to eat it right away tough. I took some of it to work the next day and although it was still delicious, the streusel was not as crispy as before.
STRAWBERRY CRISP RECIPE

Ingredients
4 servings

Streusel Topping
1+1/4 cups flour
1/3 cup sugar
1/3 cup packed, moist dark brown sugar
1/4 tsp salt
5 ounces chilled butter
Fruit Mixture
1 1/2 pounds strawberries
1 tbsp plus 1 tsp flour
2 tbsp sugar
Juice of half a lemon
Method
Preheat the oven to 350F.
In a food processor, pulse flour, salt and sugars. Cut butter into 1/4-inch cubes and add to the flour mixture. Pulse until the butter is pea-sized and coated with flour. Do not let the dough come together in a ball. Set aside at room temperature.
Wash, dry and quarter the strawberries. Add the lemon juice and give it a quick stir. Add flour and sugar and toss alltogether. Pack the fruit evenly on the bottom of the baking dish (12*8*1 3/4 inch) and top with the streusel. Do not pack the topping down.
Bake until the crumb topping has browned and the fruit is bubbling beneath, 30-40 minutes. Allow to cool for at least 20 minutes.
The crisp is best eaten the day it is made but will keep, refrigerated, for 4 days.