Yesterday, Cafe Fernando turned 5! A year ago today, I quit my job and decided to become a full-time blogger. Since then, so many things have happened. First of all, the book happened. It turned my world upside down. And continuing to do so. I thought it was going to be all about baking, writing, melting chocolate and shopping for props, but it is much more than that. It became my whole life.
If I'm not measuring, baking, glazing or slicing, I am thinking, dreaming and planning. It is not just the actual work involved. I spend every waking minute of my life doing something about the book. And when life goes on like that, as equally important as it may be, I can't help but spend less time on my blog. I feel sad for not being able to post frequently and socialize more with you guys, but I hope you know that a part of my brain is permanently thinking of my blog, and you, dear reader.
Because of all these, I also felt guilty for leaving everything behind and going on a 12-day vacation to San Francisco, but now that I think about it, my adventures there will keep the blog going for a couple more months. In the meantime, I hope to finalize the first two chapters (together with photos) and the moment I'm done, I'll be back with recipes.
So, how are we celebrating this year?
I churned an outrageous ice cream.
Imagine the creamiest vanilla ice cream. Now multiply the vanilla aroma by seven.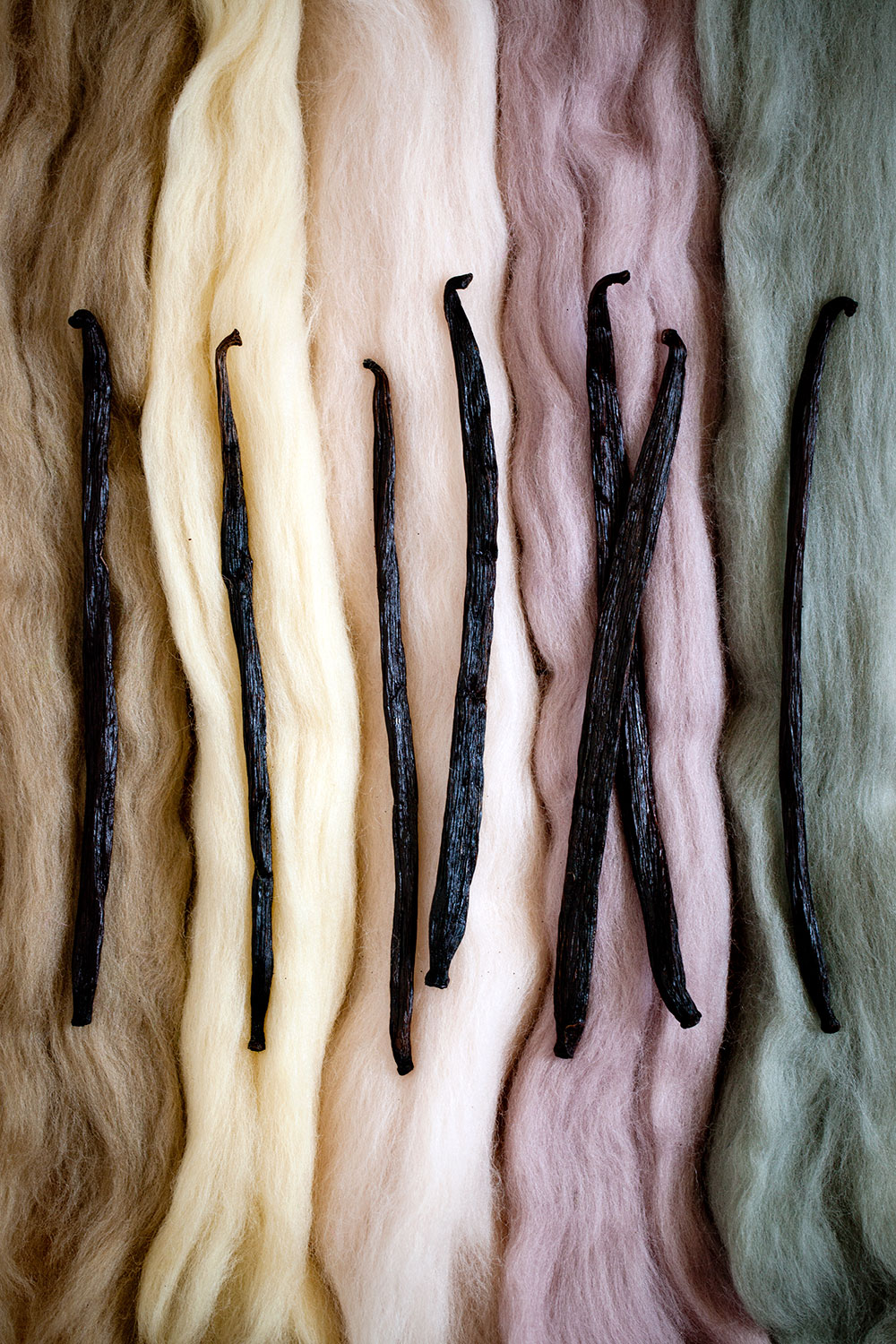 Not 2, not 4, but 7.
Not just the aroma, but the number of seeds. You know how the poppy seeds crackle when you bite into them in a cake or a financier? The same thing happens, but this time you're biting into vanilla seeds. Flavor explosion. Heaven.
I assure you – the Seven-Bean Vanilla Ice Cream is not an April Fool's Day joke. It is for real. The first time I saw this recipe on Sherry Yard's book, "Desserts by the Yard", I couldn't believe my eyes. And let's not forget that it is just a component of a dessert she created for the 75th anniversary of the Oscars, titled "Chocolate Truffle Tart with Chocolate Crème Brûlée Diamonds and Seven-Bean Vanilla Ice Cream". Wouldn't you have fallen off your chair if you had seen it on a menu? I would.
Since the book is written by a pastry goddess, I didn't even doubt the amount of vanilla in the recipe. OK, it is pretty intense, but come on – I'm celebrating the 5th year of my blog. That doesn't happen every day and so should this ice cream, but I thought I deserve it just as much as an actor with an academy award in his hand.
The ice cream is beyond rich and creamy, so I thought segmented orange and grapefruit would balance it with their freshness.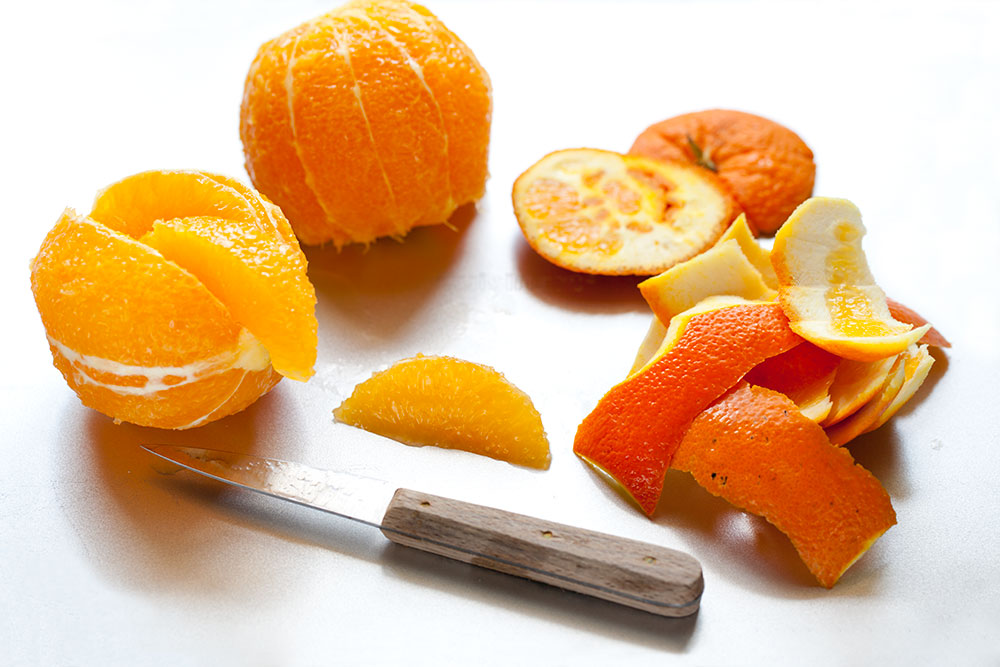 And they did.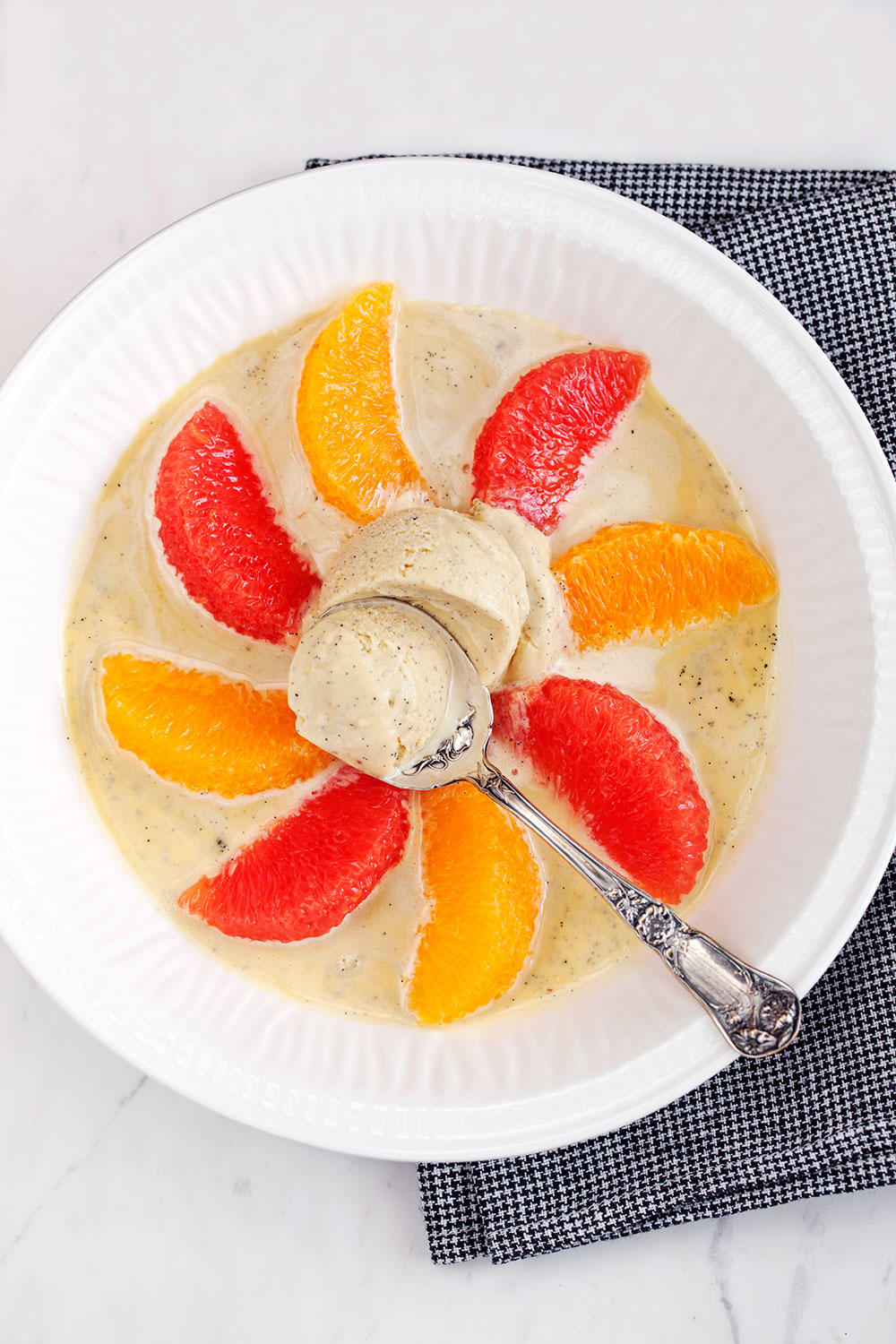 Once again, I'd like to thank you for reading my stories, trying out my recipes (some of which are outrageous as well), taking your precious time to leave comments and watching Cafe Fernando grow up during these five years.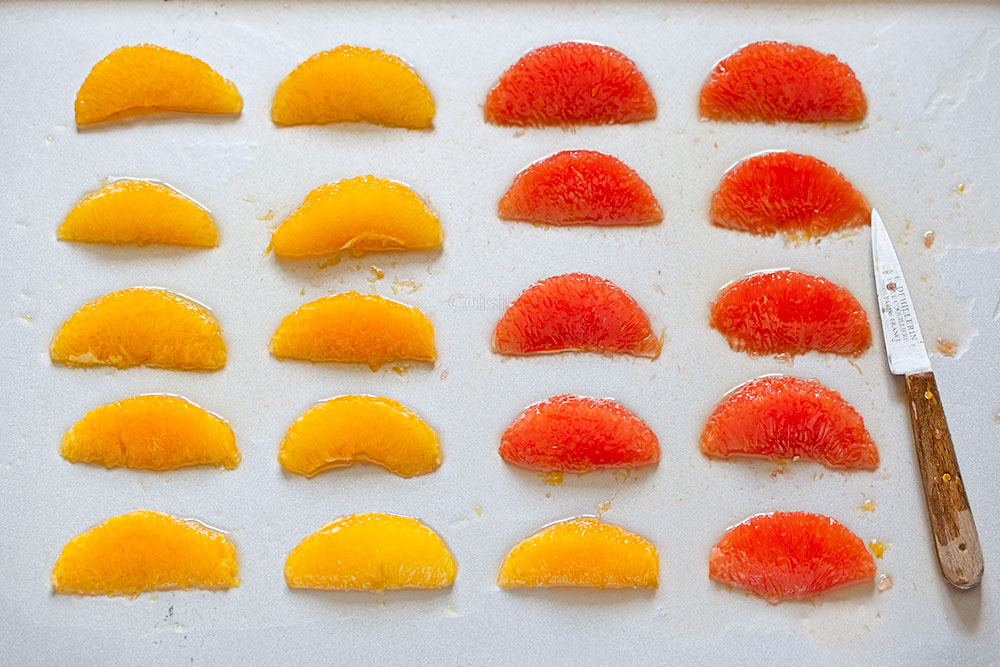 Here's to another 5, hoping I never run out of vanilla ice cream in my freezer, with a 7-bean version once in a while.
7-BEAN VANILLA ICE CREAM
Recipe inspired* by Sherry Yard's book "Desserts by the Yard" and adapted from David Lebovitz's Vanilla Ice Cream recipe published in "The Perfect Scoop".

Makes 1 quart
Ingredients
7 vanilla beans
1 cup (250 ml) whole milk
2 cups (500 ml) heavy cream
3/4 cup (150 grams) sugar
6 large egg yolks, at room temperature
Pinch of salt
1 orange, to serve
1 grapefruit, to serve
Method
Using a paring knife, cut the vanilla beans in half (lengthwise), scrape the seeds and place in a large pot together with milk, heavy cream and 1/4 cup of the sugar. Bring to a boil over medium heat, take off heat, cover and let infuse for half an hour.
Fill a large mixing bowl with ice and cold water. Set aside.
Place the egg yolks together with the remaining 1/2 cup sugar in a mixing bowl and whisk until thickened and the whisk leaves a trail.
In the meantime, bring the infused cream to a boil again.
While whisking constantly, slowly pour half a cup of the hot cream into the egg mixture.
Once incorporated, pour the warm egg mixture into the infused cream, place over medium heat and stir until the mixture coats the back of a wooden spoon, for about 15 minutes.
Pour the custard through a strainer into another mixing bowl, add salt and stir over ice and cold water until the custard reaches room temperature.
Cover the bowl and chill overnight, then freeze it in your ice cream machine according to the manufacturer's instructions.
Right before serving, segment the orange and grapefruit. Slice the top and bottom of the fruit, place it on a cutting board, slice the skin and pith in strips (let the curve guide you), then hold the fruit in your hand and slide the knife along the membrane, on both sides of each segment to release it.
Place two tablespoons of ice cream in each serving dish, wait for 5 minutes for it to melt, place the fruit segments on top and a scoop of seven-bean vanilla ice cream right in the middle.
* I prefer a much smoother and richer vanilla ice cream, so only increased the amount of vanilla beans and kept the rest of the ingredients same in David's vanilla ice cream recipe. Sherry Yard's original recipe has twice the amount of milk. The rest of the ingredients are the same.