The moment I arrive at my hotel in San Francisco, I throw my suitcases into the room, wash my face and I'm out the door. I don't care how tired and swollen I get after a 14-hour flight. There is no time to waste.
Out of the hotel, I take a right. Twenty steps later, I'm standing in front of the coziest and best manicured public park my eyes have ever seen. I gaze at the empty bench and start dreaming of the afternoons I'll spend there, reading a book while Linda, my Airedale Terrier, sits quietly by my side.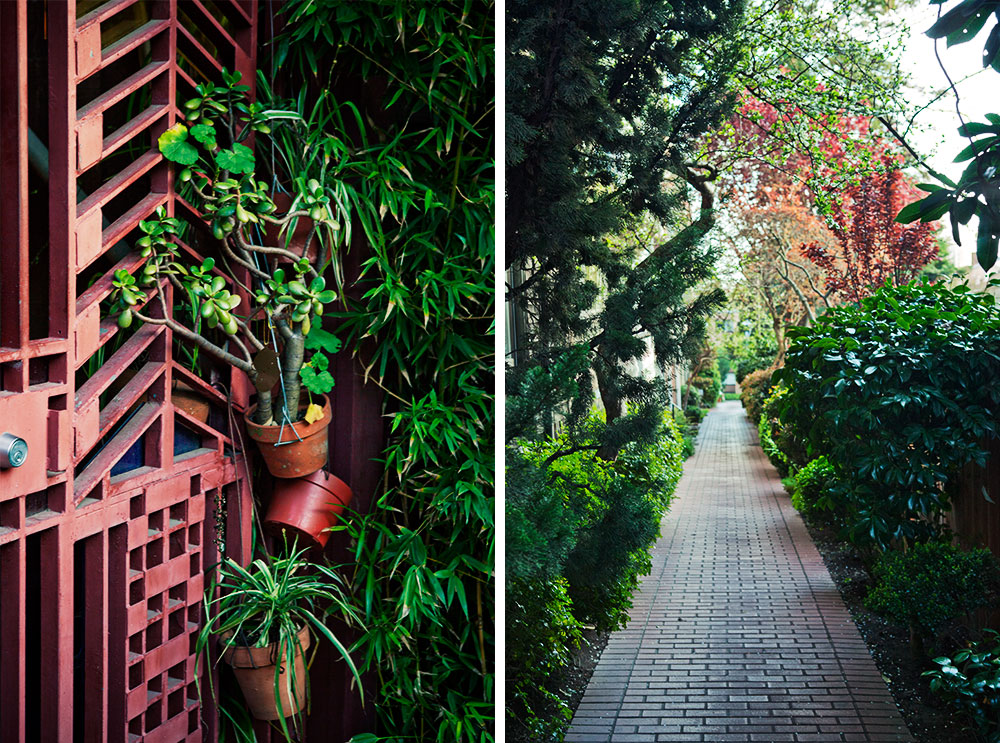 I start climbing up the Cottage Row and another twenty steps later, I'm standing in front of a house the color of The Golden Gate Bridge.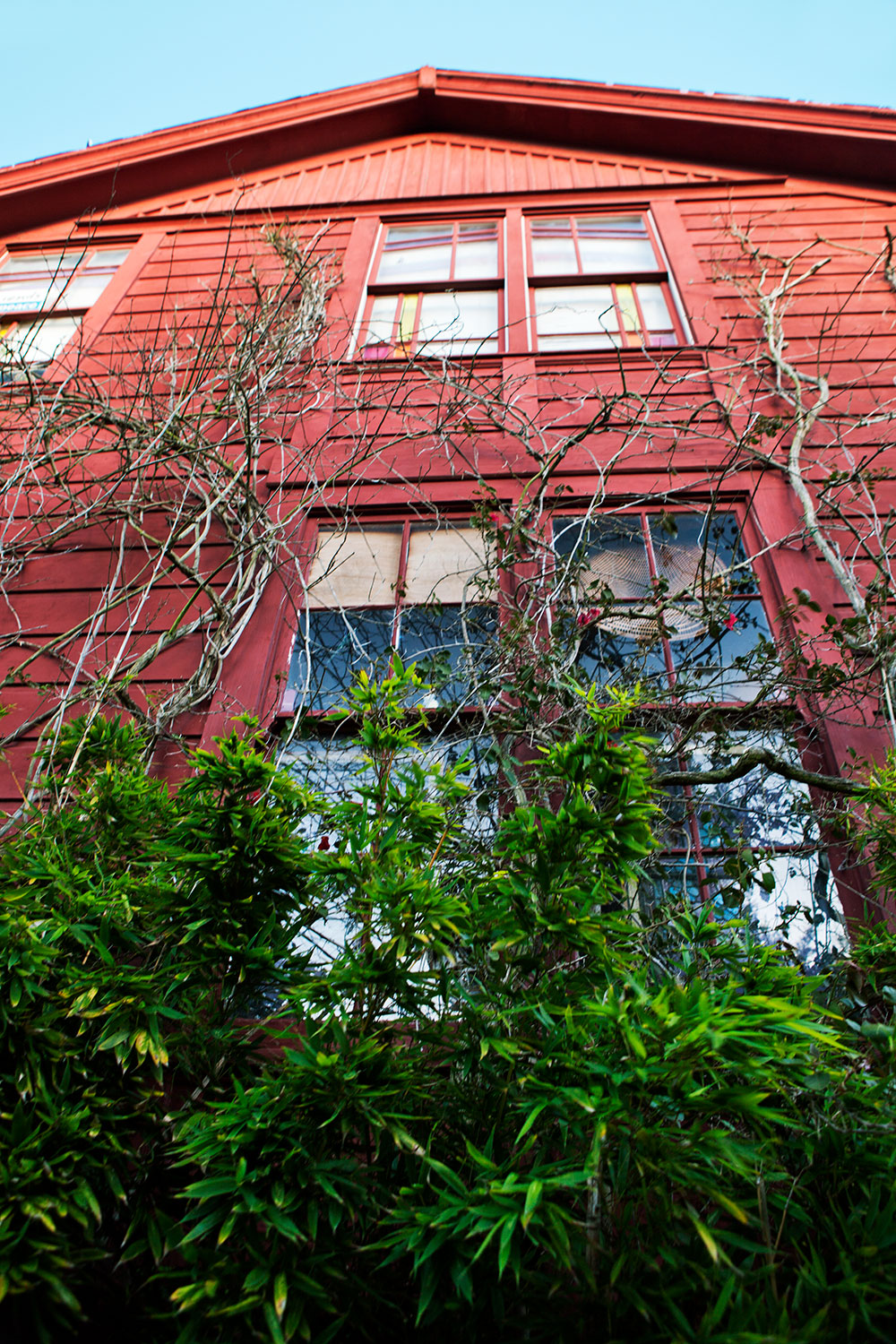 I whisper my usual "Someday you'll be mine," keep walking and take a left when I hit Bush Street.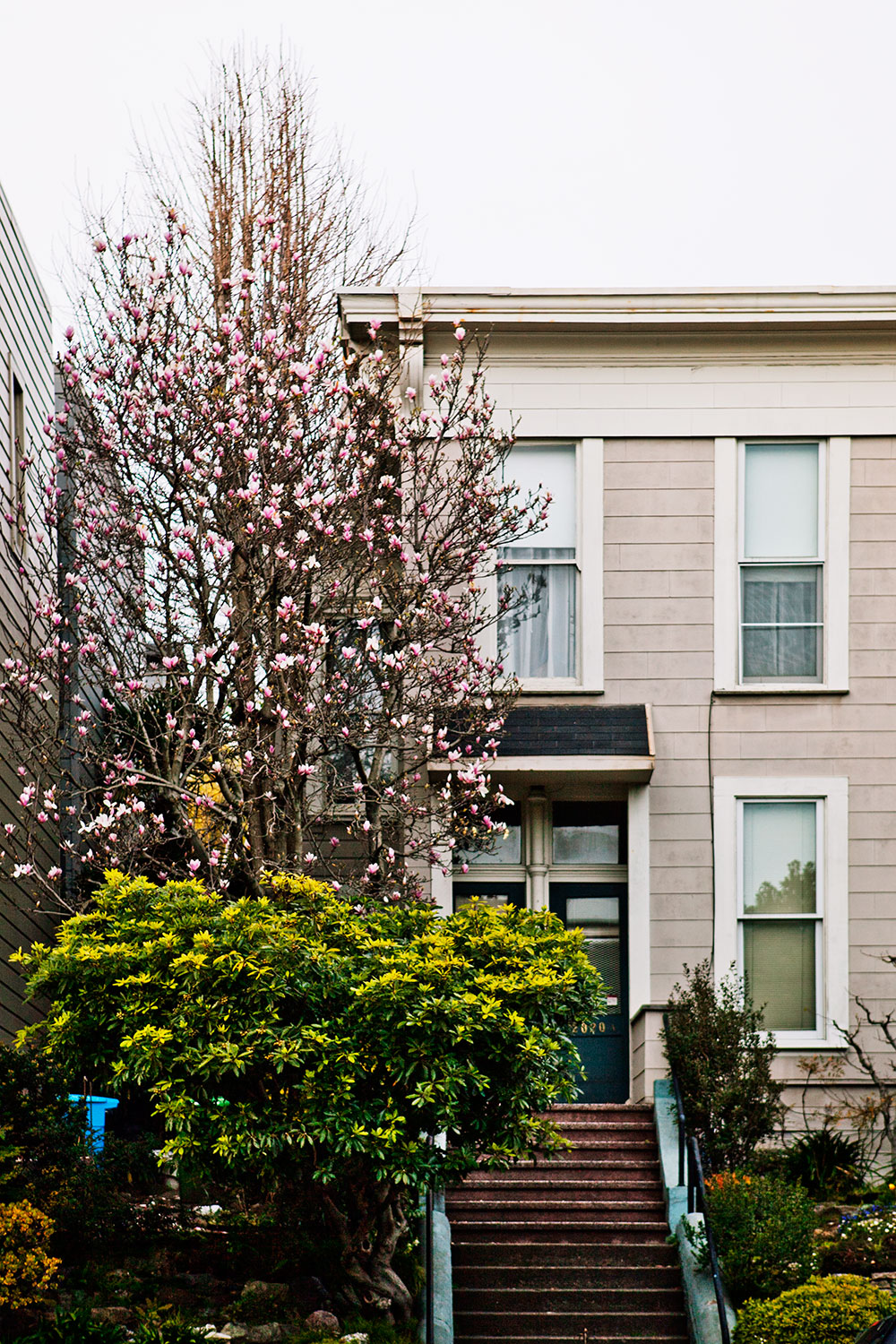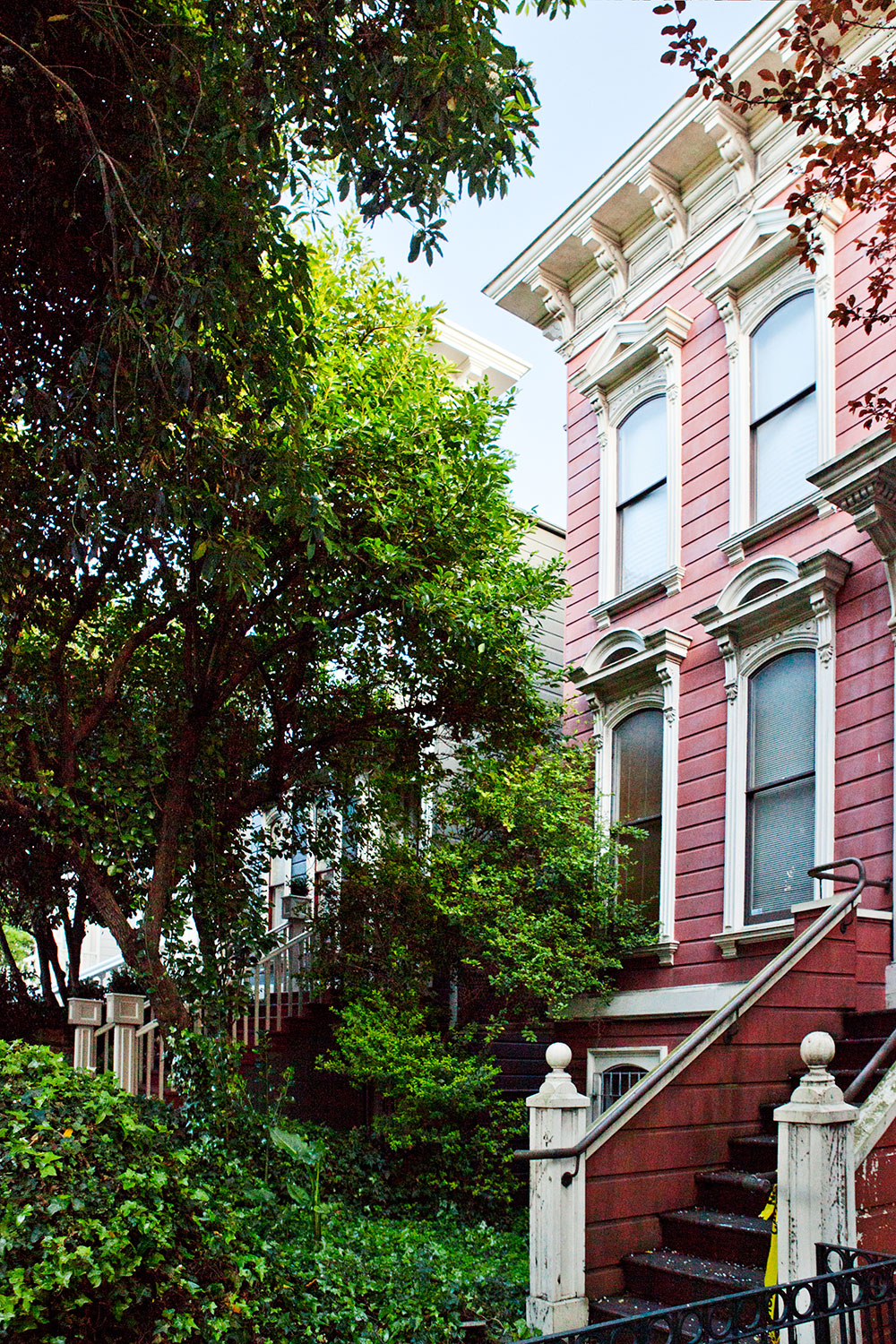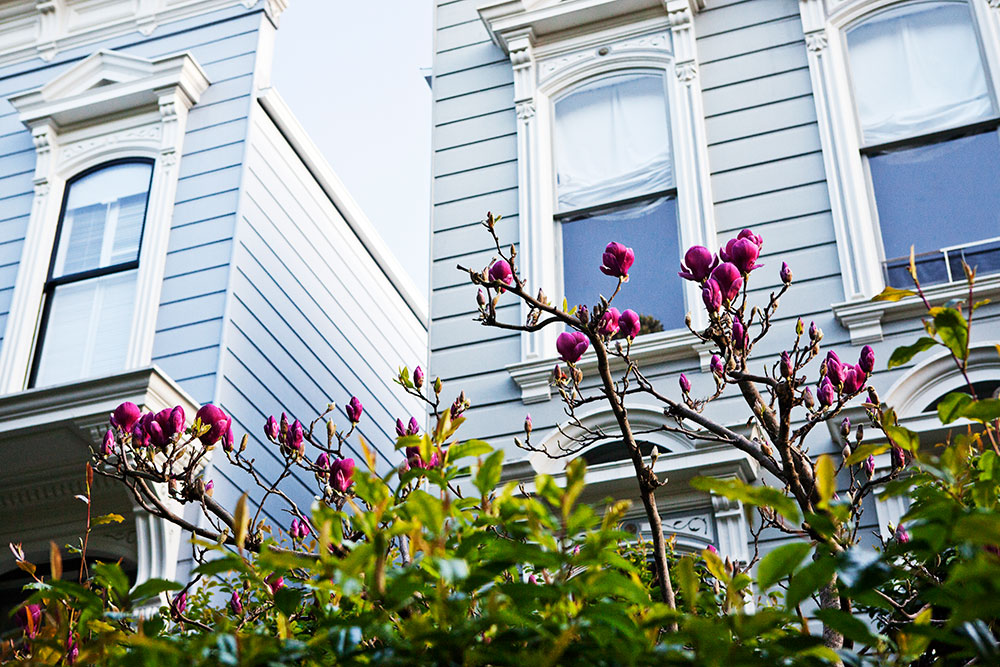 I take a right on Fillmore, get my first cup of Blue Bottle coffee at Fraîche and keep walking towards the Marina.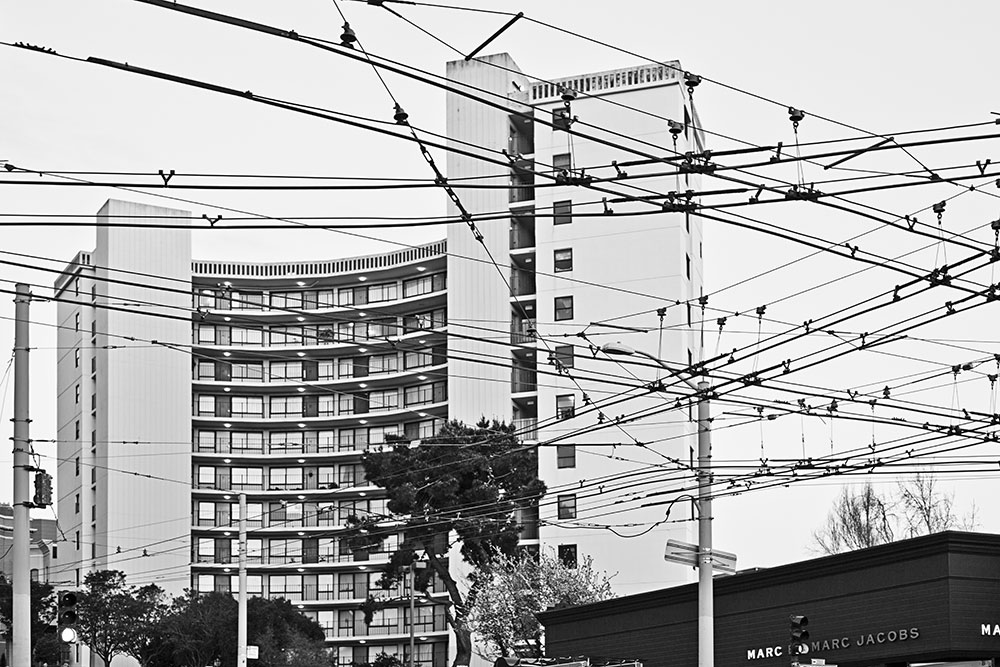 Even though I know I'll be spending hours inside the next day, I stop by Nest and take a rushed look at everything before they close.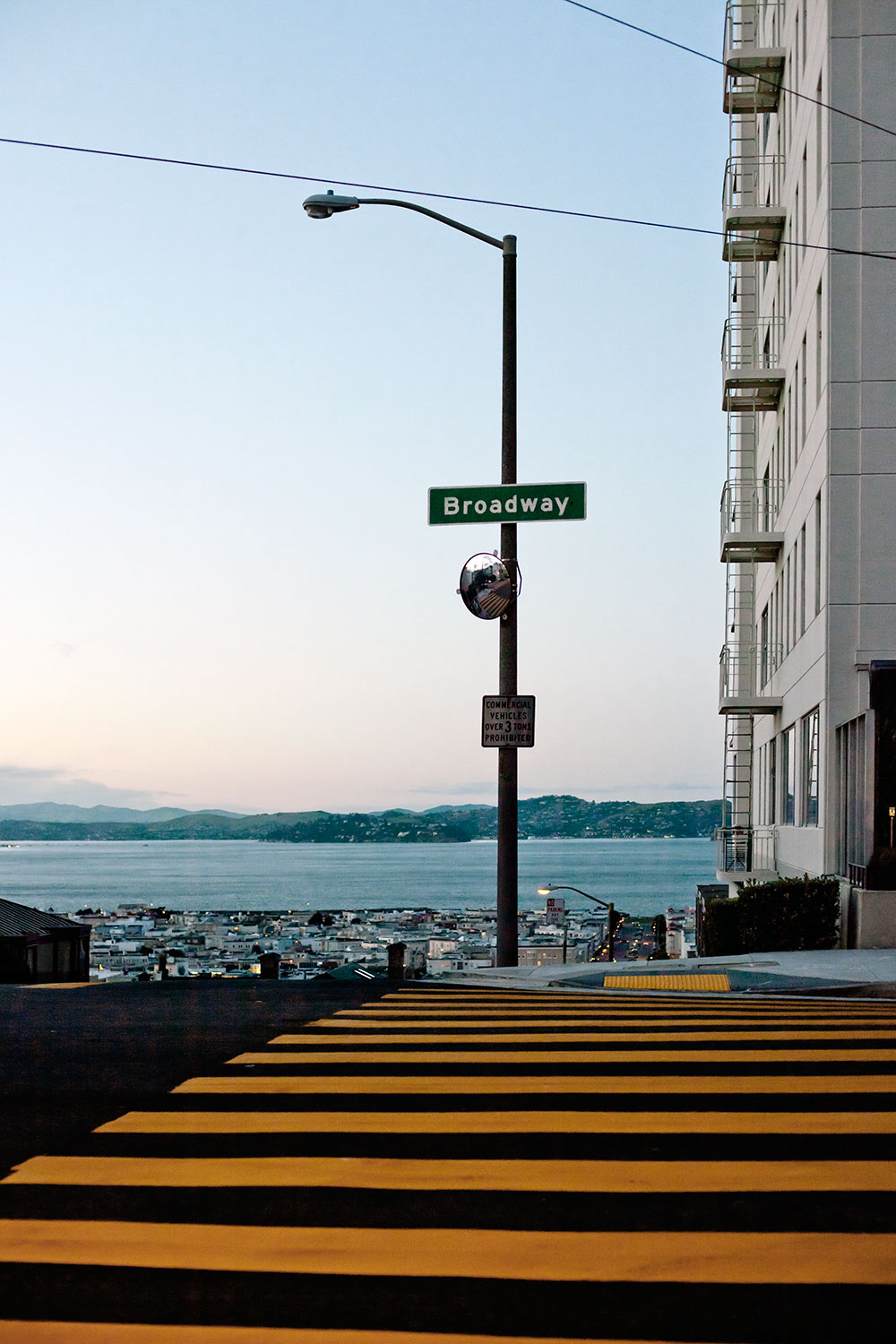 When Fillmore meets Pacific, I take a deep breath. A block later, when Fillmore meets Broadway and I get a bird's eye view of the Marina, a tough choice awaits.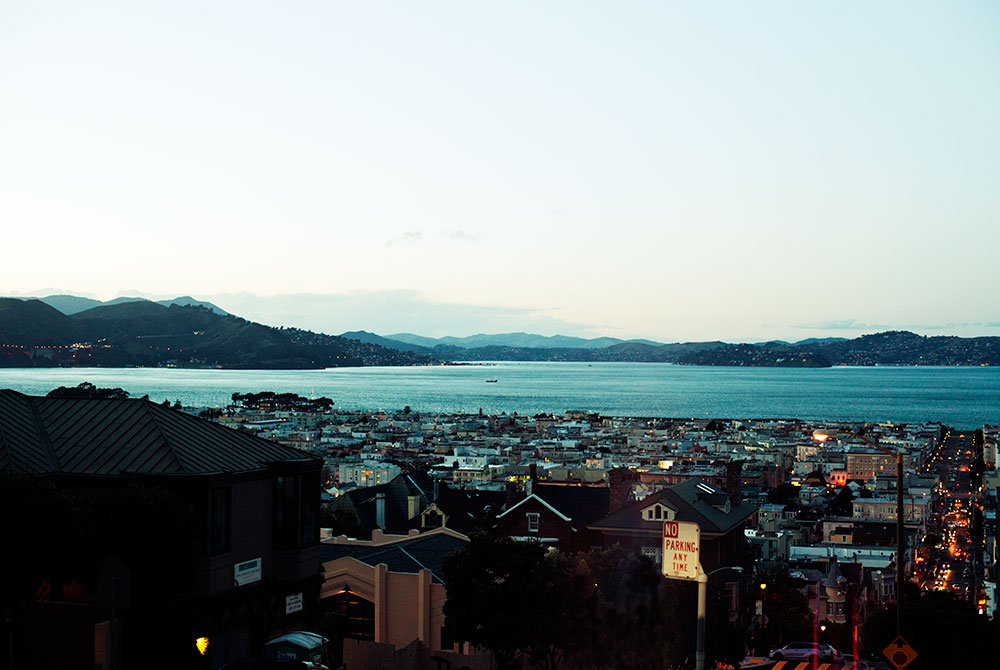 I immediately ditch the house on Cottage Row. Would I live on the top corner unit of the building on the right – a 3-bedroom with floor to ceiling picture windows and a spacious terrace with an unobstructed view of The Golden Gate Bridge – or the second house on the left with the nautical windows, an epitome of grandeur built in the early 1900s?
As I descend to the Marina, the choice gets tougher. The bridge hides behind the fog, houses tempt me left and right, and I finally hit Chestnut.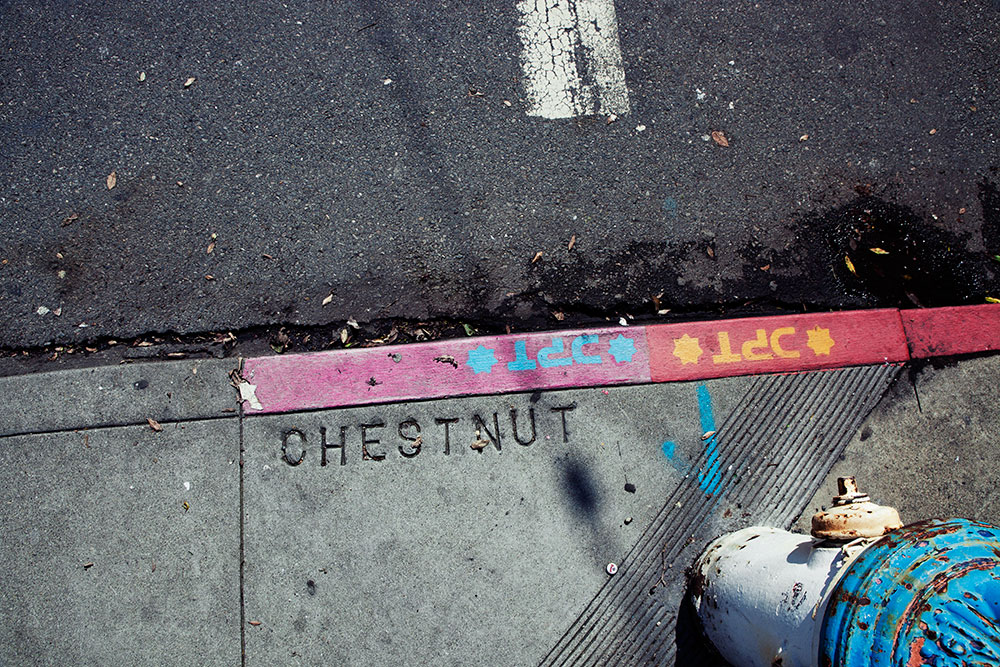 I'm almost home. It still feels like I just got off the bus on my way home from work. I take a quick look through the windows of Williams-Sonoma and get excited thinking about the hours I'll spend at the store in Downtown.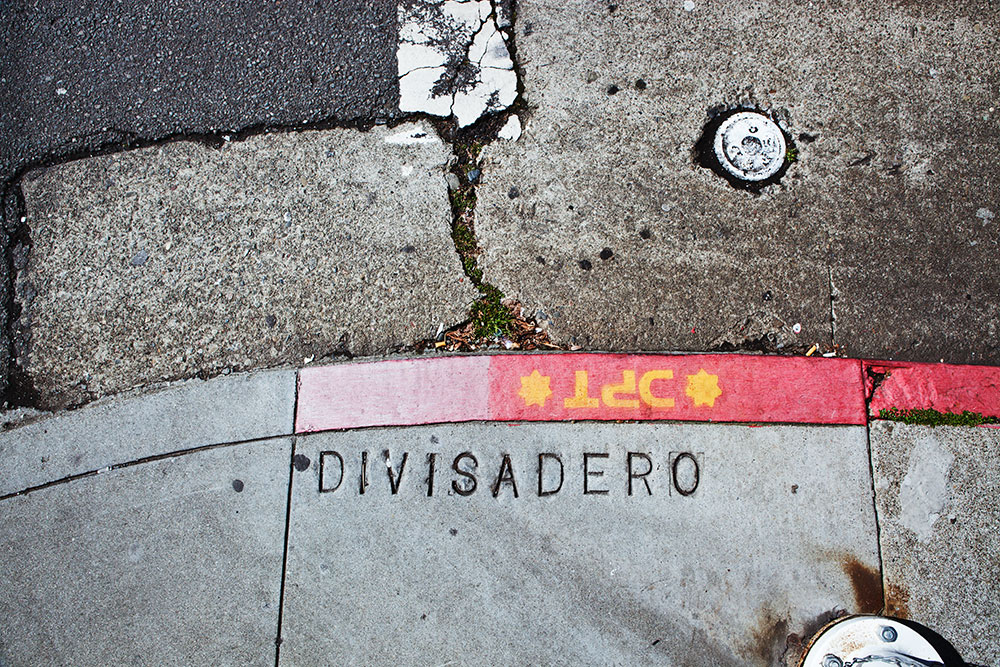 Then I hit Divisadero.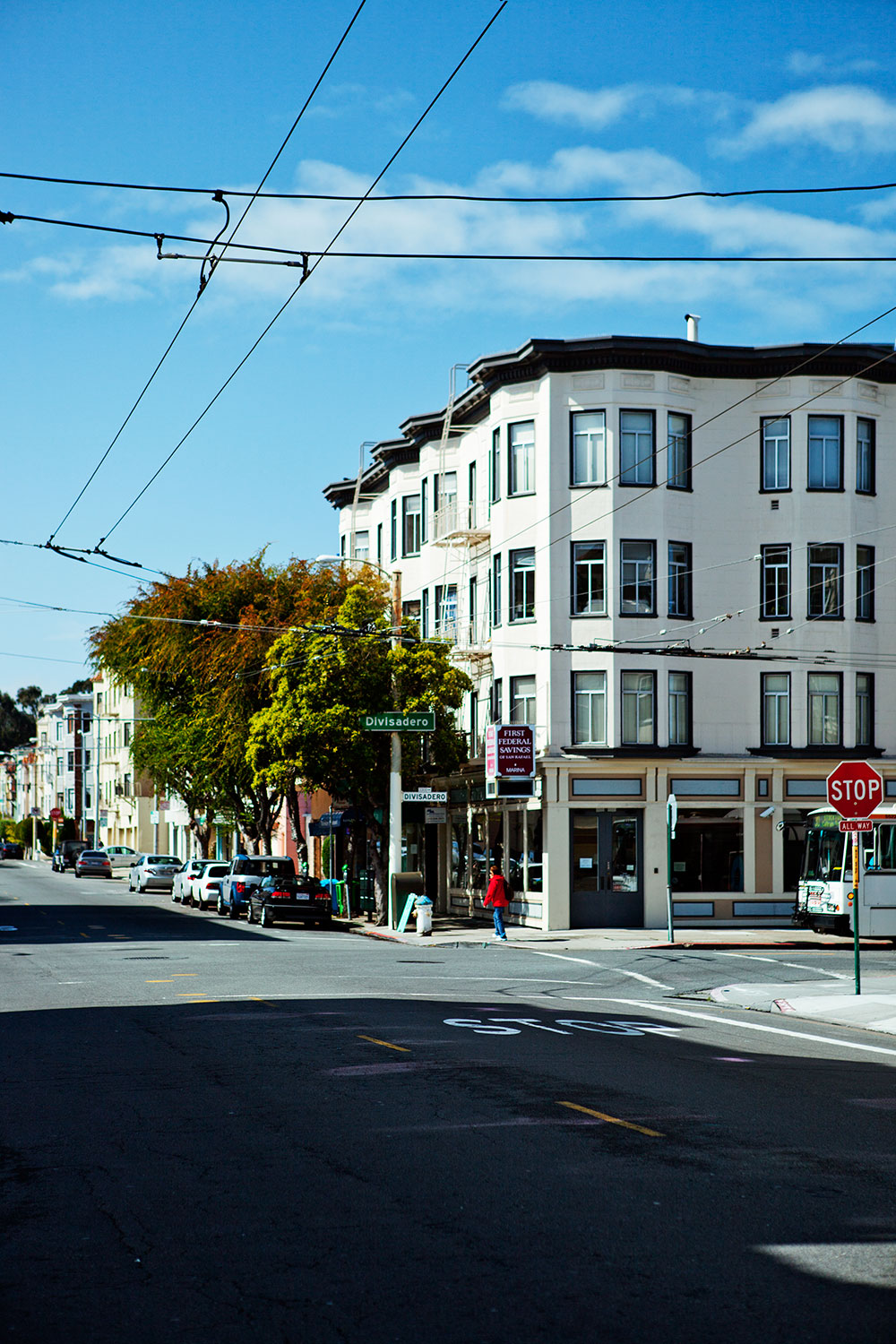 I'm home. I lift my head up to see if my old blinds are still hanging on the windows (they were there the last time I checked, which was 6 years after I moved out, but sadly not this time), walk to the main entrance to take a peek inside, then wander about to find a place to eat, with my head down and shoulders slumped.
After dinner, I stop by Chestnut Street Coffee Roastery. Their coffee gets worse with each visit, but I don't mind. The place reminds me of the work day mornings in the past and the bench at the entrance has a view of my old place.
I delve deep into the streets of my old neighborhood and realize I even miss driving around the blocks, pulling my hair out trying to find for a parking spot on street cleaning days.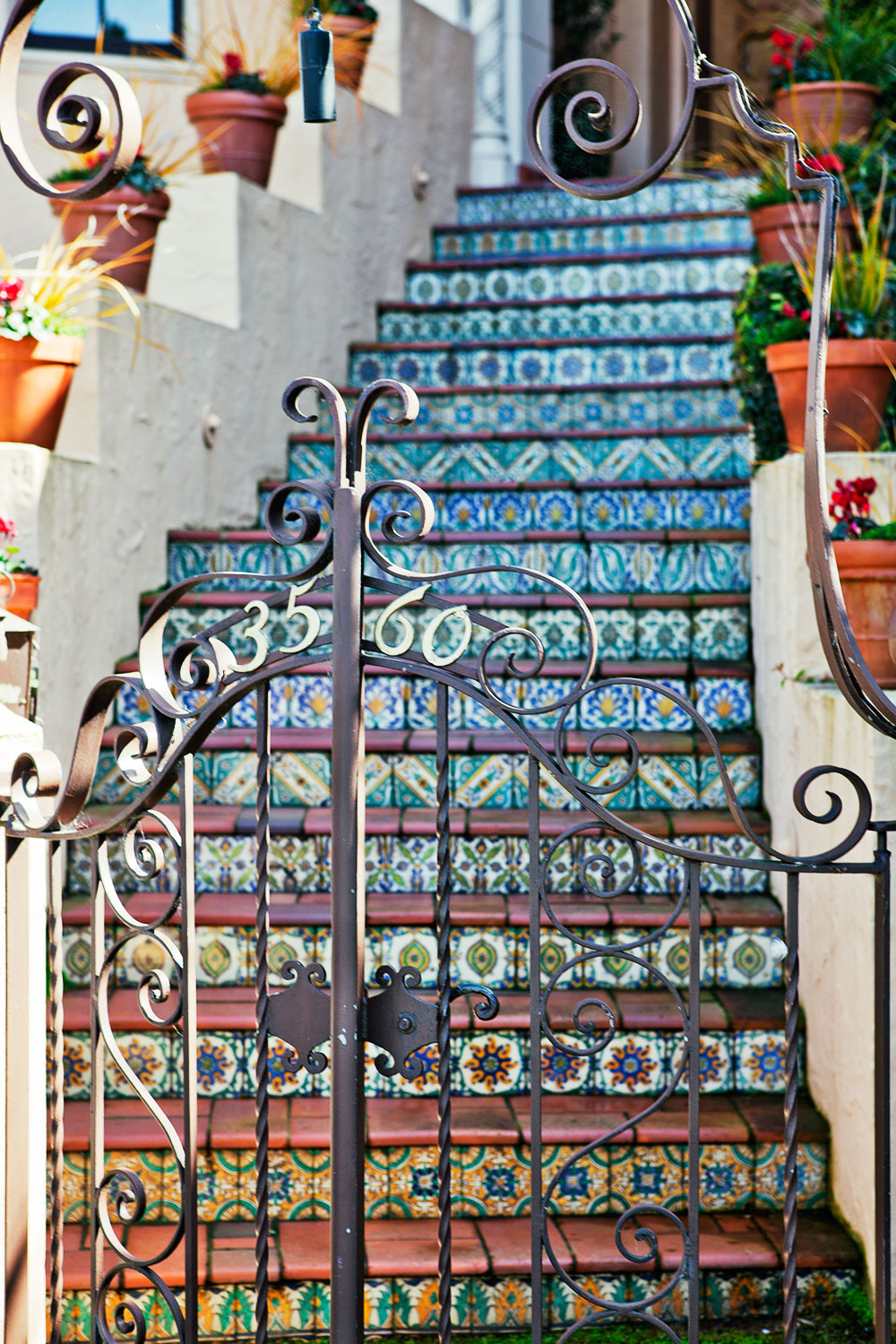 With my last ounce of energy, I walk by the Palace of Fine Arts and arrive at Crissy Field, my final destination. I find a comfortable spot and watch the sky turn shades of grey and blue. The wind gets vicious and I hold on to the view as long as I can.
I go back to my hotel room, slide under the covers, and fall asleep while trying to catch an episode of The Golden Girls.
This is how my first day in San Francisco goes. My plans for rest of the days are much more ambitious. I never get to check off the whole list, but I try.
Since the list is too long to share in a single post, I decided to divide my notes on where to eat, drink and shop by neighborhoods.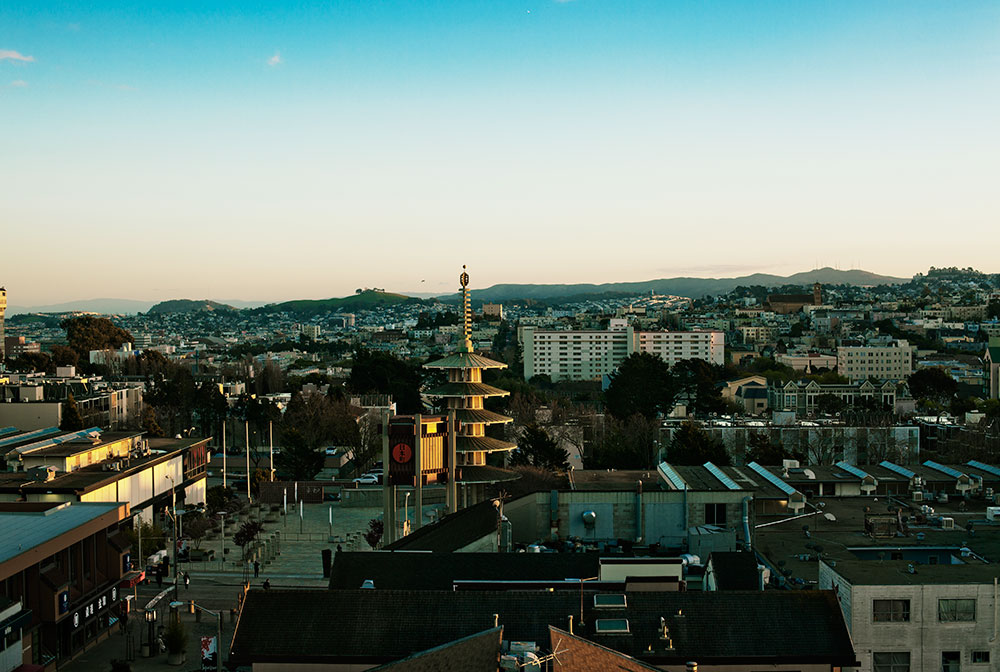 Today, we are going to devour Japantown, Pacific Heights, and Marina.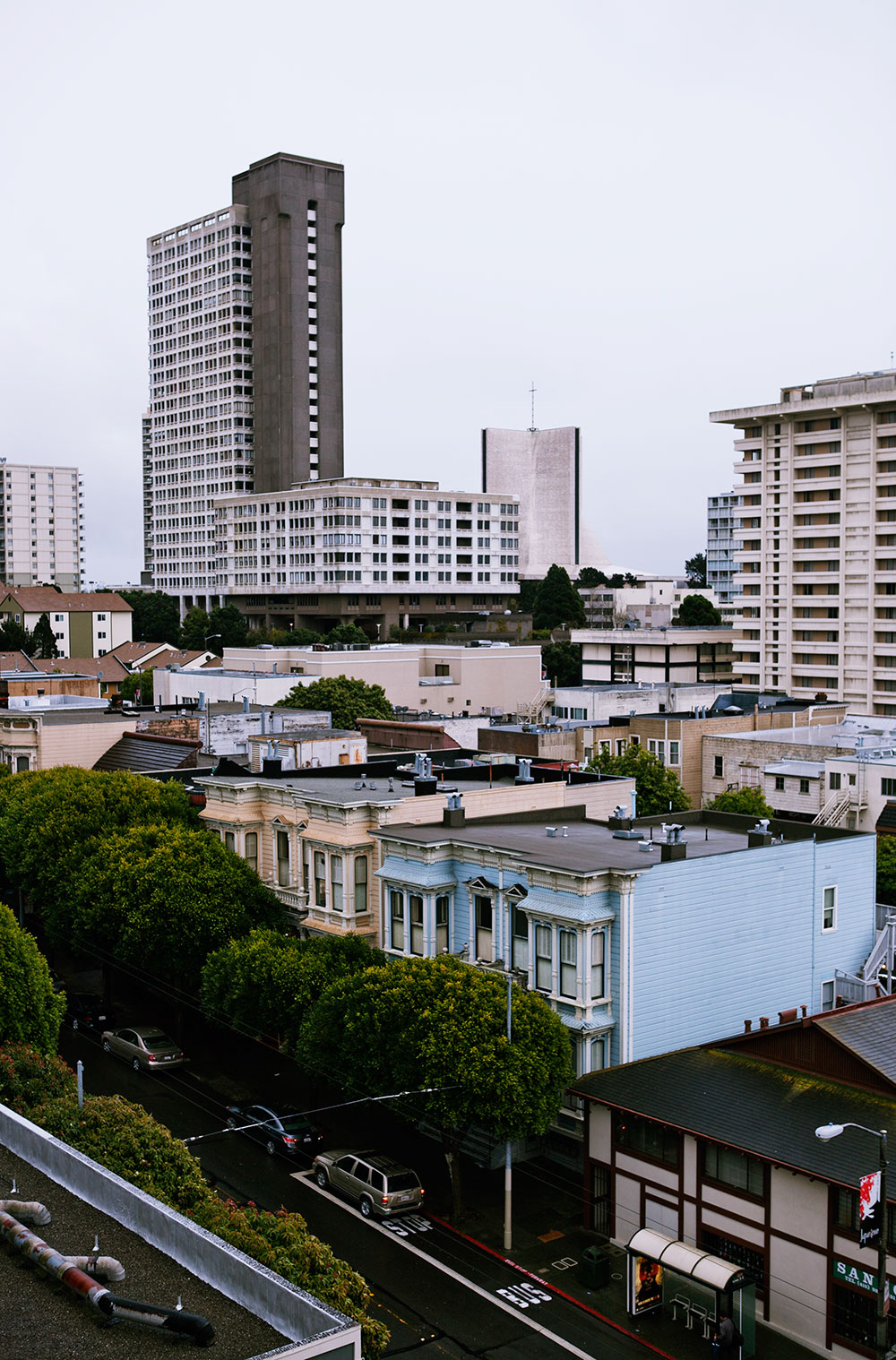 JAPANTOWN and PACIFIC HEIGHTS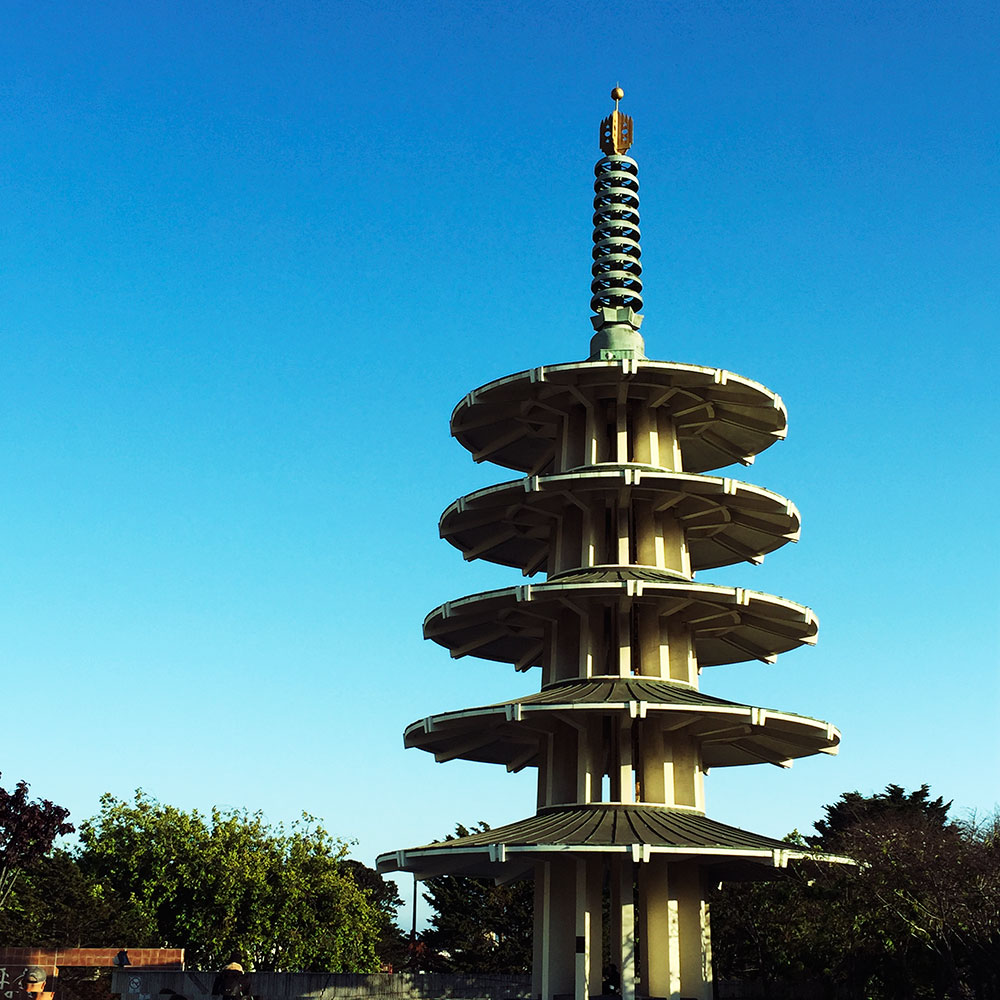 Japantown sits quietly south of Lower Pacific Heights and comprises just 6 square blocks. Half of those blocks are occupied by Japan Center, which is composed of three malls.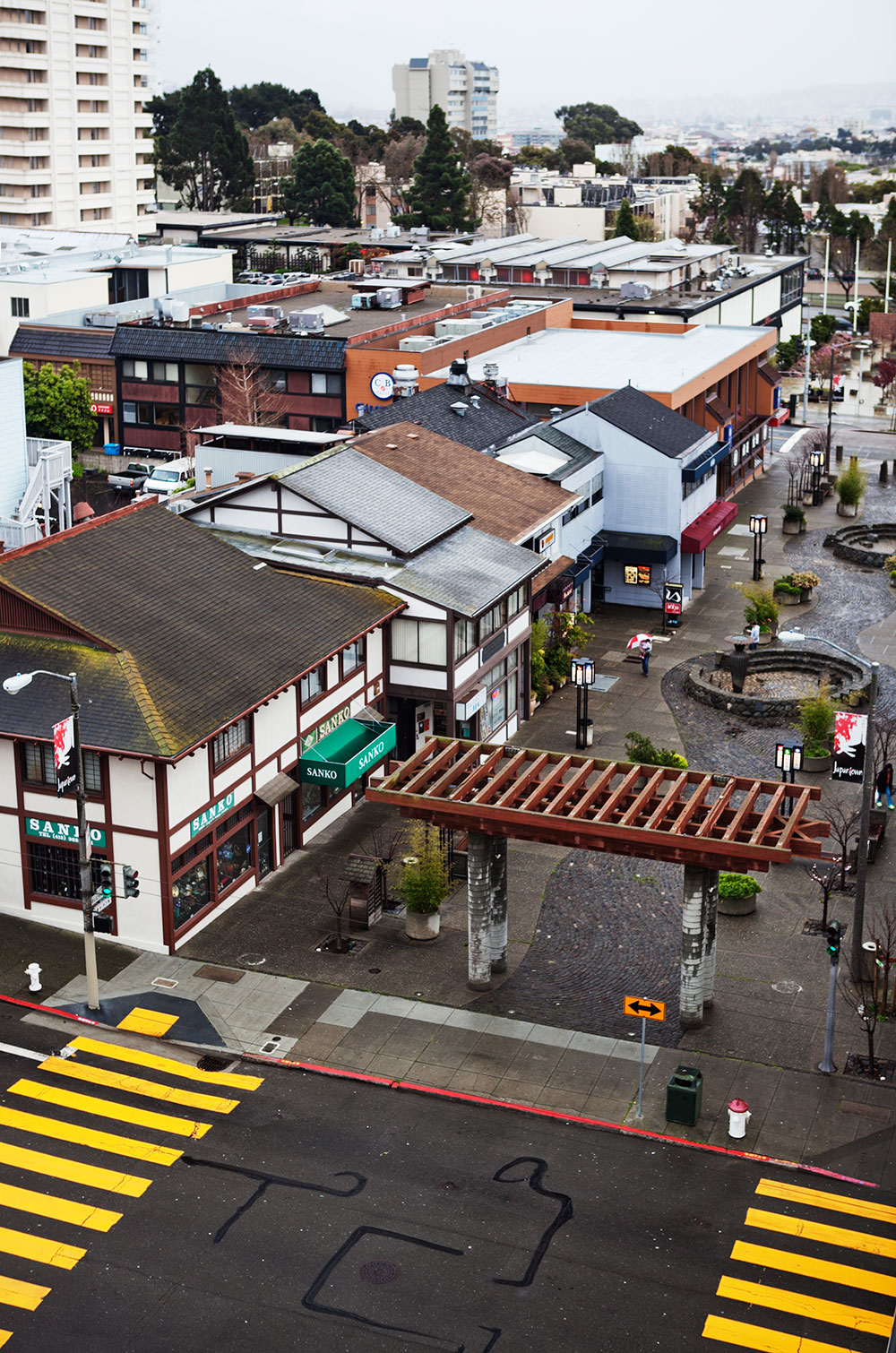 The Kinokuniya building includes Kinokuniya, the largest Japanese bookstore chain in the U.S. with an extensive selection of manga and the Sundance Kabuki – a movie theater that offers excellent ice cream but has very uncomfortable seats.
The Kintetsu and Miyako malls house several Japanese restaurants and novelty shops. Among my favorites are Akabanaa and Ichiban Kan.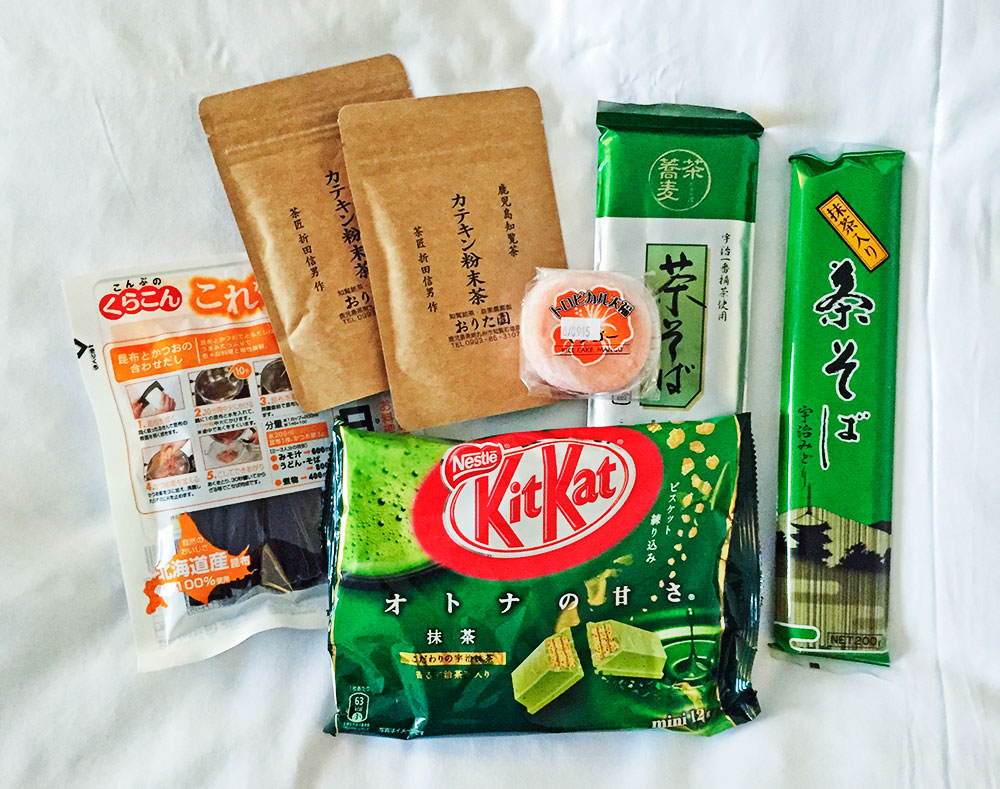 The real gem of Japantown is the Nijiya Market, a Japanese grocery store. My hotel was just a few blocks away so I visited Nijiya whenever I wanted to feel like a kid in a candy store.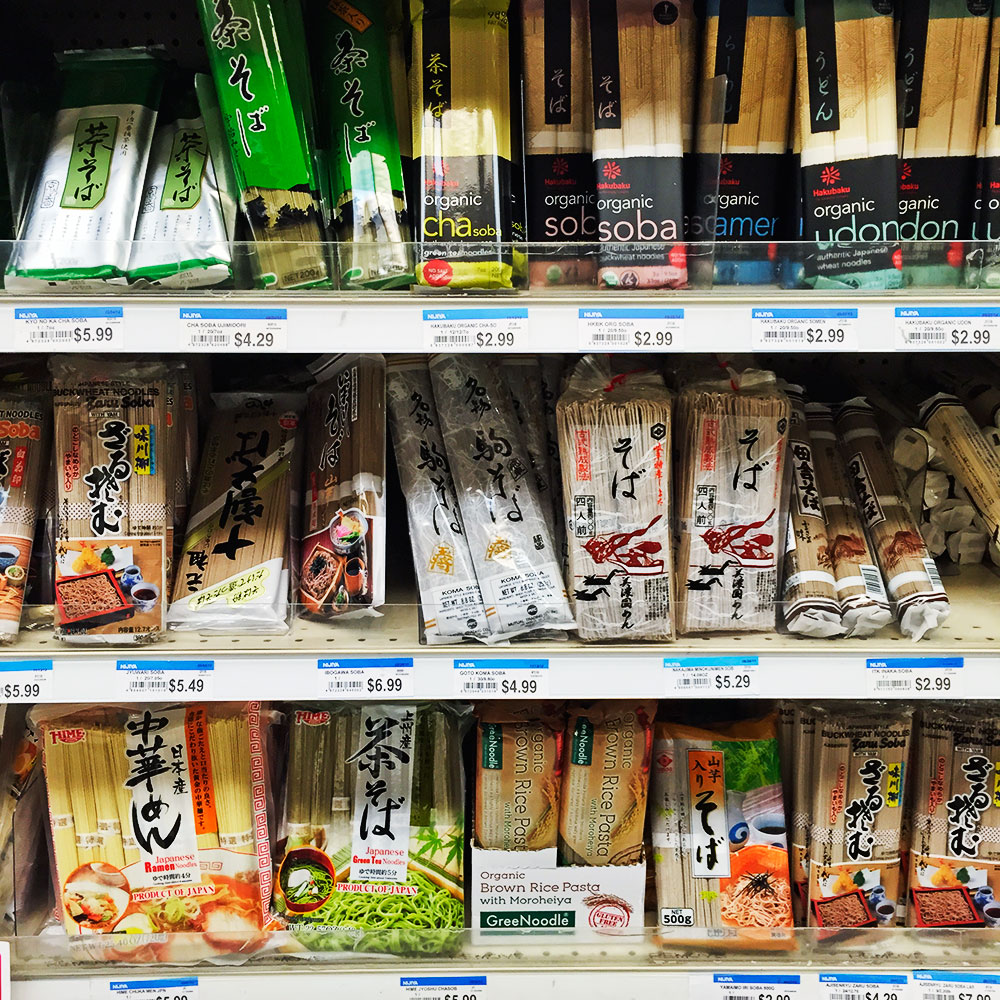 Amazing variety of rice (some in giant sacks), noodles, cute Japanese desserts, matcha everything, sushi, snacks, etc. The English translations on the labels are kept very short so it was difficult for me to distinguish between the varieties, but I'm still very happy with everything I bought there, except maybe the matcha KitKats.
Nijiya Market – 1737 Post St., San Francisco, CA 94115
Fillmore Street is the heart of Pacific Heights. The majority of the restaurants and shops are located between Bush and Jackson. Here are my favorites:
Zinc Details: Furniture and accessories design boutique curated by its friendly owner Vasilios. One of the rare shops where I always find something I must buy. He recently opened another showroom down the street, so make sure to check out both of them.
Zinc Details – 1633 Fillmore St. & 1905 Fillmore St., San Francisco, CA 94115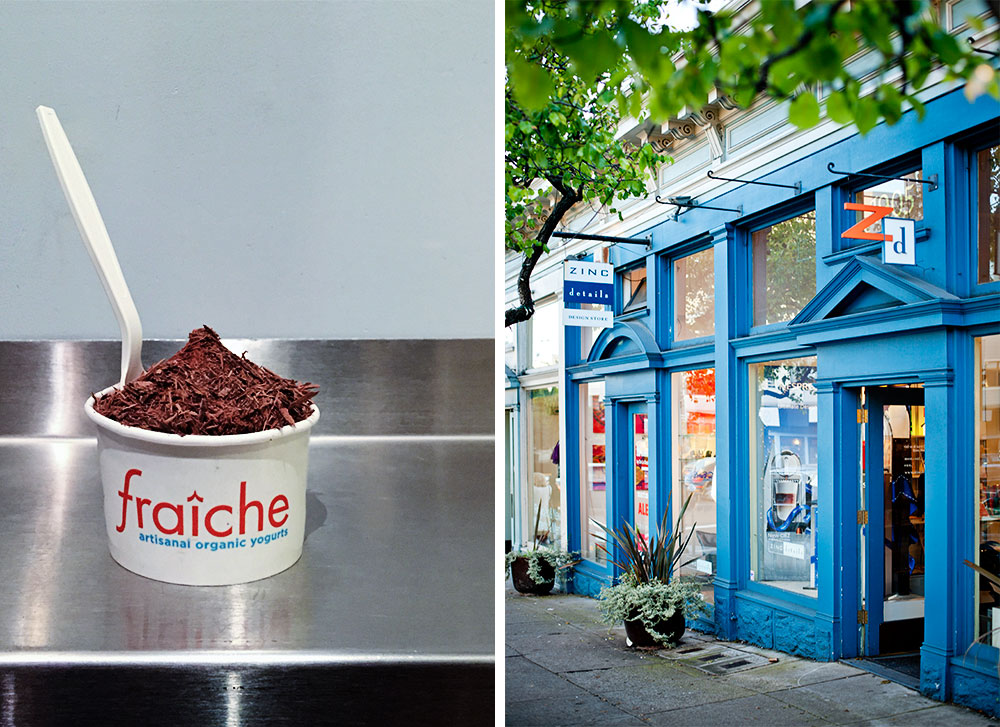 Fraîche: I love their Valrhona chocolate frozen yogurt (sprinkled with Belgian chocolate shavings) and coffee. One of few places on Fillmore that is open late.
Fraîche – 1910 Fillmore St., San Francisco, CA 94115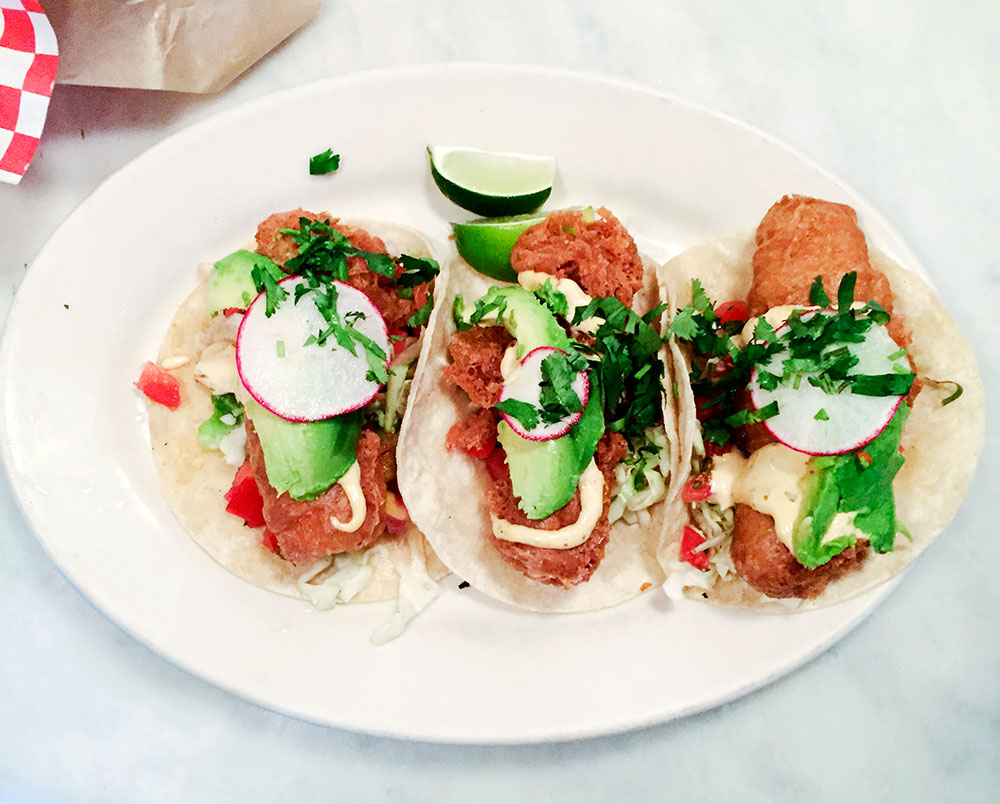 Woodhouse: I am a big fan ever since I had my first dinner here with my friend Hande. My favorites are the Split-top Maine Lobster Roll (with coleslaw and shoestring fries), Baja-style Fish Tacos (crispy battered cod with cabbage, pico de gallo & avocado) and Fish & Chips (Anchor Steam beer-battered wild alaskan cod with shoestring fries).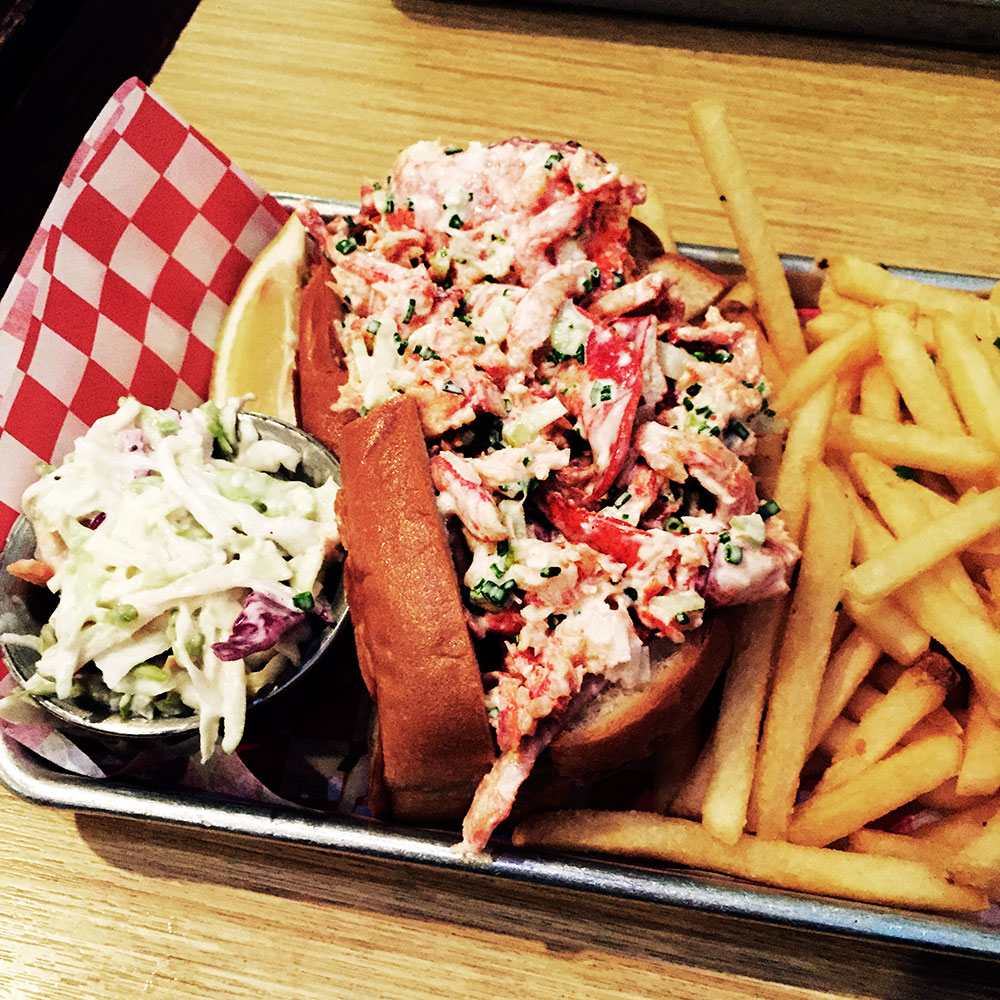 It is always packed to the brim, so either have them put your name on the waiting list and take a stroll around the block or go there outside of regular lunch and dinner hours. They also have a branch on Market Street in Downtown.
Woodhouse – 1914 Fillmore St., San Francisco, CA 94115 (Pacific Heights)
2073 Market St., San Francisco, CA 94114 (Downtown)
Glaze Teriyaki Grill: I went in for a quick lunch on my last day and loved this place. They serve teriyaki plates with rice and salad on the side. First you choose your protein – chicken (breast or thigh), steak, salmon or pork (they also offer tofu and sauteed vegetables) – then rice (white or brown) and finally the dressing for the salad. The teriyaki sauce was a bit heavy for me, but everything was fresh and flavorful. There are a ton of options on Fillmore, but if you happen to stay around this neighborhood, it is definitely worth a visit. They also have a branch on Chestnut Street in the Marina, where they also serve Dynamo Donuts (two birds with one stone) in remembrance of the location's original tenant of 28 years, All-Star Donuts.
Glaze Teriyaki Grill – 1946 Fillmore St., San Francisco, CA 94115
2095 Chestnut St., San Francisco, CA 94123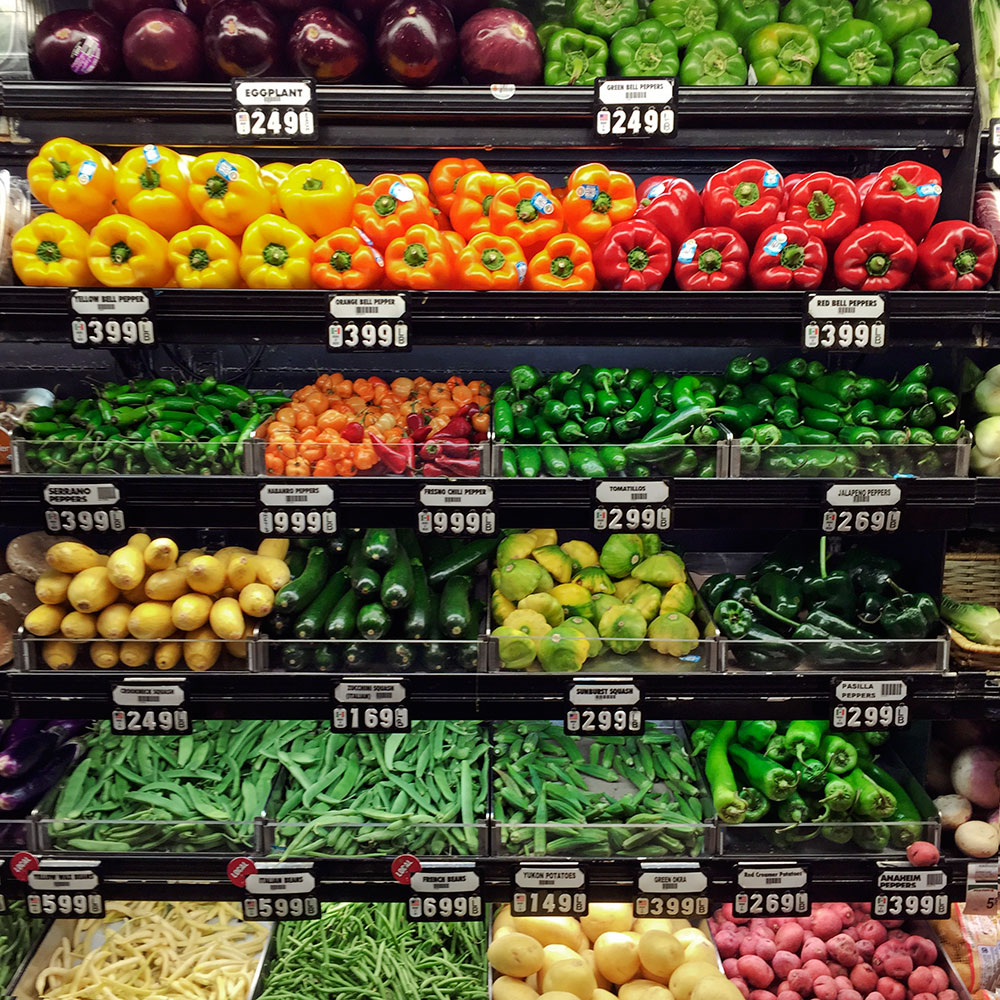 Mollie Stone's: One of my greatest joys is grocery shopping in San Francisco. I stopped by Mollie Stone's everyday and bought berries and Bing cherries to enjoy as a late night snack while watching Murder, She Wrote.
Mollie Stone's Markets – 2435 California St., San Francisco, CA 94115
Pizzeria Delfina: Based on my previous experience, I had high expectations. Sadly, their pizzas weren't as good as I remembered them to be.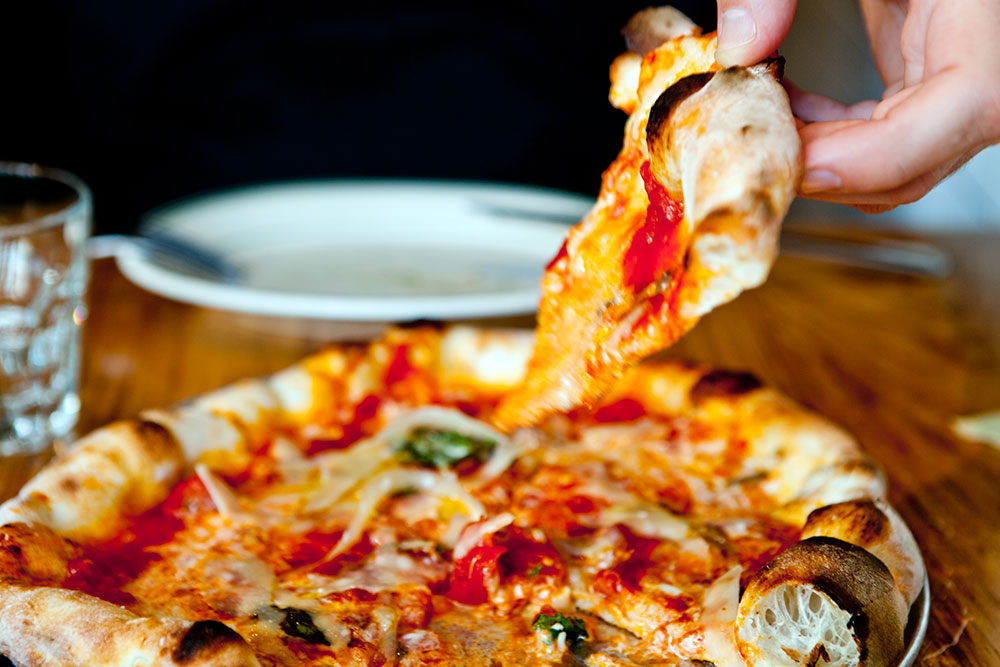 I'm not sure if this counts as a compliment for a pizzeria, but everything else we ate was perfect. I'll definitely give their pizzas another try but only if I don't have to wait in line or if I ever get tired of the lobster roll at Woodhouse a few blocks away.
Pizzeria Delfina – 2406 California St., San Francisco, CA 94115
Jane: On our previous visit, our go-to breakfast spot on Fillmore was La Boulange as it was the only place that had a variety of egg dishes on the menu. We weren't very happy, but we had no other choice.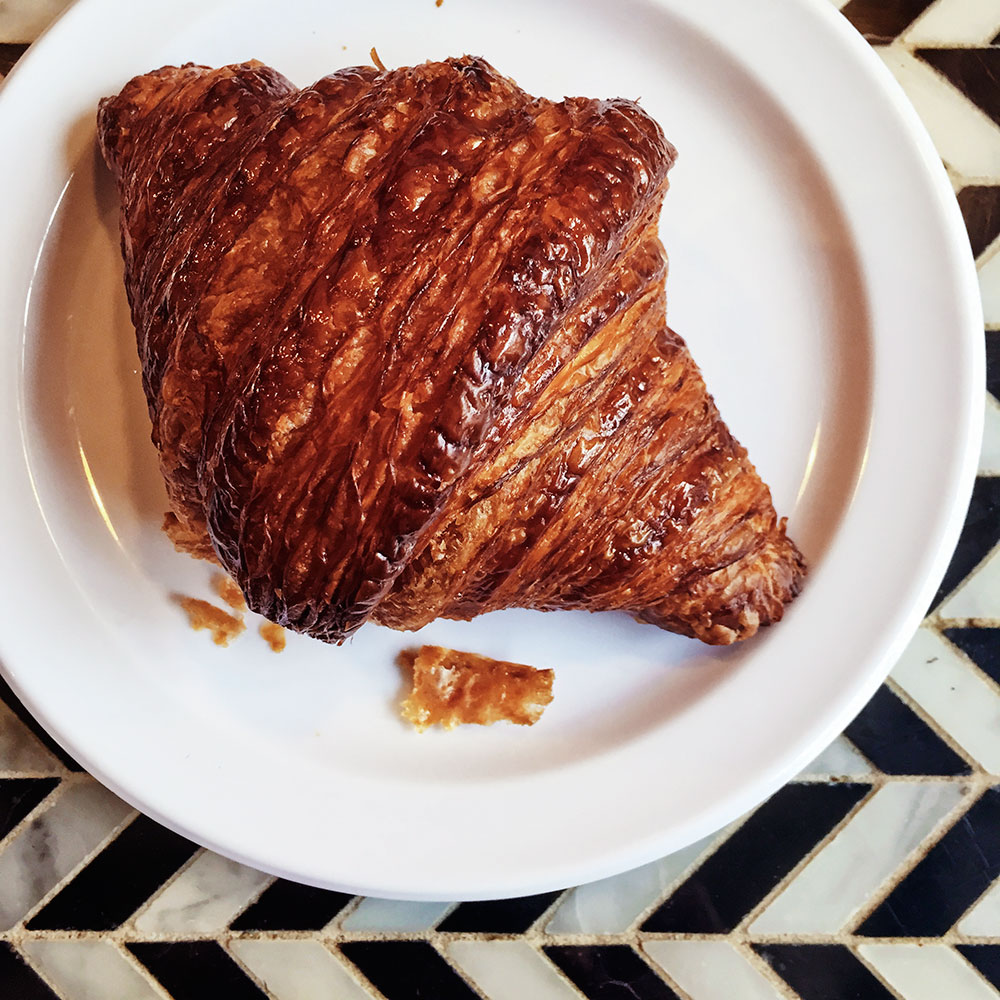 Thanks to Jane, we now have a great place to have breakfast on Fillmore. My favorite is their egg sandwich. The egg to bread ratio was a bit off so I always ordered cream cheese and smoked salmon on the side.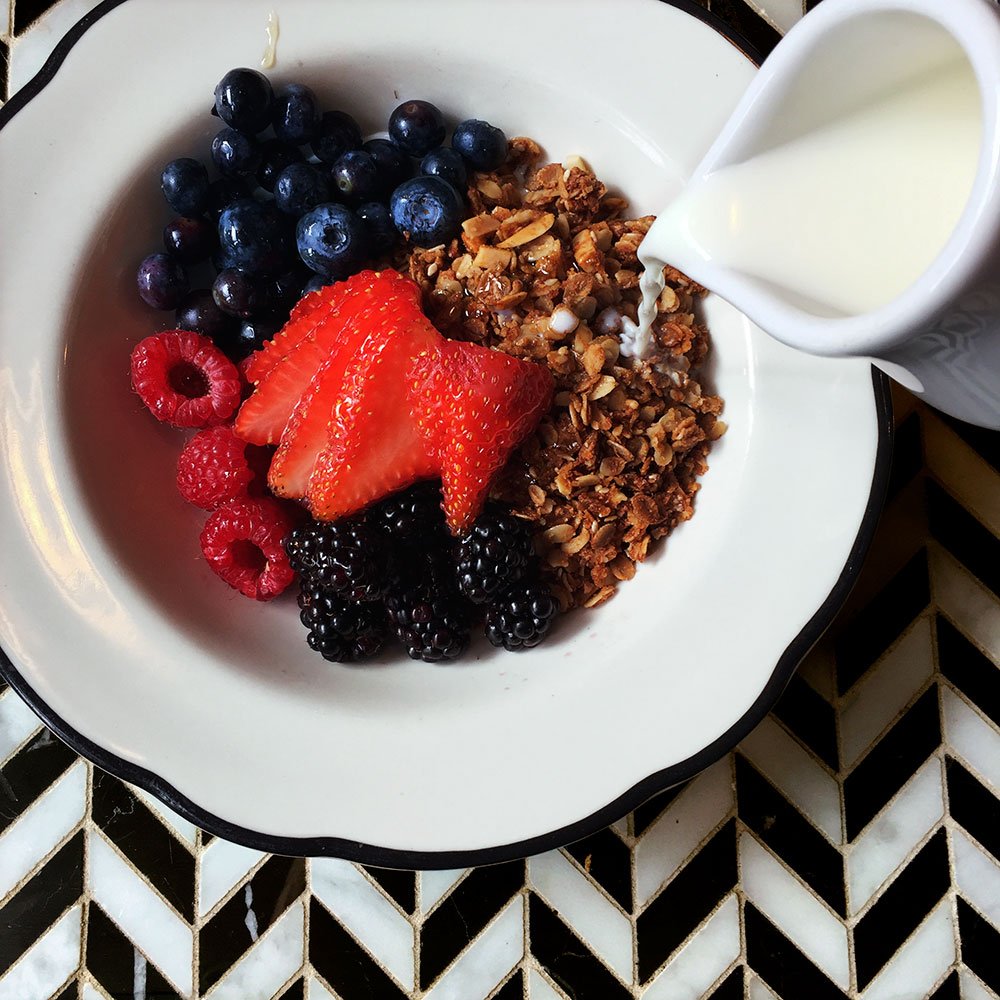 I also highly recommend their granola, ham & cheese croissant and citrus brioche.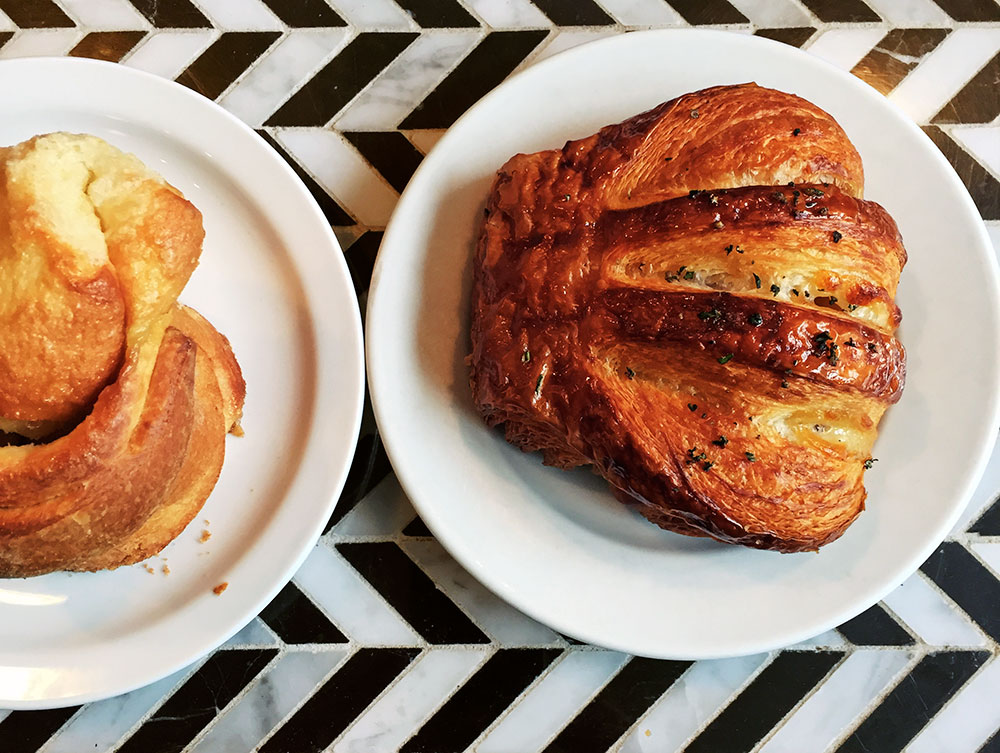 Jane – 2123 Fillmore St., San Francisco, CA 94115
Clay Theatre: I adore the old theaters in San Francisco. That smell of buttered popcorn!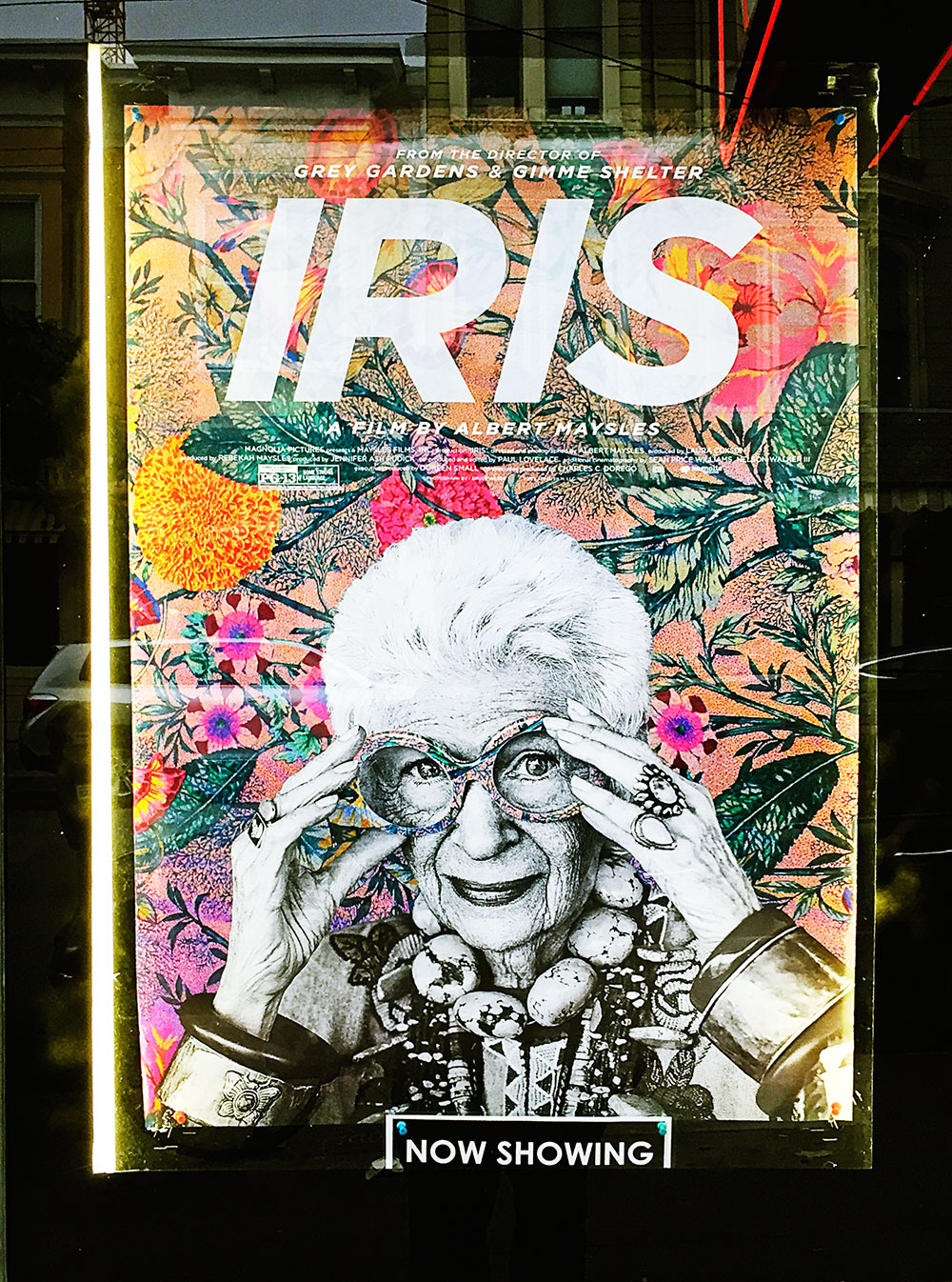 The seats here are very uncomfortable as well, but Iris was worth it.
Clay Theatre – 2261 Fillmore St., San Francisco, CA 94115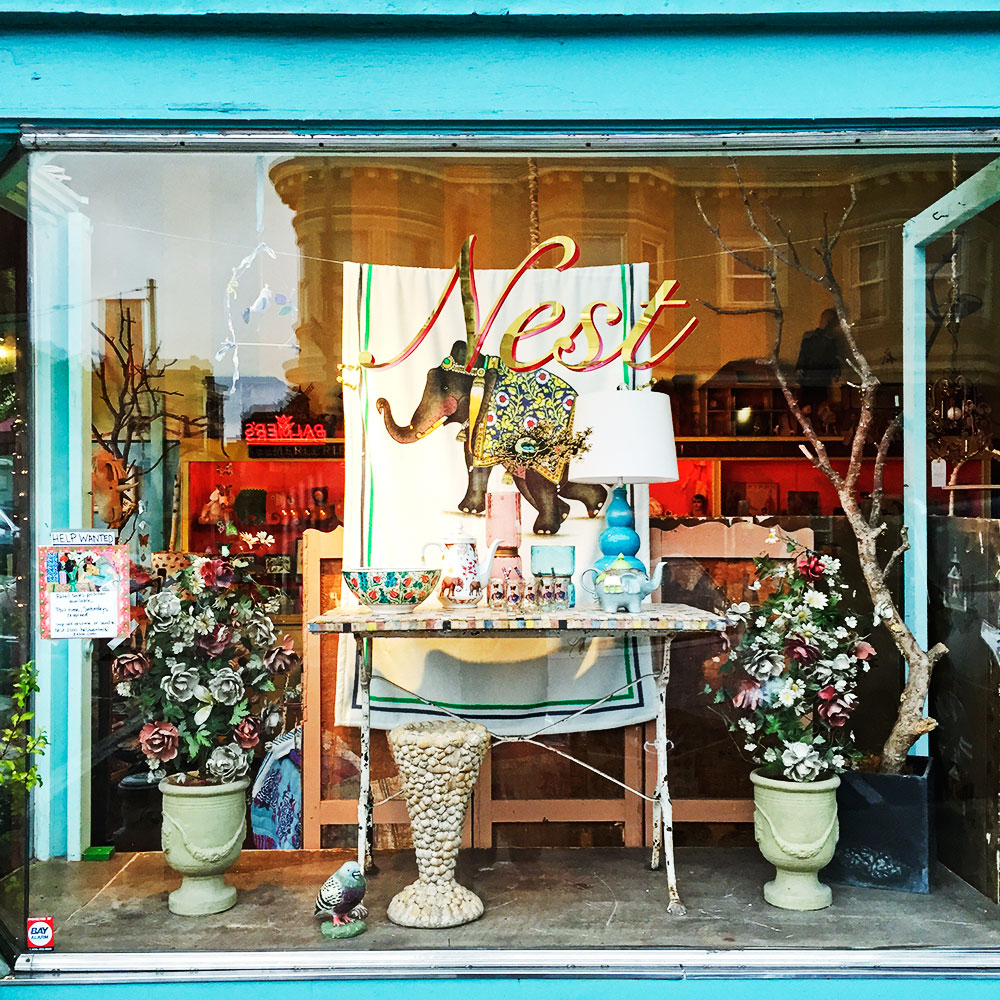 Nest: My favorite shop on Fillmore. Cookbooks, plates, French trays, linen, toys, stationery… A bit pricey but wonderfully curated and always inspiring.
Nest – 2300 Fillmore St., San Francisco, CA 94115
Mureta's Antiques: My favorite antique store in San Francisco. It is a small shop, but the selection is wonderful. Great collection of silverware, tableware and antique jewelry. You can find pieces by Herend, Meissen and Royal Copenhagen at reasonable prices. That is, if you can find the place open. The sign says it is closed on Sundays and Mondays only, but don't be surprised to find it closed on other days as well.
Mureta's Antiques – 2418 Fillmore St., San Francisco, CA 94115
I didn't have a chance to visit them this time, but here are two more highly recommended places that were on my list:
THE MARINA
Walk three blocks north and you'll get a bird's eye view of the Marina at the intersection of Fillmore and Broadway. If you find yourself at that intersection in 2035 or later, please ring my bell and join me for a cup of coffee. I haven't decided yet, but I'll either be living on the top corner unit of the building on the right or the second house on the left with the nautical windows. There will be a giant banner that reads "I've made it!", so you'll know.
The majority of the cafes, restaurants and shops are on Union and Chestnut Streets. Start walking downhill and you'll first hit Union.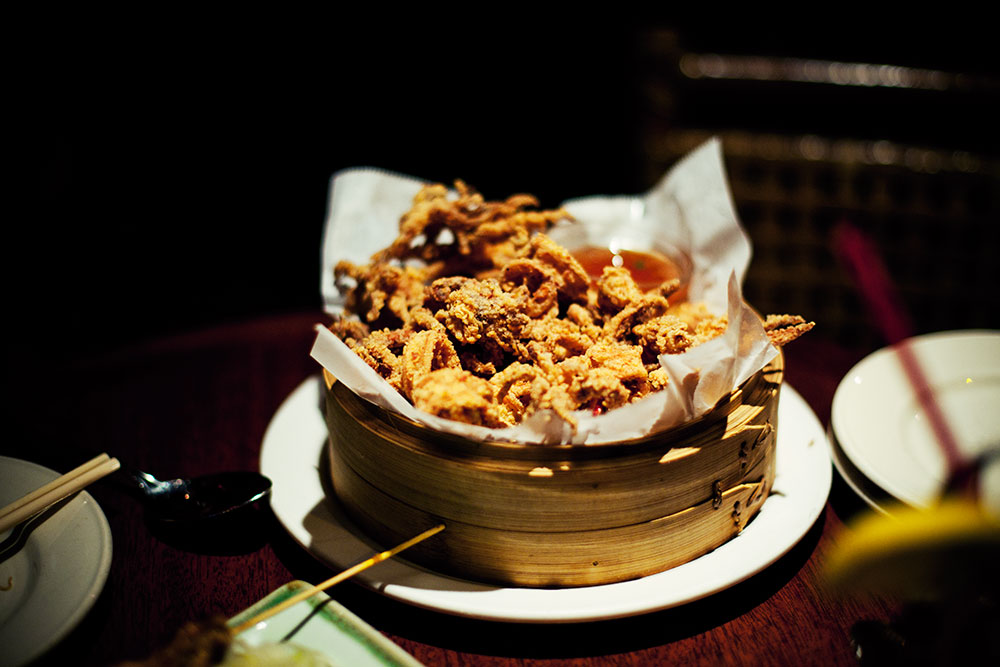 My favorite restaurant on Union was Betelnut, which closed two months ago. I'll never forget their Chili Crusted Calamari.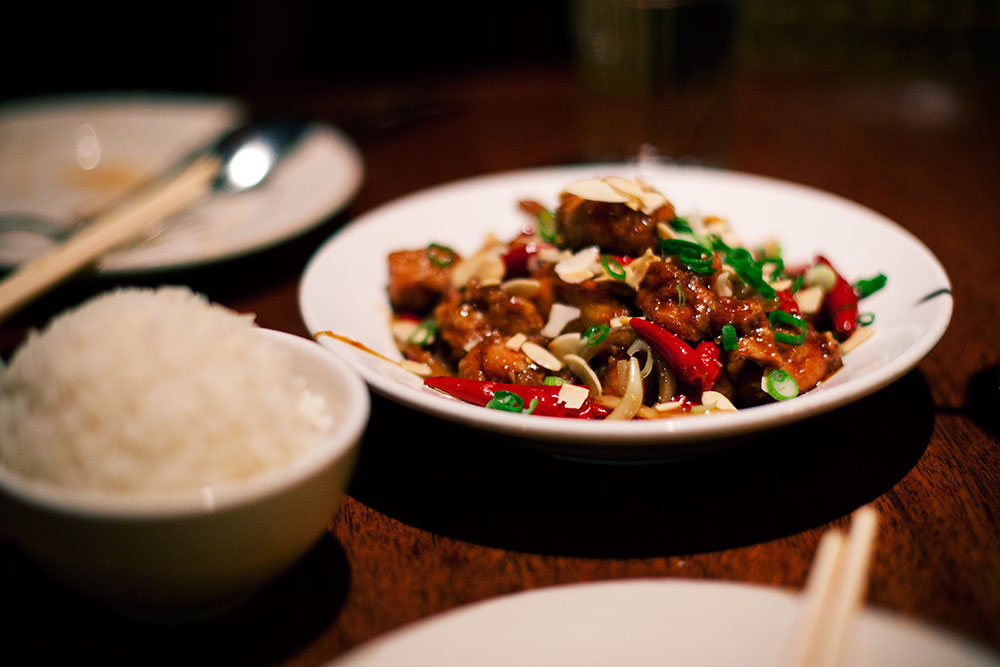 Or the Five Chili Chicken.
Most of the shops on Union Street are between Fillmore and Octavia. I always stop by Atys, a great design store tucked away in a historic courtyard and Z Gallerie.
If you continue on Fillmore towards the marina, you'll soon hit Chestnut Street. There's a tiny (compared to their Downtown branch) Williams-Sonoma on the corner. Take a left and breath in the wonderful smells coming from Tacolicious. I've heard so many good things about this place, but just couldn't brave the long wait.
Super Duper Burgers: A few blocks away is Super Duper Burgers. It promises everything a burger shop in San Francisco can/should promise: The ingredients that makes the burgers are sustainable and locally-sourced. Even the shop signs are done by local painters! And of course, they are dedicated to reducing their carbon footprint. They don't even have trash cans! I always say: San Franciscans will save the world!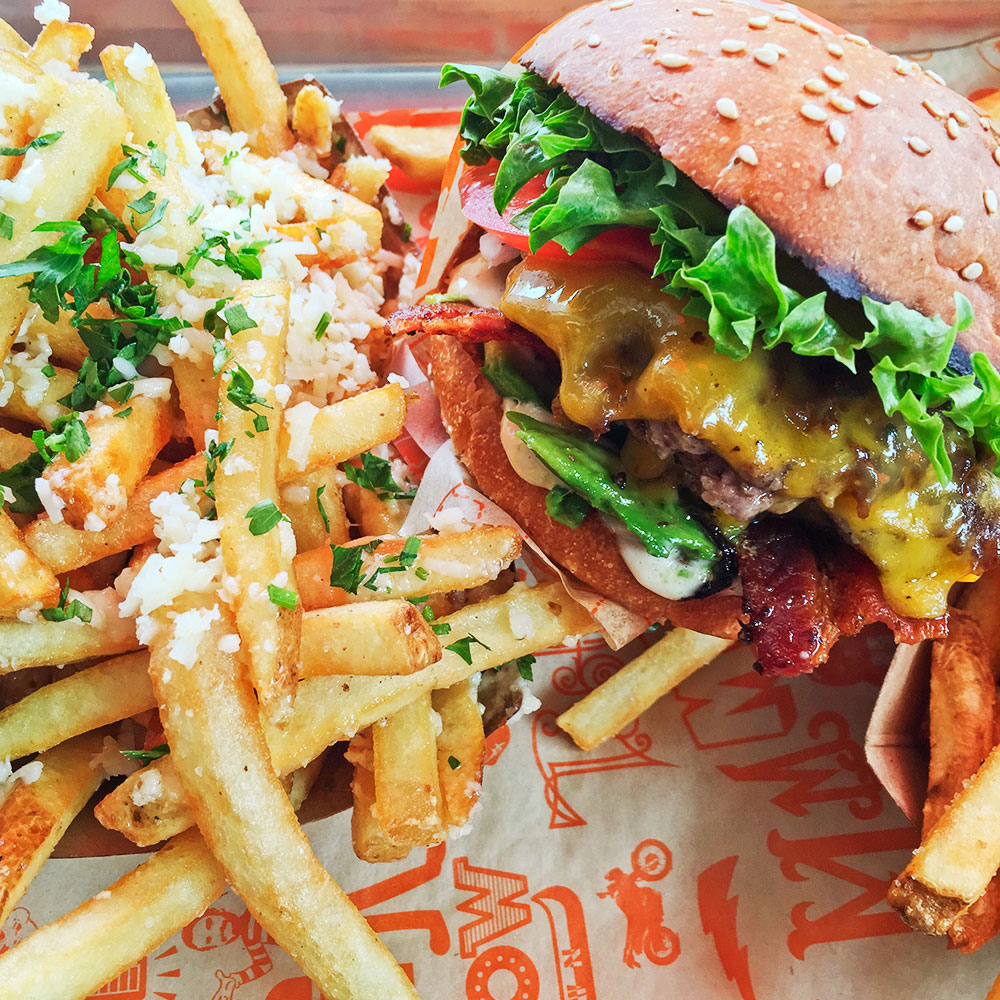 I really wanted to like their burgers – and I can't say I didn't like them – but was somewhat disappointed. That might be due to the fact that I've ordered a cheeseburger with every extra topping imaginable. Next time I'll go for a more sensible combination and report back.
Super Duper Burgers – 2203 Chestnut St., San Francisco, CA 94123
Mamacita: Mamacita wasn't on my list of restaurants to try, but it was one of the few restaurants that didn't have a long line outside so we decided to go in. And I'm so glad we did because we were blown away by everything we tried.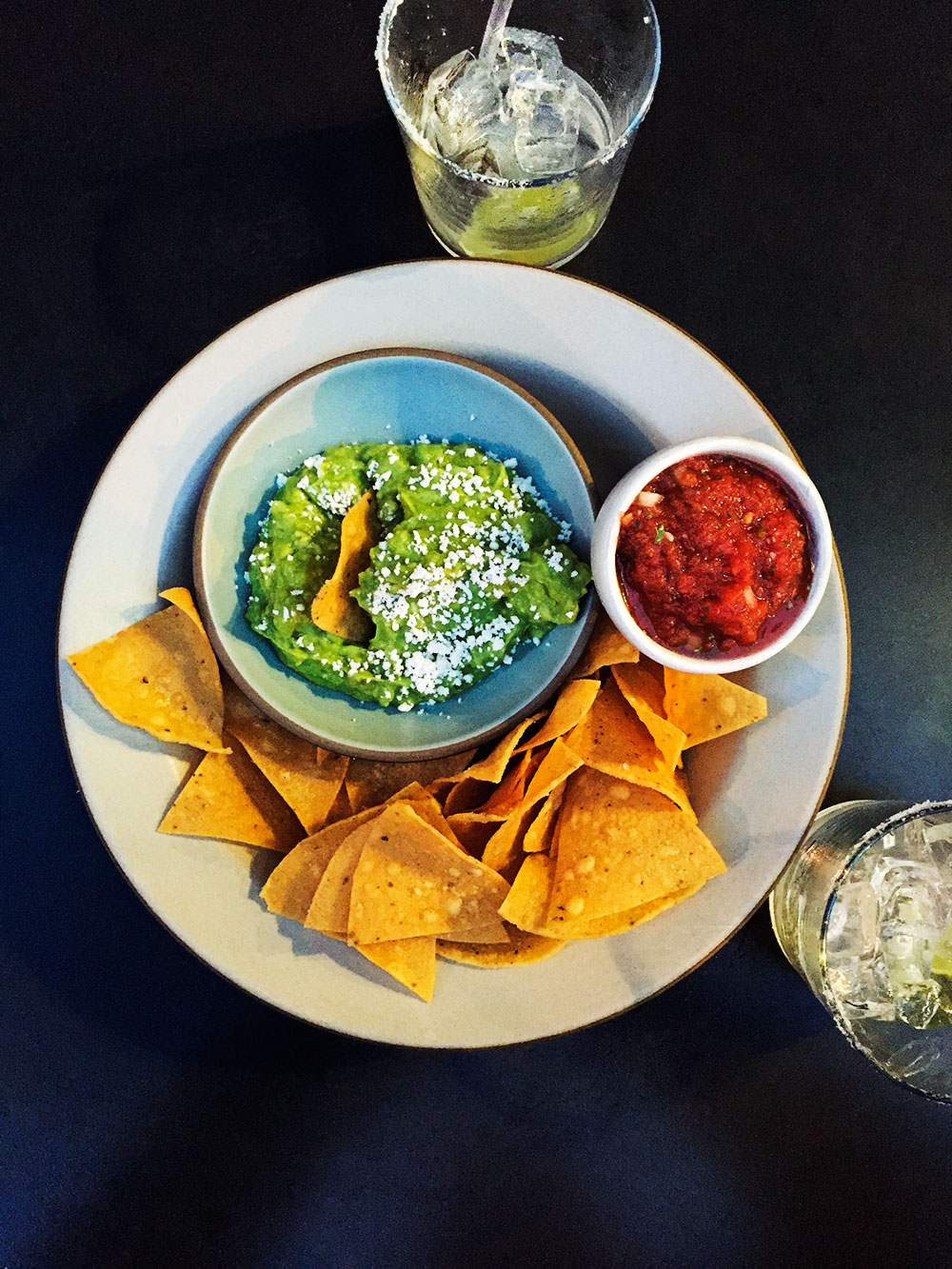 Their menu changes four times a year so I am not sure if you'll come across these, but here is what we enjoyed in case you do:
Guacomole – crushed avocado with jitomate, chile serrano and lime served with queso fresco and fresh tortilla chips
Chilaquiles Rojos – tortilla chips tossed with chipotle cream, shredded chicken, green garlic and poblano pepper rajas
Camaron Al Pastor – grilled achiote-spiced gulf prawns with apple-mango salsa, Sausalito Springs cress and queso cotija
Carne Asada – griddled meyer skirt steak with guacamole, chimichurri rojo, poblano pepper rajas, arugula and queso cotija.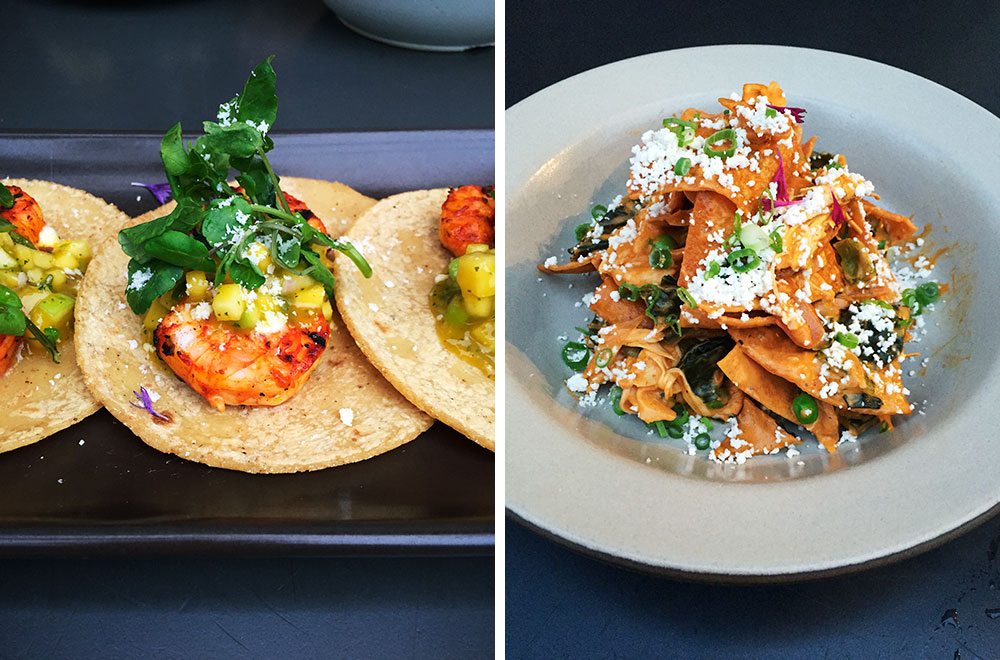 I usually don't drink anything with dinner, but their margaritas were so good I had to have three!
Mamacita – 2317 Chestnut St., San Francisco, CA 94123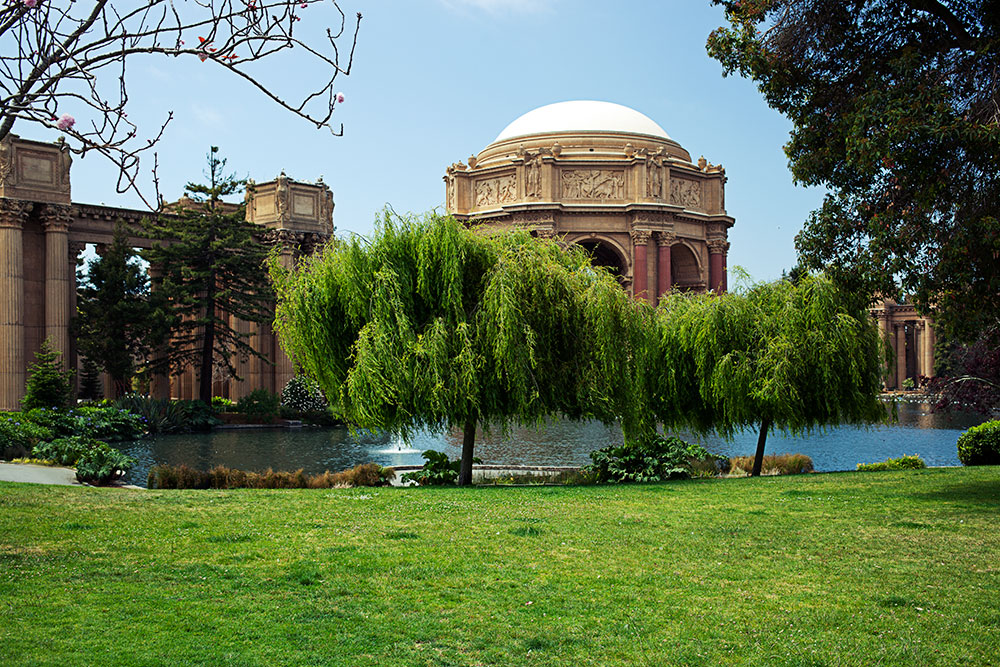 Palace of Fine Arts: It has been over 12 years since I moved back to Turkey. The first couple of years were hard for me to adapt and adjust. I missed the city so much I started watching my old neighborhood live from Exploratorium's roof cameras at the Palace of Fine Arts (no longer available because of their move to Pier 15).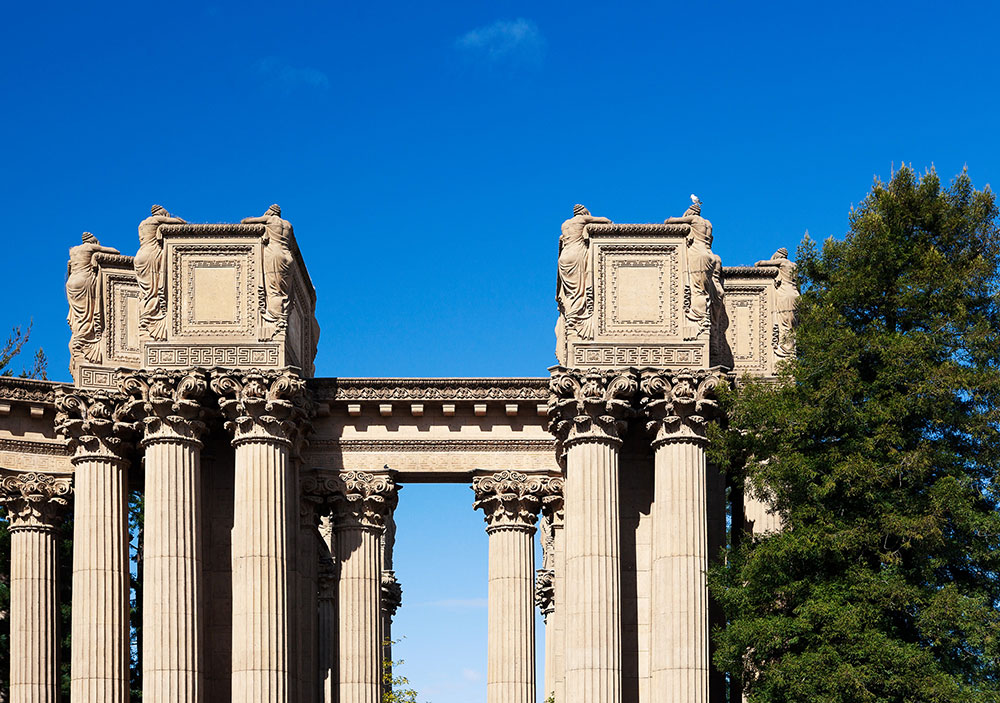 One of the cameras broadcasted the "Weeping Maidens". I realize now that even though I've spent many afternoons reading books under their shadows and watched them weep over the Internet for years, I've never given any thought to what they were weeping for.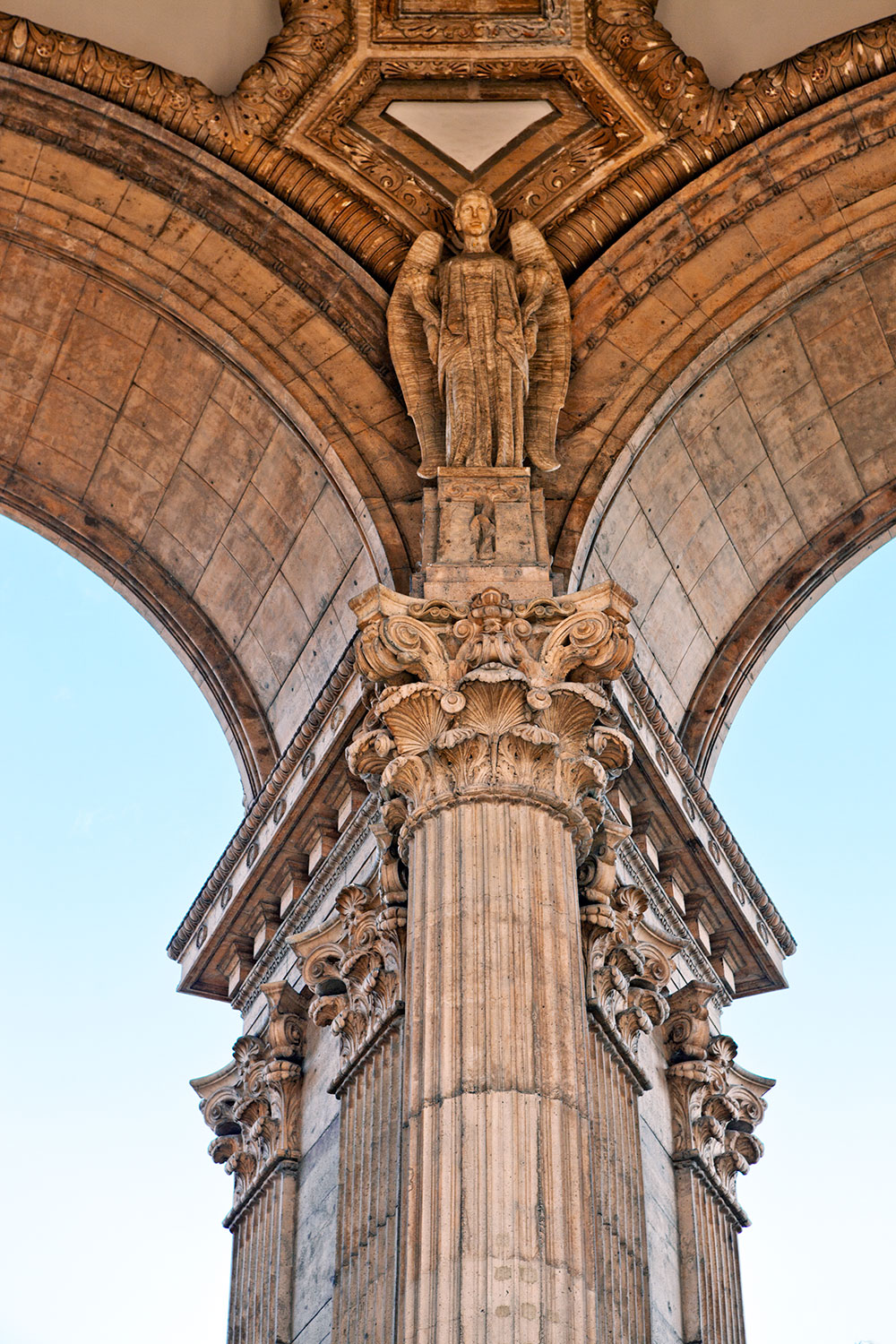 It turns out the reason was separation grief!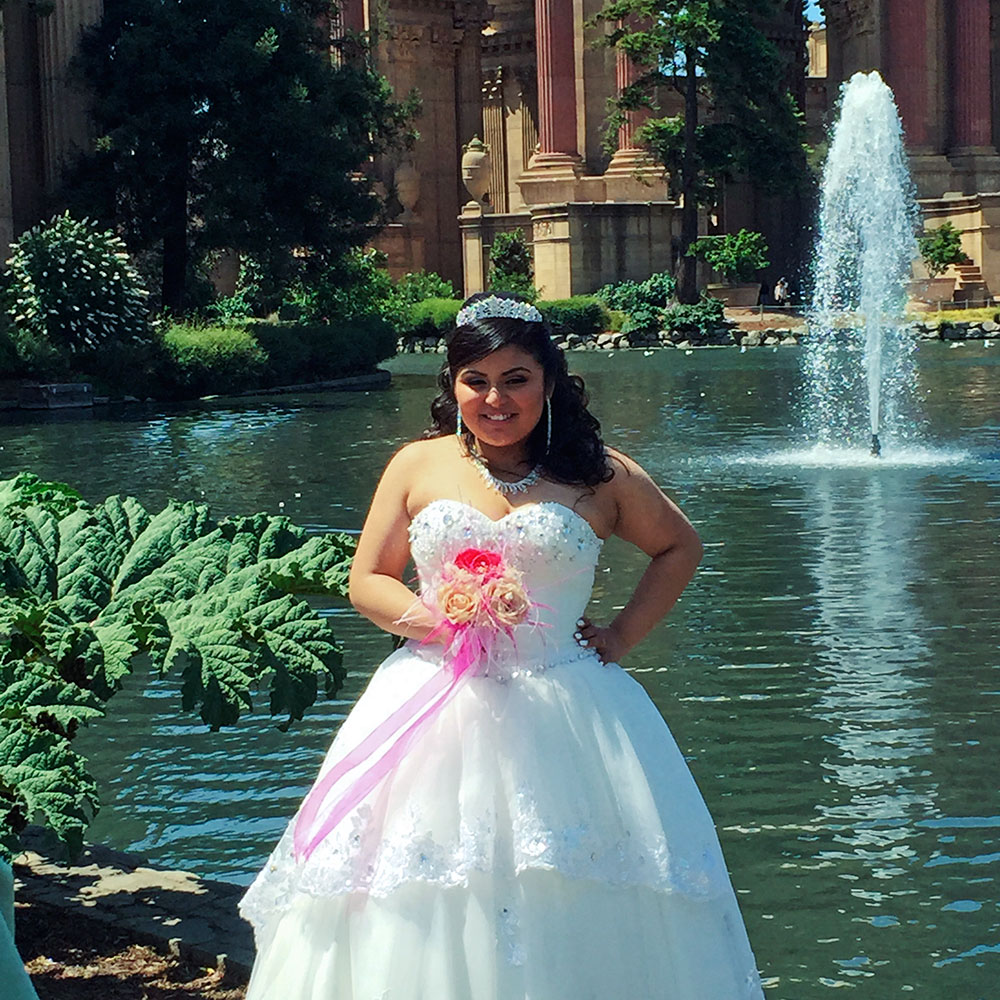 Nowadays a popular spot for wedding photo shoots, Palace of Fine Arts was built for the 1915 Panama-Pacific Exposition to honor the completion of the Panama Canal. It was also a celebration of San Francisco's rise from its own ashes after the devastating earthquake and fires of 1906. Thousands of artwork were flown in from around the globe to be exhibited.
The maidens weeped because they knew that the artworks by masters such as Monet, Rembrandt and Michelangelo would soon be leaving. Their tears were supposed to water the flowers to be planted in the giant pots in front of them, but logistical problems didn't allow it.
Palace of Fine Arts – 3301 Lyon St., San Francisco, CA 94123
But enough about weeping. Walk towards the smell of the ocean and you'll soon arrive at my favorite spot in the city.
Crissy Field & Golden Gate Bridge: I always reserve one afternoon for my Golden Gate Bridge walk. I pack all my lenses and head for Crissy Field.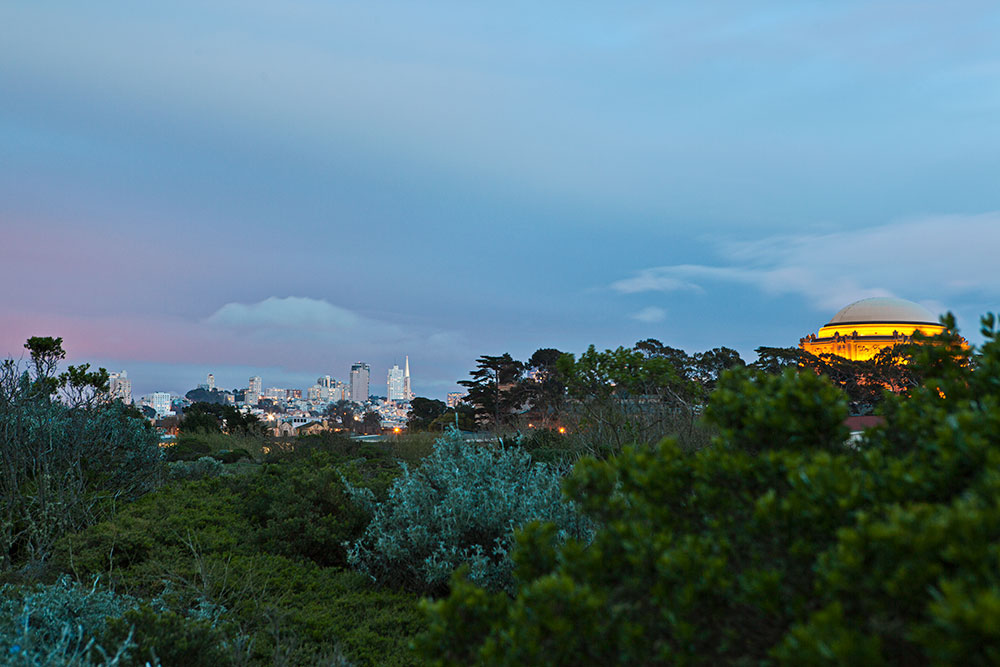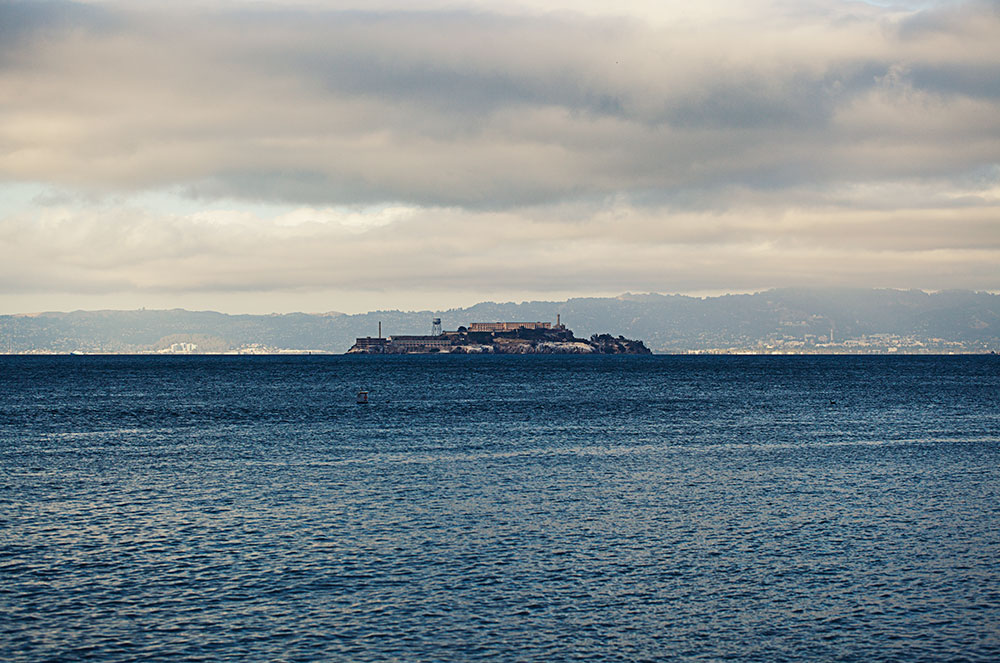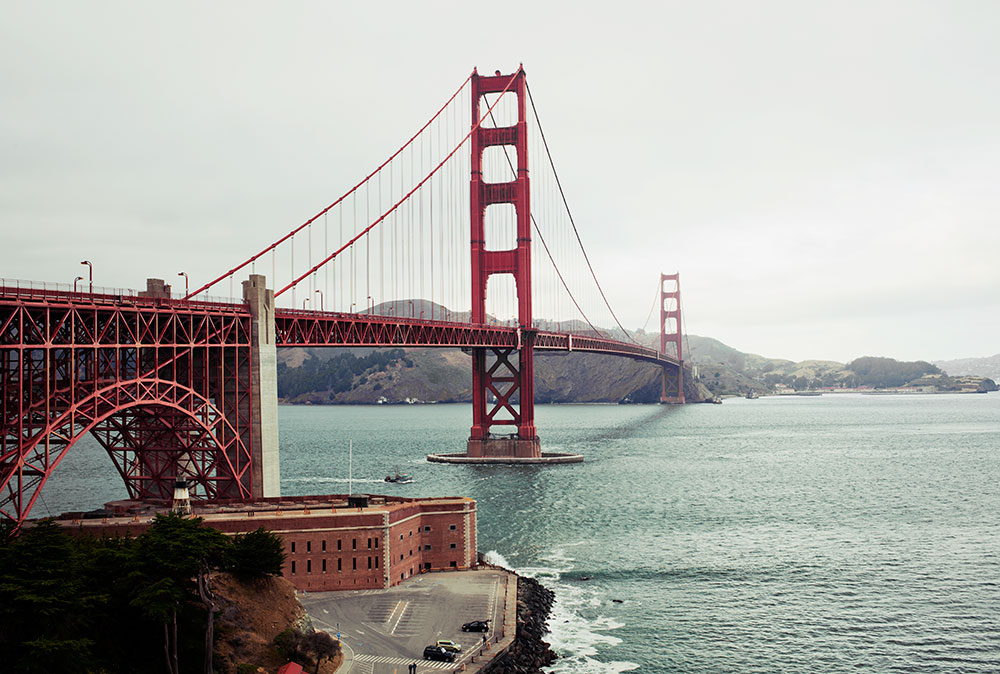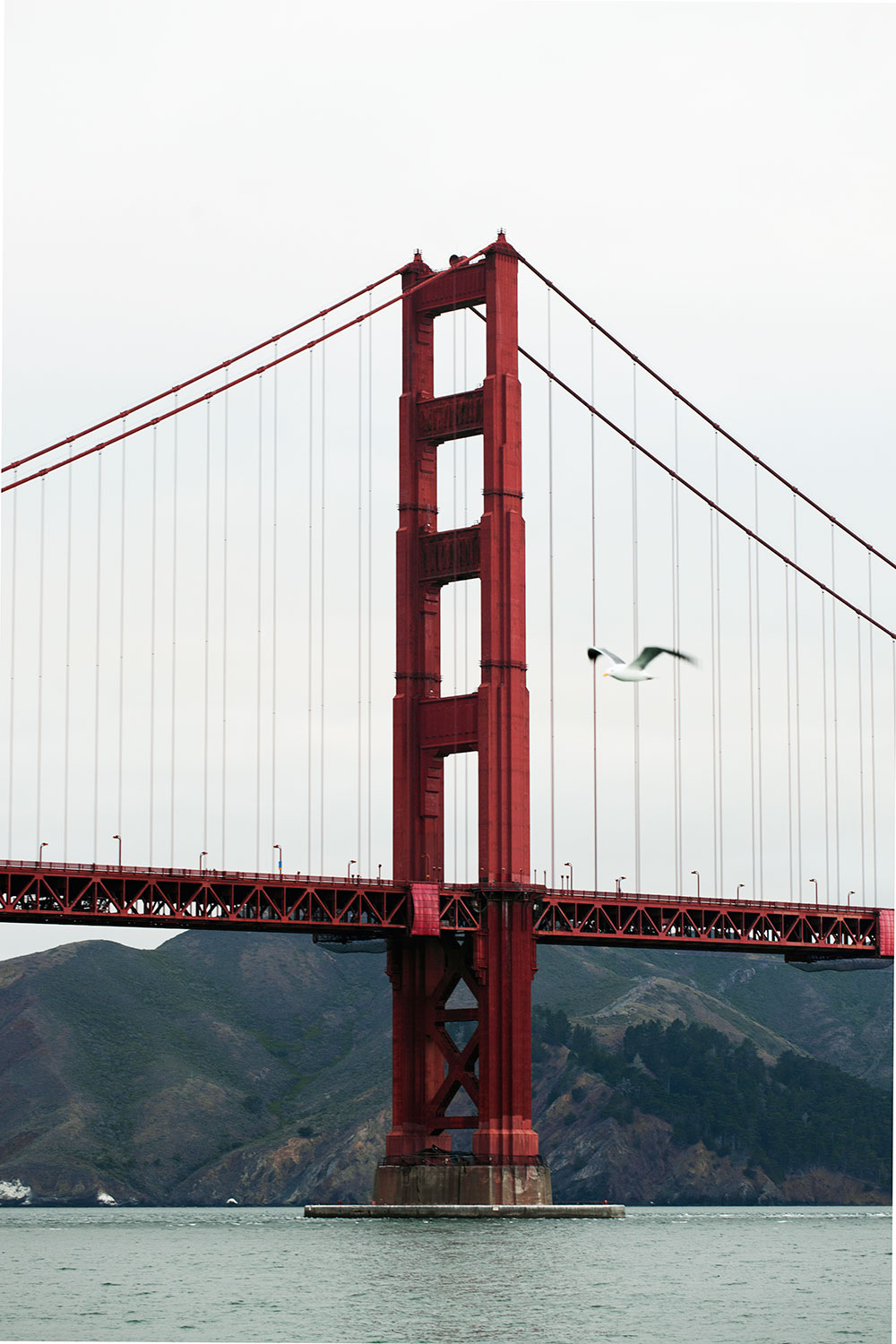 First I walk to Fort Point beneath the bridge to take a few photos, then go back and start climbing up.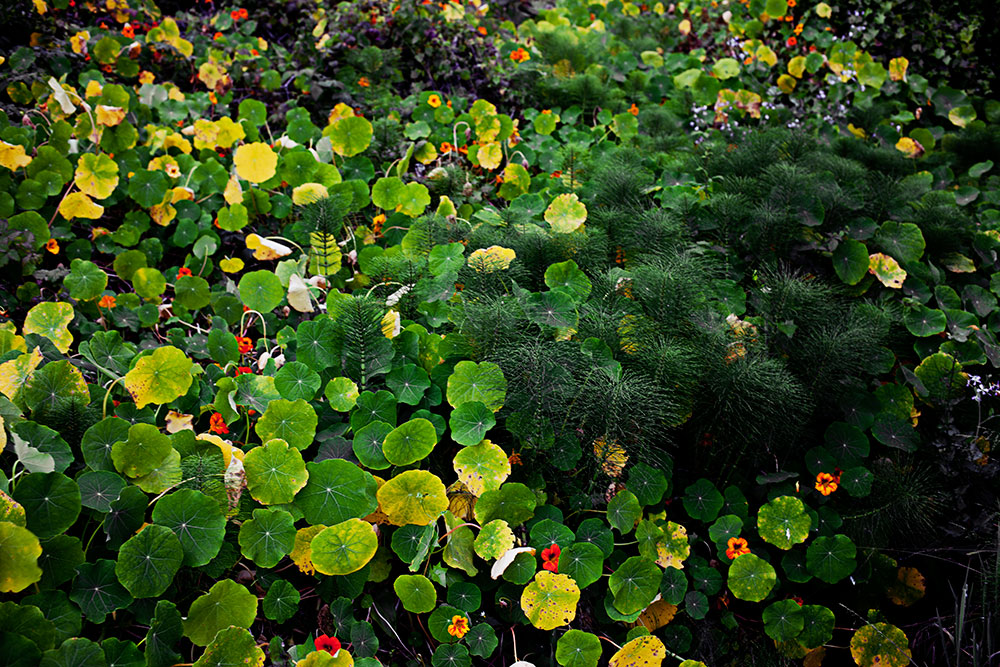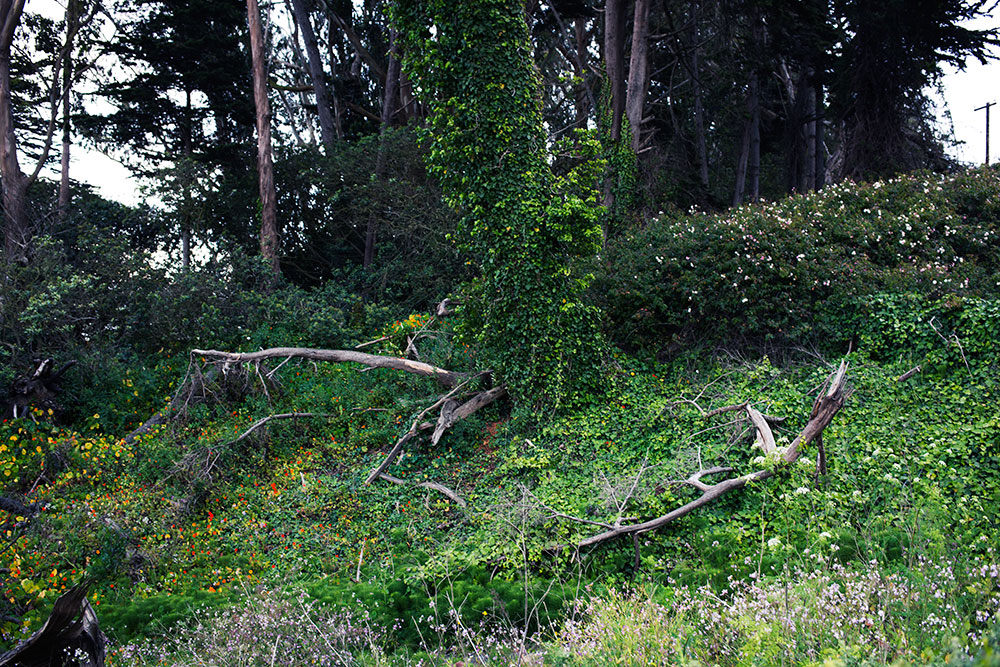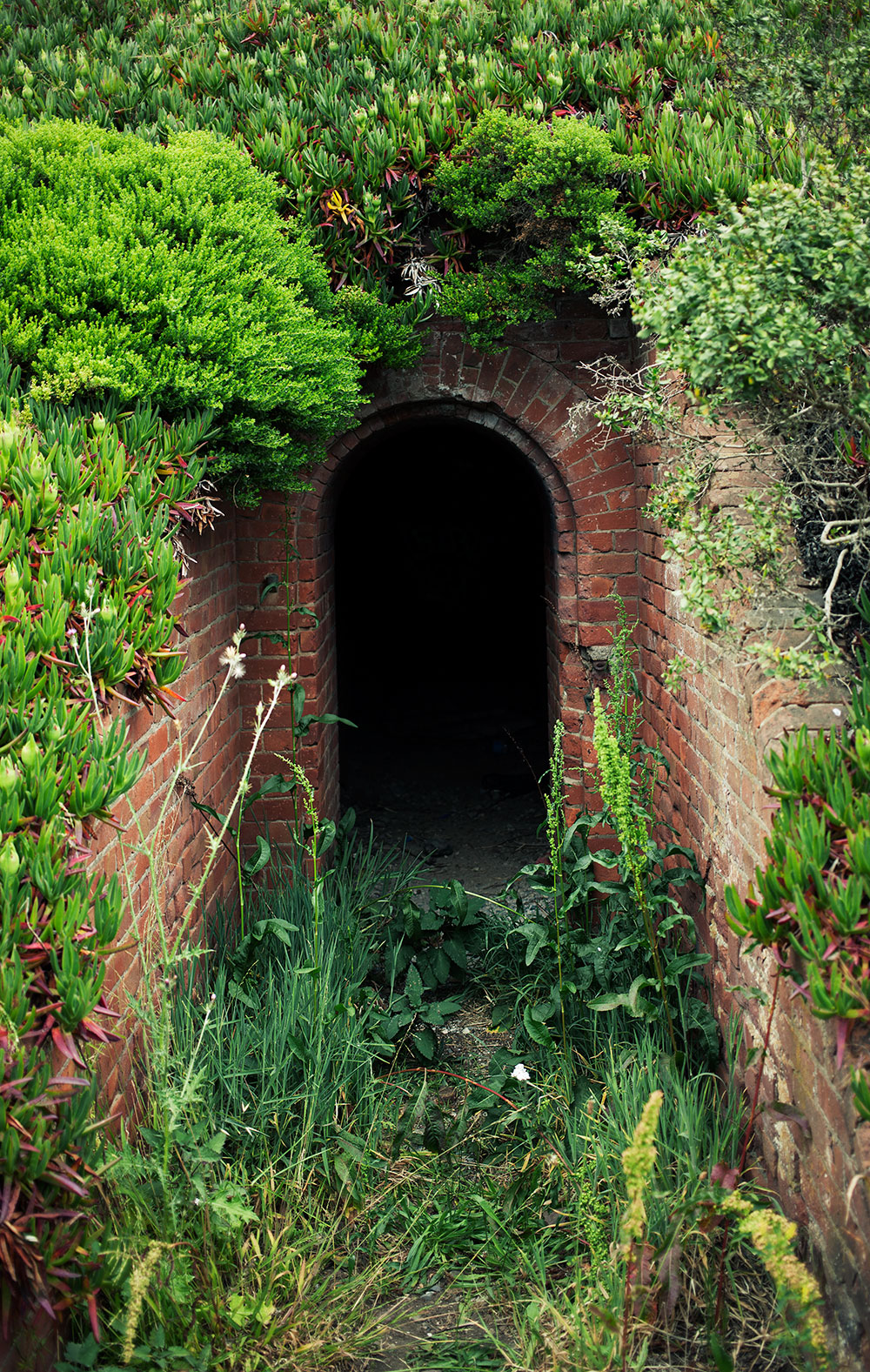 Every step is a photo opportunity.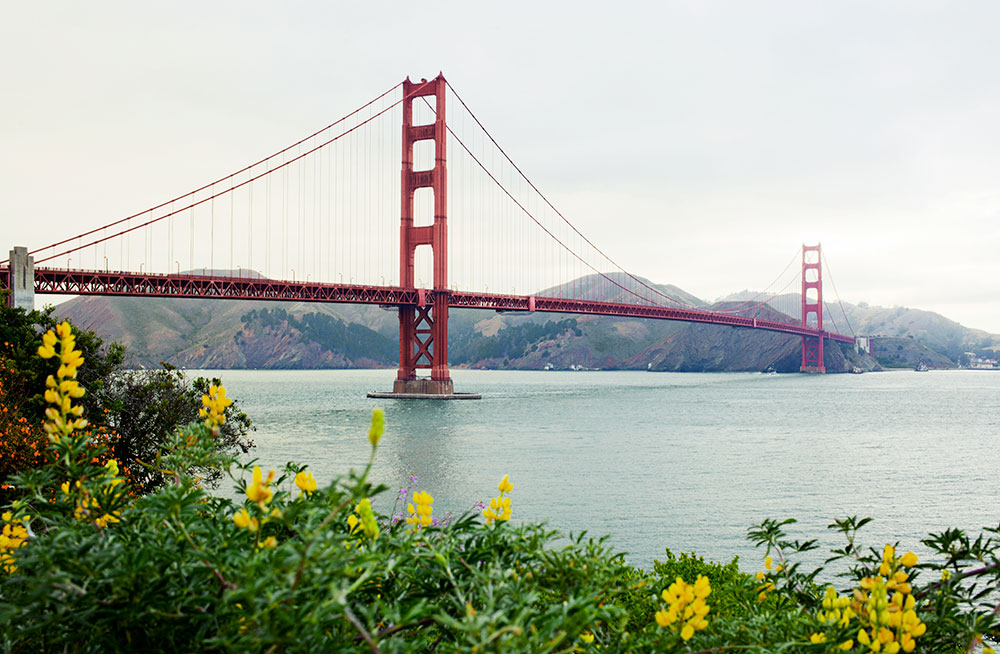 If you have the time, go ahead and cross the bridge on foot. The North (Marin side) Vista Point is a photographer's dream location.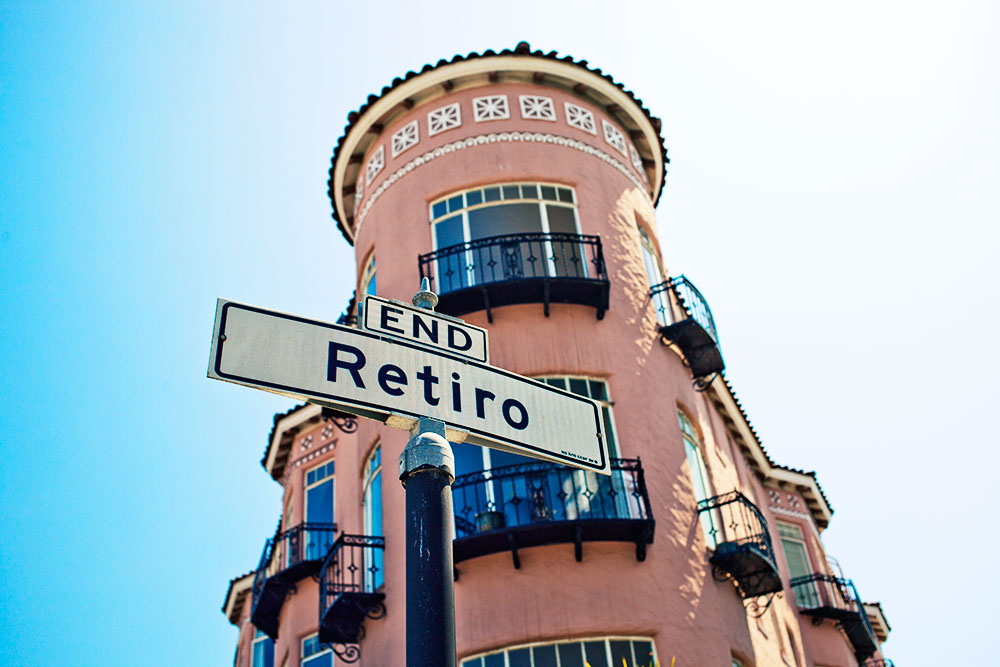 Next up will be a chocolate recipe I've been meaning to publish for a long time. Stay tuned.