It has been a hectic week. I can't even lift a finger, let alone bake. But I was instantly off the couch when I saw the mixed berries at Lara's blog. I adapted her recipe according to what I had in the freezer and an hour later I was enjoying these moist muffins full of tangy berries.
Below you will see a few tips and an amazing technique I learned from Dorie's books, which transform an ordinary muffin into an extraordinary one.
Raspberries used in the recipe are frozen and that is another plus of this recipe. Always keep a box of frozen raspberries (or any other berry) in your freezer and you're good to go anytime you crave a fruity muffin. Mix the dry and wet ingredients in separate bowls, spoon them into muffin cups and you're done. It is really that easy. Plus, there is not much to clean up afterward. That is always a good thing!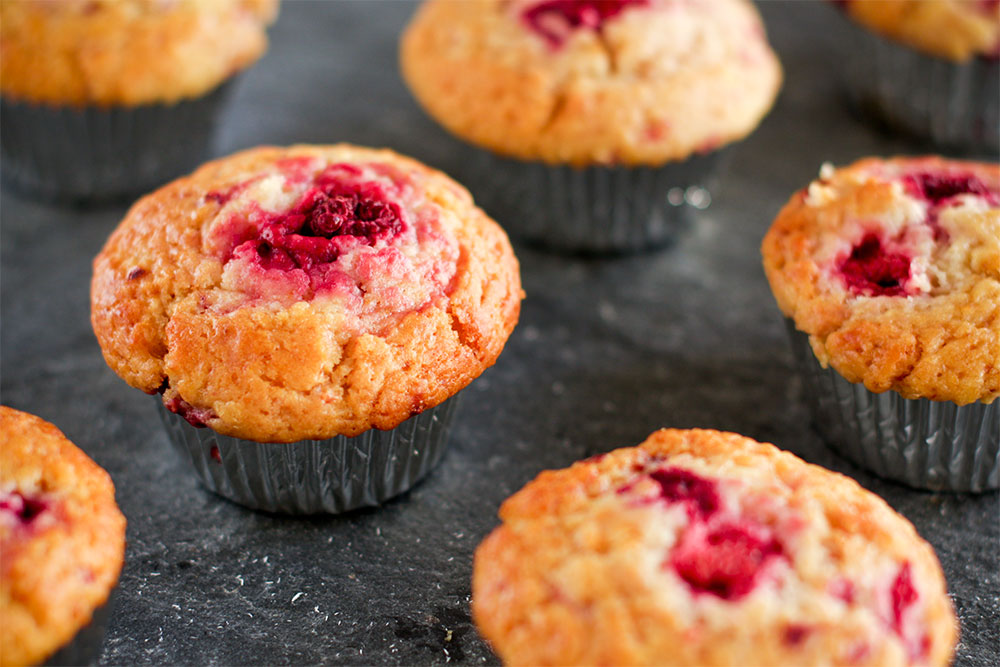 Here are a couple of tips that transforms an ordinary muffin into an amazing one:
Mix all the dry ingredients in one large bowl and all the wet ingredients in another. Pour in the wet ingredients into the dry ingredients at once and mix only until the flour disappears.
If you're using small-sized fruit, toss them with the flour to coat, which will guarantee an even distribution of berries.
Mixing the sugar with lemon peel isn't just enough; you have to rub the peel into the sugar crystals so that the aromatic oil is extracted.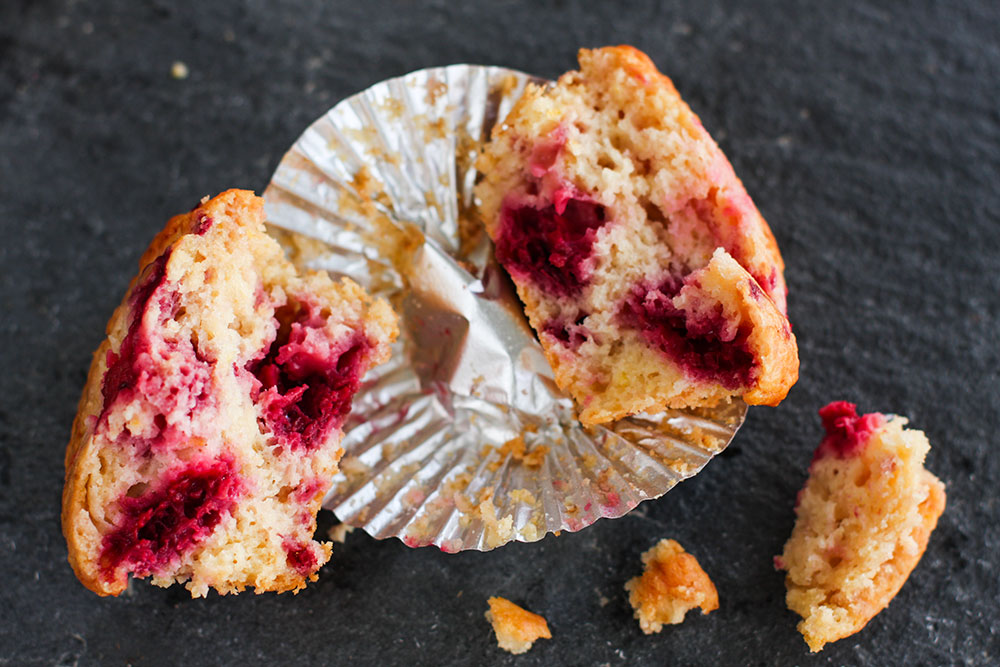 Got any other tips for the ultimate muffin? Please feel free to share in the comments section.
Raspberry and Lemon Muffins
Adapted from Lara's "Muffin Mixed Berries" recipe
Yields 12 (1/3 cup) muffins

Ingredients
1 + 1/4 cups yogurt
1/2 cup canola oil
2 eggs
2 cups + 2 tbsp all purpose flour
2 tsp baking powder
9 oz frozen raspberries
Peel of 2 lemons
1/2 cup granulated sugar
1/4 cup brown sugar
Method
Preheat your oven to 350F.
Lightly grease or line your muffin tray and set aside.
Rub the peel of two lemons with the granulated sugar and set aside.
Mix yogurt, oil and eggs in a medium bowl.
Sift flour and baking powder in a large bowl.
Reserve a handful and transfer the frozen raspberries into the flour and toss to coat.
Add the lemon sugar and brown sugar into the bowl, followed by the wet ingredients.
Mix until the flour disappears.
Spoon the mixture into muffin cups, place one or two berries on top and bake for 25-30 minutes.