Just like the Mung Bean Salad, Karniyarik wasn't included in the initial menu for the SF Chronicle article. Instead, I wanted to do a Turkish version of a dish that could have easily filled two full pages of my taste journal if I had ever kept one.
It is the Chicken Claypot I ate at The Slanted Door. I thought adding chickpeas and peppers and tomatoes from my father's garden will definitely make the dish Turkish, but without the sugar and caramel flavor, the dish would have never shown the influence of the original. So, in short, I ditched the idea and decided to go with my most favorite Turkish dish: Karniyarik. Literally translated, karniyarik means split belly, named after the process of splitting the eggplants and stuffing them with the minced meat mixture.
At the end of the post, you'll find recipes for the rest of the menu. These recipes are, again, based on ingredients found in Turkey. Especially cooking times may differ, so if you're living in the US, I recommend that you follow Janet's instructions instead. You know where to find them.
For the Bulgur Pilaf photo, I was torn between two amazing pots.
Here's the one I finally decided on: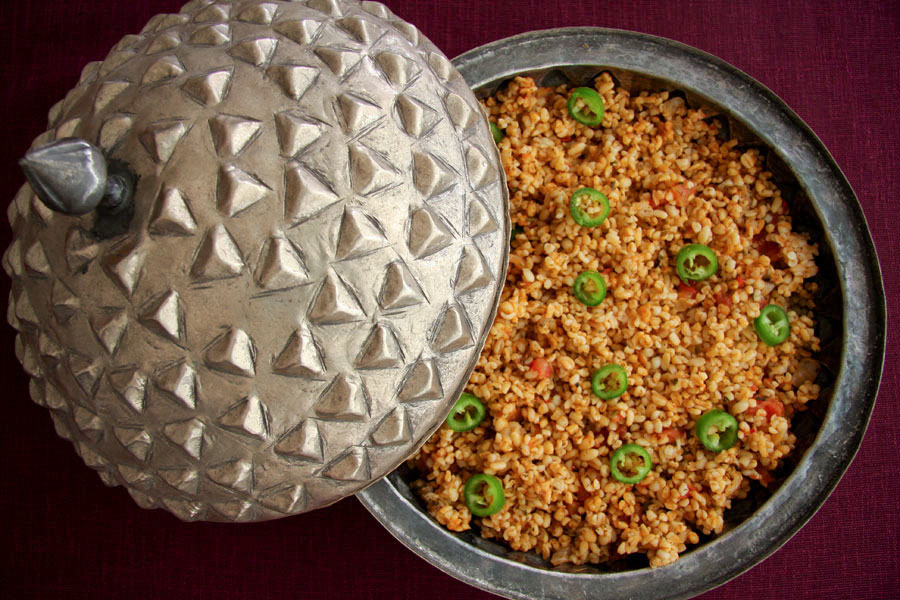 And here's the other one that was just as beautiful. The above is authentic Turkish, so it was the obvious choice.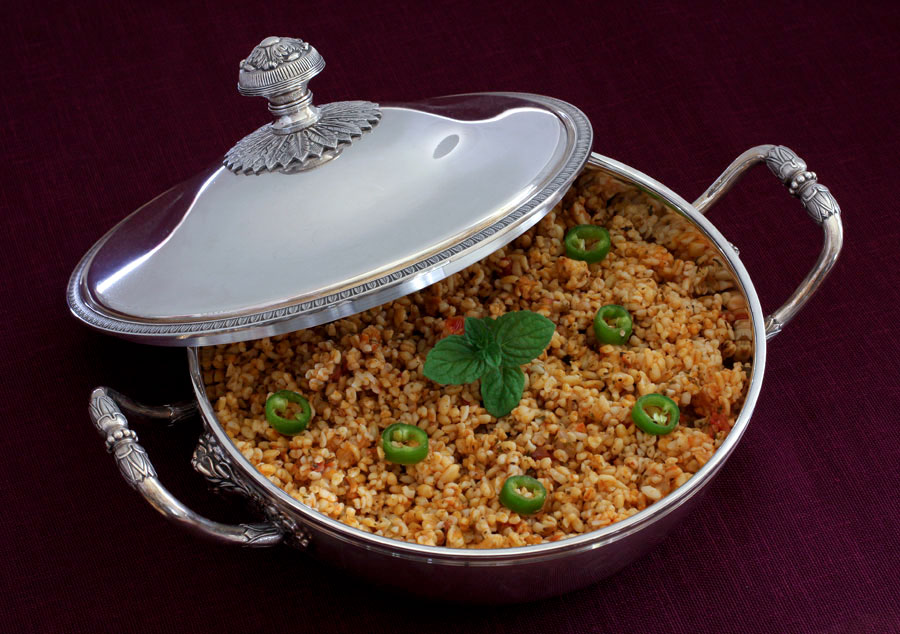 Oh, and here's the borek dish. It is super easy to prepare.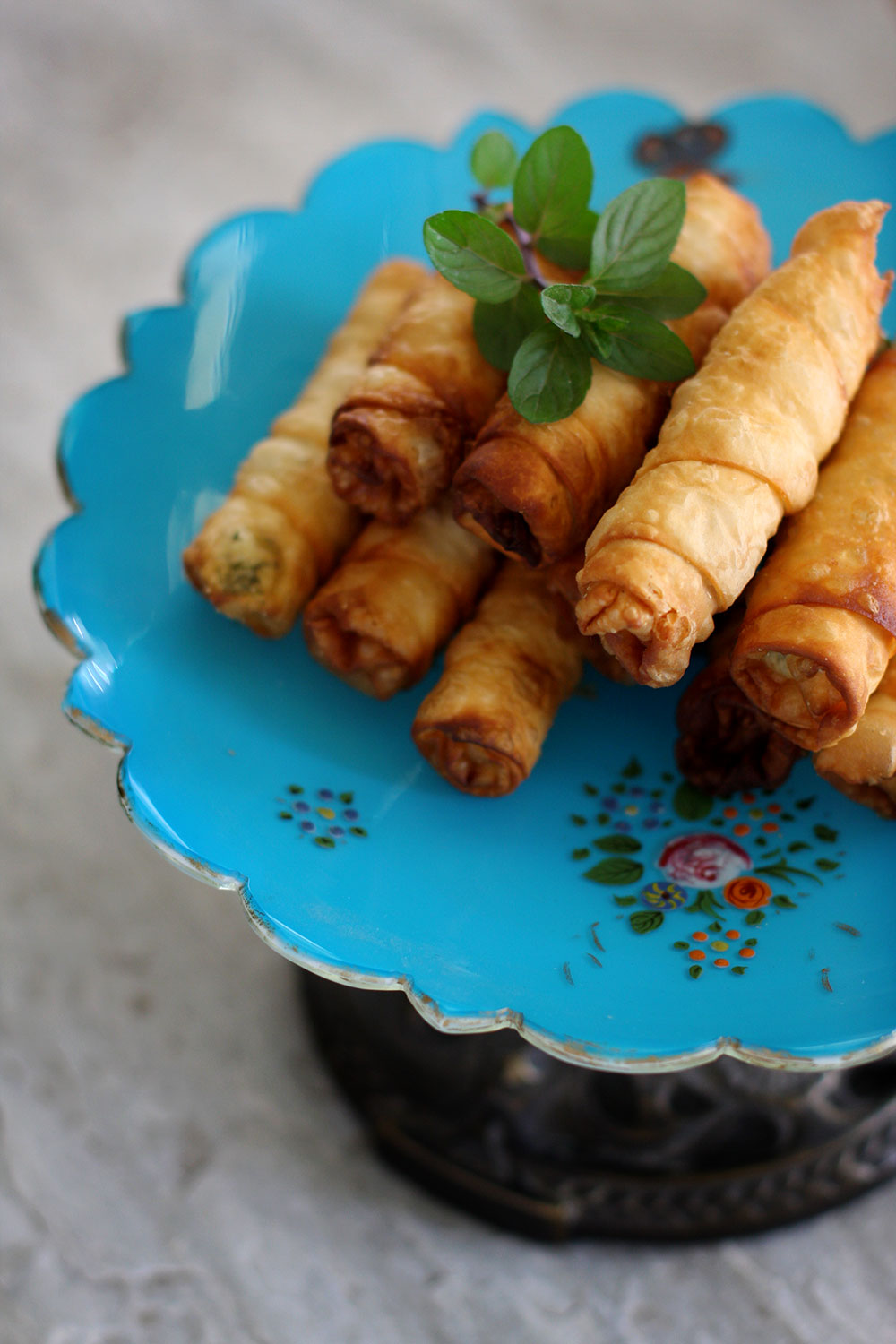 Enjoy!
CIGARETTE BOREK RECIPE
Serves 4
Ingredients
2 sheets of yufka, each cut into 6 triangles*
6 thin slices of pastirma (spicy air-dried cured beef)**
2 ounces Turkish Kasar cheese***
4 ounces feta cheese
2 tbsp fresh dill, chopped finely
Canola oil, for frying
* Here's where you can buy yufka, pastirma and Kasar cheese online.
** You can substitute breasola for pastirma.
** You can substitute Jack cheese for Kasar cheese.
Method
Cut yufka into 12 equal triangles and set aside.
In a bowl, combine feta cheese and dill and mash with a fork.
Place one triangle of yufka on the countertop and arrange slices of pastirma and Kasar cheese or feta cheese &dill on the wider end, fold in the sides and roll like a cigarette. Moisten the pointed tip with water and press gently to secure filling.
Repeat with remaining filling.
Heat oil over medium-high heat to 375F and fry the boreks in two batches. Transfer immediately to a plate lined with paper towel to drain.
BULGUR PILAF RECIPE
Ingredients
1 tablespoon butter
2 tablespoons extra-virgin olive oil
2 medium onions, chopped
1+1/2 cups (320 gr) medium-grain bulgur
2+1/2 cups boiling water
2 tomatoes, skinned and diced
3 peppers, chopped
1/2 tablespoon tomato paste
1/2 tablespoon red pepper paste
1 tablespoon dried mint flakes
1/2 teaspoon red pepper flakes
1/2 teaspoon sumac
1 teaspoon dried sweetbasil
1+1/2 teaspoons salt
Pinch of ground black pepper
Method
Put the bulgur in a sieve and rinse under cold running water until the water runs clear. Set aside to drain.
In a medium saucepan, melt butter and olive oil over medium-high heat. Add onions and saute, stirring occasionally, until beginning to brown.
Add tomato and red pepper pastes and saute for another 6 to 8 minutes.
Add bulgur; stir to coat.
Add tomatoes, dried mint flakes, red pepper flakes, sumac, sweetbasil and salt.
Add boiling water and cook covered until most of the liquid is absorbed.
Continue simmering on low heat until liquid has evaporated and bulgur is tender, about 25 minutes.
Remove from heat and stir in the sliced green peppers. Place a double thickness of paper towels on the surface, cover with lid and set aside to steam for 15 minutes.
KARNIYARIK RECIPE
Ingredients
4 eggplants
1/2 pound (250 grams) ground beef
1 large onions, diced
Flat leaf parsley, for garnish
2 tomatoes, one sliced thinly other one grated
2 sweet green peppers, sliced into two lengthwise*
Ground pepper, salt
2 cloves garlic, thinly sliced
1/2 cup boiling water
1 tbsp tomato paste, divided
Canola oil, for frying
1 tbsp granulated sugar
2 tbsp olive oil, divided
* You may have a hard time finding this type of pepper. You can substitute green chile for it.
Method
Pare eggplants in stripes lengthwise.
Place eggplants in a large bowl of salted water, invert a plate over the eggplants to keep them submerged in water and set aside for 30 minutes to remove any bitterness.
Drain and dry well with paper towels.
Add enough canola oil to a large skillet to reach a depth of 2 inches. Heat oil over medium-high heat and fry the eggplants in two batches. Transfer immediately to a plate lined with paper towel to drain. Once drained, place eggplants in an oven dish and set aside.
Preheat your oven to 375 F.
In a separate skillet, place 1 tbsp olive oil and garlic and cook over medium-high heat until garlic is evenly browned. Add diced onions and saute until translucent.
In a separate skillet, place 1 tbsp olive oil with ground beef and cook over medium-high heat.
Combine onions and beef and grate one tomato over the beef mixture. Add 1/2 tbsp tomato paste adjust seasoning and cook until all tomato juice evaporates.
With the help of two spoons, slit eggplants into two, leaving the tops and bottoms attached.
Sprinkle 1/4 tbsp sugar on each and stuff with the ground beef mixture. Slice one tomato thinly and arrange one slice and half a slice of green pepper on each eggplant.
Whisk together boiling water and the remaining 1/2 teaspoon tomato paste. Spoon a little over the eggplants to moisten them and pour the rest around them. Bake until the peppers have softened and the liquid in the pan has reduced to syrupy juices, 30-40 minutes. Serve warm.