One of my most treasured kitchen tools is the Buddha cookie mold Ozlem bought for me from China Town in San Francisco.
It has been almost two years… On my first visit to San Francisco after my move to Turkey, Ozlem and I were shopping in China Town. We went into this tiny store, and I noticed this Buddha cookie mold instantly. She was kind enough to buy it for me.
Judging from the details in carving, I knew it would be tough to get the cookie dough out in one piece. And actually, that had been the case on my initial trials. I was going through my kitchen tools the other day and I came across this cookie mold again and noticed how long it had been since the last time I've used it.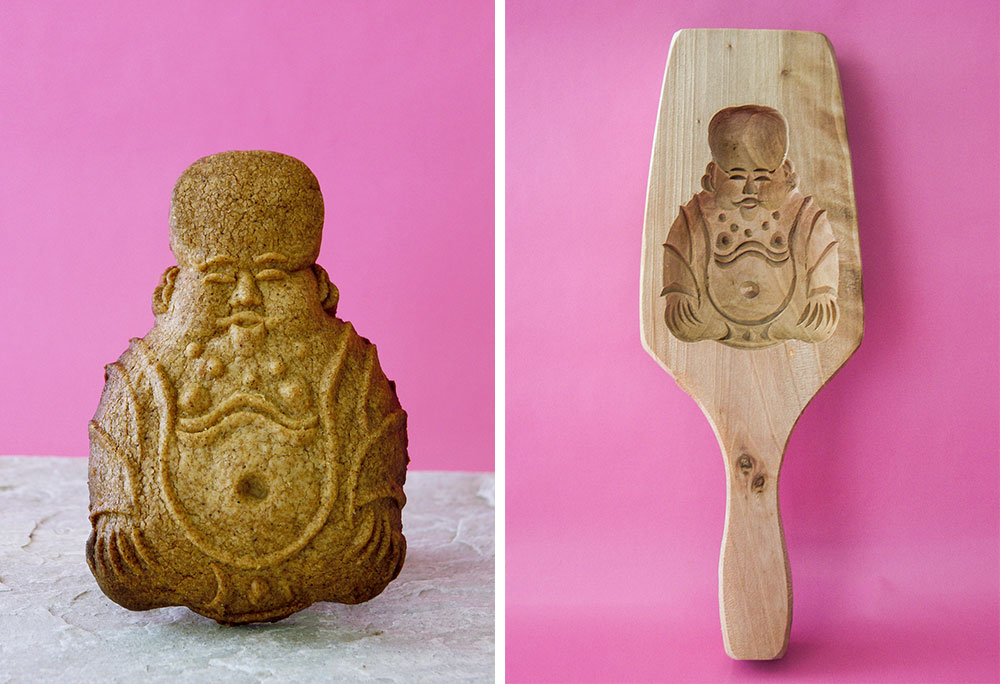 Currently, I am obsessed with Dorie Greenspan's Sweet Tart Dough recipe. I wanted to experiment a different flavor this time. Even tough it is a tart dough recipe, I believe it is perfect for a cookie as well, since the texture is very close to a sable cookie. I cut small portions of the chilled dough, pressed it inside the Buddha mold and after just a couple of bangs there it was – my first Buddha cookie in one piece!
Below is the adapted recipe for the cookies. I just added two teaspoons of ground cinnamon to the dough and took out the salt – that is it.
Update (14/4/19) – If you're interested in buying the mold, the name of the store is The Wok Shop, located at 718 Grant Avenue in San Francisco.
CINNAMON BUDDHA COOKIES

Recipe adapted from Dorie Greenspan's "Baking: From My Home to Yours"

Ingredients
1+1/2 cups all-purpose flour
1/2 cup confectioners' sugar
1 stick plus 1 tbsp (9 tbsp) unsalted butter, chilled and cubed
1 large egg yolk
2 tsp ground cinnamon
Method
Preheat the oven to 375 F (190C) degrees.
Pulse flour, sugar and ground cinnamon in a food processor. Add butter and pulse until it resembles a coarse meal. Stir in the yolk and pulse again until the dough forms clumps and curds. Turn the dough out onto a work surface and very lightly and sparingly, knead just to incorporate dry ingredients. Chill the dough in the refrigerator for at least 2 hours (preferably overnight). If you have a cookie mold like I do, just press small pieces of the dough inside the mold and pound it on the counter to let the cookie come out. If not, then you can roll the dough to any thickness you like and cut out cookies of various shapes.
Lay a sheet of parchment paper on a cookie sheet. Place the cookies on top and bake for 20 minutes covered with another layer of parchment paper, remove the paper and bake for another 5 minutes. Let cool.